Travel Tech Sportcoats
Refine your results
SHOW
Show:

Press enter to collapse or expand the menu. For navigating with in Filter options, press tab. To select Filter options, press enter.

Clear All

Filter

Done

0

Products

Reset filters
Product List
{ "451245867" : { "37 Regular": ["Bright Navy"], "42 Short": ["Bright Navy"], "39 Long": ["Bright Navy"], "46 Short": ["Bright Navy"], "42 Long": ["Bright Navy"], "36 Regular": ["Bright Navy"], "39 Regular": ["Bright Navy"], "42 Regular": ["Bright Navy"], "44 Short": ["Bright Navy"], "46 Regular": ["Bright Navy"], "46 Long": ["Bright Navy"], "41 Regular": ["Bright Navy"], "38 Short": ["Bright Navy"], "40 Regular": ["Bright Navy"], "41 Long": ["Bright Navy"], "44 Regular": ["Bright Navy"], "40 Long": ["Bright Navy"], "43 Long": ["Bright Navy"], "38 Regular": ["Bright Navy"], "40 Short": ["Bright Navy"] } }

{ "id" : "451245867", "productName" : "Travel Tech Slim Fit Sportcoat", "productItem" : "128D", "productDescription" : "Travel in comfort and style. This Travel Tech sportcoat creates a comfortable micro-climate for your body by removing excess moisture before you even begin to sweat. Built-in fabric technology doesn't wash out. Maintains the optimum microclimate for your body. Stretch mesh fabric is integrated throughout the jacket. Two button, notch lapel, side vents. Zippered utility pockets are strategically placed inside jacket. Performance stretch lining. Slim Fit. 71% wool, 25% 37.5 polyester, 4% spandex. Dry clean only. Imported.", "promoDescription" : "", "productUrl" : "http://www.circleoftrusttherapy.com/p/travel-tech-slim-fit-sportcoat", "productImageUrl" : "https://images.josbank.com/is/image/JosBank/128D_76_TRAVELER_BRIGHT_NAVY_MAIN?$browse_thumbnail$", "productImageFullSize" : "https://images.josbank.com/is/image/JosBank/128D_76_TRAVELER_BRIGHT_NAVY_MAIN?$browse_thumbnail$", "price" : "$179.00", "regPrice" : "", "salePrice" : "", "label": "none", "category" : "SportCoats", "subcategory": "Travel Tech Sportcoats", "stock": 1, "dimension53" : "No" }

{ "451551891" : { "Medium": ["Navy"], "X Large": ["Navy"], "Large": ["Navy"] } }

{ "id" : "451551891", "productName" : "Travel Tech Tailored Fit Soft Jacket", "productItem" : "68PN", "productDescription" : "Tailored in a machine washable cotton-blend, this Travel Tech blazer features a unique fabric technology that maintains the optimum microclimate for your body. Named 37.5\u00AE, it removes moisture at the vapor stage before sweat can form. 37.5\u00AE acts like a thermostat by removing moisture when you are hot and retaining warmth when cold. It absorbs and traps odor molecules that are washed away when cleaned. Details include a notch lapel, two-button closure and side vents. 65% cotton, 34% 37.5\u00AE polyester, 1% elastane. Machine washable. Imported.", "promoDescription" : "", "productUrl" : "http://www.circleoftrusttherapy.com/p/travel-tech-tailored-fit-soft-jacket", "productImageUrl" : "https://images.josbank.com/is/image/JosBank/68PN_75_TRAVELTECH_NAVY_MAIN?$browse_thumbnail$", "productImageFullSize" : "https://images.josbank.com/is/image/JosBank/68PN_75_TRAVELTECH_NAVY_MAIN?$browse_thumbnail$", "price" : "$99.00", "regPrice" : "", "salePrice" : "", "label": "none", "category" : "SportCoats", "subcategory": "Travel Tech Sportcoats", "stock": 1, "dimension53" : "No" }

{ "451543287" : { "42 Short": ["Teal"], "44 Long": ["Teal"], "46 Short": ["Teal"], "42 Long": ["Teal"], "36 Regular": ["Teal"], "42 Regular": ["Teal"], "44 Short": ["Teal"], "46 Regular": ["Teal"], "46 Long": ["Teal"], "40 Regular": ["Teal"], "38 Short": ["Teal"], "44 Regular": ["Teal"], "40 Long": ["Teal"], "38 Regular": ["Teal"], "40 Short": ["Teal"] } }

{ "id" : "451543287", "productName" : "Travel Tech Collection Slim Fit Windowpane Sportcoat", "productItem" : "14HA", "productDescription" : "Travel in comfort and style. This Travel Tech sportcoat creates a comfortable micro-climate for your body by removing excess moisture before you even begin to sweat. Built-in fabric technology doesn't wash out. Maintains the optimum microclimate for your body. Stretch mesh fabric is integrated throughout the jacket. Two button, notch lapel, side vents. Zippered utility pockets are strategically placed inside jacket. Performance stretch lining. 71% wool, 25% 37.5® polyester, 4% spandex. Machine washable. Imported.", "promoDescription" : "", "productUrl" : "http://www.circleoftrusttherapy.com/p/travel-tech-collection-slim-fit-windowpane-sportcoat-14HA", "productImageUrl" : "https://images.josbank.com/is/image/JosBank/14HA_68_TRAVELTECH_TEAL_MAIN?$browse_thumbnail$", "productImageFullSize" : "https://images.josbank.com/is/image/JosBank/14HA_68_TRAVELTECH_TEAL_MAIN?$browse_thumbnail$", "price" : "$179.00", "regPrice" : "", "salePrice" : "", "label": "none", "category" : "SportCoats", "subcategory": "Travel Tech Sportcoats", "stock": 1, "dimension53" : "No" }

{ "451477666" : { "42 Short": ["Dark Grey"], "46 Short": ["Dark Grey"], "42 Long": ["Dark Grey"], "39 Regular": ["Dark Grey"], "42 Regular": ["Dark Grey"], "44 Short": ["Dark Grey"], "46 Regular": ["Dark Grey"], "46 Long": ["Dark Grey"], "41 Regular": ["Dark Grey"], "43 Regular": ["Dark Grey"], "40 Regular": ["Dark Grey"], "38 Short": ["Dark Grey"], "44 Regular": ["Dark Grey"], "40 Long": ["Dark Grey"], "40 Short": ["Dark Grey"] } }

{ "id" : "451477666", "productName" : "Travel Tech Collection Tailored Fit Sportcoat", "productItem" : "12YD", "productDescription" : "This Travel Tech sportcoat features a unique fabric technology that maintains the optimum microclimate for your body. Named 37.5, it removes moisture at the vapor stage before sweat can form. 37.5 acts like a thermostat by removing moisture when you are hot and retaining warmth when cold. It absorbs and traps odor molecules that are washed away when cleaned. Fully lined. Two button. Notch lapel. Stain resistant. Water resistant. Wrinkle resistant. Fully lined. 71% wool, 25% 37.5 polyester, 4% spandex. Dry clean only. Imported.", "promoDescription" : "", "productUrl" : "http://www.circleoftrusttherapy.com/p/travel-tech-collection-tailored-fit-sportcoat", "productImageUrl" : "https://images.josbank.com/is/image/JosBank/12YD_05_TRAVELER_DARK_GREY_MAIN?$browse_thumbnail$", "productImageFullSize" : "https://images.josbank.com/is/image/JosBank/12YD_05_TRAVELER_DARK_GREY_MAIN?$browse_thumbnail$", "price" : "$179.00", "regPrice" : "", "salePrice" : "", "label": "none", "category" : "SportCoats", "subcategory": "Travel Tech Sportcoats", "stock": 1, "dimension53" : "No" }

{ "451543286" : { "42 Short": ["Blue"], "44 Long": ["Blue"], "46 Short": ["Blue"], "42 Long": ["Blue"], "36 Regular": ["Blue"], "42 Regular": ["Blue"], "44 Short": ["Blue"], "46 Regular": ["Blue"], "46 Long": ["Blue"], "41 Regular": ["Blue"], "38 Short": ["Blue"], "40 Regular": ["Blue"], "44 Regular": ["Blue"], "40 Long": ["Blue"], "38 Regular": ["Blue"], "40 Short": ["Blue"] } }

{ "id" : "451543286", "productName" : "Travel Tech Collection Slim Fit Windowpane Sportcoat", "productItem" : "14H8", "productDescription" : "Travel in comfort and style. This Travel Tech sportcoat creates a comfortable micro-climate for your body by removing excess moisture before you even begin to sweat. Built-in fabric technology doesn't wash out. Maintains the optimum microclimate for your body. Stretch mesh fabric is integrated throughout the jacket. Two button, notch lapel, side vents. Zippered utility pockets are strategically placed inside jacket. Performance stretch lining. 72% wool, 25% 37.5® polyester, 3% spandex. Machine washable. Imported.", "promoDescription" : "", "productUrl" : "http://www.circleoftrusttherapy.com/p/travel-tech-collection-slim-fit-windowpane-sportcoat-14H8", "productImageUrl" : "https://images.josbank.com/is/image/JosBank/14H8_70_TRAVEL_TECH_BLUE_MAIN?$browse_thumbnail$", "productImageFullSize" : "https://images.josbank.com/is/image/JosBank/14H8_70_TRAVEL_TECH_BLUE_MAIN?$browse_thumbnail$", "price" : "$179.00", "regPrice" : "", "salePrice" : "", "label": "none", "category" : "SportCoats", "subcategory": "Travel Tech Sportcoats", "stock": 1, "dimension53" : "No" }

{ "451520899" : { "46 Long": ["Navy"], "43 Regular": ["Navy"], "42 Long": ["Navy"], "40 Regular": ["Navy"], "38 Short": ["Navy"], "39 Regular": ["Navy"], "38 Regular": ["Navy"], "44 Short": ["Navy"], "40 Short": ["Navy"] } }

{ "id" : "451520899", "productName" : "Travel Tech Collection Slim Fit Check Sportcoat", "productItem" : "145X", "productDescription" : "This Travel Tech sportcoat features a unique fabric technology that maintains the optimum microclimate for your body. Named 37.5, it removes moisture at the vapor stage before sweat can form. 37.5 acts like a thermostat by removing moisture when you are hot and retaining warmth when cold. It absorbs and traps odor molecules that are washed away when cleaned. Fully lined. Two button. Notch lapel. Stain resistant. Water resistant. Wrinkle resistant. Fully lined. 71% wool, 25% 37.5 polyester, 4% spandex. Dry clean only. Imported.", "promoDescription" : "", "productUrl" : "http://www.circleoftrusttherapy.com/p/travel-tech-collection-slim-fit-check-sportcoat-145X", "productImageUrl" : "https://images.josbank.com/is/image/JosBank/145X_75_TRAVELER_NAVY_MAIN?$browse_thumbnail$", "productImageFullSize" : "https://images.josbank.com/is/image/JosBank/145X_75_TRAVELER_NAVY_MAIN?$browse_thumbnail$", "price" : "$179.00", "regPrice" : "", "salePrice" : "", "label": "none", "category" : "SportCoats", "subcategory": "Travel Tech Sportcoats", "stock": 1, "dimension53" : "No" }

{ "451543285" : { "42 Short": ["Grey"], "44 Long": ["Grey"], "46 Short": ["Grey"], "42 Long": ["Grey"], "36 Regular": ["Grey"], "42 Regular": ["Grey"], "44 Short": ["Grey"], "46 Regular": ["Grey"], "46 Long": ["Grey"], "40 Regular": ["Grey"], "38 Short": ["Grey"], "44 Regular": ["Grey"], "40 Long": ["Grey"], "38 Regular": ["Grey"], "40 Short": ["Grey"] } }

{ "id" : "451543285", "productName" : "Travel Tech Collection Slim Fit Windowpane Sportcoat", "productItem" : "14H6", "productDescription" : "Travel in comfort and style. This Travel Tech sportcoat creates a comfortable micro-climate for your body by removing excess moisture before you even begin to sweat. Built-in fabric technology doesn't wash out. Maintains the optimum microclimate for your body. Stretch mesh fabric is integrated throughout the jacket. Two button, notch lapel, side vents. Zippered utility pockets are strategically placed inside jacket. Performance stretch lining. 72% wool, 25% 37.5® polyester, 3% spandex. Machine washable. Imported.", "promoDescription" : "", "productUrl" : "http://www.circleoftrusttherapy.com/p/travel-tech-collection-slim-fit-windowpane-sportcoat-14H6", "productImageUrl" : "https://images.josbank.com/is/image/JosBank/14H6_03_TRAVEL_TECH_GREY_MAIN?$browse_thumbnail$", "productImageFullSize" : "https://images.josbank.com/is/image/JosBank/14H6_03_TRAVEL_TECH_GREY_MAIN?$browse_thumbnail$", "price" : "$179.00", "regPrice" : "", "salePrice" : "", "label": "none", "category" : "SportCoats", "subcategory": "Travel Tech Sportcoats", "stock": 1, "dimension53" : "No" }

{ "451543284" : { "42 Short": ["Navy"], "44 Long": ["Navy"], "46 Short": ["Navy"], "42 Long": ["Navy"], "42 Regular": ["Navy"], "44 Short": ["Navy"], "46 Regular": ["Navy"], "46 Long": ["Navy"], "41 Regular": ["Navy"], "40 Regular": ["Navy"], "38 Short": ["Navy"], "44 Regular": ["Navy"], "40 Long": ["Navy"], "38 Regular": ["Navy"], "40 Short": ["Navy"] } }

{ "id" : "451543284", "productName" : "Travel Tech Collection Tailored Fit Check Sportcoat", "productItem" : "14H4", "productDescription" : "Travel in comfort and style. This Travel Tech sportcoat creates a comfortable micro-climate for your body by removing excess moisture before you even begin to sweat. Built-in fabric technology doesn't wash out. Maintains the optimum microclimate for your body. Stretch mesh fabric is integrated throughout the jacket. Two button, notch lapel, side vents. Zippered utility pockets are strategically placed inside jacket. Performance stretch lining. 72% wool, 25% 37.5® polyester, 3% spandex. Machine washable. Imported.", "promoDescription" : "", "productUrl" : "http://www.circleoftrusttherapy.com/p/travel-tech-collection-tailored-fit-check-sportcoat-14H4", "productImageUrl" : "https://images.josbank.com/is/image/JosBank/14H4_75_TRAVEL_TECH_NAVY_MAIN?$browse_thumbnail$", "productImageFullSize" : "https://images.josbank.com/is/image/JosBank/14H4_75_TRAVEL_TECH_NAVY_MAIN?$browse_thumbnail$", "price" : "$179.00", "regPrice" : "", "salePrice" : "", "label": "none", "category" : "SportCoats", "subcategory": "Travel Tech Sportcoats", "stock": 1, "dimension53" : "No" }

{ "451520898" : { "42 Short": ["Grey"], "42 Long": ["Grey"], "42 Regular": ["Grey"], "44 Short": ["Grey"], "46 Regular": ["Grey"], "46 Long": ["Grey"], "41 Regular": ["Grey"], "43 Regular": ["Grey"], "40 Regular": ["Grey"], "38 Short": ["Grey"], "44 Regular": ["Grey"], "43 Long": ["Grey"], "40 Short": ["Grey"] } }

{ "id" : "451520898", "productName" : "Travel Tech Slim Fit Mini Check Sportcoat", "productItem" : "145V", "productDescription" : "This Travel Tech sportcoat features a unique fabric technology that maintains the optimum microclimate for your body. Named 37.5, it removes moisture at the vapor stage before sweat can form. 37.5 acts like a thermostat by removing moisture when you are hot and retaining warmth when cold. It absorbs and traps odor molecules that are washed away when cleaned. Fully lined. Two button. Notch lapel. Stain resistant. Water resistant. Wrinkle resistant. Fully lined. 71% wool, 25% 37.5 polyester, 4% spandex. Dry clean only. Imported.", "promoDescription" : "", "productUrl" : "http://www.circleoftrusttherapy.com/p/travel-tech-slim-fit-mini-check-sportcoat", "productImageUrl" : "https://images.josbank.com/is/image/JosBank/145V_03_TRAVELER_GREY_MAIN?$browse_thumbnail$", "productImageFullSize" : "https://images.josbank.com/is/image/JosBank/145V_03_TRAVELER_GREY_MAIN?$browse_thumbnail$", "price" : "$179.00", "regPrice" : "", "salePrice" : "", "label": "none", "category" : "SportCoats", "subcategory": "Travel Tech Sportcoats", "stock": 1, "dimension53" : "No" }

{ "451520900" : { "46 Regular": ["Charcoal"], "44 Long": ["Charcoal"], "42 Long": ["Charcoal"], "40 Regular": ["Charcoal"] } }

{ "id" : "451520900", "productName" : "Travel Tech Collection Slim Fit Check Sportcoat", "productItem" : "145Z", "productDescription" : "This Travel Tech sportcoat features a unique fabric technology that maintains the optimum microclimate for your body. Named 37.5, it removes moisture at the vapor stage before sweat can form. 37.5 acts like a thermostat by removing moisture when you are hot and retaining warmth when cold. It absorbs and traps odor molecules that are washed away when cleaned. Fully lined. Two button. Notch lapel. Stain resistant. Water resistant. Wrinkle resistant. Fully lined. 71% wool, 25% 37.5 polyester, 4% spandex. Dry clean only. Imported.", "promoDescription" : "", "productUrl" : "http://www.circleoftrusttherapy.com/p/travel-tech-collection-slim-fit-check-sportcoat-145Z", "productImageUrl" : "https://images.josbank.com/is/image/JosBank/145Z_06_TRAVELER_CHARCOAL_MAIN?$browse_thumbnail$", "productImageFullSize" : "https://images.josbank.com/is/image/JosBank/145Z_06_TRAVELER_CHARCOAL_MAIN?$browse_thumbnail$", "price" : "$179.00", "regPrice" : "", "salePrice" : "", "label": "none", "category" : "SportCoats", "subcategory": "Travel Tech Sportcoats", "stock": 1, "dimension53" : "No" }
Related Products
Description:
The 1905 Collection features updated classics, with vintage appeal. This handsome sportcoat is tailored from a smooth linen-wool blend, windowpane check pattern, and notch lapel. Slim Fit. Interior pockets. Fully lined. It is crafted using brrr°? comfort technology that continually ...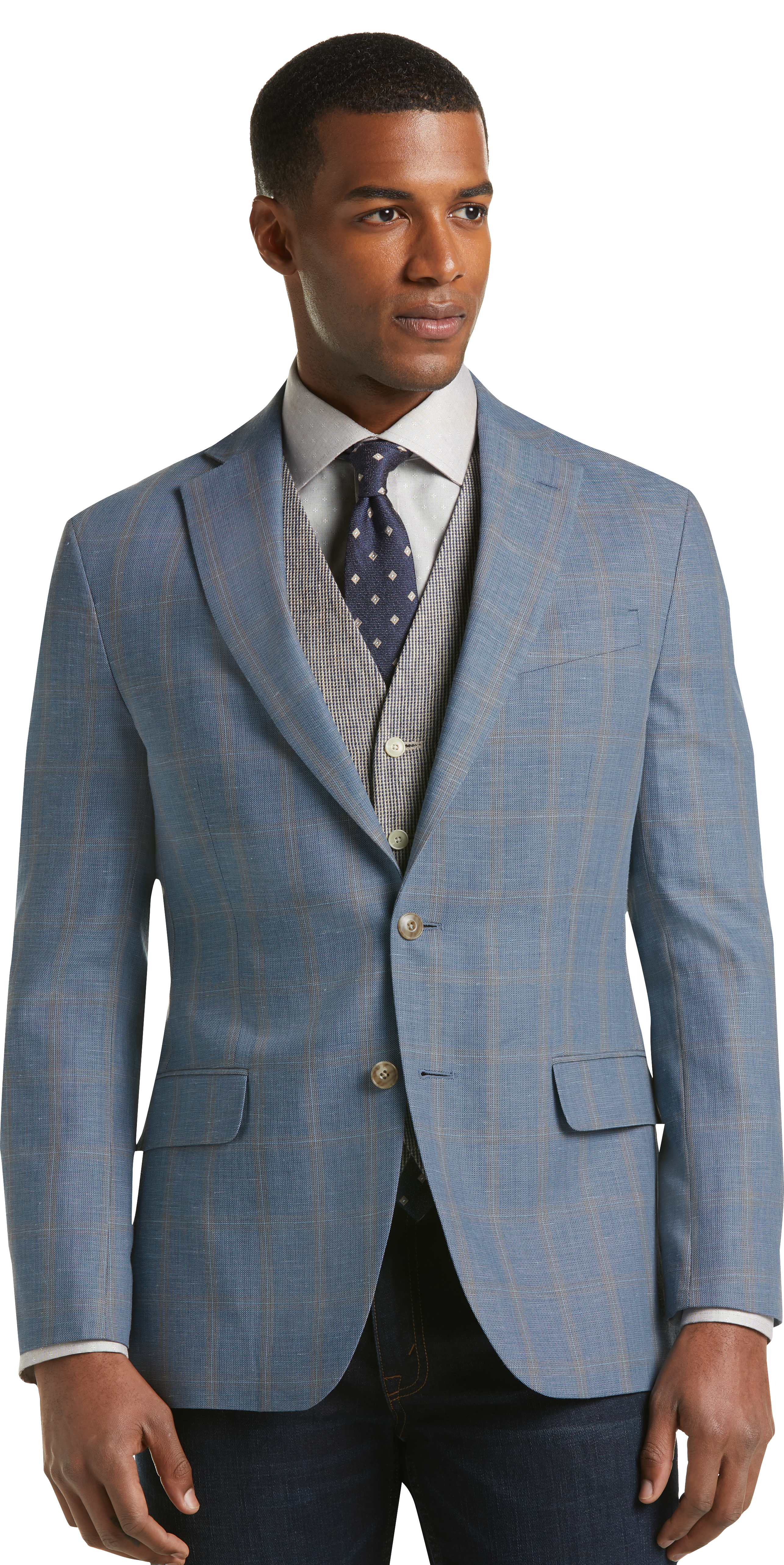 Description:
Complete your dress- and professional-wear wardrobe with this classic 1905 Collection sportcoat. This fine sportcoat features a luxurious wool and linen blend in a windowpane pattern. Two-button closure with a notch lapel and side vents. Fully lined with interior pockets. ...
Description:
This 1905 Collection sportcoat has a classic windowpane plaid pattern in brrr°? comfort fabric. It has a notch lapel, two-button closure and combines wool with brrr°? technology, offering a touch of stretch plus a unique cooling effect as it wicks ...
Description:
Our 1905 Collection sportcoats feature fine craftsmanship with bolder colors and patterns and a touch of vintage style. Made with brrr°? comfort technology, this sportcoat keeps you comfortable with natural cooling minerals, a special fiber core that increases moisture wicking, ...
Description:
Achieve a refined stylish look with this fine Executive Collection Sportcoat. Fully lined. Two button, notch lapel, side vents. Interior pockets. Classic check pattern. 100% wool. Dry clean only. Imported.