Reserve Suits
Refine your results
SHOW
Show:

Press enter to collapse or expand the menu. For navigating with in Filter options, press tab. To select Filter options, press enter.

Clear All

Filter

Done

0

Products

Add filter

Reset filters
Product List
{ "451089189" : { "58 Long": [ "Grey Melange", "Gry Sharkskin", "Navy" ], "54 Regular": [ "Grey Melange", "Gry Sharkskin" ], "56 Long": [ "Grey Melange", "Gry Sharkskin", "Navy" ], "40 X Long": [ "Grey Melange", "Navy" ], "54 Long": [ "Grey Melange", "Gry Sharkskin", "Navy" ], "54 X Long": [ "Grey Melange", "Gry Sharkskin" ], "50 Long": [ "Grey Melange", "Gry Sharkskin", "Navy" ], "52 X Long": [ "Grey Melange", "Gry Sharkskin", "Navy" ], "46 X Long": [ "Grey Melange", "Gry Sharkskin", "Navy" ], "52 Long": [ "Grey Melange", "Gry Sharkskin", "Navy" ], "60 Long": [ "Grey Melange", "Gry Sharkskin", "Navy" ], "52 Regular": [ "Grey Melange", "Gry Sharkskin" ], "42 X Long": [ "Grey Melange", "Gry Sharkskin", "Navy" ], "44 X Long": [ "Grey Melange", "Gry Sharkskin", "Navy" ], "48 Long": [ "Grey Melange", "Gry Sharkskin" ], "56 X Long": [ "Grey Melange", "Gry Sharkskin", "Navy" ], "50 Regular": [ "Grey Melange", "Gry Sharkskin", "Navy" ], "48 Regular": [ "Grey Melange", "Gry Sharkskin", "Navy" ], "60 Regular": [ "Grey Melange", "Gry Sharkskin", "Navy" ], "56 Regular": [ "Grey Melange", "Gry Sharkskin", "Navy" ], "58 Regular": [ "Grey Melange", "Gry Sharkskin", "Navy" ], "48 X Long": [ "Grey Melange", "Gry Sharkskin", "Navy" ], "50 X Long": [ "Grey Melange", "Gry Sharkskin", "Navy" ] } }

{ "id" : "451089189", "productName" : "Reserve Collection Tailored Fit Suit Separate Jacket - Big & Tall", "productItem" : "33Y3", "productDescription" : "Constructed with a floating canvas chest piece which creates supple structure and a custom feel. Tailored with a signature natural shoulder fit for an elegant silhouette. Two-button jacket with notch lapels, side vents, inner pockets and Bemberg lining. 100% wool. Dry clean only. Made in the USA of Fine Italian Fabrics.<br \/><br \/>Matching Pants: #33Y5<br \/>Matching Vest: #33Y7", "promoDescription" : "", "productUrl" : "http://www.circleoftrusttherapy.com/p/reserve-collection-tailored-fit-suit-separate-jacket-big-tall", "productImageUrl" : "https://images.josbank.com/is/image/JosBank/33Y2_03_JOS_A_BANK_RESERVE_GREY_MELANGE_MAIN?$browse_thumbnail$", "productImageFullSize" : "https://images.josbank.com/is/image/JosBank/33Y2_03_JOS_A_BANK_RESERVE_GREY_MELANGE_MAIN?$browse_thumbnail$", "price" : "$289.00", "regPrice" : "", "salePrice" : "", "label": "none", "category" : "Big & Tall", "subcategory": "Reserve Suits", "stock": 1, "dimension53" : "No" }

{ "998609646" : { "58 Long": [ "Grey Melange", "Gry Sharkskin", "Navy" ], "54 Regular": [ "Grey Melange", "Gry Sharkskin" ], "56 Long": [ "Grey Melange", "Gry Sharkskin", "Navy" ], "40 X Long": [ "Grey Melange", "Navy" ], "54 Long": [ "Grey Melange", "Gry Sharkskin", "Navy" ], "54 X Long": [ "Grey Melange", "Gry Sharkskin" ], "50 Long": [ "Grey Melange", "Gry Sharkskin", "Navy" ], "52 X Long": [ "Grey Melange", "Gry Sharkskin", "Navy" ], "46 X Long": [ "Grey Melange", "Gry Sharkskin", "Navy" ], "52 Long": [ "Grey Melange", "Gry Sharkskin", "Navy" ], "60 Long": [ "Grey Melange", "Gry Sharkskin", "Navy" ], "52 Regular": [ "Grey Melange", "Gry Sharkskin" ], "42 X Long": [ "Grey Melange", "Gry Sharkskin", "Navy" ], "44 X Long": [ "Grey Melange", "Gry Sharkskin", "Navy" ], "48 Long": [ "Grey Melange", "Gry Sharkskin" ], "56 X Long": [ "Grey Melange", "Gry Sharkskin", "Navy" ], "50 Regular": [ "Grey Melange", "Gry Sharkskin", "Navy" ], "48 Regular": [ "Grey Melange", "Gry Sharkskin", "Navy" ], "60 Regular": [ "Grey Melange", "Gry Sharkskin", "Navy" ], "56 Regular": [ "Grey Melange", "Gry Sharkskin", "Navy" ], "58 Regular": [ "Grey Melange", "Gry Sharkskin", "Navy" ], "48 X Long": [ "Grey Melange", "Gry Sharkskin", "Navy" ], "50 X Long": [ "Grey Melange", "Gry Sharkskin", "Navy" ] } }

[ { "name": "Reserve Collection Tailored Fit Suit Separate Jacket - Big & Tall", "partNumber": "JAB_33Y3", "quantity": 1, "price": "289.0", "category": "Big & Tall\/Reserve Suits", "brand": "Jos. A. Bank", "promo": "" } , { "name": "Reserve Collection Tailored Fit Flat Front Suit Separate Pants - Big & Tall", "partNumber": "JAB_33Y5", "quantity": 1, "price": "150.0", "category": "Big & Tall\/Reserve Suits", "brand": "Jos. A. Bank", "promo": "" } , { "name": "Reserve Collection Tailored Fit Suit Separate Vest - Big & Tall", "partNumber": "JAB_33Y7", "quantity": 1, "price": "95.0", "category": "Big & Tall\/Reserve Suits", "brand": "Jos. A. Bank", "promo": "" } ]

{ "id" : "998609646", "productName" : "Reserve Collection Tailored Fit Suit - Big & Tall", "productItem" : "BUNDLE_BT_33Y3", "productDescription" : "<p>Suit separates let you choose jacket, pants, and vest sizes separately for an ideal fit. Create your own tailored look with these pieces from the Reserve Collection.<\/p>\n\n<p><strong>Jacket<\/strong>:<br \/>\nConstructed with a floating canvas chest piece which creates supple structure and a custom feel. Tailored with a signature natural shoulder fit for an elegant silhouette. Two-button jacket with notch lapels, side vents and Bemberg lining.&nbsp;<\/p>\n\n<p><strong>Pants<\/strong>:<br \/>\nFlat front trousers with cotton pocketing and separate coin pocket. Lined to the knee with unfinished hems for exact tailoring.&nbsp;<\/p>\n\n<p><strong>Vest<\/strong>:<br \/>\nTailored with a signature natural shoulder fit for an elegant silhouette.<\/p>\n\n<p>100% wool. Dry clean only. Made in the USA of Fine Italian Fabrics.<\/p>", "promoDescription" : "", "productUrl" : "http://www.circleoftrusttherapy.com/p/reserve-collection-tailored-fit-suit-big-tall-BUNDLEBT33Y3", "productImageUrl" : "https://images.josbank.com/is/image/JosBank/33Y2_03_JOS_A_BANK_RESERVE_GREY_MELANGE_MAIN?$browse_thumbnail$", "productImageFullSize" : "https://images.josbank.com/is/image/JosBank/33Y2_03_JOS_A_BANK_RESERVE_GREY_MELANGE_MAIN?$browse_thumbnail$", "price" : "$534.00", "regPrice" : "", "salePrice" : "", "label": "none", "category" : "", "subcategory": "", "stock": 1, "dimension53" : "Yes" }

{ "451547803" : { "50 Regular": ["Navy"], "48 Regular": ["Navy"], "50 Long": ["Navy"], "46 X Long": ["Navy"], "52 Long": ["Navy"], "52 Regular": ["Navy"], "44 X Long": ["Navy"], "42 X Long": ["Navy"], "48 Long": ["Navy"], "48 X Long": ["Navy"] } }

{ "id" : "451547803", "productName" : "Reserve Collection Tailored Fit Plaid REDA 1865 SustainaWool? Suit - Big & Tall", "productItem" : "3UCZ", "productDescription" : "This stylish and refined Reserve Collection suit is made with sustainably sourced wool from the REDA 1865 mills in Italy that is created in compliance with the principles of animal welfare, and the reduced use of chemicals, water, and energy. Tailored Fit. Two-button jacket, peak lapel, side vents. Ticket pocket. Half-canvas chest piece construction. Flat-front slacks, lined to the knee. Unhemmed for tailoring. Pick-stitched details. 100% wool. Dry clean only. Imported.", "promoDescription" : "", "productUrl" : "http://www.circleoftrusttherapy.com/p/reserve-collection-tailored-fit-plaid-reda-1865-sustainawool-suit-big-tall-3UCZ", "productImageUrl" : "https://images.josbank.com/is/image/JosBank/3UCY_75_JOS_A_BANK_RESERVE_NAVY_MAIN?$browse_thumbnail$", "productImageFullSize" : "https://images.josbank.com/is/image/JosBank/3UCY_75_JOS_A_BANK_RESERVE_NAVY_MAIN?$browse_thumbnail$", "price" : "$439.00", "regPrice" : "", "salePrice" : "", "label": "none", "category" : "Big & Tall", "subcategory": "New Arrivals", "stock": 1, "dimension53" : "No" }

{ "451548655" : { "50 Regular": ["Tan"], "48 Regular": ["Tan"], "50 Long": ["Tan"], "52 Long": ["Tan"], "52 Regular": ["Tan"], "48 Long": ["Tan"] } }

{ "id" : "451548655", "productName" : "Reserve Collection Tailored Fit Herringbone Stripe Suit - Big & Tall", "productItem" : "3UDL", "productDescription" : "Made from Super 130's Italian wool, this impressive suit has herringbone stripes and a Tailored Fit. The fully lined jacket features a peak lapel, two-button closure, flap pockets, interior pockets, side vents, and pick-stitch details. The flat-front slacks have cotton pocket pouches and rubber grippers at the waistband to keep shirts tucked in. The slacks are lined to the knee and are unhemmed for tailoring. 100% wool. Dry clean only. Imported.", "promoDescription" : "", "productUrl" : "http://www.circleoftrusttherapy.com/p/reserve-collection-tailored-fit-herringbone-stripe-suit-big-tall-3UDL", "productImageUrl" : "https://images.josbank.com/is/image/JosBank/3UDK_16_JOS_A_BANK_RESERVE_TAN_MAIN?$browse_thumbnail$", "productImageFullSize" : "https://images.josbank.com/is/image/JosBank/3UDK_16_JOS_A_BANK_RESERVE_TAN_MAIN?$browse_thumbnail$", "price" : "$439.00", "regPrice" : "", "salePrice" : "", "label": "none", "category" : "Big & Tall", "subcategory": "New Arrivals", "stock": 1, "dimension53" : "No" }

{ "451089191" : { "46 Regular": [ "Black", "Grey Melange", "Grey Sharkskin", "Navy" ], "58 Long": ["Grey Melange"], "54 Regular": [ "Black", "Grey Melange", "Grey Sharkskin", "Navy" ], "46 Long": [ "Black", "Grey Melange", "Grey Sharkskin", "Navy" ], "56 Long": [ "Black", "Grey Melange", "Grey Sharkskin", "Navy" ], "44 Long": [ "Black", "Grey Melange", "Grey Sharkskin", "Navy" ], "50 Regular": [ "Black", "Grey Melange", "Grey Sharkskin", "Navy" ], "48 Regular": [ "Black", "Grey Melange", "Grey Sharkskin", "Navy" ], "54 Long": [ "Black", "Grey Melange", "Grey Sharkskin", "Navy" ], "50 Long": [ "Black", "Grey Melange", "Grey Sharkskin", "Navy" ], "56 Regular": [ "Black", "Grey Melange", "Grey Sharkskin", "Navy" ], "44 Regular": [ "Black", "Grey Melange", "Grey Sharkskin", "Navy" ], "52 Long": [ "Black", "Grey Melange", "Grey Sharkskin", "Navy" ], "52 Regular": [ "Black", "Grey Melange", "Grey Sharkskin", "Navy" ], "48 Long": [ "Black", "Grey Melange", "Grey Sharkskin", "Navy" ] } }

{ "id" : "451089191", "productName" : "Reserve Collection Tailored Fit Flat Front Suit Separate Pants - Big & Tall", "productItem" : "33Y5", "productDescription" : "Suit separates let you choose pant and jacket sizes separately for an ideal fit. Create your own tailored look with these fine slacks from the Reserve Collection. Flat front trousers with cotton pocketing and separate coin pocket. Lined to the knee with unfinished hems for exact tailoring. 100% wool. Dry clean only. Made in the USA of Fine Italian fabrics.", "promoDescription" : "", "productUrl" : "http://www.circleoftrusttherapy.com/p/reserve-collection-tailored-fit-flat-front-suit-separate-pants-big-tall", "productImageUrl" : "https://images.josbank.com/is/image/JosBank/32636_006_main?$browse_thumbnail$", "productImageFullSize" : "https://images.josbank.com/is/image/JosBank/32636_006_main?$browse_thumbnail$", "price" : "$150.00", "regPrice" : "", "salePrice" : "", "label": "none", "category" : "Big & Tall", "subcategory": "Reserve Suits", "stock": 1, "dimension53" : "No" }

{ "451089296" : { "4 X Large Big": [ "Black", "Grey Melange", "Grey Sharkskin", "Navy" ], "3 X Large Big": [ "Black", "Grey Melange", "Grey Sharkskin", "Navy" ], "1 X Large Big": [ "Black", "Grey Melange", "Grey Sharkskin", "Navy" ], "2 X Large Big": [ "Black", "Grey Melange", "Grey Sharkskin", "Navy" ] } }

{ "id" : "451089296", "productName" : "Reserve Collection Tailored Fit Suit Separate Vest - Big & Tall", "productItem" : "33Y7", "productDescription" : "Tailored with a signature natural shoulder fit for an elegant silhouette. 100% wool. Dry clean only. Made in the USA of Fine Italian Fabrics.<br\/><br\/>Matching Jacket: #33Y3<br\/>Matching Pants: #33Y5", "promoDescription" : "", "productUrl" : "http://www.circleoftrusttherapy.com/p/reserve-collection-tailored-fit-suit-separate-vest-big-tall", "productImageUrl" : "https://images.josbank.com/is/image/JosBank/33Y6_03_JOS_A_BANK_RESERVE_GREY_MELANGE_MAIN?$browse_thumbnail$", "productImageFullSize" : "https://images.josbank.com/is/image/JosBank/33Y6_03_JOS_A_BANK_RESERVE_GREY_MELANGE_MAIN?$browse_thumbnail$", "price" : "$95.00", "regPrice" : "", "salePrice" : "", "label": "none", "category" : "Big & Tall", "subcategory": "Reserve Suits", "stock": 1, "dimension53" : "No" }

{ "451547840" : { "54 Regular": ["Navy"], "50 Regular": ["Navy"], "48 Regular": ["Navy"], "54 Long": ["Navy"], "50 Long": ["Navy"], "52 Long": ["Navy"], "52 Regular": ["Navy"], "48 Long": ["Navy"] } }

{ "id" : "451547840", "productName" : "Reserve Collection Tailored Fit Wide Stripe Liberty Suit - Big & Tall", "productItem" : "3UJF", "productDescription" : "Stylish and understated add this classic stripe suit to your wardrobe as the perfect go-to for the office or special events. Two-button jacket, notch lapel, side vents. Sweat shield jacket feature. Fully lined jacket, pant half-lined to the knees. No canvas chest piece -- garment uses modern fusing technology. Unfinished hem on pant for ease of tailoring. Rubber pant grippers in waistband. 100% wool. Dry clean only. Imported.", "promoDescription" : "", "productUrl" : "http://www.circleoftrusttherapy.com/p/reserve-collection-tailored-fit-wide-stripe-liberty-suit-big-tall", "productImageUrl" : "https://images.josbank.com/is/image/JosBank/3UJE_75_JOS_A_BANK_RESERVE_NAVY_MAIN?$browse_thumbnail$", "productImageFullSize" : "https://images.josbank.com/is/image/JosBank/3UJE_75_JOS_A_BANK_RESERVE_NAVY_MAIN?$browse_thumbnail$", "price" : "", "regPrice" : "$589.00", "salePrice" : "$439.00", "label": "sale", "category" : "Big & Tall", "subcategory": "New Arrivals", "stock": 1, "dimension53" : "No" }

{ "451547844" : { "54 Regular": ["Grey"], "50 Regular": ["Grey"], "48 Regular": ["Grey"], "54 Long": ["Grey"], "50 Long": ["Grey"], "52 Long": ["Grey"], "52 Regular": ["Grey"], "48 Long": ["Grey"] } }

{ "id" : "451547844", "productName" : "Reserve Collection Tailored Fit Plaid Liberty Suit - Big & Tall", "productItem" : "3UJK", "productDescription" : "This Reserve Collection suit features a subtle plaid pattern in the finest wool fabric. Tailored Fit. Two button, side vents, notch lapel. Pick stitch details. Functional buttons at cuffs. Bemberg lining. Multiple interior pockets with separate pen pocket. Wool padding under collar. Canvas chest piece. Pant - flat front, half lined to knee. Unfinished hem for ease of alteration. Sweat shield in jacket. Waistband with rubber pant grippers. Cotton pocket pouches in pants. American flag lapel pin. 100% wool. Dry clean only. Made in USA.", "promoDescription" : "", "productUrl" : "http://www.circleoftrusttherapy.com/p/reserve-collection-tailored-fit-plaid-liberty-suit-big-tall-3UJK", "productImageUrl" : "https://images.josbank.com/is/image/JosBank/3UJJ_03_JOS_A_BANK_RESERVE_GREY_MAIN?$browse_thumbnail$", "productImageFullSize" : "https://images.josbank.com/is/image/JosBank/3UJJ_03_JOS_A_BANK_RESERVE_GREY_MAIN?$browse_thumbnail$", "price" : "", "regPrice" : "$589.00", "salePrice" : "$439.00", "label": "sale", "category" : "Big & Tall", "subcategory": "New Arrivals", "stock": 1, "dimension53" : "No" }

{ "451547848" : { "54 Regular": ["Grey"], "50 Regular": ["Grey"], "48 Regular": ["Grey"], "54 Long": ["Grey"], "50 Long": ["Grey"], "52 Long": ["Grey"], "52 Regular": ["Grey"], "48 Long": ["Grey"] } }

{ "id" : "451547848", "productName" : "Reserve Collection Tailored Fit Stripe Liberty Suit - Big & Tall", "productItem" : "3UJP", "productDescription" : "Finely tailored in the USA from Italian made fabric, this Reserve Collection suit is a refined classic. This sophisticated addition to your look has a two-button jacket, peak lapel, padded wool collar, soft shoulder construction, and side vents. Tailored Fit. Pick-stitched details. Half canvas construction. Underarm sweat shields. Jacquard Bemberg lining. Interior pen pocket. American flag lapel pin. Slacks are lined to the knee and unhemmed for tailoring. They are smoothly fashioned with a flat front. 100% wool. Dry clean only. Made in USA.", "promoDescription" : "", "productUrl" : "http://www.circleoftrusttherapy.com/p/reserve-collection-tailored-fit-stripe-liberty-suit-big-tall", "productImageUrl" : "https://images.josbank.com/is/image/JosBank/3UJN_03_JOS_A_BANK_RESERVE_GREY_MAIN?$browse_thumbnail$", "productImageFullSize" : "https://images.josbank.com/is/image/JosBank/3UJN_03_JOS_A_BANK_RESERVE_GREY_MAIN?$browse_thumbnail$", "price" : "", "regPrice" : "$589.00", "salePrice" : "$439.00", "label": "sale", "category" : "Big & Tall", "subcategory": "New Arrivals", "stock": 1, "dimension53" : "No" }

{ "451547811" : { "50 Regular": ["Grey"], "50 Long": ["Grey"], "52 Regular": ["Grey"], "48 Long": ["Grey"] } }

{ "id" : "451547811", "productName" : "Reserve Collection Tailored Fit Windowpane Plaid REDA 1865 SustainaWool? Suit - Big & Tall", "productItem" : "3UD7", "productDescription" : "This stylish and refined Reserve Collection suit is made with sustainably sourced wool from the REDA 1865 mills in Italy that is created in compliance with the principles of animal welfare, and the reduced use of chemicals, water, and energy. Tailored Fit. Two-button jacket with soft shoulder construction, peak lapel, and side vents. Half canvas chest piece construction. Flat-front slacks have rubber grippers at the waistband, are lined to the knee, and unhemmed for tailoring. 100% wool. Dry clean only. Imported.", "promoDescription" : "", "productUrl" : "http://www.circleoftrusttherapy.com/p/reserve-collection-tailored-fit-windowpane-plaid-reda-1865-sustainawool-suit-big-tall-3UD7", "productImageUrl" : "https://images.josbank.com/is/image/JosBank/3UD6_03_JOS_A_BANK_RESERVE_GREY_MAIN?$browse_thumbnail$", "productImageFullSize" : "https://images.josbank.com/is/image/JosBank/3UD6_03_JOS_A_BANK_RESERVE_GREY_MAIN?$browse_thumbnail$", "price" : "$439.00", "regPrice" : "", "salePrice" : "", "label": "none", "category" : "Big & Tall", "subcategory": "New Arrivals", "stock": 1, "dimension53" : "No" }

{ "451548652" : { "50 Regular": ["Charcoal"], "48 Regular": ["Charcoal"], "50 Long": ["Charcoal"], "52 Long": ["Charcoal"], "52 Regular": ["Charcoal"], "48 Long": ["Charcoal"] } }

{ "id" : "451548652", "productName" : "Reserve Collection Tailored Fit Check Suit - Big & Tall", "productItem" : "3UDE", "productDescription" : "Superbly tailored from fine Italian wool, this gentleman's suit in a tonal check offers distinguished looks. The fully lined jacket comes with a classic notch lapel, two-button closure and side vents. Matching slacks have flat-front styling and include a rubberized waistband to help keep shirts neatly tucked. The slacks are lined to the knee and are unhemmed for custom tailoring. 100% wool. Dry clean only. Imported.", "promoDescription" : "", "productUrl" : "http://www.circleoftrusttherapy.com/p/reserve-collection-tailored-fit-check-suit-big-tall-3UDE", "productImageUrl" : "https://images.josbank.com/is/image/JosBank/3UDD_06_JOS_A_BANK_RESERVE_CHARCOAL_MAIN?$browse_thumbnail$", "productImageFullSize" : "https://images.josbank.com/is/image/JosBank/3UDD_06_JOS_A_BANK_RESERVE_CHARCOAL_MAIN?$browse_thumbnail$", "price" : "$439.00", "regPrice" : "", "salePrice" : "", "label": "none", "category" : "Big & Tall", "subcategory": "New Arrivals", "stock": 1, "dimension53" : "No" }

{ "451548657" : { "50 Regular": ["Brown"], "48 Regular": ["Brown"], "50 Long": ["Brown"], "52 Long": ["Brown"], "52 Regular": ["Brown"], "48 Long": ["Brown"] } }

{ "id" : "451548657", "productName" : "Reserve Collection Tailored Fit Plaid Suit - Big & Tall", "productItem" : "3UDR", "productDescription" : "Made from Super 130's Italian wool, this impressive suit has a classic plaid pattern and a Tailored Fit. The fully lined jacket features a notch lapel, two-button closure, flap pockets, interior pockets, side vents, and pick-stitch details. The flat-front slacks have cotton pocket pouches and rubber grippers at the waistband to keep shirts tucked in. The slacks are lined to the knee and are unhemmed for tailoring. 100% wool. Dry clean only. Imported.", "promoDescription" : "", "productUrl" : "http://www.circleoftrusttherapy.com/p/reserve-collection-tailored-fit-plaid-suit-big-tall-3UDR", "productImageUrl" : "https://images.josbank.com/is/image/JosBank/3UDP_38_JOS_A_BANK_RESERVE_BROWN_MAIN?$browse_thumbnail$", "productImageFullSize" : "https://images.josbank.com/is/image/JosBank/3UDP_38_JOS_A_BANK_RESERVE_BROWN_MAIN?$browse_thumbnail$", "price" : "$439.00", "regPrice" : "", "salePrice" : "", "label": "none", "category" : "Big & Tall", "subcategory": "New Arrivals", "stock": 1, "dimension53" : "No" }

{ "451548659" : { "48 Regular": ["Olive"], "50 Long": ["Olive"], "52 Long": ["Olive"], "52 Regular": ["Olive"], "48 Long": ["Olive"] } }

{ "id" : "451548659", "productName" : "Reserve Collection Tailored Fit Tic Weave Suit - Big & Tall", "productItem" : "3UDW", "productDescription" : "Made from Super 130's Italian wool, this impressive suit has a tic weave and a Tailored Fit. The fully lined jacket features a notch lapel, two-button closure, flap pockets, interior pockets, side vents, and pick-stitch details. The flat-front slacks have cotton pocket pouches and rubber grippers at the waistband to keep shirts tucked in. The slacks are lined to the knee and are unhemmed for tailoring. 100% wool. Dry clean only. Imported.", "promoDescription" : "", "productUrl" : "http://www.circleoftrusttherapy.com/p/reserve-collection-tailored-fit-tic-weave-suit-big-tall-3UDW", "productImageUrl" : "https://images.josbank.com/is/image/JosBank/3UDV_85_JOS_A_BANK_RESERVE_OLIVE_MAIN?$browse_thumbnail$", "productImageFullSize" : "https://images.josbank.com/is/image/JosBank/3UDV_85_JOS_A_BANK_RESERVE_OLIVE_MAIN?$browse_thumbnail$", "price" : "$439.00", "regPrice" : "", "salePrice" : "", "label": "none", "category" : "Big & Tall", "subcategory": "New Arrivals", "stock": 1, "dimension53" : "No" }

{ "451548651" : { "50 Regular": ["Grey"], "48 Regular": ["Grey"], "50 Long": ["Grey"], "46 X Long": ["Grey"], "52 Long": ["Grey"], "52 Regular": ["Grey"], "44 X Long": ["Grey"], "42 X Long": ["Grey"], "48 Long": ["Grey"], "48 X Long": ["Grey"] } }

{ "id" : "451548651", "productName" : "Reserve Collection Tailored Fit Windowpane Plaid Suit - Big & Tall", "productItem" : "3UDC", "productDescription" : "This fine, classic suit from the Reserve Collection, is tailored from Italian-made Super 130's wool. It comes with a fully lined, notch-lapel jacket with two-button closure and back side vents. The half-canvas, chest-piece construction gives the jacket its proper structure and drape. Matching flat-front slacks have a rubberized waistband to help keep shirts neatly tucked. Cotton pocket pouches. Slacks are lined to the knee and unhemmed for custom tailoring. 100% wool. Dry clean only. Imported.", "promoDescription" : "", "productUrl" : "http://www.circleoftrusttherapy.com/p/reserve-collection-tailored-fit-windowpane-plaid-suit-big-tall-3UDC", "productImageUrl" : "https://images.josbank.com/is/image/JosBank/3UDA_03_JOS_A_BANK_RESERVE_GREY_MAIN?$browse_thumbnail$", "productImageFullSize" : "https://images.josbank.com/is/image/JosBank/3UDA_03_JOS_A_BANK_RESERVE_GREY_MAIN?$browse_thumbnail$", "price" : "$439.00", "regPrice" : "", "salePrice" : "", "label": "none", "category" : "Big & Tall", "subcategory": "New Arrivals", "stock": 1, "dimension53" : "No" }

{ "451548654" : { "50 Regular": ["Charcoal"], "48 Regular": ["Charcoal"], "50 Long": ["Charcoal"], "52 Regular": ["Charcoal"], "48 Long": ["Charcoal"] } }

{ "id" : "451548654", "productName" : "Reserve Collection Slim Fit Stripe Suit - Big & Tall", "productItem" : "3UDJ", "productDescription" : "Made from Super 130's Italian wool, this impressive suit has subtle stripes and a Slim Fit. The fully lined jacket features a peak lapel, two-button closure, flap pockets, interior pockets, and side vents. The flat-front slacks have cotton pocket pouches and rubber grippers at the waistband to keep shirts tucked in. The slacks are lined to the knee and are unhemmed for tailoring. 100% wool. Dry clean only. Imported.", "promoDescription" : "", "productUrl" : "http://www.circleoftrusttherapy.com/p/reserve-collection-slim-fit-stripe-suit-big-tall-3UDJ", "productImageUrl" : "https://images.josbank.com/is/image/JosBank/3UDH_06_JOS_A_BANK_RESERVE_CHARCOAL_MAIN?$browse_thumbnail$", "productImageFullSize" : "https://images.josbank.com/is/image/JosBank/3UDH_06_JOS_A_BANK_RESERVE_CHARCOAL_MAIN?$browse_thumbnail$", "price" : "$439.00", "regPrice" : "", "salePrice" : "", "label": "none", "category" : "Big & Tall", "subcategory": "New Arrivals", "stock": 1, "dimension53" : "No" }

{ "451547809" : { "50 Regular": ["Blue"], "48 Regular": ["Blue"], "50 Long": ["Blue"], "52 Long": ["Blue"], "52 Regular": ["Blue"], "48 Long": ["Blue"] } }

{ "id" : "451547809", "productName" : "Reserve Collection Tailored Fit Windowpane Plaid REDA 1865 SustainaWool? Suit - Big & Tall", "productItem" : "3UD5", "productDescription" : "This stylish and refined Reserve Collection suit is made with sustainably sourced wool from the REDA 1865 mills in Italy that is created in compliance with the principles of animal welfare, and the reduced use of chemicals, water, and energy. Tailored Fit. Two-button jacket with soft shoulder construction, notch lapel, and side vents. Half canvas chest piece construction. Pick-stitch detailing. Flat-front slacks have rubber grippers at the waistband, are lined to the knee, and unhemmed for tailoring. 100% wool. Dry clean only. Imported.", "promoDescription" : "", "productUrl" : "http://www.circleoftrusttherapy.com/p/reserve-collection-tailored-fit-windowpane-plaid-reda-1865-sustainawool-suit-big-tall-3UD5", "productImageUrl" : "https://images.josbank.com/is/image/JosBank/3UD4_70_JOS_A_BANK_RESERVE_BLUE_MAIN?$browse_thumbnail$", "productImageFullSize" : "https://images.josbank.com/is/image/JosBank/3UD4_70_JOS_A_BANK_RESERVE_BLUE_MAIN?$browse_thumbnail$", "price" : "$439.00", "regPrice" : "", "salePrice" : "", "label": "none", "category" : "Big & Tall", "subcategory": "New Arrivals", "stock": 1, "dimension53" : "No" }

{ "451548650" : { "50 Regular": ["Blue"], "48 Regular": ["Blue"], "50 Long": ["Blue"], "46 X Long": ["Blue"], "52 Long": ["Blue"], "52 Regular": ["Blue"], "44 X Long": ["Blue"], "42 X Long": ["Blue"], "48 Long": ["Blue"], "48 X Long": ["Blue"] } }

{ "id" : "451548650", "productName" : "Reserve Collection Tailored Fit Windowpane Suit - Big & Tall", "productItem" : "3UD9", "productDescription" : "With impeccable styling, this suit is a standout and one you'll appreciate in your collection. Tailored from Italian-made Super 120's wool, it includes a fully lined, notch-lapel jacket with two-button closure and side vents. The half-canvas, chest-piece construction gives the jacket its proper structure and drape. Matching flat-front slacks come with a rubberized waistband to help keep shirts neatly tucked and cotton pocket pouches; lined to the knee and unhemmed for custom tailoring. 100% wool. Dry clean only. Imported.", "promoDescription" : "", "productUrl" : "http://www.circleoftrusttherapy.com/p/reserve-collection-tailored-fit-windowpane-suit-big-tall-3UD9", "productImageUrl" : "https://images.josbank.com/is/image/JosBank/3UD8_70_JOS_A_BANK_RESERVE_BLUE_MAIN?$browse_thumbnail$", "productImageFullSize" : "https://images.josbank.com/is/image/JosBank/3UD8_70_JOS_A_BANK_RESERVE_BLUE_MAIN?$browse_thumbnail$", "price" : "$439.00", "regPrice" : "", "salePrice" : "", "label": "none", "category" : "Big & Tall", "subcategory": "New Arrivals", "stock": 1, "dimension53" : "No" }

{ "451548653" : { "50 Regular": ["Navy"], "48 Regular": ["Navy"], "52 Regular": ["Navy"], "48 Long": ["Navy"] } }

{ "id" : "451548653", "productName" : "Reserve Collection Slim Fit Suit - Big & Tall", "productItem" : "3UDG", "productDescription" : "Made from fine Italian wool, this impressive suit has a stylish, slim silhouette for that perfect fit. The fully lined jacket features pick stitch detailing, notch lapel, two-button closure, flap pockets, interior pockets and side vents. The flat-front slacks have rubber grippers at the waistband to keep shirts tucked in and cotton pocket pouches. The slacks are lined to the knee and are unhemmed for tailoring. 100% wool. Dry clean only. Imported.", "promoDescription" : "", "productUrl" : "http://www.circleoftrusttherapy.com/p/reserve-collection-slim-fit-suit-big-tall-3UDG", "productImageUrl" : "https://images.josbank.com/is/image/JosBank/3UDF_75_JOS_A_BANK_RESERVE_NAVY_MAIN?$browse_thumbnail$", "productImageFullSize" : "https://images.josbank.com/is/image/JosBank/3UDF_75_JOS_A_BANK_RESERVE_NAVY_MAIN?$browse_thumbnail$", "price" : "$439.00", "regPrice" : "", "salePrice" : "", "label": "none", "category" : "Big & Tall", "subcategory": "New Arrivals", "stock": 1, "dimension53" : "No" }

{ "451547795" : { "50 Regular": ["Grey"], "48 Regular": ["Grey"], "50 Long": ["Grey"], "46 X Long": ["Grey"], "52 Long": ["Grey"], "52 Regular": ["Grey"], "44 X Long": ["Grey"], "42 X Long": ["Grey"], "48 Long": ["Grey"], "48 X Long": ["Grey"] } }

{ "id" : "451547795", "productName" : "Reserve Collection Tailored Fit Glen Plaid REDA 1865 SustainaWool? Suit - Big & Tall", "productItem" : "3UCP", "productDescription" : "This stylish and refined Reserve Collection suit is made with sustainably sourced wool from the REDA 1865 mills in Italy that is created in compliance with the principles of animal welfare, and the reduced use of chemicals, water, and energy. Tailored Fit. Two-button jacket, notch lapel, side vents. Pick-stitched details. Half canvas chest piece construction. Flat-front slacks, lined to the knee. Unhemmed for tailoring. 100% wool. Dry clean only. Imported.", "promoDescription" : "", "productUrl" : "http://www.circleoftrusttherapy.com/p/reserve-collection-tailored-fit-glen-plaid-reda-1865-sustainawool-suit-big-tall-3UCP", "productImageUrl" : "https://images.josbank.com/is/image/JosBank/3UCN_03_JOS_A_BANK_RESERVE_GREY_MAIN?$browse_thumbnail$", "productImageFullSize" : "https://images.josbank.com/is/image/JosBank/3UCN_03_JOS_A_BANK_RESERVE_GREY_MAIN?$browse_thumbnail$", "price" : "$439.00", "regPrice" : "", "salePrice" : "", "label": "none", "category" : "Big & Tall", "subcategory": "New Arrivals", "stock": 1, "dimension53" : "No" }

{ "451547801" : { "50 Regular": ["Blue"], "48 Regular": ["Blue"], "50 Long": ["Blue"], "46 X Long": ["Blue"], "52 Long": ["Blue"], "52 Regular": ["Blue"], "44 X Long": ["Blue"], "42 X Long": ["Blue"], "48 Long": ["Blue"], "48 X Long": ["Blue"] } }

{ "id" : "451547801", "productName" : "Reserve Collection Tailored Fit Glen Plaid REDA 1865 SustainaWool? Suit - Big & Tall", "productItem" : "3UCX", "productDescription" : "This stylish and refined Reserve Collection suit is made with sustainably sourced wool from the REDA 1865 mills in Italy, created in compliance with the principles of animal welfare, and the reduced use of chemicals, water, and energy. Tailored Fit. Two-button jacket, notch lapel, side vents. Pick-stitched details. Half canvas chest piece construction. Flat-front slacks, lined to the knee. Unhemmed for tailoring. 100% wool. Dry clean only. Imported.", "promoDescription" : "", "productUrl" : "http://www.circleoftrusttherapy.com/p/reserve-collection-tailored-fit-glen-plaid-reda-1865-sustainawool-suit-big-tall-3UCX", "productImageUrl" : "https://images.josbank.com/is/image/JosBank/3UCW_70_JOS_A_BANK_RESERVE_BLUE_MAIN?$browse_thumbnail$", "productImageFullSize" : "https://images.josbank.com/is/image/JosBank/3UCW_70_JOS_A_BANK_RESERVE_BLUE_MAIN?$browse_thumbnail$", "price" : "$439.00", "regPrice" : "", "salePrice" : "", "label": "none", "category" : "Big & Tall", "subcategory": "New Arrivals", "stock": 1, "dimension53" : "No" }

{ "451547805" : { "50 Regular": ["Tan"], "48 Regular": ["Tan"], "50 Long": ["Tan"], "52 Long": ["Tan"], "52 Regular": ["Tan"], "48 Long": ["Tan"] } }

{ "id" : "451547805", "productName" : "Reserve Collection Tailored Fit Glen Plaid Suit - Big & Tall", "productItem" : "3UD1", "productDescription" : "This stylish and refined Reserve Collection suit is made with sustainably sourced wool from the REDA 1865 mills in Italy. This fabric is created in compliance with the principles of animal welfare, and the reduced use of chemicals, water and energy. In a handsome glen plaid, the suit features quality accents like a fully lined jacket with pick-stitch details, notch lapel, two-button closure and side vents. Flat-front slacks have a rubberized waistband to keep shirts tucked in, come with cotton pouch pockets, are lined to the knee, and are unhemmed for tailoring. 100% wool. Dry clean only. Imported.", "promoDescription" : "", "productUrl" : "http://www.circleoftrusttherapy.com/p/reserve-collection-tailored-fit-glen-plaid-suit-big-tall-3UD1", "productImageUrl" : "https://images.josbank.com/is/image/JosBank/3UD0_16_JOS_A_BANK_RESERVE_TAN_MAIN?$browse_thumbnail$", "productImageFullSize" : "https://images.josbank.com/is/image/JosBank/3UD0_16_JOS_A_BANK_RESERVE_TAN_MAIN?$browse_thumbnail$", "price" : "$439.00", "regPrice" : "", "salePrice" : "", "label": "none", "category" : "Big & Tall", "subcategory": "New Arrivals", "stock": 1, "dimension53" : "No" }

{ "451547842" : { "50 Regular": ["Blue"], "48 Regular": ["Blue"], "50 Long": ["Blue"], "46 X Long": ["Blue"], "52 Long": ["Blue"], "52 Regular": ["Blue"], "44 X Long": ["Blue"], "42 X Long": ["Blue"], "48 Long": ["Blue"] } }

{ "id" : "451547842", "productName" : "Reserve Collection Tailored Fit Plaid Liberty Suit - Big & Tall", "productItem" : "3UJH", "productDescription" : "Finely tailored in the USA from Italian made fabric, this Reserve Collection suit is a refined classic. This sophisticated addition to your look has a two-button jacket, notch lapel, padded wool collar, soft shoulder construction, and side vents. Tailored Fit. Pick-stitched details. Half canvas construction. Underarm sweat shields. Jacquard Bemberg lining. Interior pen pocket. American flag lapel pin. Slacks are lined to the knee and unhemmed for tailoring. They are smoothly fashioned with a flat front. 100% 130's wool. Dry clean only. Made in USA.", "promoDescription" : "", "productUrl" : "http://www.circleoftrusttherapy.com/p/reserve-collection-tailored-fit-plaid-liberty-suit-big-tall-3UJH", "productImageUrl" : "https://images.josbank.com/is/image/JosBank/3UJG_70_JOS_A_BANK_RESERVE_BLUE_MAIN?$browse_thumbnail$", "productImageFullSize" : "https://images.josbank.com/is/image/JosBank/3UJG_70_JOS_A_BANK_RESERVE_BLUE_MAIN?$browse_thumbnail$", "price" : "", "regPrice" : "$589.00", "salePrice" : "$439.00", "label": "sale", "category" : "Big & Tall", "subcategory": "New Arrivals", "stock": 1, "dimension53" : "No" }

{ "451547846" : { "50 Regular": ["Navy"], "48 Regular": ["Navy"], "50 Long": ["Navy"], "46 X Long": ["Navy"], "52 Long": ["Navy"], "44 X Long": ["Navy"], "42 X Long": ["Navy"], "48 Long": ["Navy"] } }

{ "id" : "451547846", "productName" : "Reserve Collection Tailored Fit Mini Check Liberty Suit - Big & Tall", "productItem" : "3UJM", "productDescription" : "Finely tailored in the USA from Italian made fabric, this Reserve Collection suit is a refined classic. This sophisticated addition to your look has a two-button jacket, notch lapel, padded wool collar, soft shoulder construction, and side vents. Tailored Fit. Pick-stitched details. Half canvas construction. Underarm sweat shields. Jacquard Bemberg lining. Interior pen pocket. American flag lapel pin. Slacks are lined to the knee and unhemmed for tailoring. They are smoothly fashioned with a flat front. 100% 130's wool. Dry clean only. Made in USA.", "promoDescription" : "", "productUrl" : "http://www.circleoftrusttherapy.com/p/reserve-collection-tailored-fit-mini-check-liberty-suit-big-tall", "productImageUrl" : "https://images.josbank.com/is/image/JosBank/3UJL_75_JOS_A_BANK_RESERVE_NAVY_MAIN?$browse_thumbnail$", "productImageFullSize" : "https://images.josbank.com/is/image/JosBank/3UJL_75_JOS_A_BANK_RESERVE_NAVY_MAIN?$browse_thumbnail$", "price" : "", "regPrice" : "$589.00", "salePrice" : "$439.00", "label": "sale", "category" : "Big & Tall", "subcategory": "New Arrivals", "stock": 1, "dimension53" : "No" }

{ "451547807" : { "48 Regular": ["Navy"], "50 Long": ["Navy"], "52 Regular": ["Navy"], "48 Long": ["Navy"] } }

{ "id" : "451547807", "productName" : "Reserve Collection Tailored Fit Stripe REDA 1865 SustainaWool? Suit - Big & Tall", "productItem" : "3UD3", "productDescription" : "This stylish and refined Reserve Collection suit is made with sustainably sourced wool from the REDA 1865 mills in Italy that is created in compliance with the principles of animal welfare, and the reduced use of chemicals, water, and energy. Tailored Fit. Two-button jacket, notch lapel, side vents. Ticket pocket. Flat-front slacks, lined to the knee. Unhemmed for tailoring. Pick-stitched details. 99% wool, 1% other fabric. Dry clean only. Imported.", "promoDescription" : "", "productUrl" : "http://www.circleoftrusttherapy.com/p/reserve-collection-tailored-fit-stripe-reda-1865-sustainawool-suit-big-tall", "productImageUrl" : "https://images.josbank.com/is/image/JosBank/3UD2_75_JOS_A_BANK_RESERVE_NAVY_MAIN?$browse_thumbnail$", "productImageFullSize" : "https://images.josbank.com/is/image/JosBank/3UD2_75_JOS_A_BANK_RESERVE_NAVY_MAIN?$browse_thumbnail$", "price" : "$439.00", "regPrice" : "", "salePrice" : "", "label": "none", "category" : "Big & Tall", "subcategory": "New Arrivals", "stock": 1, "dimension53" : "No" }
Related Products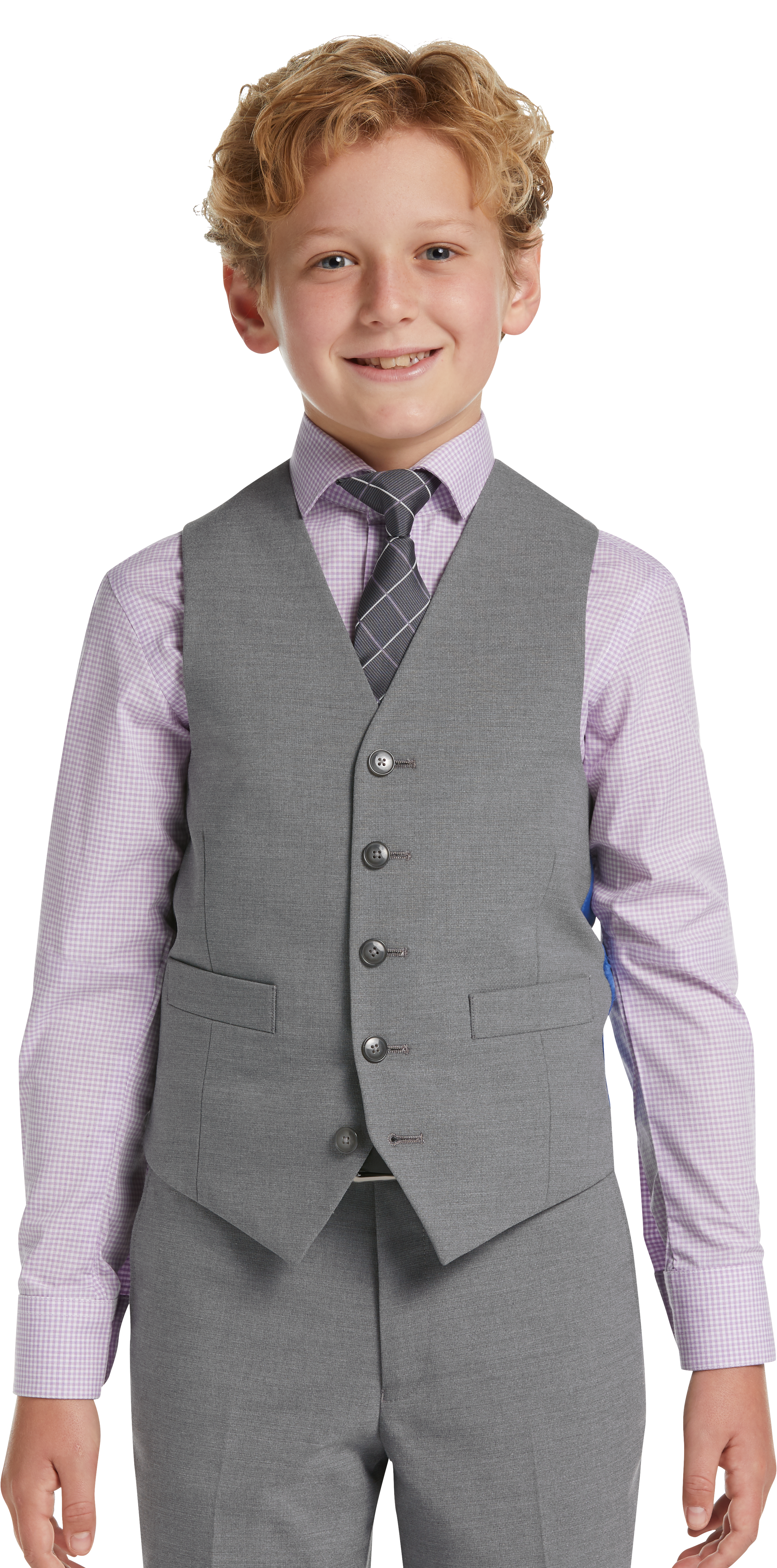 Description:
Dress your little gentleman for his special occasions in a 1905 Collection suit separates vest. Suit separates let you choose pant, vest and jacket sizes separately for an ideal fit. Four-button closure. Adjustable back belt. Front welt pockets. Stripe lining, ...
Description:
From the 1905 Collection, this Slim Fit dress shirt has a subtle stripe and leaf pattern, and is easy-care with its wrinkle-resistant fabric. It features a split-back yoke, center back box pleats, break-resistant buttons, button-down collar, and barrel cuffs. Exact ...
Description:
These classic five-pocket jeans have a trim Tailored Fit and a touch of stretch for comfort and an ideal fit. Available in Big & Tall sizes. Hemmed. 99% cotton, 1% elastane. Machine washable. Imported.
Description:
Complete a stylish casual look with this knit denim blazer from the 1905 Collection. Layer it over a sportshirt and slacks, it features fabric with comfortable stretch for comfort and an ideal fit. Two button closure, notch lapel, side vents. ...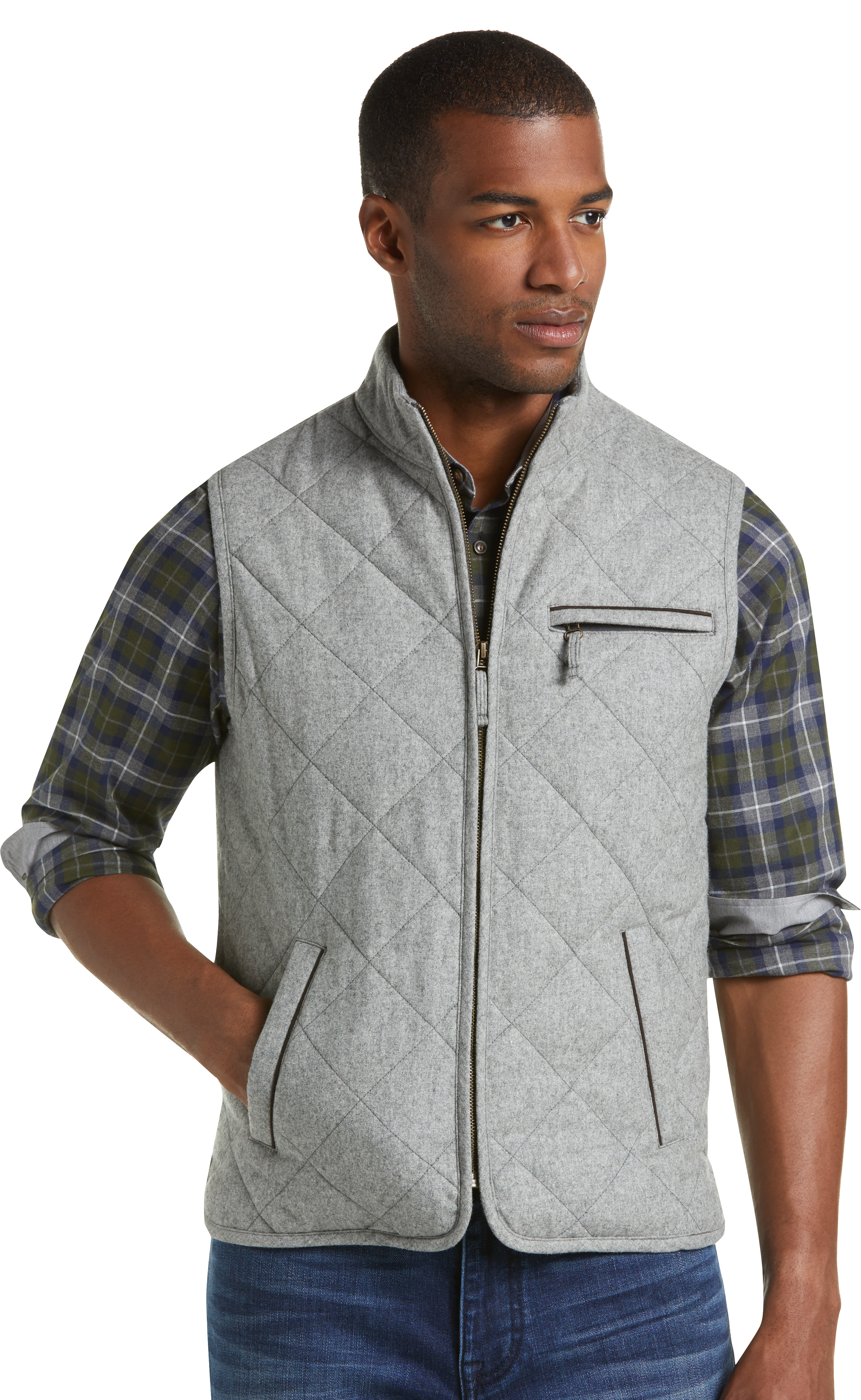 Description:
The 1905 Collection features classic styles with an updated edge. This cozy, quilted vest features a trim, Tailored Fit, full zip closure, hand-warmer pockets, and a zippered chest pocket. Decorative piping completes the look. 52% wool, 48% polyester. Dry clean ...