Sportcoats
Refine your results
SHOW
Show:

Press enter to collapse or expand the menu. For navigating with in Filter options, press tab. To select Filter options, press enter.

Clear All

Filter

Done

0

Products

Add filter

Reset filters
Product List
{ "451515575" : { "42 Short": ["Blue"], "44 Long": ["Blue"], "46 Short": ["Blue"], "42 Long": ["Blue"], "42 Regular": ["Blue"], "44 Short": ["Blue"], "46 Regular": ["Blue"], "46 Long": ["Blue"], "41 Regular": ["Blue"], "43 Regular": ["Blue"], "40 Regular": ["Blue"], "41 Long": ["Blue"], "38 Short": ["Blue"], "44 Regular": ["Blue"], "40 Long": ["Blue"], "43 Long": ["Blue"], "38 Regular": ["Blue"], "40 Short": ["Blue"] } }

{ "id" : "451515575", "productName" : "Executive Collection Traditional Fit Mini Check Sportcoat", "productItem" : "13ZE", "productDescription" : "Classic and refined, our Executive Collection sportcoats feature the highest quality craftsmanship and timeless style you've been seeking. This fine coat is tailored with a two-button closure, notch lapel, and side vents in a flattering Traditional Fit. A subtle mini check pattern completes your distinguished look. Fully lined. 100% wool. Dry clean only. Imported.", "promoDescription" : "", "productUrl" : "http://www.circleoftrusttherapy.com/p/executive-collection-traditional-fit-mini-check-sportcoat", "productImageUrl" : "https://images.josbank.com/is/image/JosBank/13ZE_70_EXECUTIVE_BLUE_MAIN?$browse_thumbnail$", "productImageFullSize" : "https://images.josbank.com/is/image/JosBank/13ZE_70_EXECUTIVE_BLUE_MAIN?$browse_thumbnail$", "price" : "$99.00", "regPrice" : "", "salePrice" : "", "label": "none", "category" : "SportCoats", "subcategory": "Executive Sportcoats", "stock": 1, "dimension53" : "No" }

{ "451543294" : { "44 Long": [ "Berry", "Green", "Rust", "Tan" ], "46 Short": [ "Berry", "Green", "Rust", "Tan" ], "42 Long": [ "Berry", "Green", "Rust", "Tan" ], "39 Regular": [ "Rust", "Tan" ], "42 Regular": [ "Berry", "Rust", "Tan" ], "44 Short": [ "Berry", "Green", "Rust" ], "46 Regular": [ "Berry", "Green", "Rust", "Tan" ], "46 Long": [ "Berry", "Green", "Rust" ], "41 Regular": [ "Berry", "Green", "Rust", "Tan" ], "40 Regular": [ "Berry", "Green", "Rust", "Tan" ], "38 Short": [ "Berry", "Green", "Rust", "Tan" ], "44 Regular": [ "Berry", "Green", "Rust", "Tan" ], "40 Long": [ "Berry", "Green", "Rust", "Tan" ], "38 Regular": [ "Green", "Rust", "Tan" ], "40 Short": [ "Berry", "Rust", "Tan" ] } }

{ "id" : "451543294", "productName" : "1905 Collection Tailored Fit Sportcoat", "productItem" : "14K2", "productDescription" : "Luxuriously textured, this fine sportcoat is a blend of silk and wool, detailed with a 3-1\/4 inch notch lapel, soft-shoulder construction and two-button closure. It is fully lined and has side vents. 52% silk, 48% wool. Dry clean only. Imported.", "promoDescription" : "", "productUrl" : "http://www.circleoftrusttherapy.com/p/1905-collection-tailored-fit-sportcoat-14K2", "productImageUrl" : "https://images.josbank.com/is/image/JosBank/14K2_79_1905_GREEN_MAIN?$browse_thumbnail$", "productImageFullSize" : "https://images.josbank.com/is/image/JosBank/14K2_79_1905_GREEN_MAIN?$browse_thumbnail$", "price" : "$139.00", "regPrice" : "", "salePrice" : "", "label": "none", "category" : "SportCoats", "subcategory": "1905 Sportcoats", "stock": 1, "dimension53" : "No" }

{ "451321169" : { "46 Regular": ["Bright Blue"], "46 Long": ["Bright Blue"], "42 Short": ["Bright Blue"], "44 Long": ["Bright Blue"], "43 Regular": ["Bright Blue"], "42 Long": ["Bright Blue"], "40 Regular": ["Bright Blue"], "44 Regular": ["Bright Blue"], "45 Long": ["Bright Blue"], "44 Short": ["Bright Blue"], "40 Short": ["Bright Blue"] } }

{ "id" : "451321169", "productName" : "Executive Collection Traditional Fit Houndstooth Sportcoat", "productItem" : "12NE", "productDescription" : "Achieve a refined and stylish look with this Reserve Collection Sportcoat. Traditional Fit. Fully lined. Two button, side vents, notch lapel. Interior pockets. 100% wool. Dry clean only. Imported.", "promoDescription" : "", "productUrl" : "http://www.circleoftrusttherapy.com/p/executive-collection-traditional-fit-houndstooth-sportcoat", "productImageUrl" : "https://images.josbank.com/is/image/JosBank/12NE_73_EXECUTIVE_BRIGHT_BLUE_MAIN?$browse_thumbnail$", "productImageFullSize" : "https://images.josbank.com/is/image/JosBank/12NE_73_EXECUTIVE_BRIGHT_BLUE_MAIN?$browse_thumbnail$", "price" : "$99.00", "regPrice" : "", "salePrice" : "", "label": "none", "category" : "SportCoats", "subcategory": "Executive Sportcoats", "stock": 1, "dimension53" : "No" }

{ "451321166" : { "42 Short": ["Bright Navy"], "44 Long": ["Bright Navy"], "46 Short": ["Bright Navy"], "42 Long": ["Bright Navy"], "39 Regular": ["Bright Navy"], "42 Regular": ["Bright Navy"], "44 Short": ["Bright Navy"], "46 Regular": ["Bright Navy"], "46 Long": ["Bright Navy"], "41 Regular": ["Bright Navy"], "43 Regular": ["Bright Navy"], "38 Short": ["Bright Navy"], "40 Regular": ["Bright Navy"], "41 Long": ["Bright Navy"], "44 Regular": ["Bright Navy"], "40 Long": ["Bright Navy"], "43 Long": ["Bright Navy"], "40 Short": ["Bright Navy"] } }

{ "id" : "451321166", "productName" : "Executive Collection Traditional Fit Check Sportcoat", "productItem" : "12N5", "productDescription" : "Achieve a refined stylish look with this fine Executive Collection Sportcoat. Fully lined. Two button, notch lapel, side vents. Interior pockets. Classic check pattern. 100% wool. Dry clean only. Imported.", "promoDescription" : "", "productUrl" : "http://www.circleoftrusttherapy.com/p/executive-collection-traditional-fit-check-sportcoat-12N5", "productImageUrl" : "https://images.josbank.com/is/image/JosBank/12N5_76_EXECUTIVE_BRIGHT_NAVY_MAIN?$browse_thumbnail$", "productImageFullSize" : "https://images.josbank.com/is/image/JosBank/12N5_76_EXECUTIVE_BRIGHT_NAVY_MAIN?$browse_thumbnail$", "price" : "$99.00", "regPrice" : "", "salePrice" : "", "label": "none", "category" : "SportCoats", "subcategory": "Executive Sportcoats", "stock": 1, "dimension53" : "No" }

{ "451321167" : { "46 Regular": ["Grey"], "46 Long": ["Grey"], "42 Short": ["Grey"], "44 Long": ["Grey"], "43 Regular": ["Grey"], "40 Regular": ["Grey"], "44 Regular": ["Grey"], "42 Regular": ["Grey"], "44 Short": ["Grey"] } }

{ "id" : "451321167", "productName" : "Executive Collection Traditional Fit Mini Houndstooth Sportcoat", "productItem" : "12N8", "productDescription" : "Achieve a refined stylish look with this fine Executive Collection Sportcoat. Fully lined. Two button, notch lapel, side vents. Interior pockets. Mini houndstooth pattern. 100% wool. Dry clean only. Imported.", "promoDescription" : "", "productUrl" : "http://www.circleoftrusttherapy.com/p/executive-collection-traditional-fit-mini-houndstooth-sportcoat", "productImageUrl" : "https://images.josbank.com/is/image/JosBank/12N8_03_EXECUTIVE_GREY_MAIN?$browse_thumbnail$", "productImageFullSize" : "https://images.josbank.com/is/image/JosBank/12N8_03_EXECUTIVE_GREY_MAIN?$browse_thumbnail$", "price" : "$99.00", "regPrice" : "", "salePrice" : "", "label": "none", "category" : "SportCoats", "subcategory": "Executive Sportcoats", "stock": 1, "dimension53" : "No" }

{ "451321168" : { "46 Regular": ["Tan"], "44 Regular": ["Tan"] } }

{ "id" : "451321168", "productName" : "Executive Collection Traditional Fit Houndstooth Windowpane Sportcoat", "productItem" : "12NC", "productDescription" : "Crafted from the finest wool, this Executive Collection sportcoat has a silky smooth finish and a classic pattern. Traditional Fit. Fully lined. Two button side vents, notch lapel. Interior pockets. 100% wool. Dry clean only. Imported.", "promoDescription" : "", "productUrl" : "http://www.circleoftrusttherapy.com/p/executive-collection-traditional-fit-houndstooth-windowpane-sportcoat", "productImageUrl" : "https://images.josbank.com/is/image/JosBank/12NC_16_EXECUTIVE_TAN_MAIN?$browse_thumbnail$", "productImageFullSize" : "https://images.josbank.com/is/image/JosBank/12NC_16_EXECUTIVE_TAN_MAIN?$browse_thumbnail$", "price" : "$99.00", "regPrice" : "", "salePrice" : "", "label": "none", "category" : "SportCoats", "subcategory": "Executive Sportcoats", "stock": 1, "dimension53" : "No" }

{ "451536957" : { "42 Short": [ "Bright Navy", "Dark Pink", "Purple", "Salmon", "Violet" ], "44 Long": [ "Bright Navy", "Dark Pink", "Purple", "Salmon", "Violet" ], "46 Short": [ "Bright Navy", "Dark Pink", "Purple", "Salmon", "Violet" ], "42 Long": [ "Bright Navy", "Dark Pink", "Purple", "Salmon", "Violet" ], "42 Regular": [ "Bright Navy", "Dark Pink", "Purple", "Salmon", "Violet" ], "44 Short": [ "Bright Navy", "Dark Pink", "Purple", "Salmon", "Violet" ], "46 Regular": [ "Bright Navy", "Dark Pink", "Purple", "Salmon", "Violet" ], "46 Long": [ "Bright Navy", "Dark Pink", "Purple", "Salmon", "Violet" ], "41 Regular": [ "Bright Navy", "Dark Pink", "Purple", "Salmon", "Violet" ], "43 Regular": [ "Bright Navy", "Dark Pink", "Purple", "Salmon", "Violet" ], "38 Short": [ "Bright Navy", "Dark Pink", "Purple", "Salmon", "Violet" ], "40 Regular": [ "Bright Navy", "Dark Pink", "Purple", "Salmon", "Violet" ], "44 Regular": [ "Bright Navy", "Dark Pink", "Purple", "Salmon", "Violet" ], "40 Long": [ "Bright Navy", "Dark Pink", "Purple", "Salmon", "Violet" ], "38 Regular": [ "Bright Navy", "Dark Pink", "Purple", "Salmon", "Violet" ], "40 Short": [ "Bright Navy", "Dark Pink", "Purple", "Salmon", "Violet" ] } }

{ "id" : "451536957", "productName" : "1905 Collection Tailored Fit Sportcoat", "productItem" : "14EF", "productDescription" : "Stand out in this silk-wool blend sportcoat that is supremely soft and elegant. The Tailored Fit cut will give you that trim silhouette you've been looking for. Notch lapel, two-button closure, interior pockets and side vents. Fully lined. 52% silk, 48% wool. Dry clean only. Imported.", "promoDescription" : "", "productUrl" : "http://www.circleoftrusttherapy.com/p/1905-collection-tailored-fit-sportcoat-14EF", "productImageUrl" : "https://images.josbank.com/is/image/JosBank/14EF_66_1905_VIOLET_MAIN?$browse_thumbnail$", "productImageFullSize" : "https://images.josbank.com/is/image/JosBank/14EF_66_1905_VIOLET_MAIN?$browse_thumbnail$", "price" : "$139.00", "regPrice" : "", "salePrice" : "", "label": "none", "category" : "SportCoats", "subcategory": "1905 Sportcoats", "stock": 1, "dimension53" : "No" }

{ "451542033" : { "44 Long": ["Blue"], "46 Short": ["Blue"], "42 Long": ["Blue"], "39 Regular": ["Blue"], "42 Regular": ["Blue"], "44 Short": ["Blue"], "46 Regular": ["Blue"], "41 Regular": ["Blue"], "40 Regular": ["Blue"], "38 Short": ["Blue"], "44 Regular": ["Blue"], "40 Long": ["Blue"], "38 Regular": ["Blue"], "40 Short": ["Blue"] } }

{ "id" : "451542033", "productName" : "1905 Collection Tailored Fit Guncheck Sportcoat", "productItem" : "14JA", "productDescription" : "When you're striving for a more relaxed look and feel that is still dress casual, this soft shouldered sportcoat is an ideal choice. It features a textured check pattern in a cool and comfortable cotton and nylon blend. Two button closure, notch lapel, side vents. 3\/8 lined. Interior pockets. 80% cotton, 20% linen. Imported.", "promoDescription" : "", "productUrl" : "http://www.circleoftrusttherapy.com/p/1905-collection-tailored-fit-guncheck-sportcoat", "productImageUrl" : "https://images.josbank.com/is/image/JosBank/14JA_70_1905_BLUE_MAIN?$browse_thumbnail$", "productImageFullSize" : "https://images.josbank.com/is/image/JosBank/14JA_70_1905_BLUE_MAIN?$browse_thumbnail$", "price" : "$139.00", "regPrice" : "", "salePrice" : "", "label": "none", "category" : "SportCoats", "subcategory": "1905 Sportcoats", "stock": 1, "dimension53" : "No" }

{ "451543296" : { "44 Long": ["Silver"], "41 Regular": ["Silver"], "42 Long": ["Silver"], "44 Regular": ["Silver"], "40 Long": ["Silver"], "42 Regular": ["Silver"], "38 Regular": ["Silver"] } }

{ "id" : "451543296", "productName" : "1905 Collection Tailored Fit Herringbone Sportcoat with brrr°? comfort", "productItem" : "14KA", "productDescription" : "Fine Italian fabric from the Emmetex mills crafts this exquisitely soft sportcoat from the 1905 Collection. This handsome dress casual classic features a blend of cotton and linen with some stretch, a herringbone pattern, and a Tailored Fit. It is crafted using brrr\u00B0\u00AE comfort technology that continually keeps you cooler with natural-cooling minerals, a special fiber core that increases moisture wicking, and an enhanced airflow to boost cooling so you feel fresh. Notch lapel, two-button, side vents, and patch pockets. Interior pockets. 3\/8 lined. 57% cotton, 38% linen, 2% linen, 3% other fibers. Dry clean only. Imported.", "promoDescription" : "", "productUrl" : "http://www.circleoftrusttherapy.com/p/1905-collection-tailored-fit-herringbone-sportcoat-with-brrr-comfort", "productImageUrl" : "https://images.josbank.com/is/image/JosBank/14KA_08_1905_SILVER_MAIN?$browse_thumbnail$", "productImageFullSize" : "https://images.josbank.com/is/image/JosBank/14KA_08_1905_SILVER_MAIN?$browse_thumbnail$", "price" : "$139.00", "regPrice" : "", "salePrice" : "", "label": "none", "category" : "SportCoats", "subcategory": "1905 Sportcoats", "stock": 1, "dimension53" : "No" }

{ "451149400" : { "37 Regular": ["Bright Navy"], "42 Short": ["Navy"], "46 Short": [ "Bright Navy", "Navy" ], "36 Regular": ["Bright Navy"], "39 Regular": [ "Bright Navy", "Navy" ], "38 Long": ["Bright Navy"], "42 Regular": ["Navy"], "44 Short": ["Navy"], "46 Regular": ["Navy"], "41 Regular": ["Navy"], "43 Regular": ["Bright Navy"], "38 Short": [ "Bright Navy", "Navy" ], "40 Regular": ["Navy"], "41 Long": [ "Bright Navy", "Navy" ], "44 Regular": [ "Bright Navy", "Navy" ], "40 Long": [ "Bright Navy", "Navy" ], "43 Long": ["Navy"], "40 Short": [ "Bright Navy", "Navy" ] } }

{ "id" : "451149400", "productName" : "Traveler Collection Tailored Fit Utility Sportcoat", "productItem" : "11T0", "productDescription" : "Comfort and style set this sportcoat from the Travelers Collection apart from the rest. Water repellant and stain resistant. Tailored Fit. Two button. Notch lapel. Side vents. Natural stretch wool. Narrower lapel. Zippered and media pockets ideal for travel. Gusset armholes for breathable comfort. Poly stretch lining for added comfort. No canvas chest piece, garment uses modern fusing technology. 100% wool. Dry clean. Imported.", "promoDescription" : "", "productUrl" : "http://www.circleoftrusttherapy.com/p/traveler-collection-tailored-fit-utility-sportcoat", "productImageUrl" : "https://images.josbank.com/is/image/JosBank/11T0_76_TRAVELER_BRIGHT_NAVY_MAIN?$browse_thumbnail$", "productImageFullSize" : "https://images.josbank.com/is/image/JosBank/11T0_76_TRAVELER_BRIGHT_NAVY_MAIN?$browse_thumbnail$", "price" : "$179.00", "regPrice" : "", "salePrice" : "", "label": "none", "category" : "SportCoats", "subcategory": "Traveler Sportcoats", "stock": 1, "dimension53" : "No" }

{ "451543324" : { "42 Short": ["Blue"], "44 Long": ["Blue"], "46 Short": ["Blue"], "42 Long": ["Blue"], "42 Regular": ["Blue"], "44 Short": ["Blue"], "46 Regular": ["Blue"], "46 Long": ["Blue"], "43 Regular": ["Blue"], "40 Regular": ["Blue"], "38 Short": ["Blue"], "44 Regular": ["Blue"], "40 Long": ["Blue"], "38 Regular": ["Blue"], "40 Short": ["Blue"] } }

{ "id" : "451543324", "productName" : "Reserve Collection Tailored Fit Check Sportcoat", "productItem" : "14M1", "productDescription" : "Woven from Super 130's Italian wool, this Reserve Collection sportcoat has a subtle check pattern with a soft, lustrous finish. Two button, notch lapel, side vents. Soft shouldered construction. Fully lined with interior pockets. 100% wool. Dry clean only. Imported.", "promoDescription" : "", "productUrl" : "http://www.circleoftrusttherapy.com/p/reserve-collection-tailored-fit-check-sportcoat-14M1", "productImageUrl" : "https://images.josbank.com/is/image/JosBank/14M1_70_JOS_A_BANK_RESERVE_BLUE_MAIN?$browse_thumbnail$", "productImageFullSize" : "https://images.josbank.com/is/image/JosBank/14M1_70_JOS_A_BANK_RESERVE_BLUE_MAIN?$browse_thumbnail$", "price" : "$229.00", "regPrice" : "", "salePrice" : "", "label": "none", "category" : "SportCoats", "subcategory": "Reserve Sportcoats", "stock": 1, "dimension53" : "No" }

{ "451542051" : { "46 Long": ["Berry"], "42 Short": ["Berry"], "44 Long": ["Berry"], "41 Regular": ["Berry"], "46 Short": ["Berry"], "42 Long": ["Berry"], "38 Short": ["Berry"], "40 Long": ["Berry"], "36 Regular": ["Berry"], "44 Short": ["Berry"], "40 Short": ["Berry"] } }

{ "id" : "451542051", "productName" : "1905 Collection Slim Fit Textured Sportcoat with brrr°? comfort", "productItem" : "14JX", "productDescription" : "The 1905 Collection features updated classics, with vintage appeal. Woven from a blend of linen and wool, this stylish Slim Fit sportcoat offers rich texture. It is crafted using brrr\u00B0\u00AE comfort technology that continually keeps you cooler with natural-cooling minerals, a special fiber core that increases moisture wicking, and an enhanced airflow to boost cooling so you feel fresh. Notch lapel, two-button closure, side vents, and patch pockets. Soft shoulder construction. Interior pockets. 3\/8 lined. 52% linen, 48% wool. Dry clean only. Imported.", "promoDescription" : "", "productUrl" : "http://www.circleoftrusttherapy.com/p/1905-collection-slim-fit-textured-sportcoat-with-brrr-comfort", "productImageUrl" : "https://images.josbank.com/is/image/JosBank/14JX_61_1905_BERRY_MAIN?$browse_thumbnail$", "productImageFullSize" : "https://images.josbank.com/is/image/JosBank/14JX_61_1905_BERRY_MAIN?$browse_thumbnail$", "price" : "$139.00", "regPrice" : "", "salePrice" : "", "label": "none", "category" : "SportCoats", "subcategory": "1905 Sportcoats", "stock": 1, "dimension53" : "No" }

{ "451536967" : { "42 Short": ["Green"], "44 Long": ["Green"], "46 Short": ["Green"], "42 Long": ["Green"], "42 Regular": ["Green"], "44 Short": ["Green"], "46 Regular": ["Green"], "46 Long": ["Green"], "41 Regular": ["Green"], "43 Regular": ["Green"], "38 Short": ["Green"], "40 Regular": ["Green"], "44 Regular": ["Green"], "40 Long": ["Green"], "38 Regular": ["Green"], "40 Short": ["Green"] } }

{ "id" : "451536967", "productName" : "1905 Collection Tailored Fit Sportcoat", "productItem" : "14ET", "productDescription" : "Stand out in this silk-wool blend sportcoat that is supremely soft and elegant. The Tailored Fit will give you that slimmer look you'll like. Notch lapel, two-button closure, interior pockets and side vents. Fully lined. 52% silk, 48% wool. Dry clean only. Imported.", "promoDescription" : "", "productUrl" : "http://www.circleoftrusttherapy.com/p/1905-collection-tailored-fit-sportcoat-14ET", "productImageUrl" : "https://images.josbank.com/is/image/JosBank/14ET_79_1905_GREEN_MAIN?$browse_thumbnail$", "productImageFullSize" : "https://images.josbank.com/is/image/JosBank/14ET_79_1905_GREEN_MAIN?$browse_thumbnail$", "price" : "$139.00", "regPrice" : "", "salePrice" : "", "label": "none", "category" : "SportCoats", "subcategory": "1905 Sportcoats", "stock": 1, "dimension53" : "No" }

{ "451245867" : { "37 Regular": ["Bright Navy"], "42 Short": ["Bright Navy"], "39 Long": ["Bright Navy"], "46 Short": ["Bright Navy"], "42 Long": ["Bright Navy"], "36 Regular": ["Bright Navy"], "39 Regular": ["Bright Navy"], "42 Regular": ["Bright Navy"], "44 Short": ["Bright Navy"], "46 Regular": ["Bright Navy"], "46 Long": ["Bright Navy"], "41 Regular": ["Bright Navy"], "38 Short": ["Bright Navy"], "40 Regular": ["Bright Navy"], "41 Long": ["Bright Navy"], "44 Regular": ["Bright Navy"], "40 Long": ["Bright Navy"], "43 Long": ["Bright Navy"], "38 Regular": ["Bright Navy"], "40 Short": ["Bright Navy"] } }

{ "id" : "451245867", "productName" : "Travel Tech Slim Fit Sportcoat", "productItem" : "128D", "productDescription" : "Travel in comfort and style. This Travel Tech sportcoat creates a comfortable micro-climate for your body by removing excess moisture before you even begin to sweat. Built-in fabric technology doesn't wash out. Maintains the optimum microclimate for your body. Stretch mesh fabric is integrated throughout the jacket. Two button, notch lapel, side vents. Zippered utility pockets are strategically placed inside jacket. Performance stretch lining. Slim Fit. 71% wool, 25% 37.5 polyester, 4% spandex. Dry clean only. Imported.", "promoDescription" : "", "productUrl" : "http://www.circleoftrusttherapy.com/p/travel-tech-slim-fit-sportcoat", "productImageUrl" : "https://images.josbank.com/is/image/JosBank/128D_76_TRAVELER_BRIGHT_NAVY_MAIN?$browse_thumbnail$", "productImageFullSize" : "https://images.josbank.com/is/image/JosBank/128D_76_TRAVELER_BRIGHT_NAVY_MAIN?$browse_thumbnail$", "price" : "$179.00", "regPrice" : "", "salePrice" : "", "label": "none", "category" : "SportCoats", "subcategory": "Travel Tech Sportcoats", "stock": 1, "dimension53" : "No" }

{ "451543323" : { "44 Long": ["Brown"], "46 Short": ["Brown"], "42 Long": ["Brown"], "42 Regular": ["Brown"], "44 Short": ["Brown"], "46 Regular": ["Brown"], "46 Long": ["Brown"], "43 Regular": ["Brown"], "40 Regular": ["Brown"], "38 Short": ["Brown"], "44 Regular": ["Brown"], "40 Long": ["Brown"], "38 Regular": ["Brown"], "40 Short": ["Brown"] } }

{ "id" : "451543323", "productName" : "Reserve Collection Tailored Fit Plaid Sportcoat", "productItem" : "14LZ", "productDescription" : "Achieve the refined and stylish look you've been seeking with this Reserve Collection Sportcoat. This fine coat is styled with a two-button closure, notch lapel, and side vents. Straight flap pockets. It is fully lined with interior pockets. 100% wool. Dry clean only. Imported.", "promoDescription" : "", "productUrl" : "http://www.circleoftrusttherapy.com/p/reserve-collection-tailored-fit-plaid-sportcoat-14LZ", "productImageUrl" : "https://images.josbank.com/is/image/JosBank/14LZ_38_JOS_A_BANK_RESERVE_BROWN_MAIN?$browse_thumbnail$", "productImageFullSize" : "https://images.josbank.com/is/image/JosBank/14LZ_38_JOS_A_BANK_RESERVE_BROWN_MAIN?$browse_thumbnail$", "price" : "$229.00", "regPrice" : "", "salePrice" : "", "label": "none", "category" : "SportCoats", "subcategory": "Reserve Sportcoats", "stock": 1, "dimension53" : "No" }

{ "451542029" : { "44 Long": ["Grey"], "46 Short": ["Grey"], "38 Long": ["Grey"], "42 Regular": ["Grey"], "44 Short": ["Grey"], "46 Regular": ["Grey"], "46 Long": ["Grey"], "41 Regular": ["Grey"], "36 Short": ["Grey"], "40 Regular": ["Grey"], "38 Short": ["Grey"], "44 Regular": ["Grey"], "40 Long": ["Grey"], "38 Regular": ["Grey"], "40 Short": ["Grey"] } }

{ "id" : "451542029", "productName" : "1905 Collection Slim Fit Plaid Sportcoat with brrr°? comfort", "productItem" : "14J6", "productDescription" : "The 1905 Collection features updated classics, with vintage appeal. This stylish sportcoat is tailored from soft wool with a touch of stretch, plaid pattern, and notch lapel. Slim Fit. Patch pockets. Fully lined. It is crafted using brrr\u00B0\u00AE comfort technology that continually keeps you cooler with natural-cooling minerals, a special fiber core that increases moisture wicking, and an enhanced airflow to boost cooling so you feel fresh. 97% wool, 3% spandex. Dry clean only. Imported.", "promoDescription" : "", "productUrl" : "http://www.circleoftrusttherapy.com/p/1905-collection-slim-fit-plaid-sportcoat-with-brrr-comfort-14J6", "productImageUrl" : "https://images.josbank.com/is/image/JosBank/14J6_03_1905_GREY_MAIN?$browse_thumbnail$", "productImageFullSize" : "https://images.josbank.com/is/image/JosBank/14J6_03_1905_GREY_MAIN?$browse_thumbnail$", "price" : "$139.00", "regPrice" : "", "salePrice" : "", "label": "none", "category" : "SportCoats", "subcategory": "1905 Sportcoats", "stock": 1, "dimension53" : "No" }

{ "451543307" : { "46 Regular": ["Berry"], "46 Long": ["Berry"], "46 Short": ["Berry"], "42 Long": ["Berry"], "38 Short": ["Berry"], "44 Regular": ["Berry"], "40 Long": ["Berry"], "38 Regular": ["Berry"] } }

{ "id" : "451543307", "productName" : "Traveler Collection Tailored Fit Windowpane Plaid Sportcoat", "productItem" : "14L0", "productDescription" : "Ideal for travel and daily wear, this Traveler Collection sportcoat is water, wrinkle, and stain resistant for effortless style. Made of soft wool with a Tailored Fit, this sportcoat is fully lined with stretch fabric for added comfort. Two button, notch lapel, side vents. Interior pockets. 100% wool. Dry clean only. Imported.", "promoDescription" : "", "productUrl" : "http://www.circleoftrusttherapy.com/p/traveler-collection-tailored-fit-windowpane-plaid-sportcoat-14L0", "productImageUrl" : "https://images.josbank.com/is/image/JosBank/14L0_61_TRAVELER_BERRY_MAIN?$browse_thumbnail$", "productImageFullSize" : "https://images.josbank.com/is/image/JosBank/14L0_61_TRAVELER_BERRY_MAIN?$browse_thumbnail$", "price" : "$179.00", "regPrice" : "", "salePrice" : "", "label": "none", "category" : "SportCoats", "subcategory": "Traveler Sportcoats", "stock": 1, "dimension53" : "No" }

{ "451536973" : { "46 Regular": ["Brown"], "46 Long": ["Brown"], "42 Short": ["Brown"], "44 Long": ["Brown"], "42 Long": ["Brown"], "40 Regular": ["Brown"], "44 Regular": ["Brown"], "42 Regular": ["Brown"], "44 Short": ["Brown"] } }

{ "id" : "451536973", "productName" : "1905 Collection Slim Fit Windowpane Sportcoat", "productItem" : "14EZ", "productDescription" : "Fashion forward with vintage appeal, this 1905 Collection Sportcoat has a classic windowpane pattern and a Slim Fit. Two button closure, notch lapel, side vents. Fully lined. Interior pockets 100% wool. Dry clean only. Imported.", "promoDescription" : "", "productUrl" : "http://www.circleoftrusttherapy.com/p/1905-collection-slim-fit-windowpane-sportcoat-14EZ", "productImageUrl" : "https://images.josbank.com/is/image/JosBank/14EZ_38_1905_BROWN_MAIN?$browse_thumbnail$", "productImageFullSize" : "https://images.josbank.com/is/image/JosBank/14EZ_38_1905_BROWN_MAIN?$browse_thumbnail$", "price" : "$139.00", "regPrice" : "", "salePrice" : "", "label": "none", "category" : "SportCoats", "subcategory": "1905 Sportcoats", "stock": 1, "dimension53" : "No" }

{ "451543292" : { "42 Short": ["Blue"], "44 Long": ["Blue"], "46 Short": ["Blue"], "42 Long": ["Blue"], "39 Regular": ["Blue"], "42 Regular": ["Blue"], "44 Short": ["Blue"], "46 Long": ["Blue"], "40 Regular": ["Blue"], "38 Short": ["Blue"], "40 Long": ["Blue"], "38 Regular": ["Blue"], "40 Short": ["Blue"] } }

{ "id" : "451543292", "productName" : "Traveler Collection Tailored Fit Check Sportcoat", "productItem" : "14HM", "productDescription" : "This Traveler Collection sportcoat is ideal for your busy life, with a flattering Tailored Fit and water and stain resistance that keeps you looking sharp and neat longer. It is fully lined with a stretch fabric for the best in fit and comfort. Two button, notch lapel, side vents. Fused chest piece. Interior pockets. 100% wool. Dry clean only. Imported.", "promoDescription" : "", "productUrl" : "http://www.circleoftrusttherapy.com/p/traveler-collection-tailored-fit-check-sportcoat-14HM", "productImageUrl" : "https://images.josbank.com/is/image/JosBank/14HM_70_TRAVELER_BLUE_MAIN?$browse_thumbnail$", "productImageFullSize" : "https://images.josbank.com/is/image/JosBank/14HM_70_TRAVELER_BLUE_MAIN?$browse_thumbnail$", "price" : "$179.00", "regPrice" : "", "salePrice" : "", "label": "none", "category" : "SportCoats", "subcategory": "Traveler Sportcoats", "stock": 1, "dimension53" : "No" }

{ "451536985" : { "46 Regular": ["Grey"], "44 Long": ["Grey"], "42 Long": ["Grey"], "40 Regular": ["Grey"], "44 Regular": ["Grey"] } }

{ "id" : "451536985", "productName" : "1905 Collection Tailored Fit Windowpane Plaid Sportcoat", "productItem" : "14FL", "productDescription" : "Complete your dress- and professional-wear wardrobe with this 1905 Collection sportcoat in a classic windowpane plaid pattern. Two button, notch lapel, side vents. Fully lined with interior pockets. 100% wool. Dry clean only. Imported.", "promoDescription" : "", "productUrl" : "http://www.circleoftrusttherapy.com/p/1905-collection-tailored-fit-windowpane-plaid-sportcoat-14FL", "productImageUrl" : "https://images.josbank.com/is/image/JosBank/14FL_03_1905_GREY_MAIN?$browse_thumbnail$", "productImageFullSize" : "https://images.josbank.com/is/image/JosBank/14FL_03_1905_GREY_MAIN?$browse_thumbnail$", "price" : "$139.00", "regPrice" : "", "salePrice" : "", "label": "none", "category" : "SportCoats", "subcategory": "1905 Sportcoats", "stock": 1, "dimension53" : "No" }

{ "451543287" : { "42 Short": ["Teal"], "44 Long": ["Teal"], "46 Short": ["Teal"], "42 Long": ["Teal"], "36 Regular": ["Teal"], "42 Regular": ["Teal"], "44 Short": ["Teal"], "46 Regular": ["Teal"], "46 Long": ["Teal"], "40 Regular": ["Teal"], "38 Short": ["Teal"], "44 Regular": ["Teal"], "40 Long": ["Teal"], "38 Regular": ["Teal"], "40 Short": ["Teal"] } }

{ "id" : "451543287", "productName" : "Travel Tech Collection Slim Fit Windowpane Sportcoat", "productItem" : "14HA", "productDescription" : "Travel in comfort and style. This Travel Tech sportcoat creates a comfortable micro-climate for your body by removing excess moisture before you even begin to sweat. Built-in fabric technology doesn't wash out. Maintains the optimum microclimate for your body. Stretch mesh fabric is integrated throughout the jacket. Two button, notch lapel, side vents. Zippered utility pockets are strategically placed inside jacket. Performance stretch lining. 71% wool, 25% 37.5® polyester, 4% spandex. Machine washable. Imported.", "promoDescription" : "", "productUrl" : "http://www.circleoftrusttherapy.com/p/travel-tech-collection-slim-fit-windowpane-sportcoat-14HA", "productImageUrl" : "https://images.josbank.com/is/image/JosBank/14HA_68_TRAVELTECH_TEAL_MAIN?$browse_thumbnail$", "productImageFullSize" : "https://images.josbank.com/is/image/JosBank/14HA_68_TRAVELTECH_TEAL_MAIN?$browse_thumbnail$", "price" : "$179.00", "regPrice" : "", "salePrice" : "", "label": "none", "category" : "SportCoats", "subcategory": "Travel Tech Sportcoats", "stock": 1, "dimension53" : "No" }

{ "451543303" : { "42 Short": ["Grey"], "44 Long": ["Grey"], "46 Short": ["Grey"], "42 Long": ["Grey"], "36 Regular": ["Grey"], "39 Regular": ["Grey"], "38 Long": ["Grey"], "42 Regular": ["Grey"], "44 Short": ["Grey"], "46 Regular": ["Grey"], "46 Long": ["Grey"], "36 Short": ["Grey"], "41 Regular": ["Grey"], "43 Regular": ["Grey"], "38 Short": ["Grey"], "40 Regular": ["Grey"], "44 Regular": ["Grey"], "40 Long": ["Grey"], "38 Regular": ["Grey"], "40 Short": ["Grey"] } }

{ "id" : "451543303", "productName" : "Traveler Collection Slim Fit Windowpane Plaid Sportcoat", "productItem" : "14KP", "productDescription" : "Ideal for travel and daily wear, this Traveler Collection sportcoat is water, wrinkle, and stain resistant for effortless style. This Slim Fit sportcoat is fully lined with stretch fabric for added comfort. Two button, notch lapel, side vents. Interior pockets. 100% wool. Dry clean only. Imported.", "promoDescription" : "", "productUrl" : "http://www.circleoftrusttherapy.com/p/traveler-collection-slim-fit-windowpane-plaid-sportcoat", "productImageUrl" : "https://images.josbank.com/is/image/JosBank/14KP_03_TRAVELER_GREY_MAIN?$browse_thumbnail$", "productImageFullSize" : "https://images.josbank.com/is/image/JosBank/14KP_03_TRAVELER_GREY_MAIN?$browse_thumbnail$", "price" : "$179.00", "regPrice" : "", "salePrice" : "", "label": "none", "category" : "SportCoats", "subcategory": "Traveler Sportcoats", "stock": 1, "dimension53" : "No" }

{ "451543317" : { "46 Long": ["Blue"], "41 Regular": ["Blue"], "46 Short": ["Blue"], "43 Regular": ["Blue"], "42 Long": ["Blue"], "40 Long": ["Blue"], "43 Long": ["Blue"], "42 Regular": ["Blue"], "40 Short": ["Blue"] } }

{ "id" : "451543317", "productName" : "Reserve Collection Traditional Fit Windowpane Sportcoat", "productItem" : "14LL", "productDescription" : "Crafted from soft wool, this Reserve Collection sportcoat has a smooth finish in a windowpane plaid pattern. Traditional Fit. Two button, notch lapel, side vents. Straight flap pockets. Fully lined with interior pockets. 100% wool. Dry clean only. Imported.", "promoDescription" : "", "productUrl" : "http://www.circleoftrusttherapy.com/p/reserve-collection-traditional-fit-windowpane-sportcoat-14LL", "productImageUrl" : "https://images.josbank.com/is/image/JosBank/14LL_70_JOS_A_BANK_RESERVE_BLUE_MAIN?$browse_thumbnail$", "productImageFullSize" : "https://images.josbank.com/is/image/JosBank/14LL_70_JOS_A_BANK_RESERVE_BLUE_MAIN?$browse_thumbnail$", "price" : "$229.00", "regPrice" : "", "salePrice" : "", "label": "none", "category" : "SportCoats", "subcategory": "Reserve Sportcoats", "stock": 1, "dimension53" : "No" }

{ "451542041" : { "46 Long": ["Blue"], "44 Long": ["Blue"], "46 Short": ["Blue"], "43 Regular": ["Blue"], "42 Long": ["Blue"], "38 Regular": ["Blue"] } }

{ "id" : "451542041", "productName" : "1905 Collection Slim Fit Glen Plaid Seersucker Sportcoat with brrr°? comfort", "productItem" : "14JK", "productDescription" : "The 1905 Collection features updated classics, with vintage appeal. This Slim Fit sportcoat has old-world panache with its Glen plaid pattern and subtly seersucker, wool-blend fabric woven with a touch of stretch for a comfortable, flattering fit. It is crafted using brrr\u00B0\u00AE comfort technology that continually keeps you cooler with natural-cooling minerals, a special fiber core that increases moisture wicking, and an enhanced airflow to boost cooling so you feel fresh. Notch lapel, two-button closure, and side vents. Interior pockets. 3\/8 lined. 55% wool, 41% polyester, 4% spandex. Dry clean only. Imported.", "promoDescription" : "", "productUrl" : "http://www.circleoftrusttherapy.com/p/1905-collection-slim-fit-glen-plaid-seersucker-sportcoat-with-brrr-comfort", "productImageUrl" : "https://images.josbank.com/is/image/JosBank/14JK_70_1905_BLUE_MAIN?$browse_thumbnail$", "productImageFullSize" : "https://images.josbank.com/is/image/JosBank/14JK_70_1905_BLUE_MAIN?$browse_thumbnail$", "price" : "$139.00", "regPrice" : "", "salePrice" : "", "label": "none", "category" : "SportCoats", "subcategory": "1905 Sportcoats", "stock": 1, "dimension53" : "No" }
Related Products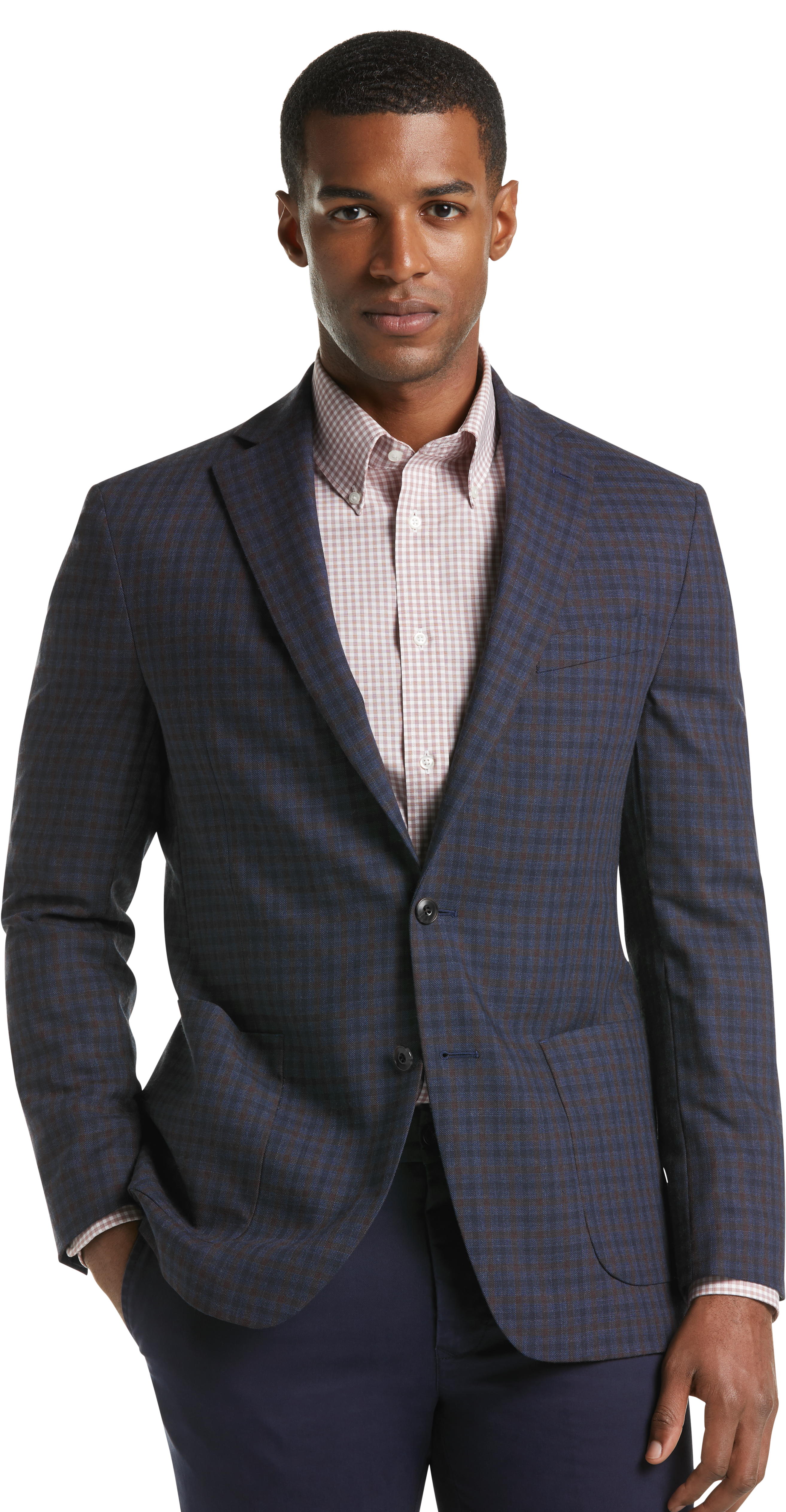 Description:
Our 1905 Collection sportcoats feature fine vintage details with a modern approach creating updated classic looks. This stylish sportcoat has a rich Tattersall pattern in fine wool. Two button, notch lapel, side vents. Fully lined, with interior pockets. 100% wool. ...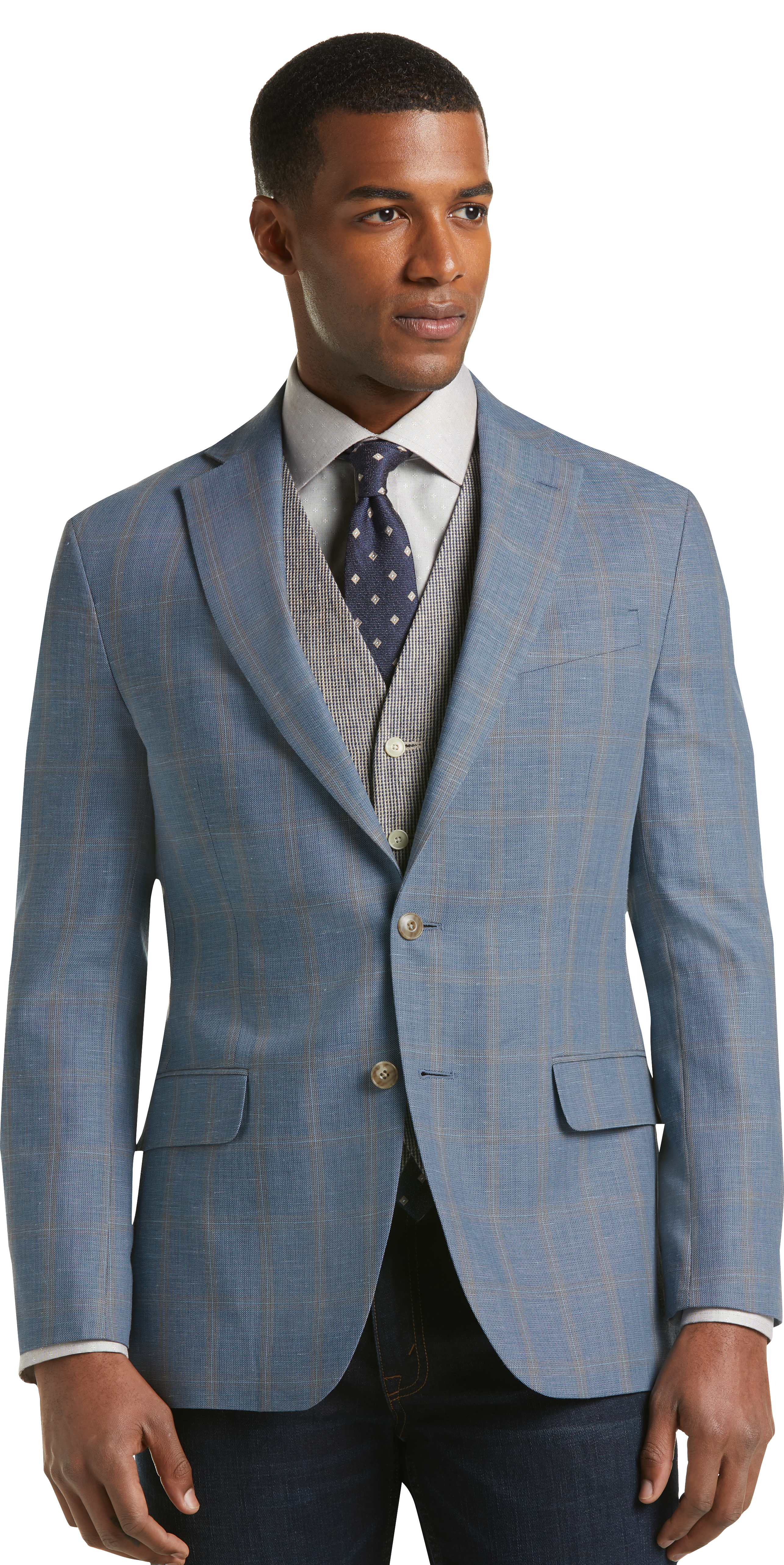 Description:
Complete your dress- and professional-wear wardrobe with this classic 1905 Collection sportcoat. This fine sportcoat features a luxurious wool and linen blend in a windowpane pattern. Two-button closure with a notch lapel and side vents. Fully lined with interior pockets. ...
Description:
Our 1905 Collection sportcoats feature fine craftsmanship with bolder colors and patterns and a touch of vintage style. Made with brrr°? comfort technology, this sportcoat keeps you comfortable with natural cooling minerals, a special fiber core that increases moisture wicking, ...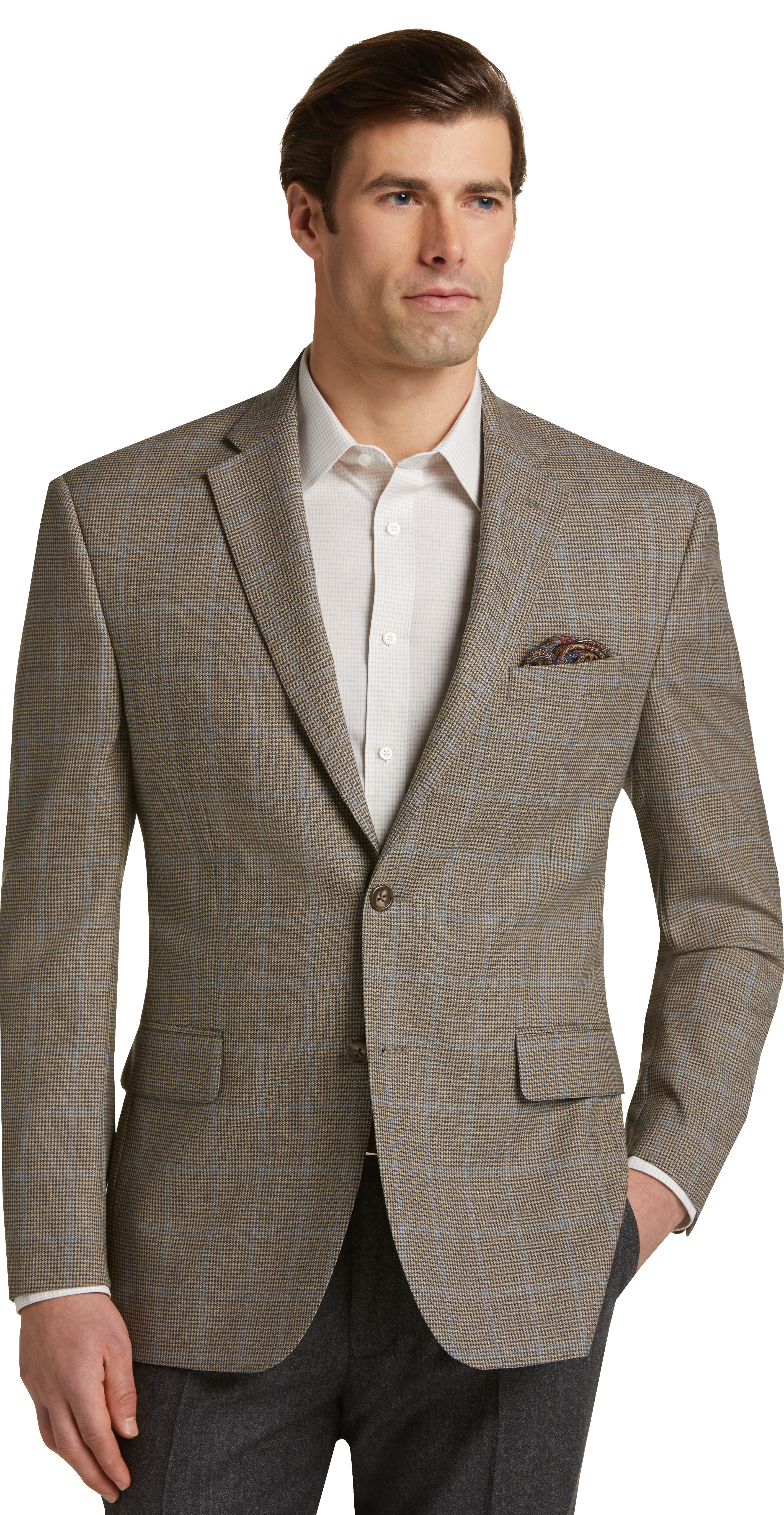 Description:
Crafted from the finest wool, this Reserve Collection sportcoat has a silky smooth finish and a classic pattern. Traditional Fit. Fully lined. Two button side vents, notch lapel. Interior pockets. 100% wool. Dry clean only. Imported.
Description:
Classic and refined, our Executive Collection sportcoats feature the highest quality craftsmanship and timeless style you've been seeking. This fine coat is tailored with a two-button closure, notch lapel, and side vents in a flattering Traditional Fit. A subtle mini ...
Men in Black
A wardrobe centerpiece: The black sportcoat.
The black sportcoat is every man's secret weapon. It's one of the most versatile garments a man can own. The black sportcoat is a classic piece, no matter if it's a tailored, traditional or Regal fit. One of the biggest benefits of this go-to option is that it will pull your look together at a moment's notice—whenever you wear it, and whatever you wear it with. A good black sportcoat can add a professional air when you use it to top a casual outfit. Simply pair one with your favorite pants and button-down shirt or sweater for a polished look, or wear one to dress up your jeans or chinos. Sportcoats and blazers are truly indispensable. They're also garments easy to keep on standby. Hang one on the back of your office door or on a coat rack so you can grab it whenever you need to spruce up your style on short notice. If you want a more casual style, throw on a pair of rugged Chelsea boots. You could also turn up the swagger and pair a black sportcoat with black jeans for a look that exudes confidence. There is nothing more essential to your wardrobe than a black sportcoat.