All Pants
Refine your results
SHOW
Show:

Press enter to collapse or expand the menu. For navigating with in Filter options, press tab. To select Filter options, press enter.

Clear All

Filter

Done

0

Products

Add filter

Reset filters
Product List
{ "451538530" : { "42x32": [ "Black", "Charcoal" ], "36x32": [ "Black", "Charcoal" ], "36x30": [ "Black", "Charcoal" ], "36x29": ["Black"], "38x29": [ "Black", "Charcoal" ], "35x32": [ "Black", "Charcoal" ], "42x30": [ "Black", "Charcoal" ], "35x30": ["Charcoal"], "33x32": [ "Black", "Charcoal" ], "33x30": [ "Black", "Charcoal" ], "40x30": ["Black"], "34x30": [ "Black", "Charcoal" ], "40x32": [ "Black", "Charcoal" ], "34x32": [ "Black", "Charcoal" ], "32x30": [ "Black", "Charcoal" ], "34x29": [ "Black", "Charcoal" ] } }

{ "id" : "451538530", "productName" : "1905 Collection Slim Fit Flat Front Knit Casual Pant", "productItem" : "21VG", "productDescription" : "Casual, yet trim and stylish, these solid knit pants from 1905 Collection feature a stretch knit fabric. Pre-hemmed. Slim Fit. 78% polyester, 22% rayon. Machine washable. Imported.", "promoDescription" : "2 for $70!", "productUrl" : "http://www.circleoftrusttherapy.com/p/1905-collection-slim-fit-flat-front-knit-casual-pant", "productImageUrl" : "https://images.josbank.com/is/image/JosBank/21VG_01_1905_BLACK_MAIN?$browse_thumbnail$", "productImageFullSize" : "https://images.josbank.com/is/image/JosBank/21VG_01_1905_BLACK_MAIN?$browse_thumbnail$", "price" : "$39.00", "regPrice" : "", "salePrice" : "", "label": "none", "category" : "Pants", "subcategory": "All Pants", "stock": 1, "dimension53" : "No" }

{ "451339067" : { "36x34": ["Light Grey"], "42x32": [ "Dark Blue", "Light Tan" ], "36x32": ["Dark Blue"], "36x30": ["Light Blue"], "35x32": ["Dark Blue"], "38x30": [ "Dark Blue", "Light Blue" ], "42x30": [ "Dark Blue", "Light Tan" ], "40x29": [ "Dark Blue", "Light Tan" ], "35x30": ["Dark Blue"], "33x32": ["Dark Blue"], "33x30": ["Dark Blue"], "40x32": ["Light Grey"], "34x32": ["Light Blue"], "32x30": ["Dark Blue"], "42x29": [ "Dark Blue", "Light Tan" ], "34x29": ["Dark Blue"], "32x32": [ "Dark Blue", "Light Blue" ] } }

{ "id" : "451339067", "productName" : "1905 Collection Tailored Fit Flat Front Chino Pants", "productItem" : "21DH", "productDescription" : "These casual-wear favorites feature a thick cotton fabric with a touch of stretch for comfort and fit. Tailored Fit. Flat front. Front slash, back welt pockets. Comfort waistband. 98% cotton, 2% elastane. Machine washable. Imported.", "promoDescription" : "2 for $70!", "productUrl" : "http://www.circleoftrusttherapy.com/p/1905-collection-tailored-fit-flat-front-chino-pants-21DH", "productImageUrl" : "https://images.josbank.com/is/image/JosBank/21DH_17_1905_LIGHT_TAN_MAIN?$browse_thumbnail$", "productImageFullSize" : "https://images.josbank.com/is/image/JosBank/21DH_17_1905_LIGHT_TAN_MAIN?$browse_thumbnail$", "price" : "$39.00", "regPrice" : "", "salePrice" : "", "label": "none", "category" : "Featured", "subcategory": "Ready for Anything", "stock": 1, "dimension53" : "No" }

{ "451539972" : { "37 Regular": ["Natural"], "34 Regular": ["Natural"], "40 Regular": ["Natural"], "32 Regular": ["Natural"], "36 Regular": ["Natural"], "35 Regular": ["Natural"], "33 Regular": ["Natural"], "42 Regular": ["Natural"], "38 Regular": ["Natural"] } }

{ "id" : "451539972", "productName" : "Reserve Collection Tailored Fit Flat Front Dress Pants", "productItem" : "21VR", "productDescription" : "Tailored from Italian Super 110's wool from the REDA mills, these Reserve Collection dress pants have a smooth flat front. In a Tailored Fit, these dress slacks will enhance your professional and dress-wear looks. Worsted canvas material. Unhemmed for tailoring. 100% wool. Dry clean only. Imported.", "promoDescription" : "", "productUrl" : "http://www.circleoftrusttherapy.com/p/reserve-collection-tailored-fit-flat-front-dress-pants-21VR", "productImageUrl" : "https://images.josbank.com/is/image/JosBank/21VR_14_JOS_A_BANK_RESERVE_NATURAL_MAIN?$browse_thumbnail$", "productImageFullSize" : "https://images.josbank.com/is/image/JosBank/21VR_14_JOS_A_BANK_RESERVE_NATURAL_MAIN?$browse_thumbnail$", "price" : "$119.00", "regPrice" : "", "salePrice" : "", "label": "none", "category" : "Pants", "subcategory": "All Pants", "stock": 1, "dimension53" : "No" }

{ "451541377" : { "36x32": [ "Blue", "Grey" ], "33x30": [ "Blue", "Grey" ], "36x30": [ "Blue", "Grey" ], "34x30": [ "Blue", "Grey" ], "36x29": [ "Blue", "Grey" ], "34x32": [ "Blue", "Grey" ], "32x30": [ "Blue", "Grey" ], "34x29": [ "Blue", "Grey" ], "38x32": [ "Blue", "Grey" ], "38x30": [ "Blue", "Grey" ] } }

{ "id" : "451541377", "productName" : "1905 Collection Slim Fit Flat Front Micro Check Sorona? Dress Pants", "productItem" : "21VU", "productDescription" : "Made to matter, these stylish wool-blend dress pants from the 1905 Collection are crafted from responsibly grown fibers. Fashioned with an ultra fine check pattern and cut with a Slim Fit, they will enhance your professional and dress casual ensembles. Stretch for comfort. Finished hems. 55% wool, 30% Sorona\u00AE triexta, 10% ramie, 5% linen. Dry clean only. Imported.", "promoDescription" : "", "productUrl" : "http://www.circleoftrusttherapy.com/p/1905-collection-slim-fit-flat-front-micro-check-sorona-dress-pants", "productImageUrl" : "https://images.josbank.com/is/image/JosBank/21VU_03_1905_GREY_MAIN?$browse_thumbnail$", "productImageFullSize" : "https://images.josbank.com/is/image/JosBank/21VU_03_1905_GREY_MAIN?$browse_thumbnail$", "price" : "$99.00", "regPrice" : "", "salePrice" : "", "label": "none", "category" : "Pants", "subcategory": "All Pants", "stock": 1, "dimension53" : "No" }

{ "451539971" : { "37 Regular": [ "Blue", "Dark Grey" ], "34 Regular": [ "Blue", "Dark Grey" ], "40 Regular": [ "Blue", "Dark Grey" ], "32 Regular": [ "Blue", "Dark Grey" ], "36 Regular": [ "Blue", "Dark Grey" ], "35 Regular": [ "Blue", "Dark Grey" ], "33 Regular": [ "Blue", "Dark Grey" ], "42 Regular": [ "Blue", "Dark Grey" ], "38 Regular": [ "Blue", "Dark Grey" ] } }

{ "id" : "451539971", "productName" : "Reserve Collection Slim Fit Flat Front Dress Pants", "productItem" : "21VP", "productDescription" : "Made with Italian wool from the REDA mills, these Reserve Collection dress pants feature a smooth flat front and a touch of stretch for comfort. Cut with a Slim Fit, these dress slacks will coordinate with the most contemporary of dress wear. Unhemmed for tailoring. 99% wool, 1% elastane. Dry Clean Only. Imported.", "promoDescription" : "", "productUrl" : "http://www.circleoftrusttherapy.com/p/reserve-collection-slim-fit-flat-front-dress-pants", "productImageUrl" : "https://images.josbank.com/is/image/JosBank/21VP_70_JOS_A_BANK_RESERVE_BLUE_MAIN?$browse_thumbnail$", "productImageFullSize" : "https://images.josbank.com/is/image/JosBank/21VP_70_JOS_A_BANK_RESERVE_BLUE_MAIN?$browse_thumbnail$", "price" : "$119.00", "regPrice" : "", "salePrice" : "", "label": "none", "category" : "Pants", "subcategory": "All Pants", "stock": 1, "dimension53" : "No" }

{ "451539973" : { "37 Regular": [ "Grey", "Light Blue" ], "34 Regular": [ "Grey", "Light Blue" ], "40 Regular": [ "Grey", "Light Blue" ], "32 Regular": [ "Grey", "Light Blue" ], "36 Regular": [ "Grey", "Light Blue" ], "35 Regular": [ "Grey", "Light Blue" ], "33 Regular": [ "Grey", "Light Blue" ], "42 Regular": [ "Grey", "Light Blue" ], "38 Regular": [ "Grey", "Light Blue" ] } }

{ "id" : "451539973", "productName" : "Travel Tech Slim Fit Flat Front Tic Weave Dress Pant", "productItem" : "21VT", "productDescription" : "These Slim Fit suit pants feature a unique fabric technology that maintains the optimum microclimate for your body. Named 37.5?, it removes moisture at the vapor stage before sweat can form. 37.5? acts like a thermostat by removing moisture when you are hot and retaining warmth when you are cold. It absorbs and traps odor molecules that are washed away when cleaned. The flat-front pants are half-lined to the knee and are unhemmed for tailoring. Suit separates allow you to choose pants and coat sizes separately for an ideal fit. 71% wool, 25% 37.5? polyester, 4% spandex. Dry clean only. Imported.", "promoDescription" : "", "productUrl" : "http://www.circleoftrusttherapy.com/p/travel-tech-slim-fit-flat-front-tic-weave-dress-pant", "productImageUrl" : "https://images.josbank.com/is/image/JosBank/21VT_03_TRAVELTECH_GREY_MAIN?$browse_thumbnail$", "productImageFullSize" : "https://images.josbank.com/is/image/JosBank/21VT_03_TRAVELTECH_GREY_MAIN?$browse_thumbnail$", "price" : "$99.00", "regPrice" : "", "salePrice" : "", "label": "none", "category" : "Pants", "subcategory": "Travel Tech Pants", "stock": 1, "dimension53" : "No" }

{ "451539151" : { "36x32": [ "Black", "Grey" ], "36x30": [ "Black", "Grey" ], "36x29": [ "Black", "Grey" ], "38x29": ["Black"], "38x32": ["Grey"], "38x30": ["Grey"], "33x32": ["Black"], "33x30": [ "Black", "Grey" ], "34x30": [ "Black", "Grey" ], "34x32": [ "Black", "Grey" ], "32x30": [ "Black", "Grey" ], "34x29": [ "Black", "Grey" ], "32x32": ["Black"] } }

{ "id" : "451539151", "productName" : "1905 Collection Slim Fit Flat Front Stretch Dress Pant", "productItem" : "21UX", "productDescription" : "These classic dress pants not only look great with a smooth, flat front and Slim Fit, but they are tailored from a soft fabric blend woven with stretch for an ideal fit and the ultimate in comfort. Super flex waistband. Pre-hemmed. 67% polyester, 28% viscose, 5% elastane. Machine washable. Imported.", "promoDescription" : "", "productUrl" : "http://www.circleoftrusttherapy.com/p/1905-collection-slim-fit-flat-front-stretch-dress-pant", "productImageUrl" : "https://images.josbank.com/is/image/JosBank/21UX_03_1905_GREY_MAIN?$browse_thumbnail$", "productImageFullSize" : "https://images.josbank.com/is/image/JosBank/21UX_03_1905_GREY_MAIN?$browse_thumbnail$", "price" : "$99.00", "regPrice" : "", "salePrice" : "", "label": "none", "category" : "Pants", "subcategory": "All Pants", "stock": 1, "dimension53" : "No" }

{ "451538529" : { "42x32": [ "Black", "Navy" ], "36x32": [ "Black", "Navy" ], "36x30": [ "Black", "Navy" ], "36x29": [ "Black", "Navy" ], "38x29": ["Black"], "35x32": [ "Black", "Navy" ], "42x30": ["Black"], "35x30": ["Black"], "33x32": ["Black"], "33x30": [ "Black", "Navy" ], "34x30": [ "Black", "Navy" ], "40x32": ["Black"], "34x32": [ "Black", "Navy" ], "32x30": ["Black"], "34x29": [ "Black", "Navy" ] } }

{ "id" : "451538529", "productName" : "1905 Collection Slim Fit Flat Front Tech Dress Pant", "productItem" : "21VF", "productDescription" : "Smooth and stylish, these tech dress pants feature comfortable stretch fabric throughout, a flexible waistband, and moisture wicking properties for all-day comfort. 97% polyester, 3% spandex. Machine washable. Imported.", "promoDescription" : "", "productUrl" : "http://www.circleoftrusttherapy.com/p/1905-collection-slim-fit-flat-front-tech-dress-pant", "productImageUrl" : "https://images.josbank.com/is/image/JosBank/21VF_75_1905_NAVY_MAIN?$browse_thumbnail$", "productImageFullSize" : "https://images.josbank.com/is/image/JosBank/21VF_75_1905_NAVY_MAIN?$browse_thumbnail$", "price" : "$99.00", "regPrice" : "", "salePrice" : "", "label": "none", "category" : "Pants", "subcategory": "All Pants", "stock": 1, "dimension53" : "No" }

{ "451530803" : { "36x34": [ "Blue", "Dark Wash" ], "32x29": [ "Blue", "Dark Wash" ], "42x32": [ "Blue", "Dark Wash" ], "35x29": [ "Blue", "Dark Wash" ], "36x29": [ "Blue", "Dark Wash" ], "38x29": [ "Blue", "Dark Wash" ], "38x32": [ "Blue", "Dark Wash" ], "35x32": [ "Blue", "Dark Wash" ], "38x30": ["Dark Wash"], "30x30": [ "Blue", "Dark Wash" ], "40x29": [ "Blue", "Dark Wash" ], "42x30": [ "Blue", "Dark Wash" ], "38x34": [ "Blue", "Dark Wash" ], "35x30": [ "Blue", "Dark Wash" ], "30x32": [ "Blue", "Dark Wash" ], "33x32": [ "Blue", "Dark Wash" ], "33x30": ["Dark Wash"], "40x30": [ "Blue", "Dark Wash" ], "34x30": ["Dark Wash"], "40x32": [ "Blue", "Dark Wash" ], "34x32": ["Dark Wash"], "42x29": [ "Blue", "Dark Wash" ], "34x34": [ "Blue", "Dark Wash" ], "33x29": [ "Blue", "Dark Wash" ] } }

{ "id" : "451530803", "productName" : "1905 Collection Slim Fit Jeans", "productItem" : "21RY", "productDescription" : "The 1905 Collection features classic pieces with a updated vintage style. These stylish jeans have a flattering Slim Fit, and fabric with a touch of stretch for comfort and an ideal fit. Available in multiple washes. 99% cotton, 1% spandex. Machine washable. Imported.", "promoDescription" : "2 for $70!", "productUrl" : "http://www.circleoftrusttherapy.com/p/1905-collection-slim-fit-jeans", "productImageUrl" : "https://images.josbank.com/is/image/JosBank/21RY_70_1905_BLUE_MAIN?$browse_thumbnail$", "productImageFullSize" : "https://images.josbank.com/is/image/JosBank/21RY_70_1905_BLUE_MAIN?$browse_thumbnail$", "price" : "$49.00", "regPrice" : "", "salePrice" : "", "label": "none", "category" : "Pants", "subcategory": "All Pants", "stock": 1, "dimension53" : "No" }

{ "451532248" : { "36 Long": ["Light Tan"], "32 Regular": ["Light Tan"], "36 Regular": ["Light Tan"], "42 Regular": ["Light Tan"], "38 Regular": ["Light Tan"], "38 Long": ["Light Tan"] } }

{ "id" : "451532248", "productName" : "Executive Collection Traditional Fit Pleated Dress Pants", "productItem" : "21UP", "productDescription" : "These classic dress slacks complete a sophisticated professional look with ease. In a Traditional Fit, these slacks flatter in comfort with a pleated front. Lined to the knee. Unhemmed for tailoring. 100% wool. Imported.", "promoDescription" : "", "productUrl" : "http://www.circleoftrusttherapy.com/p/executive-collection-traditional-fit-pleated-dress-pants-21UP", "productImageUrl" : "https://images.josbank.com/is/image/JosBank/21UP_17_EXECUTIVE_LIGHT_TAN_MAIN?$browse_thumbnail$", "productImageFullSize" : "https://images.josbank.com/is/image/JosBank/21UP_17_EXECUTIVE_LIGHT_TAN_MAIN?$browse_thumbnail$", "price" : "$69.00", "regPrice" : "", "salePrice" : "", "label": "none", "category" : "Pants", "subcategory": "Executive Dress Pants", "stock": 1, "dimension53" : "No" }

{ "451532247" : { "37 Regular": ["Bright Blue"], "36 Long": ["Bright Blue"], "40 Regular": ["Bright Blue"], "32 Regular": ["Bright Blue"], "40 Long": ["Bright Blue"], "36 Regular": ["Bright Blue"], "35 Regular": ["Bright Blue"], "33 Regular": ["Bright Blue"], "42 Regular": ["Bright Blue"], "38 Regular": ["Bright Blue"], "38 Long": ["Bright Blue"] } }

{ "id" : "451532247", "productName" : "Executive Collection Traditional Fit Pleated Dress Pants", "productItem" : "21UL", "productDescription" : "These classic dress slacks complete a sophisticated professional look with ease. In a Traditional Fit, these slacks flatter in comfort with a pleated front. Lined to the knee. Unhemmed for tailoring. 100% wool. Imported.", "promoDescription" : "", "productUrl" : "http://www.circleoftrusttherapy.com/p/executive-collection-traditional-fit-pleated-dress-pants-21UL", "productImageUrl" : "https://images.josbank.com/is/image/JosBank/21UL_73_EXECUTIVE_BRIGHT_BLUE_MAIN?$browse_thumbnail$", "productImageFullSize" : "https://images.josbank.com/is/image/JosBank/21UL_73_EXECUTIVE_BRIGHT_BLUE_MAIN?$browse_thumbnail$", "price" : "$69.00", "regPrice" : "", "salePrice" : "", "label": "none", "category" : "Pants", "subcategory": "Executive Dress Pants", "stock": 1, "dimension53" : "No" }

{ "451527818" : { "37 Regular": [ "Dark Blue", "Dark Tan" ], "34 Regular": [ "Dark Blue", "Dark Tan" ], "42 Long": [ "Dark Blue", "Dark Tan" ], "40 Regular": ["Dark Blue"], "32 Regular": [ "Dark Blue", "Dark Tan" ], "30 Regular": [ "Dark Blue", "Dark Tan" ], "40 Long": [ "Brown", "Dark Blue", "Dark Tan" ], "36 Regular": [ "Dark Blue", "Dark Tan" ], "35 Regular": [ "Dark Blue", "Dark Tan" ], "33 Regular": ["Dark Blue"], "42 Regular": [ "Dark Blue", "Dark Tan" ], "38 Regular": ["Dark Blue"] } }

{ "id" : "451527818", "productName" : "Signature Collection Tailored Fit Flat Front Dress Pants", "productItem" : "21RW", "productDescription" : "These Signature dress pants feature smooth wool fabric that is lightweight, comfortable, and durable. Their smooth tailored style is ideal for professional and dress wear. Tailored fit. Plain front. Unhemmed for ease of tailoring to your measurements. 100% wool. Dry clean only. Imported.", "promoDescription" : "", "productUrl" : "http://www.circleoftrusttherapy.com/p/signature-collection-tailored-fit-flat-front-dress-pants-21RW", "productImageUrl" : "https://images.josbank.com/is/image/JosBank/21RW_38_SIGNATURE_BROWN_MAIN?$browse_thumbnail$", "productImageFullSize" : "https://images.josbank.com/is/image/JosBank/21RW_38_SIGNATURE_BROWN_MAIN?$browse_thumbnail$", "price" : "$99.00", "regPrice" : "", "salePrice" : "", "label": "none", "category" : "Pants", "subcategory": "Signature Dress Pants", "stock": 1, "dimension53" : "No" }

{ "451523325" : { "37 Regular": ["Charcoal"], "34 Regular": [ "Navy", "Olive" ], "31 Regular": [ "British Tan", "Charcoal", "Olive" ], "32 Regular": [ "Navy", "Olive" ], "30 Regular": [ "British Tan", "Charcoal", "Olive" ], "36 Regular": ["Navy"], "35 Regular": [ "British Tan", "Navy", "Olive" ], "33 Regular": ["Olive"], "42 Regular": [ "Charcoal", "Navy", "Olive" ], "38 Regular": ["Navy"] } }

{ "id" : "451523325", "productName" : "Travel Tech Slim Fit Flat Front Dress Pants", "productItem" : "21RP", "productDescription" : "These Slim Fit suit pants feature a unique fabric technology that maintains the optimum microclimate for your body. Named 37.5, it removes moisture at the vapor stage before sweat can form. 37.5 acts like a thermostat by removing moisture when you are hot and retaining warmth when you are cold. It absorbs and traps odor molecules that are washed away when cleaned. The flat-front pants are half-lined to the knee and are unhemmed for tailoring. 71% wool, 25% 37.5 polyester, 4% spandex. Dry clean only. Imported.", "promoDescription" : "", "productUrl" : "http://www.circleoftrusttherapy.com/p/travel-tech-slim-fit-flat-front-dress-pants-21RP", "productImageUrl" : "https://images.josbank.com/is/image/JosBank/21RP_85_TRAVELTECH_OLIVE_MAIN?$browse_thumbnail$", "productImageFullSize" : "https://images.josbank.com/is/image/JosBank/21RP_85_TRAVELTECH_OLIVE_MAIN?$browse_thumbnail$", "price" : "$99.00", "regPrice" : "", "salePrice" : "", "label": "none", "category" : "Featured", "subcategory": "Ready for Anything", "stock": 1, "dimension53" : "No" }

{ "451523323" : { "37 Regular": [ "Blue", "Bright Navy", "Grey", "Sage" ], "34 Regular": [ "Blue", "Sage" ], "40 Regular": [ "Blue", "Bright Navy", "Plum", "Sage" ], "32 Regular": [ "Bright Navy", "Grey", "Sage", "Tan" ], "30 Regular": [ "Bright Navy", "Grey", "Plum", "Tan" ], "36 Regular": [ "Blue", "Sage" ], "35 Regular": [ "Blue", "Bright Navy", "Sage" ], "30 Short": [ "Bright Navy", "Grey", "Olive", "Plum", "Tan" ], "33 Regular": [ "Blue", "Grey", "Sage" ], "42 Regular": [ "Blue", "Grey", "Sage" ], "38 Regular": [ "Blue", "Bright Navy", "Sage" ] } }

{ "id" : "451523323", "productName" : "Reserve Collection Tailored Fit REDA 1865 SustainaWool? Dress Pants", "productItem" : "21PT", "productDescription" : "These Reserve Collection dress pants are a refined and stylish addition to your wardrobe. The soft twill fabric is sustainably sourced wool from the REDA 1865 mills in Italy that is created in compliance with the principles of animal welfare, and the reduced use of chemicals, water, and energy. Flat front. Unhemmed for tailoring. Lined to the knee. 100% wool. Dry clean only. Imported.", "promoDescription" : "", "productUrl" : "http://www.circleoftrusttherapy.com/p/reserve-collection-tailored-fit-reda-1865-sustainawool-dress-pants", "productImageUrl" : "https://images.josbank.com/is/image/JosBank/21PT_70_JOS_A_BANK_RESERVE_BLUE_MAIN?$browse_thumbnail$", "productImageFullSize" : "https://images.josbank.com/is/image/JosBank/21PT_70_JOS_A_BANK_RESERVE_BLUE_MAIN?$browse_thumbnail$", "price" : "$119.00", "regPrice" : "", "salePrice" : "", "label": "none", "category" : "Featured", "subcategory": "Ready for Anything", "stock": 1, "dimension53" : "No" }

{ "451506511" : { "42x30": ["Blue"] } }

{ "id" : "451506511", "productName" : "1905 Collection Tailored Fit Casual Pants", "productItem" : "21NX", "productDescription" : "Look your best in these casual slacks from the 1905 Collection. They feature four-way stretch fabric for an ideal fit and the best in comfort and ease of movement. Ideal for work or casual wear. Flat front. Finished hem. Waist stretches one inch. 100% polyester. Machine washable. Imported.", "promoDescription" : "2 for $70!", "productUrl" : "http://www.circleoftrusttherapy.com/p/1905-collection-tailored-fit-casual-pants", "productImageUrl" : "https://images.josbank.com/is/image/JosBank/21NX_70_1905_BLUE_MAIN?$browse_thumbnail$", "productImageFullSize" : "https://images.josbank.com/is/image/JosBank/21NX_70_1905_BLUE_MAIN?$browse_thumbnail$", "price" : "$49.00", "regPrice" : "", "salePrice" : "", "label": "none", "category" : "Pants", "subcategory": "All Pants", "stock": 1, "dimension53" : "No" }

{ "451498145" : { "36x32": [ "Blue", "Light Grey", "Tan" ], "36x30": [ "Blue", "Light Grey", "Tan" ], "36x29": [ "Blue", "Light Grey", "Tan" ], "38x29": [ "Light Grey", "Tan" ], "38x32": [ "Blue", "Light Grey", "Tan" ], "35x32": [ "Light Grey", "Tan" ], "38x30": [ "Blue", "Light Grey", "Tan" ], "30x30": [ "Light Grey", "Tan" ], "30x32": [ "Light Grey", "Tan" ], "35x30": ["Tan"], "33x32": [ "Light Grey", "Tan" ], "33x30": [ "Blue", "Light Grey", "Tan" ], "40x30": [ "Light Grey", "Tan" ], "34x30": [ "Blue", "Light Grey", "Tan" ], "40x32": [ "Light Grey", "Tan" ], "34x32": [ "Blue", "Light Grey", "Tan" ], "32x30": [ "Blue", "Light Grey", "Tan" ], "34x29": [ "Blue", "Light Grey", "Tan" ], "34x34": [ "Light Grey", "Tan" ], "32x32": [ "Light Grey", "Tan" ] } }

{ "id" : "451498145", "productName" : "1905 Collection Tailored Fit Flat Front Dress Pants with brrr°? comfort", "productItem" : "21MT", "productDescription" : "Our 1905 Collection dress pants offer fine craftsmanship and classic lines with updated styling and details. This stylish dress slacks feature brrr\u00B0\u00AE comfort technology fabric that continually keeps you cooler with natural cooling minerals, a special fiber core that increases moisture wicking, and an enhanced airflow to boost cooling and to keep you feeling fresh. Flat front. Half lined to the knee. Finished hem. 98% wool, 2% spandex. Dry clean only. Imported.", "promoDescription" : "", "productUrl" : "http://www.circleoftrusttherapy.com/p/1905-collection-tailored-fit-flat-front-dress-pants-with-brrr-comfort", "productImageUrl" : "https://images.josbank.com/is/image/JosBank/21MT_16_1905_TAN_MAIN?$browse_thumbnail$", "productImageFullSize" : "https://images.josbank.com/is/image/JosBank/21MT_16_1905_TAN_MAIN?$browse_thumbnail$", "price" : "$99.00", "regPrice" : "", "salePrice" : "", "label": "none", "category" : "Featured", "subcategory": "Ready for Anything", "stock": 1, "dimension53" : "No" }

{ "451497943" : { "37 Regular": [ "Charcoal", "Grey", "Light Blue", "Navy", "Tan" ], "34 Regular": [ "Charcoal", "Grey", "Light Blue", "Navy", "Tan" ], "40 Regular": [ "Charcoal", "Grey", "Light Blue", "Navy", "Tan" ], "32 Regular": [ "Charcoal", "Grey", "Light Blue", "Navy" ], "30 Regular": [ "Charcoal", "Grey", "Light Blue", "Navy" ], "36 Regular": [ "Charcoal", "Grey", "Light Blue", "Navy", "Tan" ], "35 Regular": [ "Charcoal", "Grey", "Light Blue", "Navy", "Tan" ], "30 Short": [ "Charcoal", "Grey", "Light Blue", "Navy" ], "33 Regular": [ "Grey", "Tan" ], "42 Regular": [ "Charcoal", "Grey", "Light Blue", "Navy", "Tan" ], "38 Regular": [ "Charcoal", "Grey", "Light Blue", "Navy", "Tan" ] } }

{ "id" : "451497943", "productName" : "Reserve Collection Tailored Fit Flat Front Dress Pants", "productItem" : "21MW", "productDescription" : "Made from Italian wool, these Reserve Collection dress slacks are a refined and stylish addition to your wardrobe that will help achieve the ideal professional and dress-wear looks. Tailored Fit. Flat front. Unhemmed for tailoring. 100% wool. Dry clean only. Imported.", "promoDescription" : "", "productUrl" : "http://www.circleoftrusttherapy.com/p/reserve-collection-tailored-fit-flat-front-dress-pants-21MW", "productImageUrl" : "https://images.josbank.com/is/image/JosBank/21MW_16_JOS_A_BANK_RESERVE_TAN_MAIN?$browse_thumbnail$", "productImageFullSize" : "https://images.josbank.com/is/image/JosBank/21MW_16_JOS_A_BANK_RESERVE_TAN_MAIN?$browse_thumbnail$", "price" : "$119.00", "regPrice" : "", "salePrice" : "", "label": "none", "category" : "Featured", "subcategory": "Ready for Anything", "stock": 1, "dimension53" : "No" }

{ "451498392" : { "34 Regular": [ "Navy", "Tan" ], "40 Regular": [ "Navy", "Tan" ], "32 Regular": [ "Navy", "Tan" ], "30 Regular": [ "Navy", "Tan" ], "36 Regular": [ "Navy", "Tan" ], "35 Regular": [ "Navy", "Tan" ], "33 Regular": [ "Navy", "Tan" ], "42 Regular": [ "Navy", "Tan" ], "38 Regular": [ "Navy", "Tan" ] } }

{ "id" : "451498392", "productName" : "Reserve Collection Tailored Fit Flat Front Shorts", "productItem" : "21MU", "productDescription" : "Stylishly casual, these cotton blend shorts from the Reserve Collection have a soft and silky feel with a superior, flattering drape. Traditional Fit. Flat front. Front slash, back welt pockets. 51% tencel lyocell, 49% cotton. Machine washable. Imported.", "promoDescription" : "", "productUrl" : "http://www.circleoftrusttherapy.com/p/reserve-collection-traditional-fit-flat-front-shorts", "productImageUrl" : "https://images.josbank.com/is/image/JosBank/21MU_75_JOS_A_BANK_RESERVE_NAVY_MAIN?$browse_thumbnail$", "productImageFullSize" : "https://images.josbank.com/is/image/JosBank/21MU_75_JOS_A_BANK_RESERVE_NAVY_MAIN?$browse_thumbnail$", "price" : "$49.00", "regPrice" : "", "salePrice" : "", "label": "none", "category" : "Pants", "subcategory": "All Pants", "stock": 1, "dimension53" : "No" }

{ "451486174" : { "36x34": [ "Dark Wash", "Med Wash" ], "36x32": [ "Dark Wash", "Med Wash" ], "35x29": [ "Dark Wash", "Med Wash" ], "36x30": [ "Dark Wash", "Med Wash" ], "36x29": [ "Dark Wash", "Med Wash" ], "38x32": [ "Dark Wash", "Med Wash" ], "35x32": [ "Dark Wash", "Med Wash" ], "38x30": [ "Dark Wash", "Med Wash" ], "42x30": [ "Dark Wash", "Med Wash" ], "40x29": [ "Dark Wash", "Med Wash" ], "35x30": [ "Dark Wash", "Med Wash" ], "33x32": [ "Dark Wash", "Med Wash" ], "33x30": [ "Dark Wash", "Med Wash" ], "40x30": [ "Dark Wash", "Med Wash" ], "34x30": [ "Dark Wash", "Med Wash" ], "40x32": [ "Dark Wash", "Med Wash" ], "34x32": [ "Dark Wash", "Med Wash" ], "32x30": [ "Dark Wash", "Med Wash" ], "34x29": [ "Dark Wash", "Med Wash" ], "34x34": [ "Dark Wash", "Med Wash" ], "32x32": [ "Dark Wash", "Med Wash" ] } }

{ "id" : "451486174", "productName" : "Reserve Collection Traditional Fit Jeans", "productItem" : "21GR", "productDescription" : "These flat-front jeans feature traditional five-pocket styling with sewn detailing on the back pockets. The premium-quality fabric is a mix of cotton and a touch of stretch for comfort. 93% cotton, 6% polyester, 1% Lycra. Machine washable. Imported.", "promoDescription" : "", "productUrl" : "http://www.circleoftrusttherapy.com/p/reserve-collection-traditional-fit-jeans-21GR", "productImageUrl" : "https://images.josbank.com/is/image/JosBank/21GR_90_JOS_A_BANK_RESERVE_DARK_WASH_MAIN?$browse_thumbnail$", "productImageFullSize" : "https://images.josbank.com/is/image/JosBank/21GR_90_JOS_A_BANK_RESERVE_DARK_WASH_MAIN?$browse_thumbnail$", "price" : "$59.00", "regPrice" : "", "salePrice" : "", "label": "none", "category" : "Featured", "subcategory": "Ready for Anything", "stock": 1, "dimension53" : "No" }

{ "451480095" : { "37 Regular": [ "Bright Blue", "Dark Brown", "Sage" ], "34 Regular": [ "Bright Blue", "Dark Brown", "Sage" ], "40 Regular": [ "Bright Blue", "Dark Brown", "Sage" ], "32 Regular": [ "Bright Blue", "Dark Brown", "Sage" ], "40 Long": [ "Dark Brown", "Sage" ], "36 Regular": [ "Bright Blue", "Dark Brown", "Sage" ], "35 Regular": [ "Bright Blue", "Dark Brown", "Sage" ], "33 Regular": [ "Bright Blue", "Dark Brown", "Sage" ], "42 Regular": [ "Bright Blue", "Dark Brown", "Sage" ], "38 Regular": [ "Bright Blue", "Dark Brown", "Sage" ], "38 Long": ["Bright Blue"] } }

{ "id" : "451480095", "productName" : "Executive Collection Tailored Fit Flat Front Dress Pants", "productItem" : "21GF", "productDescription" : "These Executive Collection slacks are fashioned from fine wool in a smooth, plain weave. Flat front. Button-through back besom pockets. Half-lined to the knee. Unfinished hems for tailoring. 100% wool. Dry clean only. Imported.", "promoDescription" : "", "productUrl" : "http://www.circleoftrusttherapy.com/p/executive-collection-tailored-fit-flat-front-dress-pants-21GF", "productImageUrl" : "https://images.josbank.com/is/image/JosBank/21GF_84_EXECUTIVE_SAGE_MAIN?$browse_thumbnail$", "productImageFullSize" : "https://images.josbank.com/is/image/JosBank/21GF_84_EXECUTIVE_SAGE_MAIN?$browse_thumbnail$", "price" : "$69.00", "regPrice" : "", "salePrice" : "", "label": "none", "category" : "Pants", "subcategory": "Executive Dress Pants", "stock": 1, "dimension53" : "No" }

{ "451480096" : { "37 Regular": ["Light Tan"], "34 Regular": ["Light Tan"], "40 Regular": ["Light Tan"], "32 Regular": ["Light Tan"], "36 Regular": ["Light Tan"], "35 Regular": ["Light Tan"], "33 Regular": ["Light Tan"], "42 Regular": ["Light Tan"], "38 Regular": ["Light Tan"], "38 Long": ["Light Tan"] } }

{ "id" : "451480096", "productName" : "Executive Collection Tailored Fit Flat Front Dress Pants", "productItem" : "21GH", "productDescription" : "Classic and refined, these flat-front slacks are a dress- and professional-wear staple. Tailored Fit. Unfinished hem for tailoring. 100% wool. Dry clean only. Imported.", "promoDescription" : "", "productUrl" : "http://www.circleoftrusttherapy.com/p/executive-collection-tailored-fit-flat-front-dress-pants-21GH", "productImageUrl" : "https://images.josbank.com/is/image/JosBank/21GH_17_EXECUTIVE_LIGHT_TAN_MAIN?$browse_thumbnail$", "productImageFullSize" : "https://images.josbank.com/is/image/JosBank/21GH_17_EXECUTIVE_LIGHT_TAN_MAIN?$browse_thumbnail$", "price" : "$69.00", "regPrice" : "", "salePrice" : "", "label": "none", "category" : "Pants", "subcategory": "Executive Dress Pants", "stock": 1, "dimension53" : "No" }

{ "451480973" : { "36x32": [ "Black", "British Tan", "Navy", "Stone", "Tan" ], "35x29": [ "Black", "British Tan", "Navy" ], "36x30": [ "Black", "British Tan", "Navy", "Stone", "Tan" ], "36x29": [ "Black", "British Tan", "Navy", "Stone", "Tan" ], "38x29": [ "Black", "British Tan", "Navy", "Stone", "Tan" ], "38x32": [ "Black", "British Tan", "Navy", "Stone", "Tan" ], "35x32": [ "Black", "British Tan", "Navy", "Stone", "Tan" ], "38x30": [ "Black", "British Tan", "Navy", "Stone", "Tan" ], "42x30": [ "British Tan", "Navy", "Stone", "Tan" ], "40x29": [ "Black", "British Tan", "Navy", "Stone", "Tan" ], "35x30": [ "British Tan", "Navy", "Stone", "Tan" ], "33x32": [ "Black", "British Tan", "Navy", "Stone", "Tan" ], "33x30": [ "Black", "British Tan", "Navy", "Stone", "Tan" ], "40x30": [ "Black", "British Tan", "Navy", "Stone", "Tan" ], "34x30": [ "Black", "British Tan", "Navy", "Stone", "Tan" ], "40x32": [ "Black", "British Tan", "Navy", "Stone", "Tan" ], "34x32": [ "Black", "British Tan", "Navy", "Stone", "Tan" ], "32x30": [ "British Tan", "Navy", "Stone", "Tan" ], "42x29": ["British Tan"], "34x29": [ "Black", "British Tan", "Navy", "Stone", "Tan" ], "32x32": [ "Black", "British Tan" ] } }

{ "id" : "451480973", "productName" : "Traveler Collection Original Fit Twill Flat Front Casual Pant", "productItem" : "21GA", "productDescription" : "Elevate your dress-casual look with these fine cotton twill pants from the Traveler Collection. Flat front. Traditional Fit. Unlined. Finished hem. Sits higher on the waist. 100% cotton. Machine washable. Imported.", "promoDescription" : "2 for $70!", "productUrl" : "http://www.circleoftrusttherapy.com/p/traveler-collection-original-fit-twill-flat-front-casual-pant", "productImageUrl" : "https://images.josbank.com/is/image/JosBank/21GA_16_TRAVELER_TAN_MAIN?$browse_thumbnail$", "productImageFullSize" : "https://images.josbank.com/is/image/JosBank/21GA_16_TRAVELER_TAN_MAIN?$browse_thumbnail$", "price" : "$49.00", "regPrice" : "", "salePrice" : "", "label": "none", "category" : "Pants", "subcategory": "Travel Tech Pants", "stock": 1, "dimension53" : "No" }

{ "451480975" : { "36x32": [ "Black", "British Tan", "Navy", "Stone", "Tan" ], "35x29": [ "Black", "British Tan", "Navy" ], "36x30": [ "Black", "British Tan", "Navy", "Stone", "Tan" ], "36x29": [ "Black", "British Tan", "Navy", "Stone", "Tan" ], "38x29": [ "Black", "British Tan", "Navy", "Stone", "Tan" ], "38x32": [ "Black", "British Tan", "Navy", "Stone", "Tan" ], "35x32": [ "Black", "British Tan", "Navy" ], "38x30": [ "Black", "British Tan", "Navy", "Stone", "Tan" ], "42x30": [ "British Tan", "Navy", "Stone", "Tan" ], "40x29": [ "Black", "British Tan", "Navy", "Stone", "Tan" ], "35x30": [ "Black", "British Tan", "Navy", "Stone", "Tan" ], "33x32": [ "Black", "British Tan", "Navy", "Stone", "Tan" ], "33x30": [ "Black", "British Tan", "Navy" ], "40x30": [ "Black", "British Tan", "Navy", "Stone", "Tan" ], "34x30": [ "Black", "British Tan", "Navy", "Stone", "Tan" ], "40x32": [ "Black", "British Tan", "Navy", "Stone", "Tan" ], "34x32": [ "Black", "British Tan", "Navy", "Stone", "Tan" ], "32x30": [ "Black", "British Tan", "Navy" ], "34x29": [ "Black", "British Tan", "Navy", "Stone", "Tan" ], "32x32": ["British Tan"] } }

{ "id" : "451480975", "productName" : "Traveler Collection Original Fit Twill Pleated Front Casual Pant", "productItem" : "21GD", "productDescription" : "Elevate your dress-casual look with these fine cotton twill pants from the Traveler Collection. Pleated front. Original Fit - our most generous fit. Sits higher on the waist, roomy seat, and straight leg. Unlined. Finished hem. 100% cotton. Machine washable. Imported.", "promoDescription" : "2 for $70!", "productUrl" : "http://www.circleoftrusttherapy.com/p/traveler-collection-original-fit-twill-pleated-front-casual-pant", "productImageUrl" : "https://images.josbank.com/is/image/JosBank/21GD_16_TRAVELER_TAN_MAIN?$browse_thumbnail$", "productImageFullSize" : "https://images.josbank.com/is/image/JosBank/21GD_16_TRAVELER_TAN_MAIN?$browse_thumbnail$", "price" : "$49.00", "regPrice" : "", "salePrice" : "", "label": "none", "category" : "Pants", "subcategory": "Travel Tech Pants", "stock": 1, "dimension53" : "No" }

{ "451356233" : { "37 Regular": [ "Charcoal", "Navy", "Olive", "Sage", "Tan", "Teal" ], "42 Long": [ "Charcoal", "Navy", "Tan" ], "32 Regular": [ "Charcoal", "Navy", "Olive", "Sage", "Tan", "Teal" ], "30 Regular": [ "Navy", "Tan" ], "36 Regular": [ "Charcoal", "Navy", "Olive", "Sage", "Tan", "Teal" ], "33 Regular": [ "Charcoal", "Navy", "Olive", "Sage", "Tan", "Teal" ], "42 Regular": [ "Charcoal", "Navy", "Olive", "Sage", "Tan", "Teal" ], "38 Long": [ "Charcoal", "Navy", "Olive", "Tan" ], "34 Regular": [ "Charcoal", "Navy", "Olive", "Sage", "Tan", "Teal" ], "40 Regular": [ "Charcoal", "Navy", "Olive", "Sage", "Tan", "Teal" ], "40 Long": [ "Charcoal", "Navy", "Tan" ], "35 Regular": [ "Charcoal", "Navy", "Olive", "Sage", "Tan", "Teal" ], "38 Regular": [ "Charcoal", "Navy", "Olive", "Sage", "Tan", "Teal" ] } }

{ "id" : "451356233", "productName" : "Travel Tech Slim Fit Flat Front Dress Pants", "productItem" : "21DY", "productDescription" : "These Travel Tech pants impart comfort and flexibility in a crisp look designed for travel. These slacks feature a fine wool blend with a touch of stretch and a smooth drape. Nano-technology for water and stain resistance. Comfort-range waistband with self-adjusting stretch for ease. Quarter-top pockets. Button-through back besom pockets. Unfinished hems for altering ease. Half-lined to the knee. Flat front. 71% wool, 25% 37.5? polyester, 4% spandex. Dry clean only. Imported.", "promoDescription" : "", "productUrl" : "http://www.circleoftrusttherapy.com/p/travel-tech-slim-fit-flat-front-dress-pants-21DY", "productImageUrl" : "https://images.josbank.com/is/image/JosBank/21DY_84_TRAVELTECH_SAGE_MAIN?$browse_thumbnail$", "productImageFullSize" : "https://images.josbank.com/is/image/JosBank/21DY_84_TRAVELTECH_SAGE_MAIN?$browse_thumbnail$", "price" : "$99.00", "regPrice" : "", "salePrice" : "", "label": "none", "category" : "Featured", "subcategory": "Ready for Anything", "stock": 1, "dimension53" : "No" }
Related Products
Description:
The Signature Collection features expertly tailored pants in select fabrics. These gabardine wool pants are tailored from fabric so soft and fine that they drape with ease. Premium Italian cotton pocketing, half-lined to the knee. Unfinished hems for altering ease. ...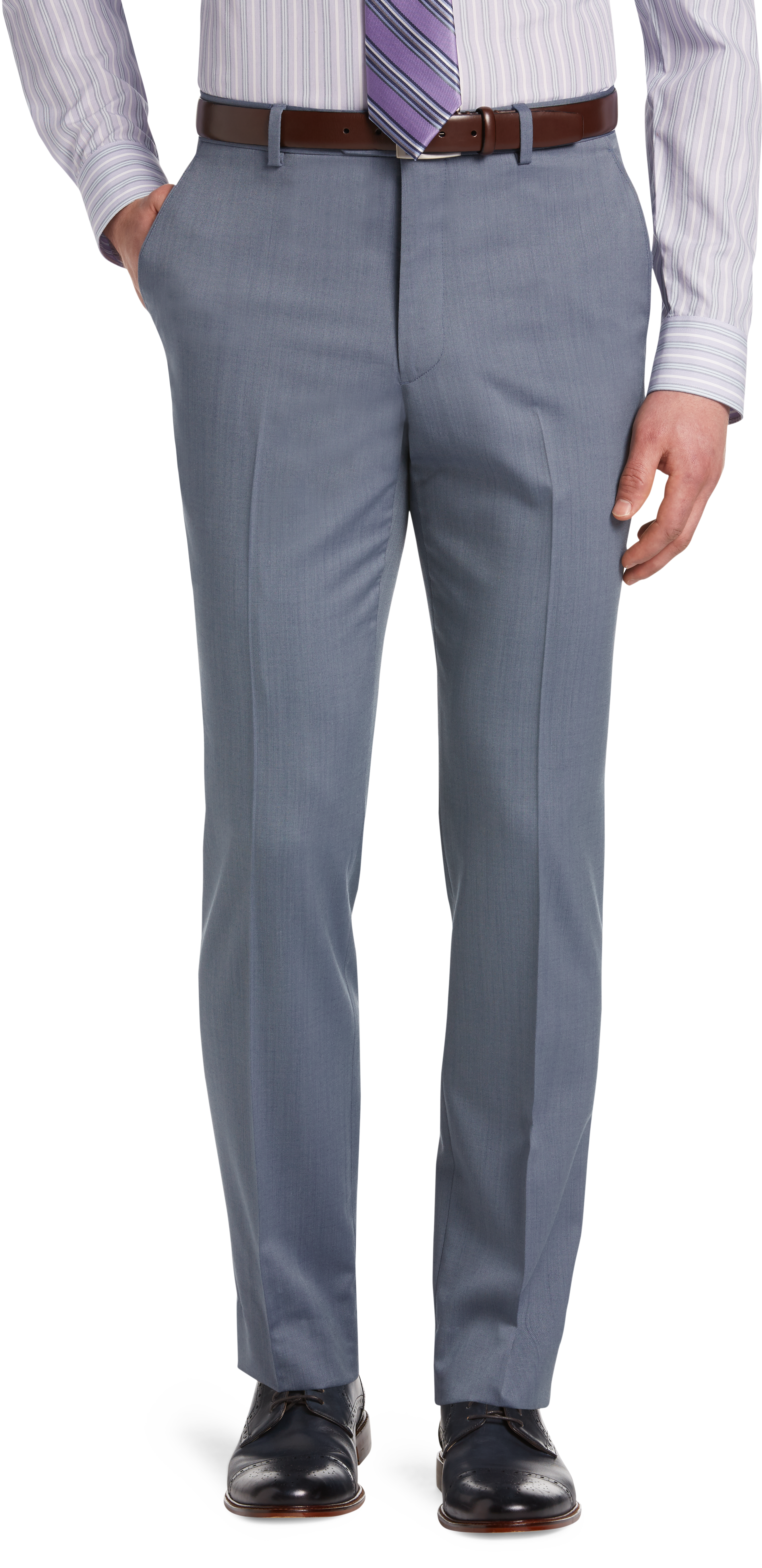 Description:
Featuring a finely woven wool fabric with a subtle sheen and silky hand, these Signature Collection dress pants are a stylish choice. Trim Tailored Fit. Flat front, lined to the knee. Unhemmed for tailoring. 100% wool. Imported. Dry clean.
Description:
These Signature dress pants feature smooth wool fabric that is lightweight, comfortable, and durable. Their smooth tailored style is ideal for professional and dress wear. Tailored fit. Plain front. Unhemmed for ease of tailoring to your measurements. 100% wool. Dry ...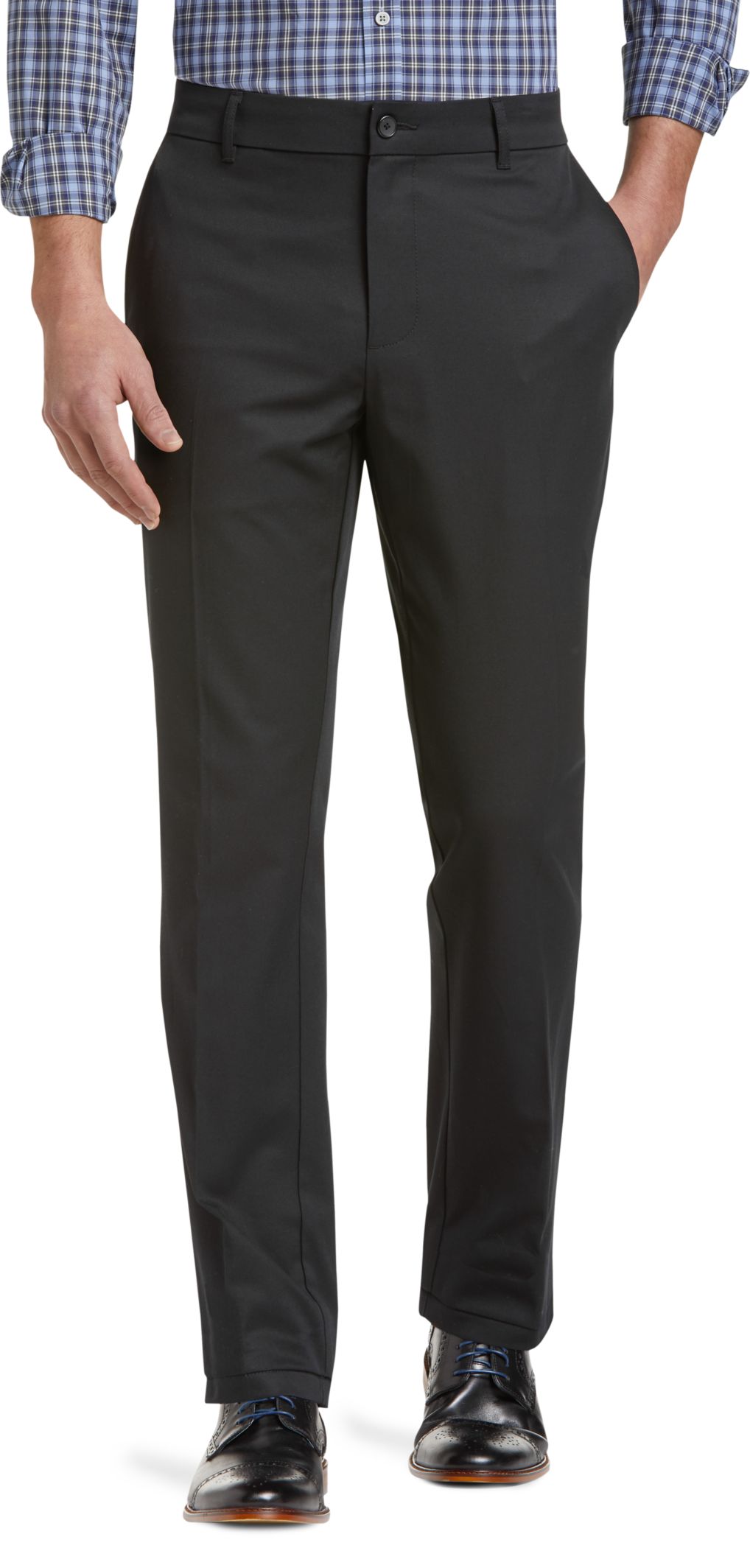 Description:
These classic casual pants feature 37.5 Travel Tech fabric that works with your body's temperature and the climate for comfort and temperature regulation. Flat front. Front slash, back welt pockets. Finished hem. 61% cotton, 37% 37.5 polyester, 2% spandex. Machine ...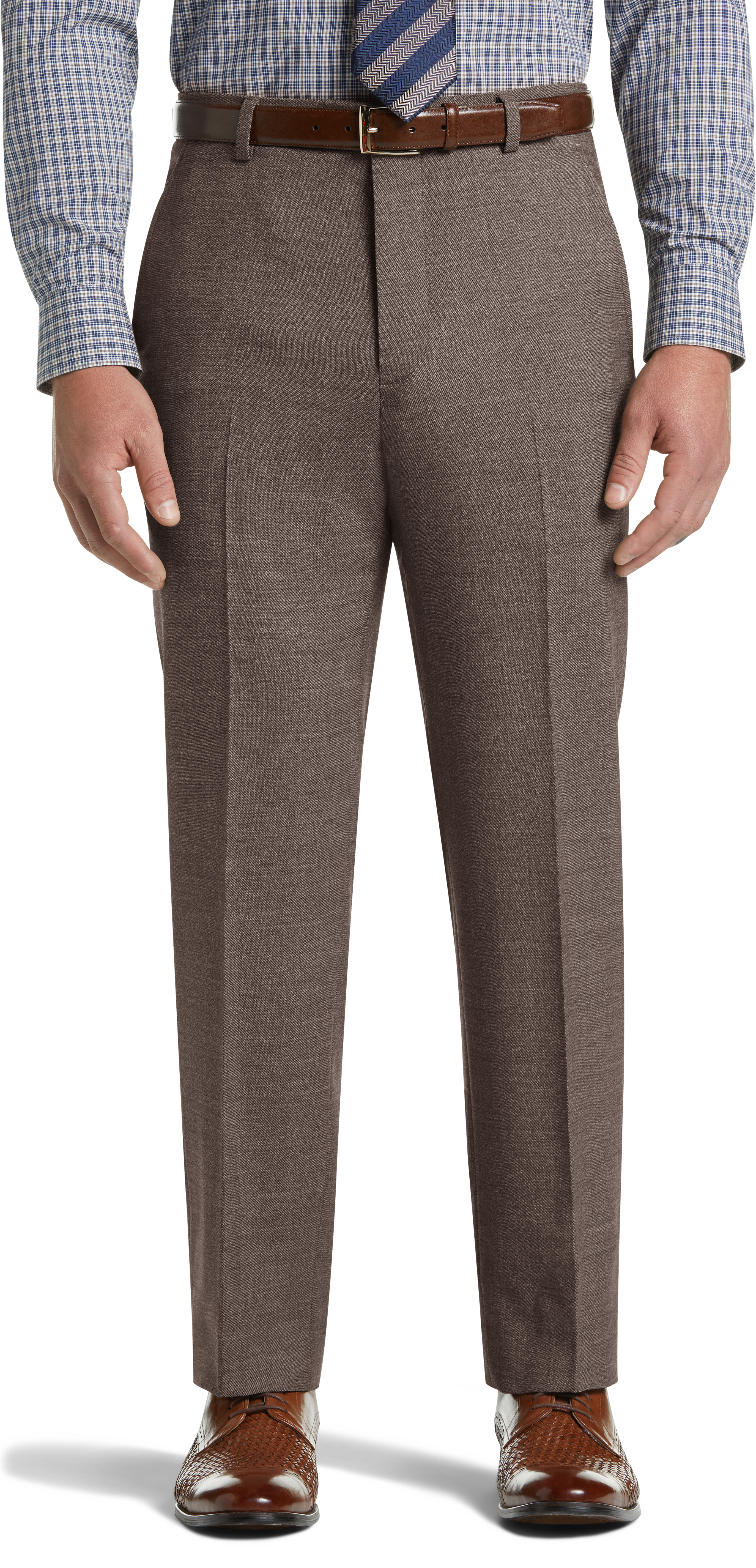 Description:
These Slim Fit suit pants feature a unique fabric technology that maintains the optimum microclimate for your body. Named 37.5, it removes moisture at the vapor stage before sweat can form. 37.5 acts like a thermostat by removing moisture when ...