French Cuff Dress Shirts
Refine your results
SHOW
Show:

Press enter to collapse or expand the menu. For navigating with in Filter options, press tab. To select Filter options, press enter.

Clear All

Filter

Done

0

Products

Add filter

Reset filters
Product List
{ "450018237" : { "16 1/2x35": ["White"], "17x33": ["White"], "16x34": ["White"], "17x34": ["White"], "17 1/2x34": ["White"], "16x35": ["White"], "17x35": ["White"], "15 1/2x32": ["White"], "17 1/2x35": ["White"], "15 1/2x34": ["White"], "16 1/2x33": ["White"] } }

4 for $125! Mix and Match!

{ "id" : "450018237", "productName" : "Traveler Collection Traditional Fit Point Collar Dress Shirt", "productItem" : "5JEK", "productDescription" : "Perfect for the businessman who travels often and lunches on-the-go, this dress shirt features premium no-wrinkle performance that resists shrinking and fading. Traditional placket with a point collar, left chest pocket and barrel cuffs. Break-resistant buttons. Split back yoke with back side pleats. Exact sleeve length. 100% cotton. Machine washable. Imported.", "promoDescription" : "4 for $125! Mix and Match!", "productUrl" : "http://www.circleoftrusttherapy.com/p/traveler-collection-traditional-fit-point-collar-french-cuff-dress-shirt", "productImageUrl" : "https://images.josbank.com/is/image/JosBank/5JEK_10_TRAVELER_WHITE_NEW_MAIN?$browse_thumbnail$", "productImageFullSize" : "https://images.josbank.com/is/image/JosBank/5JEK_10_TRAVELER_WHITE_NEW_MAIN?$browse_thumbnail$", "price" : "$39.00", "regPrice" : "", "salePrice" : "", "label": "none", "category" : "Shirts", "subcategory": "Traveler Dress Shirts", "stock": 1, "dimension53" : "No" }

{ "450017224" : { "16 1/2x34": [ "Blue", "White" ], "16 1/2x35": [ "Blue", "White" ], "17x33": [ "Blue", "White" ], "17 1/2x33": [ "Blue", "White" ], "16x34": [ "Blue", "White" ], "17x34": [ "Blue", "White" ], "17 1/2x34": [ "Blue", "White" ], "16x35": [ "Blue", "White" ], "17x35": [ "Blue", "White" ], "16x32": [ "Blue", "White" ], "14 1/2x33": [ "Blue", "White" ], "16x33": [ "Blue", "White" ], "14 1/2x32": [ "Blue", "White" ], "15 1/2x32": [ "Blue", "White" ], "15 1/2x35": [ "Blue", "White" ], "15x35": [ "Blue", "White" ], "15 1/2x33": [ "Blue", "White" ], "15x33": [ "Blue", "White" ], "15 1/2x34": [ "Blue", "White" ], "15x34": [ "Blue", "White" ], "15x32": [ "Blue", "White" ], "17 1/2x35": [ "Blue", "White" ], "16 1/2x33": [ "Blue", "White" ], "16 1/2x32": [ "Blue", "White" ] } }

4 for $125! Mix and Match!

{ "id" : "450017224", "productName" : "Traveler Collection Tailored Fit Spread Collar French Cuff Dress Shirt", "productItem" : "5DAH", "productDescription" : "Look neat and professional at the end of the day, without the extra effort. Our Traveler Collection dress shirts feature premium no-wrinkles performance and resists shrinking and fading. Tailored Fit. Split back yoke with center back box pleats. Break-resistant buttons. Traditional placket with a spread collar and French cuff. Exact sleeve length. 100% cotton. Machine washable. Imported.", "promoDescription" : "4 for $125! Mix and Match!", "productUrl" : "http://www.circleoftrusttherapy.com/p/traveler-collection-tailored-fit-spread-collar-french-cuff-dress-shirt", "productImageUrl" : "https://images.josbank.com/is/image/JosBank/12404_010_main?$browse_thumbnail$", "productImageFullSize" : "https://images.josbank.com/is/image/JosBank/12404_010_main?$browse_thumbnail$", "price" : "$39.00", "regPrice" : "", "salePrice" : "", "label": "none", "category" : "Shirts", "subcategory": "Traveler Dress Shirts", "stock": 1, "dimension53" : "No" }

{ "451089776" : { "16 1/2x34": [ "Blue", "Light Blue", "Purple", "White" ], "16 1/2x35": [ "Blue", "Light Blue", "Pink", "Purple", "White" ], "17x33": [ "Blue", "White" ], "17 1/2x33": [ "Light Blue", "Purple", "White" ], "16x34": [ "Blue", "Light Blue", "White" ], "17x34": [ "Blue", "Light Blue", "Purple", "White" ], "17 1/2x34": [ "Blue", "Light Blue", "Pink", "White" ], "16x35": [ "Light Blue", "White" ], "17x35": [ "Blue", "Light Blue", "White" ], "16x32": [ "Blue", "Light Blue", "White" ], "14 1/2x33": [ "Blue", "Purple", "White" ], "16x33": [ "Blue", "Light Blue", "White" ], "14 1/2x32": [ "Blue", "Light Blue", "Pink", "Purple", "White" ], "15 1/2x32": [ "Blue", "Purple", "White" ], "15 1/2x35": [ "Blue", "Light Blue", "Purple", "White" ], "15x35": [ "Light Blue", "White" ], "15 1/2x33": [ "Blue", "Light Blue", "Pink", "White" ], "15x33": [ "Blue", "White" ], "15 1/2x34": [ "Blue", "Light Blue", "White" ], "15x34": [ "Light Blue", "White" ], "15x32": [ "Blue", "Pink", "Purple", "White" ], "17 1/2x35": [ "Blue", "Pink", "White" ], "16 1/2x33": [ "Blue", "Light Blue", "Pink", "White" ], "16 1/2x32": [ "Blue", "Light Blue", "White" ] } }

{ "id" : "451089776", "productName" : "Reserve Collection Tailored Fit Spread Collar Textured Dress Shirt", "productItem" : "514X", "productDescription" : "Our Reserve Collection dress shirts offer premium quality and fabrics with intricate patterns and elegant colors. This no-wrinkle dress shirt resists shrinking, fading, and puckering. Left chest pocket. Single-needle tailoring. Break-resistant buttons. Spread collar and French cuff. Exact sleeve length. 100% Egyptian cotton. Machine washable. Imported.", "promoDescription" : "3 for $115 Dress Shirts!", "productUrl" : "http://www.circleoftrusttherapy.com/p/reserve-collection-tailored-fit-spread-collar-textured-dress-shirt-514X", "productImageUrl" : "https://images.josbank.com/is/image/JosBank/514X_62_JOS_A_BANK_RESERVE_PURPLE_NEW_MAIN?$browse_thumbnail$", "productImageFullSize" : "https://images.josbank.com/is/image/JosBank/514X_62_JOS_A_BANK_RESERVE_PURPLE_NEW_MAIN?$browse_thumbnail$", "price" : "$45.00", "regPrice" : "", "salePrice" : "", "label": "none", "category" : "Special Categories", "subcategory": "Men's Pink Apparel", "stock": 1, "dimension53" : "No" }

{ "450017213" : { "16 1/2x34": [ "Blue", "White" ], "16 1/2x35": [ "Blue", "White" ], "17x33": ["White"], "16x34": ["Blue"], "17x34": ["White"], "17 1/2x34": ["White"], "17x35": ["White"], "16x32": ["White"], "14 1/2x33": [ "Blue", "White" ], "16x33": ["White"], "14 1/2x32": [ "Blue", "White" ], "15 1/2x32": ["White"], "15 1/2x35": ["White"], "15x35": [ "Blue", "White" ], "15 1/2x33": ["Blue"], "15x33": [ "Blue", "White" ], "15x34": ["White"], "15x32": ["White"], "17 1/2x35": ["White"], "16 1/2x33": [ "Blue", "White" ], "16 1/2x32": [ "Blue", "White" ] } }

4 for $125! Mix and Match!

{ "id" : "450017213", "productName" : "Traveler Collection Tailored Fit Point Collar Dress Shirt", "productItem" : "5DA5", "productDescription" : "This Traveler Collection dress shirt with a point collar and French cuffs offers upscale style while featuring premium no-wrinkle performance and resistance to shrinking and fading. Traditional placket with a point collar and left chest pocket. Break-resistant buttons. Split back yoke with back side pleats. 100% cotton. Machine washable. Imported.", "promoDescription" : "4 for $125! Mix and Match!", "productUrl" : "http://www.circleoftrusttherapy.com/p/traveler-collection-tailored-fit-point-collar-french-cuff-dress-shirt", "productImageUrl" : "https://images.josbank.com/is/image/JosBank/5DA5_10_TRAVELER_WHITE_NEW_MAIN?$browse_thumbnail$", "productImageFullSize" : "https://images.josbank.com/is/image/JosBank/5DA5_10_TRAVELER_WHITE_NEW_MAIN?$browse_thumbnail$", "price" : "$39.00", "regPrice" : "", "salePrice" : "", "label": "none", "category" : "Shirts", "subcategory": "Traveler Dress Shirts", "stock": 1, "dimension53" : "No" }

{ "450018164" : { "16 1/2x34": [ "Blue", "White" ], "16 1/2x35": [ "Blue", "White" ], "17x33": [ "Blue", "White" ], "17 1/2x33": [ "Blue", "White" ], "16x34": [ "Blue", "White" ], "17x34": [ "Blue", "White" ], "17 1/2x34": [ "Blue", "White" ], "16x35": [ "Blue", "White" ], "17x35": [ "Blue", "White" ], "16x32": ["White"], "15 1/2x32": [ "Blue", "White" ], "16x33": [ "Blue", "White" ], "15 1/2x35": [ "Blue", "White" ], "15 1/2x33": [ "Blue", "White" ], "15 1/2x34": [ "Blue", "White" ], "17 1/2x35": [ "Blue", "White" ], "16 1/2x33": [ "Blue", "White" ], "16 1/2x32": [ "Blue", "White" ] } }

4 for $125! Mix and Match!

{ "id" : "450018164", "productName" : "Traveler Collection Traditional Fit Spread Collar Dress Shirt", "productItem" : "5JC7", "productDescription" : "Look neat and professional in this Traveler Collection dress shirt. It features premium, no-wrinkle performance that resists shrinking and fading. Split back yoke with center back box pleats. Break-resistant buttons. Traditional placket with a spread collar and French cuff. Exact sleeve length. 100% cotton. Machine washable. Imported.", "promoDescription" : "4 for $125! Mix and Match!", "productUrl" : "http://www.circleoftrusttherapy.com/p/traveler-collection-traditional-fit-spread-collar-french-cuff-dress-shirt", "productImageUrl" : "https://images.josbank.com/is/image/JosBank/5JC7_10_TRAVELER_WHITE_MAIN?$browse_thumbnail$", "productImageFullSize" : "https://images.josbank.com/is/image/JosBank/5JC7_10_TRAVELER_WHITE_MAIN?$browse_thumbnail$", "price" : "$39.00", "regPrice" : "", "salePrice" : "", "label": "none", "category" : "Shirts", "subcategory": "Traveler Dress Shirts", "stock": 1, "dimension53" : "No" }

{ "451092198" : { "16 1/2x34": ["White"], "16 1/2x35": ["White"], "17x33": ["White"], "17 1/2x33": ["White"], "16x34": ["White"], "17x34": ["White"], "17 1/2x34": ["White"], "16x35": ["White"], "17x35": ["White"], "16x32": ["White"], "14 1/2x33": ["White"], "16x33": ["White"], "14 1/2x32": ["White"], "15 1/2x32": ["White"], "15 1/2x35": ["White"], "15x35": ["White"], "15 1/2x33": ["White"], "15x33": ["White"], "15 1/2x34": ["White"], "15x34": ["White"], "15x32": ["White"], "17 1/2x35": ["White"], "16 1/2x33": ["White"], "16 1/2x32": ["White"] } }

{ "id" : "451092198", "productName" : "Reserve Collection Tailored Fit Spread Collar French Cuff Formal Dress Shirt", "productItem" : "51H1", "productDescription" : "Our Reserve Collection dress shirts offer premium quality and fabrics with intricate patterns and elegant colors. This no-wrinkles dress shirt resists shrinking, fading, and puckering. Single-needle tailoring. break-resistant buttons. Spread collar and French cuff. Exact sleeve length. 100% Egyptian cotton. Machine washable. Imported.<br\/>", "promoDescription" : "", "productUrl" : "http://www.circleoftrusttherapy.com/p/reserve-collection-tailored-fit-spread-collar-french-cuff-formal-dress-shirt-51H1", "productImageUrl" : "https://images.josbank.com/is/image/JosBank/51H1_10_JOS_A_BANK_RESERVE_WHITE_NEW_MAIN?$browse_thumbnail$", "productImageFullSize" : "https://images.josbank.com/is/image/JosBank/51H1_10_JOS_A_BANK_RESERVE_WHITE_NEW_MAIN?$browse_thumbnail$", "price" : "$59.00", "regPrice" : "", "salePrice" : "", "label": "none", "category" : "Shirts", "subcategory": "Reserve Dress Shirts", "stock": 1, "dimension53" : "No" }

{ "450018244" : { "16 1/2x34": ["White"], "16 1/2x35": ["White"], "17x33": ["White"], "16x34": ["White"], "17x34": ["White"], "17 1/2x34": ["White"], "16x35": ["White"], "17x35": ["White"], "16x32": ["White"], "14 1/2x33": ["White"], "14 1/2x32": ["White"], "15 1/2x32": ["White"], "16x33": ["White"], "15 1/2x35": ["White"], "15x35": ["White"], "15 1/2x33": ["White"], "15x33": ["White"], "15 1/2x34": ["White"], "15x34": ["White"], "15x32": ["White"], "17 1/2x35": ["White"], "16 1/2x33": ["White"], "16 1/2x32": ["White"] } }

4 for $125! Mix and Match!

{ "id" : "450018244", "productName" : "Traveler Collection Slim Fit Point Collar French Cuff Dress Shirt", "productItem" : "5JEU", "productDescription" : "Look neat and professional in this Traveler Collection dress shirt. It features a premium, no-wrinkle performance that resists shrinking and fading. It has a split-back yoke with back side pleats and break-resistant buttons. Other highlights include a traditional placket, a point collar and barrel cuffs. Exact sleeve length. 100% cotton. Machine washable. Imported.", "promoDescription" : "4 for $125! Mix and Match!", "productUrl" : "http://www.circleoftrusttherapy.com/p/traveler-collection-slim-fit-point-collar-french-cuff-dress-shirt", "productImageUrl" : "https://images.josbank.com/is/image/JosBank/5JEU_10_TRAVELER_WHITE_MAIN?$browse_thumbnail$", "productImageFullSize" : "https://images.josbank.com/is/image/JosBank/5JEU_10_TRAVELER_WHITE_MAIN?$browse_thumbnail$", "price" : "$39.00", "regPrice" : "", "salePrice" : "", "label": "none", "category" : "Shirts", "subcategory": "Traveler Dress Shirts", "stock": 1, "dimension53" : "No" }

{ "450018407" : { "16 1/2x34": ["White"], "16 1/2x35": ["White"], "17x33": ["White"], "16x34": ["White"], "17x34": ["White"], "17 1/2x34": ["White"], "16x35": ["White"], "17x35": ["White"], "16x32": ["White"], "14 1/2x33": ["White"], "14 1/2x32": ["White"], "15 1/2x32": ["White"], "16x33": ["White"], "15 1/2x35": ["White"], "15x35": ["White"], "15 1/2x33": ["White"], "15x33": ["White"], "15 1/2x34": ["White"], "15x34": ["White"], "15x32": ["White"], "17 1/2x35": ["White"], "16 1/2x33": ["White"], "16 1/2x32": ["White"] } }

4 for $125! Mix and Match!

{ "id" : "450018407", "productName" : "Traveler Collection Slim Fit Spread Collar French Cuff Dress Shirt", "productItem" : "5JL2", "productDescription" : "Look neat and professional at the end of the day, without the extra effort. Our Traveler Collection dress shirts feature premium no-wrinkles performance and resists shrinking and fading. Split back yoke with center back box pleats. Break-resistant buttons. Traditional placket with a spread collar and French cuff. Exact sleeve length. 100% cotton. Machine washable. Imported.", "promoDescription" : "4 for $125! Mix and Match!", "productUrl" : "http://www.circleoftrusttherapy.com/p/traveler-collection-slim-fit-spread-collar-french-cuff-dress-shirt-5JL2", "productImageUrl" : "https://images.josbank.com/is/image/JosBank/29376_010_main?$browse_thumbnail$", "productImageFullSize" : "https://images.josbank.com/is/image/JosBank/29376_010_main?$browse_thumbnail$", "price" : "$39.00", "regPrice" : "", "salePrice" : "", "label": "none", "category" : "Shirts", "subcategory": "Traveler Dress Shirts", "stock": 1, "dimension53" : "No" }

{ "451474442" : { "16 1/2x34": ["Black"], "16 1/2x35": ["Black"], "17x33": ["Black"], "16x34": ["Black"], "17x34": ["Black"], "17 1/2x34": ["Black"], "16x35": ["Black"], "17x35": ["Black"], "16x32": ["Black"], "16x33": ["Black"], "14 1/2x32": ["Black"], "15 1/2x32": ["Black"], "15 1/2x33": ["Black"], "15x33": ["Black"], "15 1/2x34": ["Black"], "15x34": ["Black"], "15x32": ["Black"], "17 1/2x35": ["Black"], "16 1/2x33": ["Black"], "16 1/2x32": ["Black"] } }

{ "id" : "451474442", "productName" : "Reserve Collection Tailored Fit Spread Collar French Cuff Formal Dress Shirt", "productItem" : "53U5", "productDescription" : "Our Reserve Collection dress shirts offer premium quality and fabrics with fine patterns and elegant colors. This fine formal dress shirt features a subtle woven diamond pattern and fine Egyptian cotton. Single-needle tailoring. Stud closures. Spread collar and French cuff. Exact sleeve length. 100% Egyptian cotton. Machine washable. Imported.", "promoDescription" : "", "productUrl" : "http://www.circleoftrusttherapy.com/p/reserve-collection-tailored-fit-spread-collar-french-cuff-formal-dress-shirt-53U5", "productImageUrl" : "https://images.josbank.com/is/image/JosBank/53U5_01_JOS_A_BANK_RESERVE_BLACK_MAIN?$browse_thumbnail$", "productImageFullSize" : "https://images.josbank.com/is/image/JosBank/53U5_01_JOS_A_BANK_RESERVE_BLACK_MAIN?$browse_thumbnail$", "price" : "$59.00", "regPrice" : "", "salePrice" : "", "label": "none", "category" : "Shirts", "subcategory": "Reserve Dress Shirts", "stock": 1, "dimension53" : "No" }

{ "450018406" : { "16 1/2x34": ["Blue"], "17x33": ["Blue"], "16x34": ["Blue"], "15-37": ["Blue"], "17x34": ["Blue"], "17 1/2x34": ["Blue"], "16x35": ["Blue"], "17x35": ["Blue"], "16x32": ["Blue"], "14 1/2x33": ["Blue"], "14 1/2x32": ["Blue"], "15 1/2x32": ["Blue"], "16x33": ["Blue"], "15 1/2x35": ["Blue"], "15x35": ["Blue"], "15 1/2x33": ["Blue"], "15x33": ["Blue"], "15 1/2x34": ["Blue"], "15x34": ["Blue"], "15x32": ["Blue"], "16 1/2x33": ["Blue"], "16 1/2x32": ["Blue"] } }

4 for $125! Mix and Match!

{ "id" : "450018406", "productName" : "Traveler Collection Slim Fit Spread Collar French Cuff Dress Shirt", "productItem" : "5JL1", "productDescription" : "Look as neat and professional at the end of the day as you did in the beginning. Our Traveler Collection dress shirts feature premium no-wrinkle performance and they resist shrinking and fading. Split back yoke with center back box pleats. Break-resistant buttons. Traditional placket with a spread collar and French cuff. Exact sleeve length. 100% cotton. Machine washable. Imported.", "promoDescription" : "4 for $125! Mix and Match!", "productUrl" : "http://www.circleoftrusttherapy.com/p/traveler-collection-slim-fit-spread-collar-french-cuff-dress-shirt-5JL1", "productImageUrl" : "https://images.josbank.com/is/image/JosBank/5JL1_70_TRAVELER_BLUE_MAIN?$browse_thumbnail$", "productImageFullSize" : "https://images.josbank.com/is/image/JosBank/5JL1_70_TRAVELER_BLUE_MAIN?$browse_thumbnail$", "price" : "$39.00", "regPrice" : "", "salePrice" : "", "label": "none", "category" : "Shirts", "subcategory": "Traveler Dress Shirts", "stock": 1, "dimension53" : "No" }

{ "451331992" : { "16 1/2x34": ["White"], "16 1/2x35": ["White"], "17x33": ["White"], "16x34": ["White"], "17x34": ["White"], "17 1/2x34": ["White"], "16x35": ["White"], "16x32": ["White"], "14 1/2x33": ["White"], "16x33": ["White"], "14 1/2x32": ["White"], "15 1/2x32": ["White"], "15 1/2x35": ["White"], "15x35": ["White"], "15 1/2x33": ["White"], "15x33": ["White"], "15 1/2x34": ["White"], "15x34": ["White"], "15x32": ["White"], "16 1/2x33": ["White"] } }

{ "id" : "451331992", "productName" : "Reserve Collection Slim Fit Spread Collar French Cuff Formal Dress Shirt", "productItem" : "533K", "productDescription" : "Woven in fine Egyptian cotton, this elegant formal dress shirt has a crisp spread collar and a trim, Slim Fit. French placket. French cuff. To be worn with studs and cufflinks. 100% Egyptian cotton. Machine washable. Imported.", "promoDescription" : "", "productUrl" : "http://www.circleoftrusttherapy.com/p/reserve-collection-slim-fit-spread-collar-french-cuff-formal-dress-shirt", "productImageUrl" : "https://images.josbank.com/is/image/JosBank/533K_10_JOS_A_BANK_RESERVE_WHITE_NEW_MAIN?$browse_thumbnail$", "productImageFullSize" : "https://images.josbank.com/is/image/JosBank/533K_10_JOS_A_BANK_RESERVE_WHITE_NEW_MAIN?$browse_thumbnail$", "price" : "$59.00", "regPrice" : "", "salePrice" : "", "label": "none", "category" : "Featured", "subcategory": "Ready for Anything", "stock": 1, "dimension53" : "No" }

{ "451093148" : { "16 1/2x34": ["White"], "16 1/2x35": ["White"], "17x33": ["White"], "17 1/2x33": ["White"], "16x34": ["White"], "17x34": ["White"], "17 1/2x34": ["White"], "16x35": ["White"], "17x35": ["White"], "16x32": ["White"], "15 1/2x32": ["White"], "16x33": ["White"], "15 1/2x35": ["White"], "15 1/2x33": ["White"], "15 1/2x34": ["White"], "17 1/2x35": ["White"], "16 1/2x33": ["White"], "16 1/2x32": ["White"] } }

{ "id" : "451093148", "productName" : "Reserve Collection Traditional Fit Point Collar Formal Dress Shirt", "productItem" : "51HZ", "productDescription" : "Our Reserve Collection dress shirts offer premium quality and fabrics with intricate patterns and elegant colors. This no-wrinkles dress shirt resists shrinking, fading, and puckering. Single-needle tailoring. break-resistant buttons. Point collar and French cuff. Exact sleeve length. 100% Egyptian cotton. Machine washable. Imported.<br\/>", "promoDescription" : "", "productUrl" : "http://www.circleoftrusttherapy.com/p/reserve-collection-traditional-fit-point-collar-formal-dress-shirt-51HZ", "productImageUrl" : "https://images.josbank.com/is/image/JosBank/51HZ_10_JOS_A_BANK_RESERVE_WHITE_MAIN?$browse_thumbnail$", "productImageFullSize" : "https://images.josbank.com/is/image/JosBank/51HZ_10_JOS_A_BANK_RESERVE_WHITE_MAIN?$browse_thumbnail$", "price" : "$59.00", "regPrice" : "", "salePrice" : "", "label": "none", "category" : "Shirts", "subcategory": "Reserve Dress Shirts", "stock": 1, "dimension53" : "No" }

{ "450018048" : { "17x33": ["White"], "16x34": ["White"], "17 1/2x34": ["White"], "17x35": ["White"], "16x33": ["White"], "15 1/2x32": ["White"], "15x33": ["White"], "15 1/2x33": ["White"], "17 1/2x35": ["White"], "15 1/2x34": ["White"], "16 1/2x33": ["White"], "15x32": ["White"] } }

{ "id" : "450018048", "productName" : "Executive Collection Traditional Fit Point Collar French Cuff Formal Dress Shirt", "productItem" : "5J7F", "productDescription" : "Fine cotton broadcloth with classic five front pleats and French cuffs. Comes with removable studs. Traditional Fit. Point collar. 100% cotton. Machine washable. Imported. Exact sleeve length.", "promoDescription" : "", "productUrl" : "http://www.circleoftrusttherapy.com/p/executive-collection-traditional-fit-point-collar-french-cuff-formal-dress-shirt", "productImageUrl" : "https://images.josbank.com/is/image/JosBank/5J7F_10_EXECUTIVE_WHITE_MAIN?$browse_thumbnail$", "productImageFullSize" : "https://images.josbank.com/is/image/JosBank/5J7F_10_EXECUTIVE_WHITE_MAIN?$browse_thumbnail$", "price" : "$59.00", "regPrice" : "", "salePrice" : "", "label": "none", "category" : "Shirts", "subcategory": "Executive Dress Shirts", "stock": 1, "dimension53" : "No" }

{ "450018281" : { "16 1/2x34": ["White"], "16 1/2x35": ["White"], "17 1/2x33": ["White"], "16x35": ["White"], "14 1/2x33": ["White"], "15 1/2x32": ["White"], "14 1/2x32": ["White"], "15x35": ["White"], "15 1/2x35": ["White"], "15x33": ["White"], "15 1/2x33": ["White"], "15x34": ["White"], "15 1/2x34": ["White"], "15x32": ["White"], "16 1/2x32": ["White"] } }

{ "id" : "450018281", "productName" : "Executive Collection Slim Fit Point Collar French Cuff Formal Dress Shirt", "productItem" : "5JG0", "productDescription" : "Our Executive Collection dress shirts offer traditional styling and finest craftsmanship. Five-pleated front. Point collar and French cuff. Extra durable buttons. 100% cotton. Machine washable. Imported.", "promoDescription" : "", "productUrl" : "http://www.circleoftrusttherapy.com/p/executive-collection-slim-fit-point-collar-french-cuff-formal-dress-shirt", "productImageUrl" : "https://images.josbank.com/is/image/JosBank/5JG0_10_EXECUTIVE_WHITE_MAIN?$browse_thumbnail$", "productImageFullSize" : "https://images.josbank.com/is/image/JosBank/5JG0_10_EXECUTIVE_WHITE_MAIN?$browse_thumbnail$", "price" : "$59.00", "regPrice" : "", "salePrice" : "", "label": "none", "category" : "Shirts", "subcategory": "Executive Dress Shirts", "stock": 1, "dimension53" : "No" }

{ "450016048" : { "16 1/2x34": ["White"], "16x34": ["White"], "17x34": ["White"], "16x35": ["White"], "14 1/2x33": ["White"], "14 1/2x32": ["White"], "16x33": ["White"], "15 1/2x33": ["White"], "15x33": ["White"], "15x34": ["White"], "17 1/2x35": ["White"], "16 1/2x33": ["White"], "16 1/2x32": ["White"] } }

{ "id" : "450016048", "productName" : "Executive Collection Tailored Fit Wing Collar French Cuff Formal Dress Shirt", "productItem" : "5ATJ", "productDescription" : "Our Executive Collection dress shirts offer traditional styling and the best craftsmanship. Fine cotton broadcloth with classic five front pleats and French cuffs. Comes with removable studs. Tailored fit. Wing collar. Exact sleeve length. 100% cotton. Machine washable. Imported.", "promoDescription" : "", "productUrl" : "http://www.circleoftrusttherapy.com/p/executive-collection-tailored-fit-wing-collar-french-cuff-formal-dress-shirt", "productImageUrl" : "https://images.josbank.com/is/image/JosBank/5ATJ_10_EXECUTIVE_WHITE_MAIN?$browse_thumbnail$", "productImageFullSize" : "https://images.josbank.com/is/image/JosBank/5ATJ_10_EXECUTIVE_WHITE_MAIN?$browse_thumbnail$", "price" : "$59.00", "regPrice" : "", "salePrice" : "", "label": "none", "category" : "Shirts", "subcategory": "Executive Dress Shirts", "stock": 1, "dimension53" : "No" }

{ "451093147" : { "16 1/2x34": ["White"], "16 1/2x35": ["White"], "17x33": ["White"], "17 1/2x33": ["White"], "16x34": ["White"], "17x34": ["White"], "17 1/2x34": ["White"], "16x35": ["White"], "17x35": ["White"], "16x32": ["White"], "15 1/2x32": ["White"], "16x33": ["White"], "15 1/2x35": ["White"], "15 1/2x33": ["White"], "15 1/2x34": ["White"], "17 1/2x35": ["White"], "16 1/2x33": ["White"], "16 1/2x32": ["White"] } }

{ "id" : "451093147", "productName" : "Reserve Collection Traditional Fit Point Collar Formal Dress Shirt", "productItem" : "51HY", "productDescription" : "This classic shirt features a pleated front, French cuffs, and stud closures. Point collar. 100% Egyptian cotton. Machine washable. Imported.", "promoDescription" : "", "productUrl" : "http://www.circleoftrusttherapy.com/p/reserve-collection-traditional-fit-point-collar-formal-dress-shirt-51HY", "productImageUrl" : "https://images.josbank.com/is/image/JosBank/51HY_10_JOS_A_BANK_RESERVE_WHITE_MAIN?$browse_thumbnail$", "productImageFullSize" : "https://images.josbank.com/is/image/JosBank/51HY_10_JOS_A_BANK_RESERVE_WHITE_MAIN?$browse_thumbnail$", "price" : "$59.00", "regPrice" : "", "salePrice" : "", "label": "none", "category" : "Shirts", "subcategory": "Reserve Dress Shirts", "stock": 1, "dimension53" : "No" }

{ "450018282" : { "16 1/2x35": ["White"], "17x33": ["White"], "17x34": ["White"], "17 1/2x34": ["White"], "16x35": ["White"], "17x35": ["White"], "14 1/2x33": ["White"], "16x33": ["White"], "14 1/2x32": ["White"], "15 1/2x32": ["White"], "15 1/2x35": ["White"], "15 1/2x33": ["White"], "15x33": ["White"], "15 1/2x34": ["White"], "15x34": ["White"], "15x32": ["White"], "17 1/2x35": ["White"], "16 1/2x33": ["White"], "16 1/2x32": ["White"] } }

{ "id" : "450018282", "productName" : "Executive Collection Slim Fit Wing Collar Formal Dress Shirt", "productItem" : "5JG1", "productDescription" : "This fine formal dress shirt from the Executive Collection features a wing collar, pleated front, and stud closures. French cuff. 100's 2-ply cotton. Extra durable buttons. 100% cotton. Machine Wash. Imported.", "promoDescription" : "", "productUrl" : "http://www.circleoftrusttherapy.com/p/executive-collection-slim-fit-wing-collar-formal-dress-shirt", "productImageUrl" : "https://images.josbank.com/is/image/JosBank/5JG1_10_EXECUTIVE_WHITE_MAIN?$browse_thumbnail$", "productImageFullSize" : "https://images.josbank.com/is/image/JosBank/5JG1_10_EXECUTIVE_WHITE_MAIN?$browse_thumbnail$", "price" : "$59.00", "regPrice" : "", "salePrice" : "", "label": "none", "category" : "Shirts", "subcategory": "Executive Dress Shirts", "stock": 1, "dimension53" : "No" }

{ "451089778" : { "16 1/2x34": ["Blue"], "17 1/2x33": ["Blue"], "17x34": ["Blue"], "17 1/2x34": ["Blue"], "16x35": ["Blue"], "17x35": ["Blue"], "16x32": ["Blue"], "15 1/2x32": ["Blue"], "15 1/2x35": ["Blue"], "15 1/2x33": ["Blue"], "17 1/2x35": ["Blue"], "15 1/2x34": ["Blue"] } }

{ "id" : "451089778", "productName" : "Reserve Collection Traditional Fit Spread Collar Herringbone Dress Shirt", "productItem" : "514Z", "productDescription" : "A refined choice, this Reserve Collection dress shirt completes your look with timeless style. No-wrinkle, the shirt has a cutaway collar, hidden placket, break-resistant buttons, left chest pocket, split back yoke, back side pleats and French cuffs for added sophistication. 100% Egyptian cotton. Machine washable. Imported.", "promoDescription" : "3 for $115 Dress Shirts!", "productUrl" : "http://www.circleoftrusttherapy.com/p/reserve-collection-traditional-fit-spread-collar-herringbone-dress-shirt", "productImageUrl" : "https://images.josbank.com/is/image/JosBank/514Z_70_JOS_A_BANK_RESERVE_BLUE_NEW_MAIN?$browse_thumbnail$", "productImageFullSize" : "https://images.josbank.com/is/image/JosBank/514Z_70_JOS_A_BANK_RESERVE_BLUE_NEW_MAIN?$browse_thumbnail$", "price" : "$45.00", "regPrice" : "", "salePrice" : "", "label": "none", "category" : "Shirts", "subcategory": "Reserve Dress Shirts", "stock": 1, "dimension53" : "No" }

{ "450016009" : { "16 1/2x34": ["White"], "16 1/2x35": ["White"], "16x34": ["White"], "17x35": ["White"], "14 1/2x33": ["White"], "16x33": ["White"], "15x35": ["White"], "15 1/2x33": ["White"], "15x33": ["White"], "15 1/2x34": ["White"], "15x34": ["White"], "16 1/2x33": ["White"], "15x32": ["White"] } }

{ "id" : "450016009", "productName" : "Executive Collection Tailored Fit Point Collar French Cuff Formal Dress Shirt", "productItem" : "5AR9", "productDescription" : "Fine cotton broadcloth with classic five front pleats and French cuffs. Comes with removable studs. Point collar. Tailored fit. Exact sleeve length. 100% cotton. Machine washable. Imported.", "promoDescription" : "", "productUrl" : "http://www.circleoftrusttherapy.com/p/executive-collection-tailored-fit-point-collar-french-cuff-formal-dress-shirt", "productImageUrl" : "https://images.josbank.com/is/image/JosBank/5AR9_10_EXECUTIVE_WHITE_MAIN?$browse_thumbnail$", "productImageFullSize" : "https://images.josbank.com/is/image/JosBank/5AR9_10_EXECUTIVE_WHITE_MAIN?$browse_thumbnail$", "price" : "$59.00", "regPrice" : "", "salePrice" : "", "label": "none", "category" : "Shirts", "subcategory": "Executive Dress Shirts", "stock": 1, "dimension53" : "No" }

{ "450018049" : { "16 1/2x34": ["White"], "16 1/2x35": ["White"], "17 1/2x33": ["White"], "17x34": ["White"], "17 1/2x34": ["White"], "16x33": ["White"], "15 1/2x32": ["White"], "15x35": ["White"], "15 1/2x35": ["White"], "17 1/2x35": ["White"], "15x34": ["White"], "15x32": ["White"] } }

{ "id" : "450018049", "productName" : "Executive Collection Traditional Fit Wing Collar French Cuff Formal Dress Shirt", "productItem" : "5J7G", "productDescription" : "Our Executive Collection dress shirts offer traditional styling and the finest craftsmanship. Fine cotton broadcloth with classic five front pleats and French cuffs. Comes with removable studs. Traditional Fit. Wing collar. Exact sleeve length. 100% cotton. Machine washable. Imported.", "promoDescription" : "", "productUrl" : "http://www.circleoftrusttherapy.com/p/executive-collection-traditional-fit-wing-collar-french-cuff-formal-dress-shirt", "productImageUrl" : "https://images.josbank.com/is/image/JosBank/5J7G_10_EXECUTIVE_WHITE_MAIN?$browse_thumbnail$", "productImageFullSize" : "https://images.josbank.com/is/image/JosBank/5J7G_10_EXECUTIVE_WHITE_MAIN?$browse_thumbnail$", "price" : "$59.00", "regPrice" : "", "salePrice" : "", "label": "none", "category" : "Shirts", "subcategory": "Executive Dress Shirts", "stock": 1, "dimension53" : "No" }
Related Products
Description:
The 1905 Collection features dress shirts that are trend forward yet timeless. Split back yoke with back pleats. break-resistant buttons. Left chest pocket. Traditional placket with a spread collar and barrel cuff. Extreme Slim Fit. Exact sleeve length. 100% cotton. ...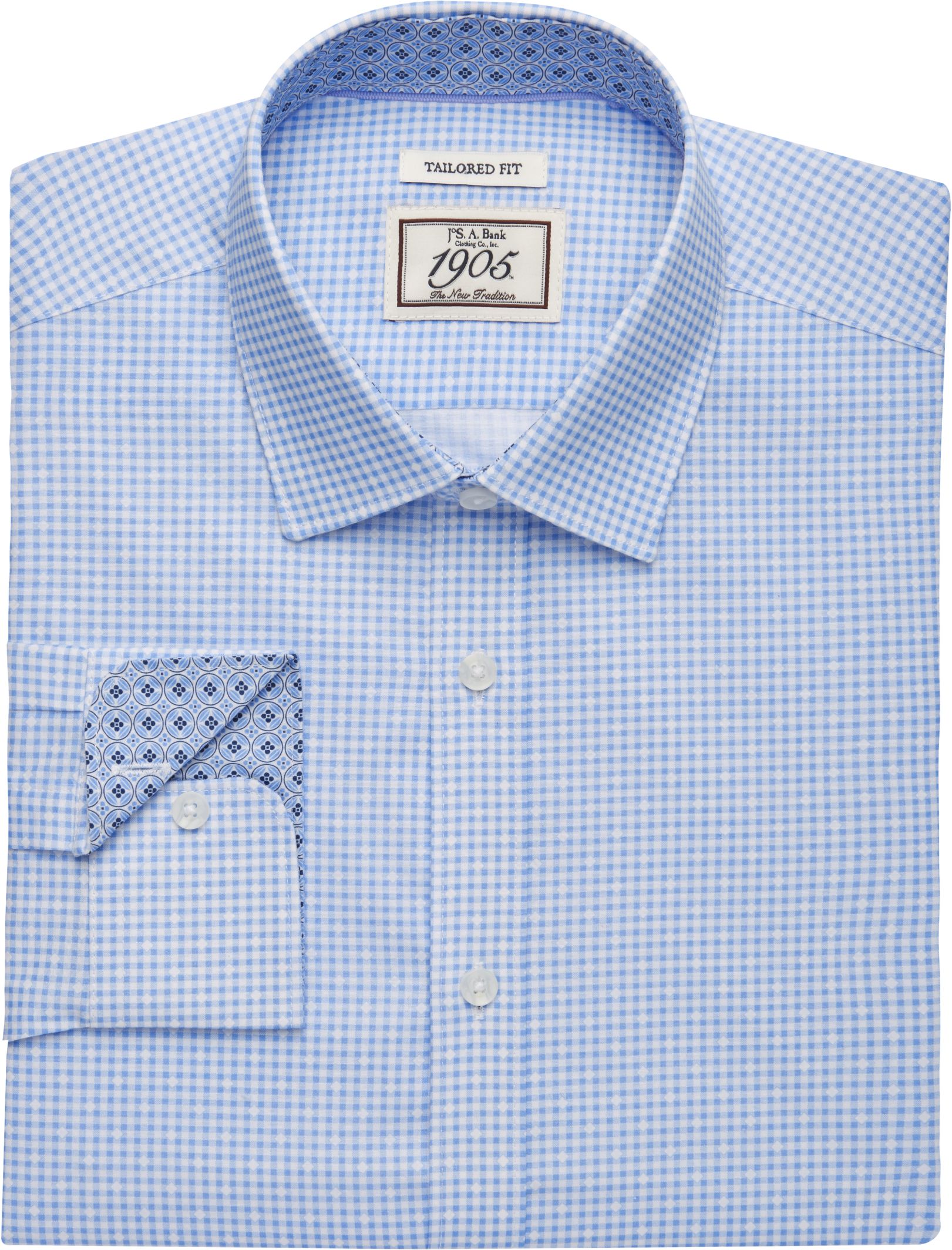 Description:
Our 1905 Collection dress shirts offer fine craftsmanship with rich colors and patterns. This non-iron dress shirt with a subtle check pattern features non-breakable buttons, left chest pocket, spread collar, and barrel cuff. Exact sleeve length. Contrast lining in cuff. ...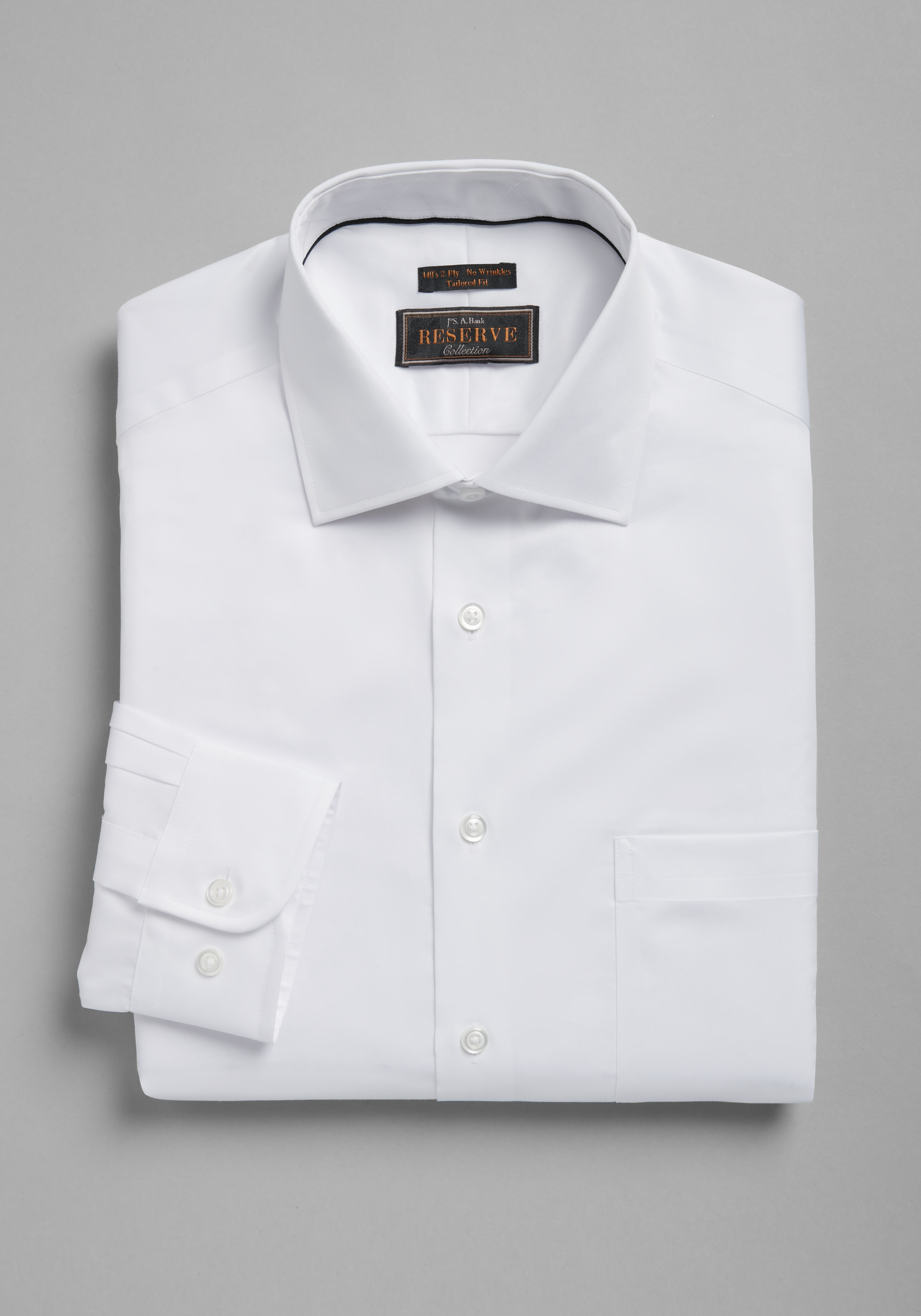 Description:
Crafted from 100% Egyptian cotton, this 140's 2-ply dress shirt offers rich texture and a sumptuous feel. Made with a Tailored Fit, it stays crisp and fresh all day long with a special finish that gives it the professional appearance ...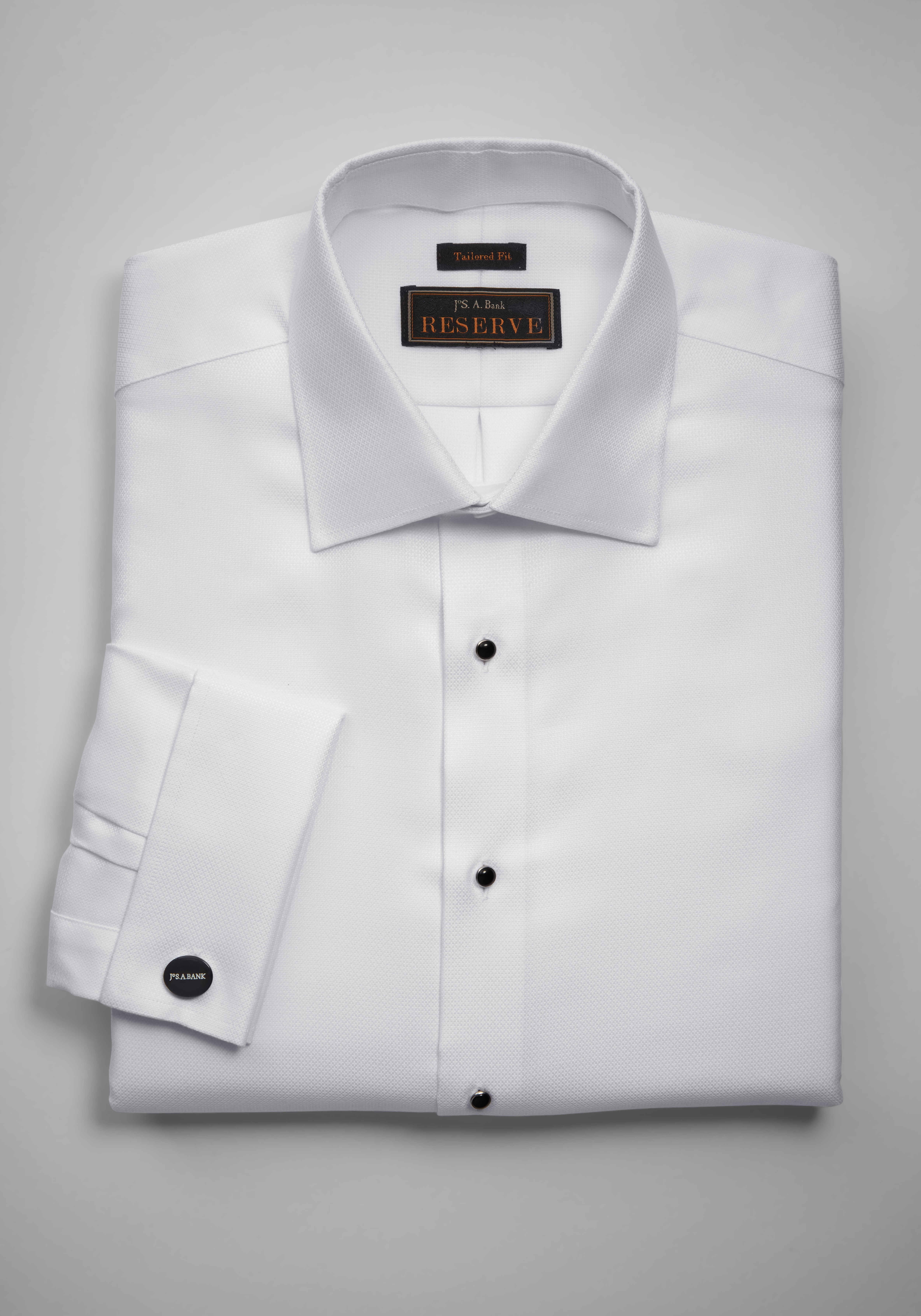 Description:
Our Reserve Collection dress shirts offer premium quality and fabrics with intricate patterns and elegant colors. This no-wrinkles dress shirt resists shrinking, fading, and puckering. Single-needle tailoring. Break-resistant buttons. Spread collar and French cuff. Exact sleeve length. 100% Egyptian cotton. ...
Description:
Look neat and professional in this Traveler Collection dress shirt. It features a premium, no-wrinkle performance that resists shrinking and fading. It has a split-back yoke with back side pleats and break-resistant buttons. Other highlights include a traditional placket, a ...