Slim Fit Suits
Refine your results
SHOW
Show:

Press enter to collapse or expand the menu. For navigating with in Filter options, press tab. To select Filter options, press enter.

Clear All

Filter

Done

0

Products

Add filter

Reset filters
Product List
{ "451346592" : { "37 Regular": [ "Black", "Dark Grey", "Navy" ], "42 Short": [ "Black", "Dark Grey", "Navy" ], "44 Long": [ "Black", "Dark Grey", "Navy" ], "39 Long": [ "Dark Grey", "Navy" ], "46 Short": [ "Black", "Dark Grey" ], "42 Long": [ "Black", "Dark Grey", "Navy" ], "36 Regular": [ "Black", "Dark Grey", "Navy" ], "39 Regular": [ "Black", "Dark Grey", "Navy" ], "42 Regular": [ "Black", "Dark Grey", "Navy" ], "38 Long": [ "Black", "Dark Grey", "Navy" ], "44 Short": [ "Black", "Dark Grey", "Navy" ], "46 Regular": [ "Black", "Dark Grey", "Navy" ], "46 Long": [ "Black", "Dark Grey", "Navy" ], "41 Regular": [ "Black", "Dark Grey", "Navy" ], "36 Short": [ "Black", "Dark Grey", "Navy" ], "43 Regular": [ "Black", "Dark Grey", "Navy" ], "38 Short": [ "Black", "Dark Grey", "Navy" ], "40 Regular": [ "Black", "Dark Grey", "Navy" ], "41 Long": [ "Dark Grey", "Navy" ], "44 Regular": [ "Black", "Dark Grey", "Navy" ], "40 Long": [ "Black", "Dark Grey", "Navy" ], "43 Long": [ "Black", "Navy" ], "38 Regular": [ "Black", "Dark Grey", "Navy" ], "40 Short": [ "Black", "Dark Grey", "Navy" ] } }

{ "id" : "451346592", "productName" : "Executive Collection Slim Fit Suit", "productItem" : "3F16", "productDescription" : "Achieve a refined and stylish look with this Executive Collection suit. Slim Fit. Two button, side vents, notch lapel. Three-inch lapel. Lining - solid color poly blend. No canvas chest piece - garment uses modern fusing technology. Super 100's plain weave wool. Pant - unfinished hem for alteration ease. Flat-front slacks, half lined to knee. 100% wool. Dry clean only. Imported.", "promoDescription" : "", "productUrl" : "http://www.circleoftrusttherapy.com/p/executive-collection-slim-fit-suit", "productImageUrl" : "https://images.josbank.com/is/image/JosBank/3F16_75_EXECUTIVE_NAVY_MAIN?$browse_thumbnail$", "productImageFullSize" : "https://images.josbank.com/is/image/JosBank/3F16_75_EXECUTIVE_NAVY_MAIN?$browse_thumbnail$", "price" : "$199.00", "regPrice" : "", "salePrice" : "", "label": "none", "category" : "Suits", "subcategory": "Executive Suits", "stock": 1, "dimension53" : "No" }

{ "451212419" : { "37 Regular": [ "Black", "French Blue", "Graphite" ], "35 Short": ["French Blue"], "42 Long": ["French Blue"], "36 Regular": [ "Black", "French Blue", "Graphite" ], "38 Long": [ "Black", "French Blue" ], "42 Regular": [ "Black", "French Blue", "Graphite" ], "41 Regular": [ "Black", "Graphite" ], "43 Regular": [ "Black", "French Blue", "Graphite" ], "38 Short": [ "Black", "French Blue", "Graphite" ], "40 Regular": [ "Black", "French Blue", "Graphite" ], "44 Regular": [ "Black", "French Blue", "Graphite" ], "43 Long": ["Black"], "38 Regular": [ "Black", "French Blue", "Graphite" ], "42 Short": [ "Black", "French Blue", "Graphite" ], "44 Long": [ "Black", "French Blue", "Graphite" ], "39 Long": [ "Black", "French Blue", "Graphite" ], "46 Short": [ "Black", "French Blue", "Graphite" ], "39 Regular": [ "Black", "French Blue", "Graphite" ], "44 Short": [ "Black", "French Blue", "Graphite" ], "46 Regular": [ "Black", "French Blue", "Graphite" ], "46 Long": [ "Black", "French Blue", "Graphite" ], "36 Short": [ "Black", "French Blue", "Graphite" ], "37 Short": [ "Black", "French Blue", "Graphite" ], "36 Long": [ "Black", "French Blue", "Graphite" ], "41 Long": [ "Black", "French Blue", "Graphite" ], "40 Long": [ "Black", "Graphite" ], "35 Regular": ["French Blue"], "40 Short": [ "Black", "French Blue", "Graphite" ] } }

{ "id" : "451212419", "productName" : "Travel Tech Slim Fit Suit Separate Jacket", "productItem" : "38KP", "productDescription" : "Suit separates let you choose pant and jacket sizes independently for an ideal fit. Water and stain resistant. This Travel Tech jacket features fabric that maintains the optimum microclimate for your body for optimum comfort. Removes moisture at the vapor stage before sweat can form. Acts like a thermostat by removing moisture when you are hot and retaining warmth when cold. Absorbs and traps odor molecules that are washed away when cleaned. Natural stretch fabric. Water &amp; stain resistant. Performance stretch lining. Stretch mesh fabric integrated throughout in the suit jacket, vest and pants ensures maximum mobility. The inner construction of the jacket including the chest piece, shoulder pad, and sleeve head are all breathable to amplify the features and benefits of 37.5 technologies. Zippered utility pockets are strategically placed inside jackets and pants. Rubberized buttons complement the tech attitude and feeling of Travel Tech. Slim Fit. 71% wool 25% 37.5 polyester 4% spandex. Dry clean only. Imported.<br\/><br\/>Matching Pants: #38KT<br\/>Matching Vest: #38KV", "promoDescription" : "", "productUrl" : "http://www.circleoftrusttherapy.com/p/travel-tech-slim-fit-suit-separate-jacket-38KP", "productImageUrl" : "https://images.josbank.com/is/image/JosBank/38KP_74_TRAVELER_FRENCH_BLUE_MAIN?$browse_thumbnail$", "productImageFullSize" : "https://images.josbank.com/is/image/JosBank/38KP_74_TRAVELER_FRENCH_BLUE_MAIN?$browse_thumbnail$", "price" : "$189.00", "regPrice" : "", "salePrice" : "", "label": "none", "category" : "Featured", "subcategory": "Ready for Anything", "stock": 1, "dimension53" : "No" }

{ "450006830" : { "37 Regular": [ "Bright Blue", "Light Blue" ], "42 Short": [ "Light Grey", "Mid Grey" ], "44 Long": ["Bright Blue"], "39 Long": [ "Light Blue", "Mid Grey" ], "46 Short": [ "Bright Blue", "Mid Grey" ], "42 Long": [ "Blue", "Bright Blue" ], "36 Regular": [ "Bright Blue", "Dark Blue", "Light Grey", "Mid Grey" ], "39 Regular": [ "Bright Blue", "Light Grey" ], "42 Regular": [ "Dark Blue", "Light Grey", "Mid Grey" ], "38 Long": [ "Bright Blue", "Light Blue" ], "44 Short": ["Bright Blue"], "46 Regular": ["Bright Blue"], "46 Long": [ "Dark Blue", "Mid Grey" ], "41 Regular": [ "Bright Blue", "Dark Blue", "Light Blue", "Light Grey", "Mid Grey" ], "36 Short": [ "Bright Blue", "Light Blue" ], "43 Regular": [ "Bright Blue", "Mid Grey" ], "36 Long": [ "Blue", "Light Grey", "Mid Grey" ], "37 Short": [ "Bright Blue", "Dark Blue", "Mid Grey" ], "41 Long": [ "Bright Blue", "Dark Blue", "Light Blue", "Light Grey", "Mid Grey" ], "38 Short": [ "Bright Blue", "Dark Blue", "Mid Grey" ], "40 Regular": [ "Bright Blue", "Dark Blue", "Light Blue", "Light Grey", "Mid Grey" ], "44 Regular": [ "Bright Blue", "Dark Blue" ], "40 Long": [ "Bright Blue", "Light Blue" ], "43 Long": [ "Bright Blue", "Mid Grey" ], "38 Regular": [ "Bright Blue", "Dark Blue" ], "40 Short": [ "Bright Blue", "Light Grey" ] } }

{ "id" : "450006830", "productName" : "Traveler Collection Slim Fit Sharkskin Suit", "productItem" : "3ERF", "productDescription" : "Our Traveler Collection suits are the ideal choice for the busy professional. This specially engineered fabric allows the garment to stretch with your movements and return to its original shape time and again. Stain resistance allows spills to roll off instantly. Freedom to move -- stretch fabric allows optimal range of motion. New Slim Fit. Side vents. Year round weight. Five interior pockets for your passport, cell phone, pen\/eyeglasses, and more. Wrinkle recovery. Flat-front trousers lined to the knee. 100% wool. Dry clean only. Imported.", "promoDescription" : "", "productUrl" : "http://www.circleoftrusttherapy.com/p/traveler-collection-slim-fit-sharkskin-suit-3ERF", "productImageUrl" : "https://images.josbank.com/is/image/JosBank/26414_943_main?$browse_thumbnail$", "productImageFullSize" : "https://images.josbank.com/is/image/JosBank/26414_943_main?$browse_thumbnail$", "price" : "$279.00", "regPrice" : "", "salePrice" : "", "label": "none", "category" : "Suits", "subcategory": "Traveler Suits", "stock": 1, "dimension53" : "No" }

{ "450007480" : { "37 Regular": ["Mid Blue"], "35 Short": ["Mid Blue"], "42 Long": [ "Dark Blue", "Light Grey" ], "36 Regular": ["Mid Blue"], "38 Long": ["Mid Blue"], "42 Regular": [ "Dark Blue", "Mid Blue" ], "41 Regular": [ "Dark Blue", "Mid Blue" ], "43 Regular": [ "Dark Blue", "Mid Blue" ], "38 Short": [ "Dark Blue", "Mid Blue" ], "40 Regular": [ "Dark Blue", "Light Grey", "Mid Blue" ], "44 Regular": [ "Dark Blue", "Light Grey", "Mid Blue" ], "43 Long": [ "Dark Blue", "Mid Blue" ], "38 Regular": [ "Dark Blue", "Light Grey", "Mid Blue" ], "42 Short": ["Mid Blue"], "44 Long": [ "Dark Blue", "Mid Blue" ], "39 Long": ["Mid Blue"], "46 Short": ["Dark Blue"], "39 Regular": ["Dark Blue"], "44 Short": ["Mid Blue"], "46 Regular": [ "Light Grey", "Mid Blue" ], "46 Long": ["Mid Blue"], "36 Short": ["Mid Blue"], "37 Short": [ "Dark Blue", "Light Grey", "Mid Blue" ], "36 Long": [ "Dark Blue", "Light Grey", "Mid Blue" ], "41 Long": ["Dark Blue"], "40 Long": [ "Dark Blue", "Mid Blue" ], "35 Regular": [ "Dark Blue", "Mid Blue" ], "40 Short": [ "Dark Blue", "Light Grey", "Mid Blue" ] } }

{ "id" : "450007480", "productName" : "Traveler Collection Slim Fit Sharkskin Suit Separate Jacket", "productItem" : "3FT0", "productDescription" : "Traveler suit separates are wrinkle, water, and stain resistant for easy wear and care. Suit separates give you the option of choosing coat, vest, and\/or pant sizes separately for an ideal fit. Slim Fit. Two-button jacket with notch lapel. Side vents. Flap pockets. 100% wool. Dry clean only. Imported.<br\/><br\/>Matching Pants: #3FT4<br\/>Matching Vest: #3FT3", "promoDescription" : "", "productUrl" : "http://www.circleoftrusttherapy.com/p/traveler-suit-separate-slim-fit-solid-jacket", "productImageUrl" : "https://images.josbank.com/is/image/JosBank/3FT0_04_TRAVELER_LIGHT_GREY_MAIN?$browse_thumbnail$", "productImageFullSize" : "https://images.josbank.com/is/image/JosBank/3FT0_04_TRAVELER_LIGHT_GREY_MAIN?$browse_thumbnail$", "price" : "$189.00", "regPrice" : "", "salePrice" : "", "label": "none", "category" : "Special Categories", "subcategory": "Top 10 Men's Clothing", "stock": 1, "dimension53" : "No" }

{ "451212421" : { "37 Regular": ["French Blue"], "42 Short": [ "Black", "French Blue", "Graphite" ], "28 SHRT PNT": [ "Black", "French Blue", "Graphite" ], "31 Regular": [ "Black", "French Blue", "Graphite" ], "42 Long": [ "French Blue", "Graphite" ], "32 Regular": [ "Black", "French Blue", "Graphite" ], "30 Regular": [ "Black", "French Blue", "Graphite" ], "36 Regular": [ "Black", "French Blue", "Graphite" ], "33 Regular": [ "Black", "French Blue", "Graphite" ], "38 Long": [ "French Blue", "Graphite" ], "36 Short": [ "French Blue", "Graphite" ], "34 Regular": [ "Black", "French Blue", "Graphite" ], "29 Regular": [ "Black", "French Blue", "Graphite" ], "32 Short": [ "Black", "French Blue", "Graphite" ], "36 Long": ["Graphite"], "38 Short": [ "Black", "French Blue", "Graphite" ], "40 Long": [ "Black", "French Blue", "Graphite" ], "34 Short": [ "French Blue", "Graphite" ], "30 Short": [ "Black", "French Blue", "Graphite" ], "35 Regular": [ "Black", "French Blue", "Graphite" ], "38 Regular": [ "Black", "French Blue", "Graphite" ], "40 Short": [ "Black", "French Blue", "Graphite" ] } }

{ "id" : "451212421", "productName" : "Travel Tech Slim Fit Suit Separate Pants", "productItem" : "38KT", "productDescription" : "Suit separates let you choose pant and jacket sizes independently for an ideal fit. Water and stain resistant. These Travel Tech pants feature fabric that maintains the optimum microclimate for your body for optimum comfort. Removes moisture at the vapor stage before sweat can form. Acts like a thermostat by removing moisture when you are hot and retaining warmth when cold. Absorbs and traps odor molecules that are washed away when cleaned. Natural stretch fabric. Water &amp; stain resistant. Performance stretch lining. Stretch mesh fabric integrated throughout in the suit jacket, vest and pants ensures maximum mobility. Zippered utility pockets are strategically placed inside jackets and pants. Rubberized buttons complement the tech attitude and feeling of Travel Tech. Trouser waist band has 37.5 Mesh lining to achieve flexible stretch comfort. Slim Fit. Flat front. 71% wool 25% 37.5 polyester 4% spandex. Dry clean. Imported.<br\/><br\/>Matching Jacket: #38KP<br\/>Matching Vest: #38KV", "promoDescription" : "", "productUrl" : "http://www.circleoftrusttherapy.com/p/travel-tech-slim-fit-suit-separate-pants-38KT", "productImageUrl" : "https://images.josbank.com/is/image/JosBank/38KT_74_TRAVELER_FRENCH_BLUE_MAIN?$browse_thumbnail$", "productImageFullSize" : "https://images.josbank.com/is/image/JosBank/38KT_74_TRAVELER_FRENCH_BLUE_MAIN?$browse_thumbnail$", "price" : "$90.00", "regPrice" : "", "salePrice" : "", "label": "none", "category" : "Featured", "subcategory": "Ready for Anything", "stock": 1, "dimension53" : "No" }

{ "450007484" : { "37 Regular": [ "Dark Blue", "Mid Blue" ], "42 Long": [ "Light Grey", "Mid Blue" ], "30 Regular": ["Mid Blue"], "36 Regular": [ "Dark Blue", "Light Grey", "Mid Blue" ], "33 Regular": [ "Dark Blue", "Light Grey", "Mid Blue" ], "38 Long": [ "Dark Blue", "Light Grey", "Mid Blue" ], "40x33": ["Dark Blue"], "29 Regular": [ "Light Grey", "Mid Blue" ], "40x32": ["Light Grey"], "38 Short": [ "Dark Blue", "Light Grey", "Mid Blue" ], "40 Regular": [ "Dark Blue", "Mid Blue" ], "34 Short": [ "Light Grey", "Mid Blue" ], "30 Short": [ "Dark Blue", "Light Grey", "Mid Blue" ], "38 Regular": [ "Dark Blue", "Light Grey", "Mid Blue" ], "42 Short": [ "Dark Blue", "Light Grey", "Mid Blue" ], "28 SHRT PNT": [ "Dark Blue", "Light Grey", "Mid Blue" ], "31 Regular": [ "Dark Blue", "Light Grey", "Mid Blue" ], "32 Regular": [ "Dark Blue", "Light Grey", "Mid Blue" ], "34 Long": [ "Dark Blue", "Mid Blue" ], "34 Regular": [ "Dark Blue", "Light Grey", "Mid Blue" ], "36 Short": [ "Dark Blue", "Light Grey", "Mid Blue" ], "32 Short": [ "Light Grey", "Mid Blue" ], "36 Long": [ "Dark Blue", "Mid Blue" ], "40 Long": [ "Dark Blue", "Light Grey", "Mid Blue" ], "35 Regular": [ "Dark Blue", "Light Grey", "Mid Blue" ], "40 Short": [ "Dark Blue", "Light Grey", "Mid Blue" ] } }

{ "id" : "450007484", "productName" : "Traveler Collection Slim Fit Flat Front Sharkskin Suit Separate Pants", "productItem" : "3FT4", "productDescription" : "Slim Fit. Plain front. Extended waistband. Half-lined to the knee. Unfinished bottoms for altering ease. 100% wool. Imported.<br\/><br\/>Matching Jacket: #3FT0<br\/>Matching Vest: #3FT3", "promoDescription" : "", "productUrl" : "http://www.circleoftrusttherapy.com/p/traveler-collection-slim-fit-flat-front-sharkskin-suit-separate-pants", "productImageUrl" : "https://images.josbank.com/is/image/JosBank/3FT4_04_TRAVELER_LIGHT_GREY_MAIN?$browse_thumbnail$", "productImageFullSize" : "https://images.josbank.com/is/image/JosBank/3FT4_04_TRAVELER_LIGHT_GREY_MAIN?$browse_thumbnail$", "price" : "$90.00", "regPrice" : "", "salePrice" : "", "label": "none", "category" : "Special Categories", "subcategory": "Top 10 Men's Clothing", "stock": 1, "dimension53" : "No" }

{ "451047195" : { "37 Regular": ["Black"], "35 Short": ["Black"], "42 Long": ["Black"], "36 Regular": ["Black"], "38 Long": ["Black"], "42 Regular": ["Black"], "41 Regular": ["Black"], "43 Regular": ["Black"], "38 Short": ["Black"], "40 Regular": ["Black"], "44 Regular": ["Black"], "43 Long": ["Black"], "38 Regular": ["Black"], "42 Short": ["Black"], "44 Long": ["Black"], "39 Long": ["Black"], "46 Short": ["Black"], "39 Regular": ["Black"], "44 Short": ["Black"], "46 Regular": ["Black"], "46 Long": ["Black"], "36 Short": ["Black"], "37 Short": ["Black"], "36 Long": ["Black"], "41 Long": ["Black"], "40 Long": ["Black"], "40 Short": ["Black"] } }

{ "id" : "451047195", "productName" : "1905 Collection Slim Fit Tuxedo", "productItem" : "33RF", "productDescription" : "This fine wool tuxedo coat features vintage details with a modern approach. Single button closure, side vents, and satin notch lapel. Fully lined. Covered buttons. Soft shouldered construction. Satin details at pockets. Slim Fit. Flat-front slacks with satin stripe, lined to the knee. Unhemmed for tailoring. 98% wool, 2% spandex. Imported. Dry clean.", "promoDescription" : "", "productUrl" : "http://www.circleoftrusttherapy.com/p/1905-collection-slim-fit-tuxedo-33RF", "productImageUrl" : "https://images.josbank.com/is/image/JosBank/33RF_01_1905_BLACK_MAIN?$browse_thumbnail$", "productImageFullSize" : "https://images.josbank.com/is/image/JosBank/33RF_01_1905_BLACK_MAIN?$browse_thumbnail$", "price" : "", "regPrice" : "$249.00", "salePrice" : "$199.00", "label": "sale", "category" : "Suits", "subcategory": "1905 Suits", "stock": 1, "dimension53" : "No" }

{ "451146247" : { "42 Short": ["Blue"], "28 SHRT PNT": ["Blue"], "34 Regular": ["Blue"], "29 Regular": ["Blue"], "32 Regular": ["Blue"], "40 Long": ["Blue"], "36 Regular": ["Blue"], "35 Regular": ["Blue"], "39 Short": ["Blue"], "40 Short": ["Blue"] } }

{ "id" : "451146247", "productName" : "1905 Collection Slim Fit Flat-Front Suit Separate Pants", "productItem" : "37KF", "productDescription" : "These 1905 Collection Slim Fit suit separate slacks feature vintage details with a modern approach. Plain front. Lined to the knee. Unhemmed. 98% wool, 2% spandex. Dry clean. Imported.<br\/><br\/>Matching Jacket: #37KA<br\/>Matching Vest: #37KD<br\/>", "promoDescription" : "", "productUrl" : "http://www.circleoftrusttherapy.com/p/1905-collection-suit-separate-flat-front-pants-37KF", "productImageUrl" : "https://images.josbank.com/is/image/JosBank/37KF_73_1905_BLUE_MAIN?$browse_thumbnail$", "productImageFullSize" : "https://images.josbank.com/is/image/JosBank/37KF_73_1905_BLUE_MAIN?$browse_thumbnail$", "price" : "", "regPrice" : "$100.00", "salePrice" : "$80.00", "label": "sale", "category" : "Special Categories", "subcategory": "Top 10 Men's Clothing", "stock": 1, "dimension53" : "No" }

{ "450007481" : { "44 Long": ["Cambridge Grey"], "41 Regular": ["Cambridge Grey"], "36 Short": ["Cambridge Grey"], "39 Long": ["Cambridge Grey"], "46 Short": ["Cambridge Grey"], "37 Short": [ "Black", "Cambridge Grey" ], "36 Long": [ "Black", "Cambridge Grey" ], "40 Regular": [ "Black", "Cambridge Grey" ], "38 Short": ["Cambridge Grey"], "40 Long": ["Cambridge Grey"], "39 Regular": ["Cambridge Grey"], "38 Regular": ["Cambridge Grey"], "40 Short": ["Cambridge Grey"] } }

{ "id" : "450007481", "productName" : "Traveler Collection Slim Fit Solid Suit", "productItem" : "3FT1", "productDescription" : "This classic Traveler Collection features water and stain resistance for a neat professional look that lasts. Slim Fit. Two-button jacket, notch lapel, side vents. Fully lined jacket. Soft shoulder construction. Five interior pockets. Flat-front slacks, lined to knee. Premium cotton pocketing. Unhemmed for tailoring. Quarter-top pockets. Comfort range waistband with self-adjusting stretch. Button-through back besom pockets. 100% wool. Imported. Dry clean.", "promoDescription" : "", "productUrl" : "http://www.circleoftrusttherapy.com/p/traveler-collection-slim-fit-solid-suit", "productImageUrl" : "https://images.josbank.com/is/image/JosBank/3FT1_01_TRAVELER_BLACK_MAIN?$browse_thumbnail$", "productImageFullSize" : "https://images.josbank.com/is/image/JosBank/3FT1_01_TRAVELER_BLACK_MAIN?$browse_thumbnail$", "price" : "$279.00", "regPrice" : "", "salePrice" : "", "label": "none", "category" : "Suits", "subcategory": "Traveler Suits", "stock": 1, "dimension53" : "No" }

{ "451547827" : { "44 Long": ["Navy"], "46 Short": ["Navy"], "42 Long": ["Navy"], "36 Regular": ["Navy"], "39 Regular": ["Navy"], "42 Regular": ["Navy"], "44 Short": ["Navy"], "46 Regular": ["Navy"], "46 Long": ["Navy"], "36 Short": ["Navy"], "40 Regular": ["Navy"], "41 Long": ["Navy"], "38 Short": ["Navy"], "44 Regular": ["Navy"], "40 Long": ["Navy"], "43 Long": ["Navy"], "38 Regular": ["Navy"], "40 Short": ["Navy"] } }

{ "id" : "451547827", "productName" : "1905 Collection Slim Fit Stripe Oraganica? Wool Suit with brrr°? comfort", "productItem" : "3UGE", "productDescription" : "This Slim Fit suit has fine stripes, and a fully lined jacket that features a peak lapel, two-button closure, flap-front pockets, side vents and interior pockets. Flat-front slacks are lined to the knee and unhemmed for tailoring. This suit is crafted using brrr\u00B0\u00AE comfort technology that continually keeps you cooler with natural-cooling minerals, a special fiber core that increases moisture wicking, and an enhanced airflow to boost cooling so you feel fresh. The wool used is Organica\u00AE certified which guarantees the quality and traceability of the wool fibers across the supply chain. Organica\u00AE fibers are produced with respect to animal welfare, the welfare of the people who produce the fibers, and reducing the impact of production on the environment. 70% Organica\u00AE wool, 28% recycled polyester, 2% spandex. Dry clean only. Imported.", "promoDescription" : "", "productUrl" : "http://www.circleoftrusttherapy.com/p/1905-collection-slim-fit-stripe-oraganica-wool-suit-with-brrr-comfort", "productImageUrl" : "https://images.josbank.com/is/image/JosBank/3UGE_75_1905_NAVY_MAIN?$browse_thumbnail$", "productImageFullSize" : "https://images.josbank.com/is/image/JosBank/3UGE_75_1905_NAVY_MAIN?$browse_thumbnail$", "price" : "", "regPrice" : "$249.00", "salePrice" : "$199.00", "label": "sale", "category" : "Suits", "subcategory": "1905 Suits", "stock": 1, "dimension53" : "No" }

{ "451547822" : { "46 Regular": ["Blue"], "46 Long": ["Blue"], "44 Long": ["Blue"], "42 Long": ["Blue"], "41 Long": ["Blue"], "44 Regular": ["Blue"], "40 Long": ["Blue"], "42 Regular": ["Blue"], "38 Regular": ["Blue"] } }

{ "id" : "451547822", "productName" : "1905 Collection Slim Fit Plaid Oraganica? Suit with brrr°? comfort", "productItem" : "3UG3", "productDescription" : "This Tailored Fit suit has a subtle plaid pattern, and a fully lined jacket that features a notch lapel, two-button closure, flap-front pockets, side vents and interior pockets. The flat-front slacks are half-lined to the knee and are unhemmed for tailoring. This suit is crafted using brrr\u00B0\u00AE comfort technology that continually keeps you cooler with natural-cooling minerals, a special fiber core that increases moisture wicking, and an enhanced airflow to boost cooling so you feel fresh. The wool used is Organica\u00AE certified which guarantees the quality and traceability of the wool fibers across the supply chain. Organica\u00AE fibers are produced with respect to animal welfare, the welfare of the people who produce the fibers, and reducing the impact of production on the environment. 70% Organica\u00AE wool, 28% recycled polyester, 2% spandex. Dry clean only. Imported.", "promoDescription" : "", "productUrl" : "http://www.circleoftrusttherapy.com/p/1905-collection-slim-fit-plaid-oraganica-suit-with-brrr-comfort-3UG3", "productImageUrl" : "https://images.josbank.com/is/image/JosBank/3UG3_70_1905_BLUE_MAIN?$browse_thumbnail$", "productImageFullSize" : "https://images.josbank.com/is/image/JosBank/3UG3_70_1905_BLUE_MAIN?$browse_thumbnail$", "price" : "", "regPrice" : "$249.00", "salePrice" : "$199.00", "label": "sale", "category" : "Suits", "subcategory": "1905 Suits", "stock": 1, "dimension53" : "No" }

{ "451550451" : { "42 Short": ["Grey"], "44 Long": ["Grey"], "42 Long": ["Grey"], "42 Regular": ["Grey"], "44 Short": ["Grey"], "46 Regular": ["Grey"], "46 Long": ["Grey"], "43 Regular": ["Grey"], "40 Regular": ["Grey"], "38 Short": ["Grey"], "44 Regular": ["Grey"], "38 Regular": ["Grey"], "40 Short": ["Grey"] } }

{ "id" : "451550451", "productName" : "1905 Collection Slim Fit Chalk Stripe Suit", "productItem" : "3UJU", "productDescription" : "1905 Collection suits have a vintage vibe, with a modern style approach that is always on-trend. Slim Fit. Two button, side vent, notch lapel. Flat front slacks, half lined to knee. Unfinished pant hem for tailoring. Cotton pouch pockets. 100% wool. Dry clean only. Imported.", "promoDescription" : "", "productUrl" : "http://www.circleoftrusttherapy.com/p/1905-collection-slim-fit-chalk-stripe-suit", "productImageUrl" : "https://images.josbank.com/is/image/JosBank/3UJU_03_1905_GREY_MAIN?$browse_thumbnail$", "productImageFullSize" : "https://images.josbank.com/is/image/JosBank/3UJU_03_1905_GREY_MAIN?$browse_thumbnail$", "price" : "", "regPrice" : "$249.00", "salePrice" : "$199.00", "label": "sale", "category" : "Suits", "subcategory": "1905 Suits", "stock": 1, "dimension53" : "No" }

{ "451547798" : { "46 Regular": ["Grey"], "46 Long": ["Grey"], "42 Short": ["Grey"], "44 Long": ["Grey"], "46 Short": ["Grey"], "42 Long": ["Grey"], "40 Regular": ["Grey"], "44 Regular": ["Grey"], "42 Regular": ["Grey"], "38 Regular": ["Grey"], "44 Short": ["Grey"] } }

{ "id" : "451547798", "productName" : "Reserve Collection Slim Fit Windowpane Plaid REDA 1865 SustainaWool? Suit", "productItem" : "3UCU", "productDescription" : "This stylish and refined Reserve Collection suit is made with sustainably sourced wool from the REDA 1865 mills in Italy. This fabric is created in compliance with the principles of animal welfare, and the reduced use of chemicals, water, and energy. Slim Fit. Two-button jacket, notch lapel, side vents. Flat-front slacks, lined to the knee. Unhemmed for tailoring. 100% wool. Dry clean only. Imported.", "promoDescription" : "", "productUrl" : "http://www.circleoftrusttherapy.com/p/reserve-collection-slim-fit-windowpane-plaid-reda-1865-sustainawool-suit-3UCU", "productImageUrl" : "https://images.josbank.com/is/image/JosBank/3UCU_03_JOS_A_BANK_RESERVE_GREY_MAIN?$browse_thumbnail$", "productImageFullSize" : "https://images.josbank.com/is/image/JosBank/3UCU_03_JOS_A_BANK_RESERVE_GREY_MAIN?$browse_thumbnail$", "price" : "$399.00", "regPrice" : "", "salePrice" : "", "label": "none", "category" : "Suits", "subcategory": "Reserve Suits", "stock": 1, "dimension53" : "No" }

{ "451547825" : { "46 Regular": ["Tan"], "46 Long": ["Tan"], "44 Long": ["Tan"], "46 Short": ["Tan"], "41 Long": ["Tan"], "40 Regular": ["Tan"], "38 Short": ["Tan"], "44 Regular": ["Tan"], "40 Long": ["Tan"], "43 Long": ["Tan"], "42 Regular": ["Tan"], "38 Regular": ["Tan"], "44 Short": ["Tan"] } }

{ "id" : "451547825", "productName" : "1905 Collection Slim Fit Glen Plaid Oraganica? Wool Suit with brrr°? comfort", "productItem" : "3UG9", "productDescription" : "This Slim Fit suit has a subtle glen plaid pattern, and a fully lined jacket that features a notch lapel, two-button closure, flap-front pockets, side vents and interior pockets. The flat-front slacks are half-lined to the knee and are unhemmed for tailoring. This suit is crafted using brrr\u00B0\u00AE comfort technology that continually keeps you cooler with natural-cooling minerals, a special fiber core that increases moisture wicking, and an enhanced airflow to boost cooling so you feel fresh. The wool used is Organica\u00AE certified which guarantees the quality and traceability of the wool fibers across the supply chain. Organica\u00AE fibers are produced with respect to animal welfare, the welfare of the people who produce the fibers, and reducing the impact of production on the environment. 70% Organica\u00AE wool, 28% recycled polyester, 2% spandex. Dry clean only. Imported.", "promoDescription" : "", "productUrl" : "http://www.circleoftrusttherapy.com/p/1905-collection-slim-fit-glen-plaid-oraganica-wool-suit-with-brrr-comfort", "productImageUrl" : "https://images.josbank.com/is/image/JosBank/3UG9_16_1905_TAN_MAIN?$browse_thumbnail$", "productImageFullSize" : "https://images.josbank.com/is/image/JosBank/3UG9_16_1905_TAN_MAIN?$browse_thumbnail$", "price" : "", "regPrice" : "$249.00", "salePrice" : "$199.00", "label": "sale", "category" : "Suits", "subcategory": "1905 Suits", "stock": 1, "dimension53" : "No" }

{ "451547826" : { "42 Short": ["Navy"], "44 Long": ["Navy"], "46 Short": ["Navy"], "42 Long": ["Navy"], "36 Regular": ["Navy"], "42 Regular": ["Navy"], "44 Short": ["Navy"], "46 Long": ["Navy"], "43 Regular": ["Navy"], "40 Regular": ["Navy"], "41 Long": ["Navy"], "44 Regular": ["Navy"], "40 Long": ["Navy"], "43 Long": ["Navy"], "38 Regular": ["Navy"], "40 Short": ["Navy"] } }

{ "id" : "451547826", "productName" : "1905 Collection Slim Fit Plaid Oraganica? Suit with brrr°? comfort", "productItem" : "3UGC", "productDescription" : "A simple plaid suit is always a welcome addition to your wardrobe, especially one that&#39;s made of fine quality materials. The wool used is Organica\u00AE certified which guarantees the quality and traceability of the wool fibers across the supply chain. Organica\u00AE fibers are produced with respect to animal welfare, the welfare of the people who produce the fibers, and reducing the impact of production on the environment. This suit is also crafted using brrr\u00B0\u00AE comfort technology that continually keeps you cooler with natural-cooling minerals, a special fiber core that increases moisture wicking, and an enhanced airflow to boost cooling so you feel fresh. The suit includes a fully lined jacket with notch lapel, two-button closure and side vents. The accompanying flat-front slacks are lined to the knee and are unhemmed for tailoring. 70% Organica\u00AE wool, 28% recycled polyester, 2% spandex. Dry clean only. Imported.", "promoDescription" : "", "productUrl" : "http://www.circleoftrusttherapy.com/p/1905-collection-slim-fit-plaid-oraganica-suit-with-brrr-comfort-3UGC", "productImageUrl" : "https://images.josbank.com/is/image/JosBank/3UGC_75_1905_NAVY_MAIN?$browse_thumbnail$", "productImageFullSize" : "https://images.josbank.com/is/image/JosBank/3UGC_75_1905_NAVY_MAIN?$browse_thumbnail$", "price" : "", "regPrice" : "$249.00", "salePrice" : "$199.00", "label": "sale", "category" : "Suits", "subcategory": "1905 Suits", "stock": 1, "dimension53" : "No" }

{ "451520235" : { "37 Regular": ["Blue"], "44 Long": ["Blue"], "39 Long": ["Blue"], "46 Short": ["Blue"], "42 Long": ["Blue"], "39 Regular": ["Blue"], "42 Regular": ["Blue"], "44 Short": ["Blue"], "46 Long": ["Blue"], "41 Regular": ["Blue"], "38 Short": ["Blue"], "41 Long": ["Blue"], "43 Long": ["Blue"], "38 Regular": ["Blue"] } }

{ "id" : "451520235", "productName" : "Traveler Collection Slim Fit Mini Check Suit", "productItem" : "3TYM", "productDescription" : "The perfect suit for the busy business traveler. This suit has a special treatment that resists stains. It's also water- and wrinkle-resistant, making it ideal for the traveling businessman. The fully lined jacket has a two-button closure, notch lapel, flap-front pockets, interior pockets, and side vents. The matching flat-front pants are half-lined to the knee and are unhemmed for tailoring. Cotton pouch pockets. 100% wool. Dry clean only. Imported.", "promoDescription" : "", "productUrl" : "http://www.circleoftrusttherapy.com/p/traveler-collection-slim-fit-mini-check-suit-3TYM", "productImageUrl" : "https://images.josbank.com/is/image/JosBank/3TYM_70_TRAVELER_BLUE_MAIN?$browse_thumbnail$", "productImageFullSize" : "https://images.josbank.com/is/image/JosBank/3TYM_70_TRAVELER_BLUE_MAIN?$browse_thumbnail$", "price" : "$279.00", "regPrice" : "", "salePrice" : "", "label": "none", "category" : "Suits", "subcategory": "Traveler Suits", "stock": 1, "dimension53" : "No" }

{ "451146243" : { "37 Regular": ["Blue"], "42 Short": ["Blue"], "46 Short": ["Blue"], "36 Regular": ["Blue"], "42 Regular": ["Blue"], "44 Short": ["Blue"], "46 Regular": ["Blue"], "36 Short": ["Blue"], "41 Regular": ["Blue"], "36 Long": ["Blue"], "37 Short": ["Blue"], "38 Short": ["Blue"], "40 Regular": ["Blue"], "44 Regular": ["Blue"], "38 Regular": ["Blue"], "40 Short": ["Blue"] } }

{ "id" : "451146243", "productName" : "1905 Collection Slim Fit Suit Separate Jacket", "productItem" : "37KA", "productDescription" : "This suit separate jacket by the 1905 Collection is the new tradition for dress and professional wear with its modern approach and vintage details. Slim Fit. Two button, side vent, notch collar. Soft shouldered construction. Solid color poly-blend lining. No canvas chest piece, garment uses modern fusing technology. 98% wool, 2% spandex. Dry clean. Imported.<br\/><br\/>Matching Pants: #37KF<br\/>Matching Vest: #37KD<br\/>", "promoDescription" : "", "productUrl" : "http://www.circleoftrusttherapy.com/p/1905-collection-slim-fit-suit-separate-jacket-37KA", "productImageUrl" : "https://images.josbank.com/is/image/JosBank/37KA_73_1905_BLUE_MAIN?$browse_thumbnail$", "productImageFullSize" : "https://images.josbank.com/is/image/JosBank/37KA_73_1905_BLUE_MAIN?$browse_thumbnail$", "price" : "", "regPrice" : "$149.00", "salePrice" : "$119.00", "label": "sale", "category" : "Special Categories", "subcategory": "Top 10 Men's Clothing", "stock": 1, "dimension53" : "No" }

{ "451501208" : { "42 Short": ["Bright Blue"], "44 Long": ["Bright Blue"], "46 Short": ["Bright Blue"], "42 Long": ["Bright Blue"], "39 Regular": ["Bright Blue"], "38 Long": ["Bright Blue"], "42 Regular": ["Bright Blue"], "44 Short": ["Bright Blue"], "46 Regular": ["Bright Blue"], "46 Long": ["Bright Blue"], "36 Short": ["Bright Blue"], "41 Regular": ["Bright Blue"], "43 Regular": ["Bright Blue"], "38 Short": ["Bright Blue"], "40 Regular": ["Bright Blue"], "41 Long": ["Bright Blue"], "44 Regular": ["Bright Blue"], "40 Long": ["Bright Blue"], "43 Long": ["Bright Blue"], "38 Regular": ["Bright Blue"], "40 Short": ["Bright Blue"] } }

{ "id" : "451501208", "productName" : "Travel Tech Slim Fit Suit Separate Jacket", "productItem" : "3RYU", "productDescription" : "Suit separates let you choose pant and jacket sizes independently for an ideal fit. Water and stain resistant. This Travel Tech jacket features fabric that maintains the optimum microclimate for your body for optimum comfort. Removes moisture at the vapor stage before sweat can form. Acts like a thermostat by removing moisture when you are hot and retaining warmth when cold. Absorbs and traps odor molecules that are washed away when cleaned. Natural stretch fabric. Water and stain resistant. Performance stretch lining. Stretch mesh fabric integrated throughout in the suit jacket, vest and pants ensures maximum mobility. The inner construction of the jacket including the chest piece, shoulder pad, and sleeve head are all breathable to amplify the features and benefits of 37.5 technologies. Zippered utility pockets are strategically placed inside jackets and pants. Rubberized buttons complement the tech attitude and feeling of Travel Tech. Slim Fit. 71% wool 25% 37.5 polyester 4% spandex. Dry clean only. Imported.Matching Pants: #3RYW", "promoDescription" : "", "productUrl" : "http://www.circleoftrusttherapy.com/p/travel-tech-slim-fit-suit-separate-jacket-3RYU", "productImageUrl" : "https://images.josbank.com/is/image/JosBank/3RYU_73_TRAVELER_BRIGHT_BLUE_MAIN?$browse_thumbnail$", "productImageFullSize" : "https://images.josbank.com/is/image/JosBank/3RYU_73_TRAVELER_BRIGHT_BLUE_MAIN?$browse_thumbnail$", "price" : "$189.00", "regPrice" : "", "salePrice" : "", "label": "none", "category" : "Suits", "subcategory": "Travel Tech Suits", "stock": 1, "dimension53" : "No" }

{ "999033100" : { "42 Short": ["Bright Blue"], "44 Long": ["Bright Blue"], "46 Short": ["Bright Blue"], "42 Long": ["Bright Blue"], "39 Regular": ["Bright Blue"], "38 Long": ["Bright Blue"], "42 Regular": ["Bright Blue"], "44 Short": ["Bright Blue"], "46 Regular": ["Bright Blue"], "46 Long": ["Bright Blue"], "36 Short": ["Bright Blue"], "41 Regular": ["Bright Blue"], "43 Regular": ["Bright Blue"], "38 Short": ["Bright Blue"], "40 Regular": ["Bright Blue"], "41 Long": ["Bright Blue"], "44 Regular": ["Bright Blue"], "40 Long": ["Bright Blue"], "43 Long": ["Bright Blue"], "38 Regular": ["Bright Blue"], "40 Short": ["Bright Blue"] } }

[ { "name": "Travel Tech Slim Fit Suit Separate Jacket", "partNumber": "JAB_3RYU", "quantity": 1, "price": "189.0", "category": "Suits\/Travel Tech Suits", "brand": "Jos. A. Bank", "promo": "" } , { "name": "Travel Tech Slim Fit Suit Separate Pants", "partNumber": "JAB_3RYW", "quantity": 1, "price": "90.0", "category": "Suits\/Travel Tech Suits", "brand": "Jos. A. Bank", "promo": "" } ]

{ "id" : "999033100", "productName" : "Travel Tech Slim Fit Suit", "productItem" : "BUNDLE_3RYU", "productDescription" : "Suit separates let you choose jacket, pants, and vest sizes separately for an ideal fit. Create your own tailored look with these pieces from the Travel Tech Collection. Our Travel Tech Collection suit separates feature natural stretch fabric that can maintain comfortable temperatures. Named 37.5, it removes moisture at the vapor stage before sweat can form. 37.5 acts like a thermostat by removing moisture when you are hot and retaining warmth when you are cold, asorbs and traps odor molecules that are washed away when cleaned. Stretch mesh fabric integrated throughout in the suit jacket, vest and pants ensures maximum mobility. Performance stretch lining. Stretch mesh fabric integrated throughout.&nbsp;<\/p>\n\n<p>Jacket:<br \/>\nThis slim-fit suit jacket is water and stain resistant. The inner construction of the jacket including the chest piece, shoulder pad, and sleeve head are all breathable to amplify the features and benefits of 37.5 technologies. Zippered utility pockets are strategically placed inside jackets and pants. Rubberized buttons complement the tech attitude and feeling of Travel Tech.&nbsp;<\/p>\n\n<p>Pants:<br \/>\nZippered interior utility pockets. Stretch mesh fabric. Rubberized buttons complement the tech attitude and feeling of Travel Tech. Trouser waist band has 37.5 mesh lining to achieve flexible stretch comfort.<\/p>\n\n<p>71% wool 25% 37.5 polyester 4% spandex. Dry clean only. Imported.<\/p>", "promoDescription" : "", "productUrl" : "http://www.circleoftrusttherapy.com/p/travel-tech-slim-fit-suit", "productImageUrl" : "https://images.josbank.com/is/image/JosBank/3RYU_73_TRAVELER_BRIGHT_BLUE_MAIN?$browse_thumbnail$", "productImageFullSize" : "https://images.josbank.com/is/image/JosBank/3RYU_73_TRAVELER_BRIGHT_BLUE_MAIN?$browse_thumbnail$", "price" : "$279.00", "regPrice" : "", "salePrice" : "", "label": "none", "category" : "", "subcategory": "", "stock": 1, "dimension53" : "Yes" }

{ "451530038" : { "46 Regular": ["Brown"], "46 Long": ["Brown"], "42 Short": ["Brown"], "44 Long": ["Brown"], "46 Short": ["Brown"], "43 Regular": ["Brown"], "43 Long": ["Brown"], "44 Short": ["Brown"], "40 Short": ["Brown"] } }

{ "id" : "451530038", "productName" : "Executive Collection Slim Fit Plaid Suit", "productItem" : "3U4K", "productDescription" : "Achieve a refined and stylish look with this Executive Collection suit. Slim Fit. Two button, side vents, notch lapel. Fully lined jacket. Pant - unfinished hem for alteration ease. Flat-front slacks, half lined to knee. Subtle plaid pattern. 100% wool. Dry clean only. Imported.", "promoDescription" : "", "productUrl" : "http://www.circleoftrusttherapy.com/p/executive-collection-slim-fit-plaid-suit", "productImageUrl" : "https://images.josbank.com/is/image/JosBank/3U4K_38_EXECUTIVE_BROWN_MAIN?$browse_thumbnail$", "productImageFullSize" : "https://images.josbank.com/is/image/JosBank/3U4K_38_EXECUTIVE_BROWN_MAIN?$browse_thumbnail$", "price" : "$199.00", "regPrice" : "", "salePrice" : "", "label": "none", "category" : "Suits", "subcategory": "Executive Suits", "stock": 1, "dimension53" : "No" }

{ "451550464" : { "42 Short": ["Navy"], "44 Long": ["Navy"], "42 Long": ["Navy"], "39 Regular": ["Navy"], "42 Regular": ["Navy"], "44 Short": ["Navy"], "46 Regular": ["Navy"], "46 Long": ["Navy"], "41 Regular": ["Navy"], "43 Regular": ["Navy"], "38 Short": ["Navy"], "40 Regular": ["Navy"], "44 Regular": ["Navy"], "40 Long": ["Navy"], "38 Regular": ["Navy"], "40 Short": ["Navy"] } }

{ "id" : "451550464", "productName" : "1905 Collection Slim Fit Suit", "productItem" : "3UK8", "productDescription" : "1905 Collection suits have a vintage vibe, with a modern style approach that is always on-trend. Slim Fit. Two button, side vent, notch lapel. Flat front slacks, half lined to knee. Unfinished pant hem for tailoring. Cotton pouch pockets. 100% wool. Dry clean only. Imported.", "promoDescription" : "", "productUrl" : "http://www.circleoftrusttherapy.com/p/1905-collection-slim-fit-suit-3UK8", "productImageUrl" : "https://images.josbank.com/is/image/JosBank/3UK8_75_1905_NAVY_MAIN?$browse_thumbnail$", "productImageFullSize" : "https://images.josbank.com/is/image/JosBank/3UK8_75_1905_NAVY_MAIN?$browse_thumbnail$", "price" : "", "regPrice" : "$249.00", "salePrice" : "$199.00", "label": "sale", "category" : "Suits", "subcategory": "1905 Suits", "stock": 1, "dimension53" : "No" }

{ "451518810" : { "37 Regular": ["Charcoal"], "44 Long": ["Charcoal"], "46 Short": ["Charcoal"], "42 Long": ["Charcoal"], "38 Long": ["Charcoal"], "42 Regular": ["Charcoal"], "44 Short": ["Charcoal"], "46 Regular": ["Charcoal"], "46 Long": ["Charcoal"], "36 Short": ["Charcoal"], "41 Regular": ["Charcoal"], "43 Regular": ["Charcoal"], "40 Regular": ["Charcoal"], "41 Long": ["Charcoal"], "44 Regular": ["Charcoal"], "40 Long": ["Charcoal"], "43 Long": ["Charcoal"], "38 Regular": ["Charcoal"], "40 Short": ["Charcoal"] } }

{ "id" : "451518810", "productName" : "1905 Collection Slim Fit Mini Check Suit with brrr°? comfort", "productItem" : "3TPV", "productDescription" : "This Slim Fit suit has a subtle woven mini check pattern, and a fully lined jacket featuring a peak lapel, two-button closure, flap-front pockets, side vents, and interior pockets. Flat-front pants are half-lined to the knee and are unhemmed for tailoring. It is tailored using brrr\u00B0\u00AE comfort technology that continually keeps you cooler with natural-cooling minerals, a special fiber core that increases moisture wicking, and an enhanced airflow to boost cooling so you feel fresh. 98% wool, 2% lastol. Dry clean only. Imported.", "promoDescription" : "", "productUrl" : "http://www.circleoftrusttherapy.com/p/1905-collection-slim-fit-mini-check-suit-with-brrr-comfort", "productImageUrl" : "https://images.josbank.com/is/image/JosBank/3TPV_06_1905_CHARCOAL_MAIN?$browse_thumbnail$", "productImageFullSize" : "https://images.josbank.com/is/image/JosBank/3TPV_06_1905_CHARCOAL_MAIN?$browse_thumbnail$", "price" : "", "regPrice" : "$249.00", "salePrice" : "$199.00", "label": "sale", "category" : "Suits", "subcategory": "1905 Suits", "stock": 1, "dimension53" : "No" }

{ "451501204" : { "42 Short": ["Navy"], "44 Long": ["Navy"], "46 Short": ["Navy"], "42 Long": ["Navy"], "36 Regular": ["Navy"], "39 Regular": ["Navy"], "42 Regular": ["Navy"], "38 Long": ["Navy"], "44 Short": ["Navy"], "46 Regular": ["Navy"], "46 Long": ["Navy"], "36 Short": ["Navy"], "41 Regular": ["Navy"], "43 Regular": ["Navy"], "38 Short": ["Navy"], "40 Regular": ["Navy"], "41 Long": ["Navy"], "44 Regular": ["Navy"], "40 Long": ["Navy"], "43 Long": ["Navy"], "38 Regular": ["Navy"], "40 Short": ["Navy"] } }

{ "id" : "451501204", "productName" : "Travel Tech Collection Mini Box Weave Slim Fit Suit Separate Jacket", "productItem" : "3RYJ", "productDescription" : "This slim-fit suit jacket features a unique fabric technology that maintains the optimum microclimate for your body. Named 37.5, it removes moisture at the vapor stage before sweat can form. 37.5 acts like a thermostat by removing moisture when you are hot and retaining warmth when you are cold. It absorbs and traps odor molecules that are washed away when cleaned. The fully lined jacket has a notch lapel, two-button closure, flap-front pockets and four interior pockets (two zippered). Suit separates allow you to choose pants and coat sizes separately for an ideal fit. 71% wool, 25% 37.5 polyester, 4% spandex. Dry clean only. Imported.", "promoDescription" : "", "productUrl" : "http://www.circleoftrusttherapy.com/p/travel-tech-collection-mini-box-weave-slim-fit-suit-separate-jacket", "productImageUrl" : "https://images.josbank.com/is/image/JosBank/3RYJ_75_TRAVELER_NAVY_MAIN?$browse_thumbnail$", "productImageFullSize" : "https://images.josbank.com/is/image/JosBank/3RYJ_75_TRAVELER_NAVY_MAIN?$browse_thumbnail$", "price" : "$189.00", "regPrice" : "", "salePrice" : "", "label": "none", "category" : "Suits", "subcategory": "Travel Tech Suits", "stock": 1, "dimension53" : "No" }

{ "998924100" : { "42 Short": ["Navy"], "44 Long": ["Navy"], "46 Short": ["Navy"], "42 Long": ["Navy"], "36 Regular": ["Navy"], "39 Regular": ["Navy"], "42 Regular": ["Navy"], "38 Long": ["Navy"], "44 Short": ["Navy"], "46 Regular": ["Navy"], "46 Long": ["Navy"], "36 Short": ["Navy"], "41 Regular": ["Navy"], "43 Regular": ["Navy"], "38 Short": ["Navy"], "40 Regular": ["Navy"], "41 Long": ["Navy"], "44 Regular": ["Navy"], "40 Long": ["Navy"], "43 Long": ["Navy"], "38 Regular": ["Navy"], "40 Short": ["Navy"] } }

[ { "name": "Travel Tech Collection Mini Box Weave Slim Fit Suit Separate Jacket", "partNumber": "JAB_3RYJ", "quantity": 1, "price": "189.0", "category": "Suits\/Travel Tech Suits", "brand": "Jos. A. Bank", "promo": "" } , { "name": "Travel Tech Collection Mini Box Weave Slim Fit Suit Separate Pants", "partNumber": "JAB_3RYL", "quantity": 1, "price": "90.0", "category": "Suits\/Travel Tech Suits", "brand": "Jos. A. Bank", "promo": "" } ]

{ "id" : "998924100", "productName" : "Travel Tech Collection Mini Box Weave Slim Fit Suit", "productItem" : "BUNDLE_3RYJ", "productDescription" : "Suit separates let you choose jacket, pants, and vest sizes separately for an ideal fit. Create your own tailored look with these pieces from the Travel Tech Collection. Our Travel Tech Collection suit separates feature fabric that can maintain comfortable temperatures. Named 37.5, it removes moisture at the vapor stage before sweat can form. 37.5 acts like a thermostat by removing moisture when you are hot and retaining warmth when you are cold, asorbs and traps odor molecules that are washed away when cleaned.<\/p>\n\n<p>Jacket:<br \/>\nThis slim-fit suit jacket features a unique fabric technology that maintains the optimum microclimate for your body. The fully lined jacket has a notch lapel, two-button closure, flap-front pockets and four interior pockets (two zippered).<\/p>\n\n<p>Pants:<br \/>\nThese slim-fit suit pants feature a unique fabric technology that maintains the optimum microclimate for your body. The flat-front pants are half-lined to the knee and are unhemmed for tailoring.&nbsp;<\/p>\n\n<p>71% wool, 25% 37.5 polyester, 4% spandex. Dry clean only. Imported.<\/p>", "promoDescription" : "", "productUrl" : "http://www.circleoftrusttherapy.com/p/travel-tech-collection-mini-box-weave-slim-fit-suit", "productImageUrl" : "https://images.josbank.com/is/image/JosBank/3RYJ_75_TRAVELER_NAVY_MAIN?$browse_thumbnail$", "productImageFullSize" : "https://images.josbank.com/is/image/JosBank/3RYJ_75_TRAVELER_NAVY_MAIN?$browse_thumbnail$", "price" : "$279.00", "regPrice" : "", "salePrice" : "", "label": "none", "category" : "", "subcategory": "", "stock": 1, "dimension53" : "Yes" }
Related Products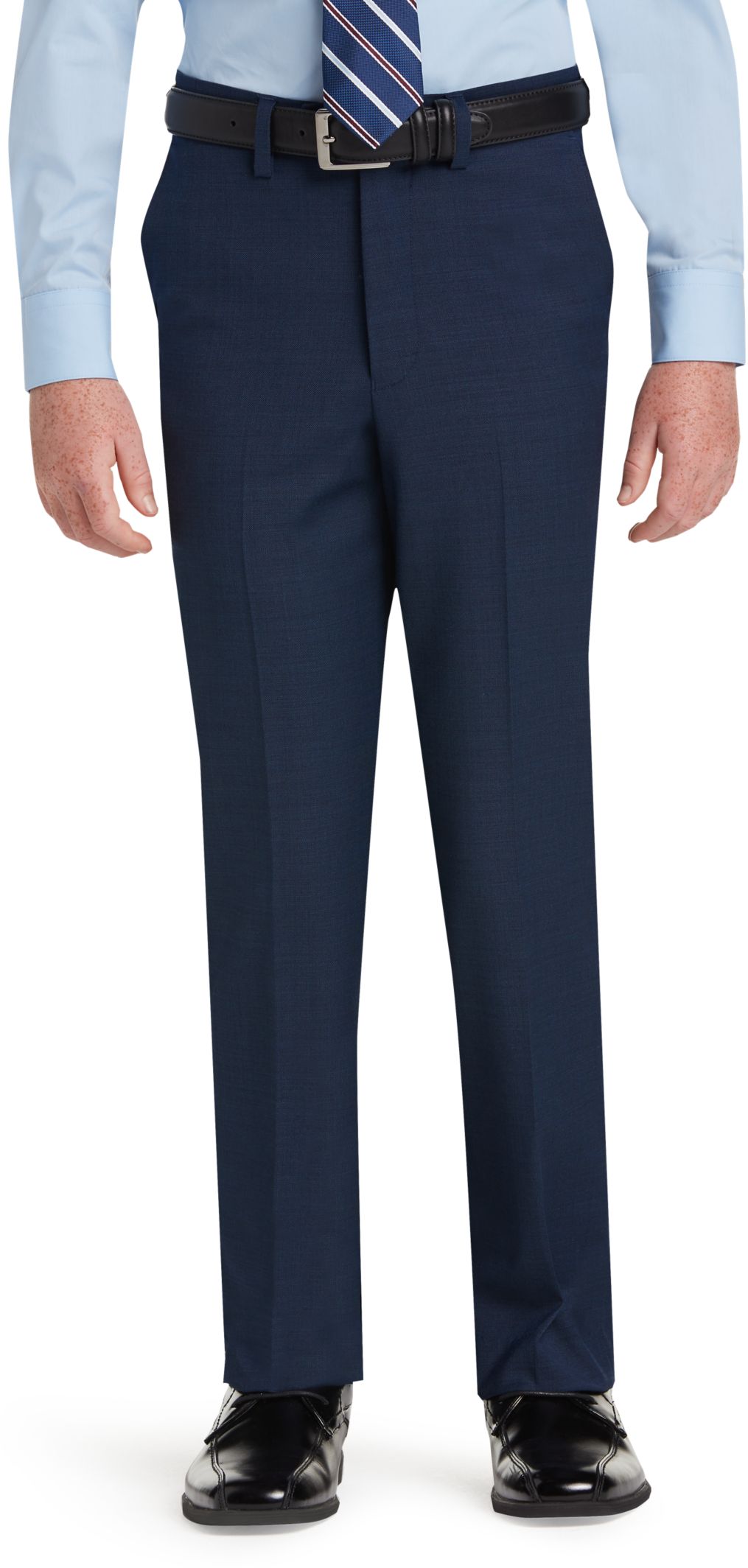 Description:
Dress the young gentleman for his next special occasion in these stylish Tailored Fit slacks from the 1905 Collection. Flat front. Finished hems. Interior piping details. Sharkskin. 56% polyester 40% wool 4% spandex. Dry clean. Imported. Coordinating pieces sold separately. ...

Description:
The 1905 Collection brings vintage details together with a modern approach for a look that is memorable and timeless. Soft shoulders. One-button closure. Satin notch lapel. Pants have unfinished hem for ease of alteration. Slacks have a plain front, satin ...
Description:
These Signature Collection slacks are finely tailored from premium superfine merino wool with a light hand and fine drape. Extended waistband. Half-lined to the knee. Premium cotton pocketing. Unfinished hems for altering ease. Pleated front. 100% wool. Dry clean only. ...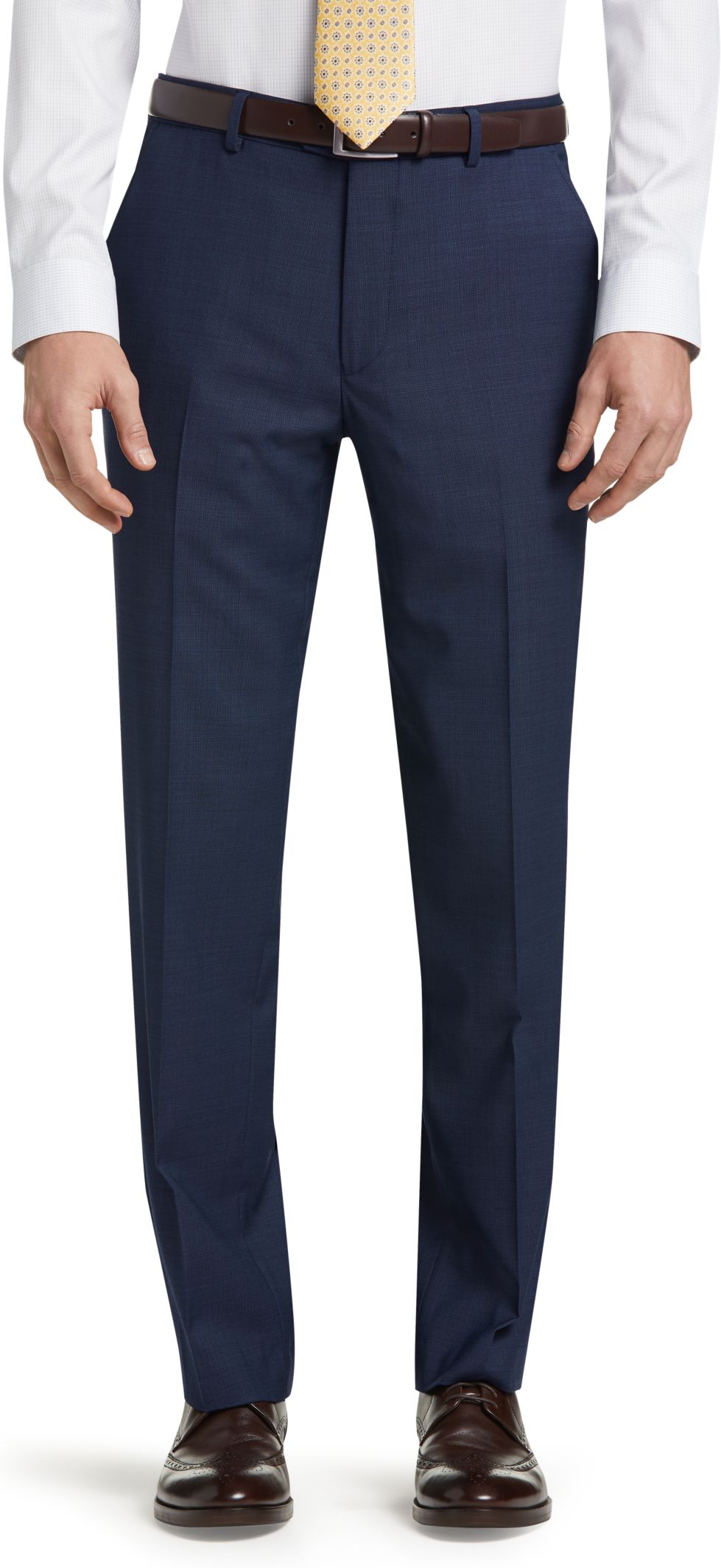 Description:
These slim-fit suit pants feature a unique fabric technology that maintains the optimum microclimate for your body. Named 37.5, it removes moisture at the vapor stage before sweat can form. 37.5 acts like a thermostat by removing moisture when you ...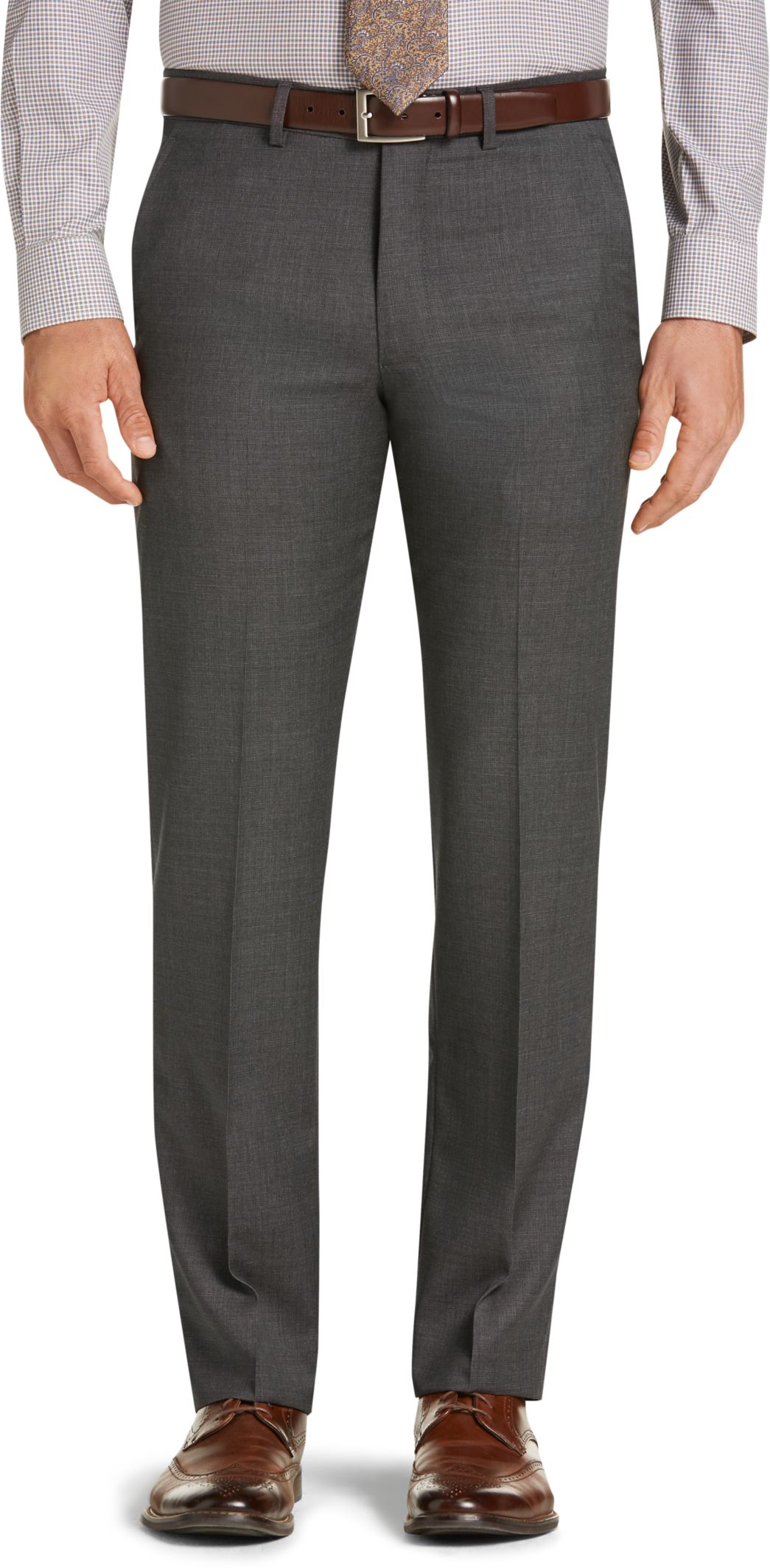 Description:
These classic dress pants from the Traveler Collection feature water and stain resistance in natural stretch wool. Comfort stretch waistband. Slim Fit. Flat front, half lined to knee. Unfinished hem for alteration ease. Button-through back besom pocket. 100% wool. Dry ...
MODERN MAN:
Slim-fitting suits lend an edge to classic looks.
Today's modern gentleman sometimes prefers a cut that's a bit different than traditional fittings. And Jos. A. Bank features a variety of slim-fit suits, as well as extra-slim suits. You've seen this trend all over red carpet events, and it's very popular within the workplace, and at wedding parties and other formal gatherings, as well. Jos. A. Bank has embraced the evolving style and tastes of our customers without ever sacrificing quality or our commitment to classic looks. The slim–fit look may not be for everyone, but form-fitting silhouettes are part of today's tailored fashion movement, and we pride ourselves for keeping an eye on the modern world without losing sight of our classic roots. Our fabrics are durable, yet feature the softest textures and exceptional drape. Men with slim and extra-slim builds will appreciate the quality craftsmanship and attention to detail offered in our suit collections. This combination of attributes ensures you'll be looking your best at any event you attend. You'll be turning heads in an elegant ensemble that evokes sophistication and demonstrates your unique style. Paired with a vibrant, dapper tie, you'll be the epitome of today's modern gent.