Signature Suits
Refine your results
SHOW
Show:

Press enter to collapse or expand the menu. For navigating with in Filter options, press tab. To select Filter options, press enter.

Clear All

Filter

Done

0

Products

Add filter

Reset filters
Product List
{ "450007452" : { "54 Regular": [ "Bright Navy", "Mid Grey" ], "56 Long": [ "Bright Navy", "Mid Grey" ], "40 X Long": [ "Black", "Dark Grey", "Mid Grey" ], "54 Long": [ "Bright Navy", "Mid Grey" ], "50 Long": [ "Dark Grey", "Mid Grey" ], "52 X Long": [ "Bright Navy", "Mid Grey" ], "46 X Long": [ "Bright Navy", "Mid Grey" ], "52 Long": [ "Dark Grey", "Mid Grey" ], "52 Regular": [ "Dark Grey", "Mid Grey" ], "42 X Long": [ "Black", "Mid Grey" ], "44 X Long": [ "Bright Navy", "Dark Grey", "Mid Grey" ], "48 Long": [ "Dark Grey", "Mid Grey" ], "56 X Long": [ "Black", "Mid Grey" ], "50 Regular": [ "Dark Grey", "Mid Grey" ], "48 Regular": [ "Dark Grey", "Mid Grey" ], "43 Regular": ["Mid Grey"], "56 Regular": [ "Bright Navy", "Mid Grey" ], "48 X Long": [ "Bright Navy", "Mid Grey" ], "50 X Long": [ "Bright Navy", "Mid Grey" ] } }

{ "id" : "450007452", "productName" : "Signature Collection Traditional Fit Suit - Big & Tall", "productItem" : "3FR3", "productDescription" : "Crafted from merino wool with exceptional softness and an uncompromising fit this fine suit has a flattering Traditional Fit. Self-fabric scalloped facing, full Bemberg lining, soft shoulders. Sleeves constructed for the addition of custom working buttonholes. Double reverse-pleated trousers have premium cotton pocketing and are half-lined to the knee. Center vent. Unfinished hems for altering ease. 100% wool. Dry clean. Imported.", "promoDescription" : "", "productUrl" : "http://www.circleoftrusttherapy.com/p/signature-collection-traditional-fit-suit-big-tall-3FR3", "productImageUrl" : "https://images.josbank.com/is/image/JosBank/08172_005_main?$browse_thumbnail$", "productImageFullSize" : "https://images.josbank.com/is/image/JosBank/08172_005_main?$browse_thumbnail$", "price" : "$239.00", "regPrice" : "", "salePrice" : "", "label": "none", "category" : "Big & Tall", "subcategory": "Signature Suits", "stock": 1, "dimension53" : "No" }

{ "451494226" : { "44 Regal Short": [ "Black", "Bright Navy", "Charcoal" ], "48 Regal Short": [ "Black", "Bright Navy", "Charcoal" ], "50 Regal Short": [ "Black", "Bright Navy", "Charcoal" ], "50 Regal Regular": [ "Black", "Bright Navy", "Charcoal" ], "46 Regal Long": [ "Black", "Bright Navy", "Charcoal" ], "46 Regal Short": [ "Black", "Bright Navy", "Charcoal" ], "44 Regal Regular": [ "Black", "Bright Navy", "Charcoal" ], "56 Regal Regular": [ "Black", "Bright Navy", "Charcoal" ], "52 Regal Long": [ "Black", "Bright Navy", "Charcoal" ], "54 Regal Long": [ "Black", "Bright Navy", "Charcoal" ], "60 Regal Regular": ["Black"], "42 Regal Regular": [ "Black", "Bright Navy", "Charcoal" ], "56 Regal Long": ["Black"], "46 Regal Regular": [ "Black", "Bright Navy", "Charcoal" ], "48 Regal Regular": [ "Black", "Bright Navy", "Charcoal" ], "52 Regal Regular": [ "Black", "Bright Navy", "Charcoal" ], "58 Regal Regular": [ "Black", "Bright Navy", "Charcoal" ], "60 Regal Long": ["Black"], "58 Regal Long": ["Black"], "42 Regal Short": [ "Black", "Bright Navy", "Charcoal" ], "54 Regal Regular": [ "Black", "Bright Navy", "Charcoal" ], "48 Regal Long": [ "Black", "Bright Navy", "Charcoal" ], "50 Regal Long": [ "Black", "Bright Navy", "Charcoal" ] } }

{ "id" : "451494226", "productName" : "Signature Collection Regal Fit Suit", "productItem" : "3R9K", "productDescription" : "Simply stylish, this fine suit from the Signature Collection will become a cornerstone of your wardrobe. Crafted from super 110 worsted wool. Bemberg solid lining. No canvas chest piece - garment uses modern fusing technology. Tailored fit, 3 inch lapel. Flat front pant with premium cotton pocketing. Unfinished hem for ease of alteration. Half lined to knee. Sleeves constructed for the addition of custom buttonholes. 100% wool. Dry clean. Imported.", "promoDescription" : "", "productUrl" : "http://www.circleoftrusttherapy.com/p/signature-collection-regal-fit-suit-3R9K", "productImageUrl" : "https://images.josbank.com/is/image/JosBank/3R9K_01_SIGNATURE_BLACK_MAIN?$browse_thumbnail$", "productImageFullSize" : "https://images.josbank.com/is/image/JosBank/3R9K_01_SIGNATURE_BLACK_MAIN?$browse_thumbnail$", "price" : "$239.00", "regPrice" : "", "salePrice" : "", "label": "none", "category" : "Big & Tall", "subcategory": "Signature Suits", "stock": 1, "dimension53" : "No" }

{ "450007479" : { "58 Long": [ "Cambridge Grey", "Charcoal", "Navy" ], "54 Regular": [ "Charcoal", "Navy" ], "56 Long": [ "Cambridge Grey", "Charcoal", "Navy" ], "40 X Long": [ "Cambridge Grey", "Charcoal", "Navy" ], "54 Long": [ "Cambridge Grey", "Charcoal", "Navy" ], "54 X Long": [ "Cambridge Grey", "Charcoal", "Navy" ], "50 Long": [ "Cambridge Grey", "Charcoal", "Navy" ], "52 X Long": ["Navy"], "46 X Long": [ "Cambridge Grey", "Charcoal", "Navy" ], "52 Long": [ "Cambridge Grey", "Charcoal", "Navy" ], "60 Long": [ "Cambridge Grey", "Navy" ], "52 Regular": [ "Cambridge Grey", "Charcoal", "Navy" ], "42 X Long": [ "Cambridge Grey", "Charcoal", "Navy" ], "44 X Long": [ "Cambridge Grey", "Charcoal", "Navy" ], "48 Long": [ "Cambridge Grey", "Charcoal", "Navy" ], "56 X Long": ["Cambridge Grey"], "50 Regular": [ "Cambridge Grey", "Charcoal", "Navy" ], "48 Regular": [ "Cambridge Grey", "Charcoal", "Navy" ], "60 Regular": [ "Cambridge Grey", "Charcoal", "Navy" ], "56 Regular": [ "Charcoal", "Navy" ], "58 Regular": [ "Cambridge Grey", "Charcoal" ], "48 X Long": [ "Cambridge Grey", "Navy" ], "50 X Long": [ "Charcoal", "Navy" ] } }

{ "id" : "450007479", "productName" : "Signature Collection Tailored Fit Solid Pattern Suit - Big & Tall", "productItem" : "3FRZ", "productDescription" : "From the exclusive Signature Collection this fine suit exudes the meticulous attention to detail that Jos.A.Bank is known for. Tailored Fit. Fully lined with Bemberg lining. Two-button jacket, notch lapel, and side vents. Flat-front slacks unhemmed for tailoring. Premium cotton pocketing. 100% wool. Imported. Dry clean.", "promoDescription" : "", "productUrl" : "http://www.circleoftrusttherapy.com/p/signature-collection-tailored-fit-solid-pattern-suit-big-tall", "productImageUrl" : "https://images.josbank.com/is/image/JosBank/32417_041_main?$browse_thumbnail$", "productImageFullSize" : "https://images.josbank.com/is/image/JosBank/32417_041_main?$browse_thumbnail$", "price" : "$239.00", "regPrice" : "", "salePrice" : "", "label": "none", "category" : "Big & Tall", "subcategory": "Signature Suits", "stock": 1, "dimension53" : "No" }

{ "450007941" : { "48 Regal Short": ["Dark Grey"], "50 Regal Regular": ["Grey"], "44 Regal Regular": [ "Bright Navy", "Cambridge Grey", "Dark Grey", "Grey" ], "56 Regal Regular": ["Grey"], "52 Regal Long": [ "Bright Navy", "Grey" ], "62 Regal Long": [ "Bright Navy", "Grey" ], "62 Regal Regular": [ "Bright Navy", "Grey" ], "60 Regal Regular": [ "Bright Navy", "Dark Grey", "Grey" ], "42 Regal Regular": [ "Cambridge Grey", "Dark Grey", "Grey" ], "56 Regal Long": ["Grey"], "46 Regal Regular": ["Grey"], "48 Regal Regular": [ "Cambridge Grey", "Grey" ], "52 Regal Regular": [ "Dark Grey", "Grey" ], "58 Regal Regular": ["Grey"], "60 Regal Long": [ "Bright Navy", "Dark Grey", "Grey" ], "58 Regal Long": [ "Bright Navy", "Dark Grey", "Grey" ], "42 Regal Short": ["Dark Grey"], "54 Regal Regular": [ "Cambridge Grey", "Grey" ], "48 Regal Long": [ "Dark Grey", "Grey" ], "50 Regal Long": [ "Bright Navy", "Grey" ] } }

{ "id" : "450007941", "productName" : "Signature Collection Regal Fit Suit Separate Jacket", "productItem" : "3JKR", "productDescription" : "Experience the Futurewith our premium superfine merino wool. Regal Fit. Center vent with soft shoulders. Custom Fit. Year round weight. Interior pockets. Constructed for the addition of custom working button holes. 100% wool. Dry clean. Imported.\nMatching pants: #3JKV", "promoDescription" : "", "productUrl" : "http://www.circleoftrusttherapy.com/p/signature-collection-regal-fit-suit-separate-jacket", "productImageUrl" : "https://images.josbank.com/is/image/JosBank/3JKR_76_SIGNATURE_BRIGHT_NAVY_MAIN?$browse_thumbnail$", "productImageFullSize" : "https://images.josbank.com/is/image/JosBank/3JKR_76_SIGNATURE_BRIGHT_NAVY_MAIN?$browse_thumbnail$", "price" : "$149.00", "regPrice" : "", "salePrice" : "", "label": "none", "category" : "Big & Tall", "subcategory": "Signature Suits", "stock": 1, "dimension53" : "No" }

{ "450007882" : { "58 Long": [ "Bright Navy", "Mid Grey" ], "56 Long": [ "Bright Navy", "Mid Grey" ], "40 X Long": [ "Bright Navy", "Mid Grey" ], "54 Long": [ "Bright Navy", "Mid Grey" ], "54 X Long": [ "Bright Navy", "Mid Grey" ], "50 Long": [ "Bright Navy", "Mid Grey" ], "52 X Long": ["Mid Grey"], "46 X Long": [ "Bright Navy", "Mid Grey" ], "52 Long": ["Mid Grey"], "60 Long": [ "Bright Navy", "Mid Grey" ], "52 Regular": [ "Bright Navy", "Mid Grey" ], "42 X Long": [ "Bright Navy", "Mid Grey" ], "44 X Long": [ "Bright Navy", "Mid Grey" ], "48 Long": [ "Bright Navy", "Mid Grey" ], "56 X Long": [ "Bright Navy", "Mid Grey" ], "50 Regular": [ "Bright Navy", "Mid Grey" ], "48 Regular": [ "Bright Navy", "Mid Grey" ], "60 Regular": [ "Bright Navy", "Mid Grey" ], "56 Regular": ["Bright Navy"], "58 Regular": [ "Bright Navy", "Mid Grey" ], "48 X Long": [ "Bright Navy", "Mid Grey" ], "50 X Long": [ "Bright Navy", "Mid Grey" ] } }

{ "id" : "450007882", "productName" : "Signature Collection Traditional Fit Suit Separates Jacket - Big & Tall", "productItem" : "3JHT", "productDescription" : "Suit separates allow you to choose pant and jacket sizes separately for an ideal fit. This fine wool jacket is styled with a notch lapel, two button closure and side vents. Interior pockets. Fully lined. 100% wool. Dry clean only. Imported.", "promoDescription" : "", "productUrl" : "http://www.circleoftrusttherapy.com/p/signature-collection-traditional-fit-suit-separates-jacket-big-tall-3JHT", "productImageUrl" : "https://images.josbank.com/is/image/JosBank/3JD8_76_SIGNATURE_BRIGHT_NAVY_MAIN?$browse_thumbnail$", "productImageFullSize" : "https://images.josbank.com/is/image/JosBank/3JD8_76_SIGNATURE_BRIGHT_NAVY_MAIN?$browse_thumbnail$", "price" : "$149.00", "regPrice" : "", "salePrice" : "", "label": "none", "category" : "Big & Tall", "subcategory": "Signature Suits", "stock": 1, "dimension53" : "No" }

{ "450007458" : { "44 Regal Short": ["Cambridge Grey"], "48 Regal Short": [ "Cambridge Grey", "Navy" ], "50 Regal Short": ["Charcoal"], "50 Regal Regular": [ "Cambridge Grey", "Charcoal" ], "44 Regal Regular": ["Cambridge Grey"], "52 Regal Long": ["Navy"], "62 Regal Long": ["Navy"], "54 Regal Long": ["Navy"], "60 Regal Regular": ["Charcoal"], "42 Regal Regular": [ "Cambridge Grey", "Charcoal", "Navy" ], "56 Regal Long": ["Charcoal"], "46 Regal Regular": ["Cambridge Grey"], "48 Regal Regular": [ "Cambridge Grey", "Charcoal", "Navy" ], "52 Regal Regular": [ "Cambridge Grey", "Charcoal", "Navy" ], "58 Regal Regular": ["Charcoal"], "58 Regal Long": [ "Cambridge Grey", "Charcoal", "Navy" ], "42 Regal Long": ["Navy"], "54 Regal Regular": ["Charcoal"], "48 Regal Long": ["Charcoal"], "50 Regal Long": ["Navy"] } }

{ "id" : "450007458", "productName" : "Signature Collection Regal Fit Suit", "productItem" : "3FR9", "productDescription" : "Meticulous attention to detail. Superfine 4 Star rated. Regal Fit. 2 Button. Interior construction and features. Center vent. Flat front trousers with unfinished bottoms. 100% wool. Dry Clean. Imported.", "promoDescription" : "", "productUrl" : "http://www.circleoftrusttherapy.com/p/signature-collection-regal-fit-suit-3FR9", "productImageUrl" : "https://images.josbank.com/is/image/JosBank/32419_041_main?$browse_thumbnail$", "productImageFullSize" : "https://images.josbank.com/is/image/JosBank/32419_041_main?$browse_thumbnail$", "price" : "$239.00", "regPrice" : "", "salePrice" : "", "label": "none", "category" : "Big & Tall", "subcategory": "Signature Suits", "stock": 1, "dimension53" : "No" }

{ "450007774" : { "46 Regular": [ "Bright Navy", "Charcoal", "Dark Grey", "Grey" ], "54 Regular": [ "Bright Navy", "Charcoal", "Grey" ], "46 Long": [ "Bright Navy", "Charcoal", "Dark Grey", "Grey", "Navy" ], "56 Long": [ "Bright Navy", "Charcoal", "Dark Grey", "Grey" ], "50 Regular": [ "Bright Navy", "Charcoal", "Grey" ], "44 Long": [ "Charcoal", "Dark Grey", "Grey", "Navy" ], "48 Regular": [ "Bright Navy", "Charcoal", "Navy" ], "54 Long": [ "Bright Navy", "Charcoal", "Dark Grey", "Grey" ], "50 Long": [ "Bright Navy", "Charcoal", "Grey" ], "56 Regular": [ "Bright Navy", "Charcoal", "Dark Grey", "Grey" ], "44 Regular": [ "Bright Navy", "British Tan", "Charcoal", "Dark Grey", "Grey" ], "52 Long": [ "Bright Navy", "Charcoal", "Dark Grey", "Grey" ], "52 Regular": [ "Bright Navy", "Grey" ], "48 Long": [ "Bright Navy", "Cambridge Grey", "Charcoal", "Dark Grey", "Grey", "Navy" ] } }

{ "id" : "450007774", "productName" : "Signature Collection Traditional Fit Suit Separates Plain Front Pants - Big & Tall", "productItem" : "3JE5", "productDescription" : "Plain front pant. Waistband pant grippers with cotton pouch pockets. Half-lined to the knee. Unfinished hems for altering ease. Imported. 100% wool. Dry clean.", "promoDescription" : "", "productUrl" : "http://www.circleoftrusttherapy.com/p/signature-collection-traditional-fit-suit-separates-plain-front-pants-big-tall", "productImageUrl" : "https://images.josbank.com/is/image/JosBank/3JE4_76_SIGNATURE_BRIGHT_NAVY_MAIN?$browse_thumbnail$", "productImageFullSize" : "https://images.josbank.com/is/image/JosBank/3JE4_76_SIGNATURE_BRIGHT_NAVY_MAIN?$browse_thumbnail$", "price" : "$90.00", "regPrice" : "", "salePrice" : "", "label": "none", "category" : "Big & Tall", "subcategory": "Signature Suits", "stock": 1, "dimension53" : "No" }

{ "450007885" : { "46 Regular": ["Dark Grey"], "54 Regular": [ "Black", "Bright Navy", "Mid Grey" ], "56 Long": [ "Bright Navy", "Mid Grey" ], "50 Regular": ["Mid Grey"], "44 Long": [ "Dark Grey", "Mid Grey" ], "48 Regular": ["Mid Grey"], "54 Long": [ "Bright Navy", "Mid Grey" ], "50 Long": [ "Dark Grey", "Mid Grey" ], "56 Regular": [ "Bright Navy", "Dark Grey", "Mid Grey" ], "44 Regular": [ "Dark Grey", "Mid Grey" ], "52 Long": [ "Bright Navy", "Mid Grey" ], "52 Regular": ["Bright Navy"], "48 Long": [ "Black", "Mid Grey" ] } }

{ "id" : "450007885", "productName" : "Signature Collection Traditional Fit Suit Separates Pants - Big & Tall", "productItem" : "3JHW", "productDescription" : "Suit separates allow you to choose pant and jacket sizes separately for an ideal fit. These fine wool slacks feature a flattering pleat front, comfortable waistband grippers, front slash pockets, and back button welt pockets. Half-lined to the knee. Unhemmed for tailoring. 100% wool. Dry clean only. Imported.", "promoDescription" : "", "productUrl" : "http://www.circleoftrusttherapy.com/p/signature-collection-traditional-fit-suit-separates-pants-big-tall-3JHW", "productImageUrl" : "https://images.josbank.com/is/image/JosBank/3P89_04_CUSTOM_EXPRESS_SIGNATURE_GREY_MAIN?$browse_thumbnail$", "productImageFullSize" : "https://images.josbank.com/is/image/JosBank/3P89_04_CUSTOM_EXPRESS_SIGNATURE_GREY_MAIN?$browse_thumbnail$", "price" : "$90.00", "regPrice" : "", "salePrice" : "", "label": "none", "category" : "Big & Tall", "subcategory": "Signature Suits", "stock": 1, "dimension53" : "No" }

{ "451206411" : { "58 Long": ["Dark Grey"], "50 Regular": [ "Black", "Bright Navy", "Dark Grey" ], "40 X Long": ["Black"], "48 Regular": [ "Black", "Bright Navy", "Dark Grey" ], "54 Long": ["Bright Navy"], "50 Long": [ "Black", "Bright Navy" ], "60 Regular": ["Dark Grey"], "52 Long": [ "Black", "Bright Navy" ], "52 Regular": [ "Black", "Bright Navy" ], "42 X Long": ["Bright Navy"], "48 Long": [ "Black", "Bright Navy", "Dark Grey" ] } }

{ "id" : "451206411", "productName" : "Signature Collection Tailored Fit Suit - Big & Tall", "productItem" : "37MZ", "productDescription" : "Simply stylish, this fine suit from the Signature Collection will become a cornerstone of your wardrobe. Crafted from super 110 worsted wool. Bemberg solid lining. No canvas chest piece - garment uses modern fusing technology. Tailored fit, 3 inch lapel. Flat front pant with premium cotton pocketing. Unfinished hem for ease of alteration. Half lined to knee. Sleeves constructed for the addition of custom buttonholes. 100% wool. Dry clean. Imported.", "promoDescription" : "", "productUrl" : "http://www.circleoftrusttherapy.com/p/signature-collection-tailored-fit-suit-big-tall-37MZ", "productImageUrl" : "https://images.josbank.com/is/image/JosBank/37MY_05_SIGNATURE_DARK_GREY_MAIN?$browse_thumbnail$", "productImageFullSize" : "https://images.josbank.com/is/image/JosBank/37MY_05_SIGNATURE_DARK_GREY_MAIN?$browse_thumbnail$", "price" : "$239.00", "regPrice" : "", "salePrice" : "", "label": "none", "category" : "Big & Tall", "subcategory": "Signature Suits", "stock": 1, "dimension53" : "No" }

{ "450007486" : { "60 Regal Regular": ["Bright Navy"], "56 Regal Long": ["Bright Navy"], "58 Regal Regular": ["Bright Navy"], "60 Regal Long": ["Bright Navy"], "58 Regal Long": ["Bright Navy"], "56 Regal Regular": ["Bright Navy"], "52 Regal Long": ["Bright Navy"], "62 Regal Long": ["Bright Navy"], "54 Regal Long": ["Bright Navy"], "48 Regal Long": ["Bright Navy"] } }

{ "id" : "450007486", "productName" : "Signature Collection Regal Fit Suit", "productItem" : "3FTA", "productDescription" : "2-Button. Merino wool with exceptional softness and an uncompromising fit. Self-fabric scalloped facing, full Bemberg lining, soft shoulders. Signature suits have buttons sewn on the sleeves and are constructed for custom working buttonholes. Plain front trousers have premium cotton pocketing and are half-lined to the knee. Center vent. Unfinished bottoms for altering ease. Regal Fit. 100% wool. Dry clean. Imported.", "promoDescription" : "", "productUrl" : "http://www.circleoftrusttherapy.com/p/signature-collection-regal-fit-suit-3FTA", "productImageUrl" : "https://images.josbank.com/is/image/JosBank/32384_335_main?$browse_thumbnail$", "productImageFullSize" : "https://images.josbank.com/is/image/JosBank/32384_335_main?$browse_thumbnail$", "price" : "$239.00", "regPrice" : "", "salePrice" : "", "label": "none", "category" : "Big & Tall", "subcategory": "Signature Suits", "stock": 1, "dimension53" : "No" }

{ "451047806" : { "4 X Large Big": [ "Bright Navy", "Dark Grey" ], "3 X Large Big": [ "Bright Navy", "Dark Grey" ], "1 X Large Big": [ "Bright Navy", "Dark Grey", "Grey" ], "2 X Large Big": [ "Bright Navy", "Dark Grey" ] } }

{ "id" : "451047806", "productName" : "Signature Collection Traditional Fit Solid Suit Separate Vest - Big & Tall", "productItem" : "33RZ", "productDescription" : "Suit separates allow you to choose pant, jacket, and vest sizes separately for an ideal fit. This fine wool vest features a five-button front, adjustable back belt, and two front slash pockets. Traditional Fit. 100% wool. Dry clean only. Imported.<br><br>Matching Jacket: #3JD8<br>Matching Pants: Plain Front #3JE4<br>Matching Pants: Pleat Front #3JE9", "promoDescription" : "", "productUrl" : "http://www.circleoftrusttherapy.com/p/signature-collection-traditional-fit-solid-suit-separate-vest-big-tall", "productImageUrl" : "https://images.josbank.com/is/image/JosBank/33RY_05_SIGNATURE_DARK_GREY_MAIN?$browse_thumbnail$", "productImageFullSize" : "https://images.josbank.com/is/image/JosBank/33RY_05_SIGNATURE_DARK_GREY_MAIN?$browse_thumbnail$", "price" : "$65.00", "regPrice" : "", "salePrice" : "", "label": "none", "category" : "Big & Tall", "subcategory": "Signature Suits", "stock": 1, "dimension53" : "No" }
Related Products

Description:
The 1905 Collection creates new fashion traditions with vintage details in a modern approach. Tailored Fit. Two-button closure, side vents, and notch lapel. Soft shouldered construction. Solid color poly-blend lining. No canvas chest piece, garment uses modern fusing technology. Flat-front ...

Description:
Smooth and lightweight premium wool specially finished for a clean texture. Perfect weight year-round. 2-button. Soft shoulders, fully lined. Traditional Fit. Double pleated trouser are half-lined to the knee. Center vent. Unfinished bottoms for altering ease. 100% wool. Dry clean ...

Description:
Achieve a refined and stylish look with this Reserve Collection suit. Tailored fit. Two button, notch lapel, side vents. Interior pockets. Straight flap pockets. Pickstitch details. Jacket fully lined with jacquard Bemberg lining. Jacket constructed for addition of working buttonholes ...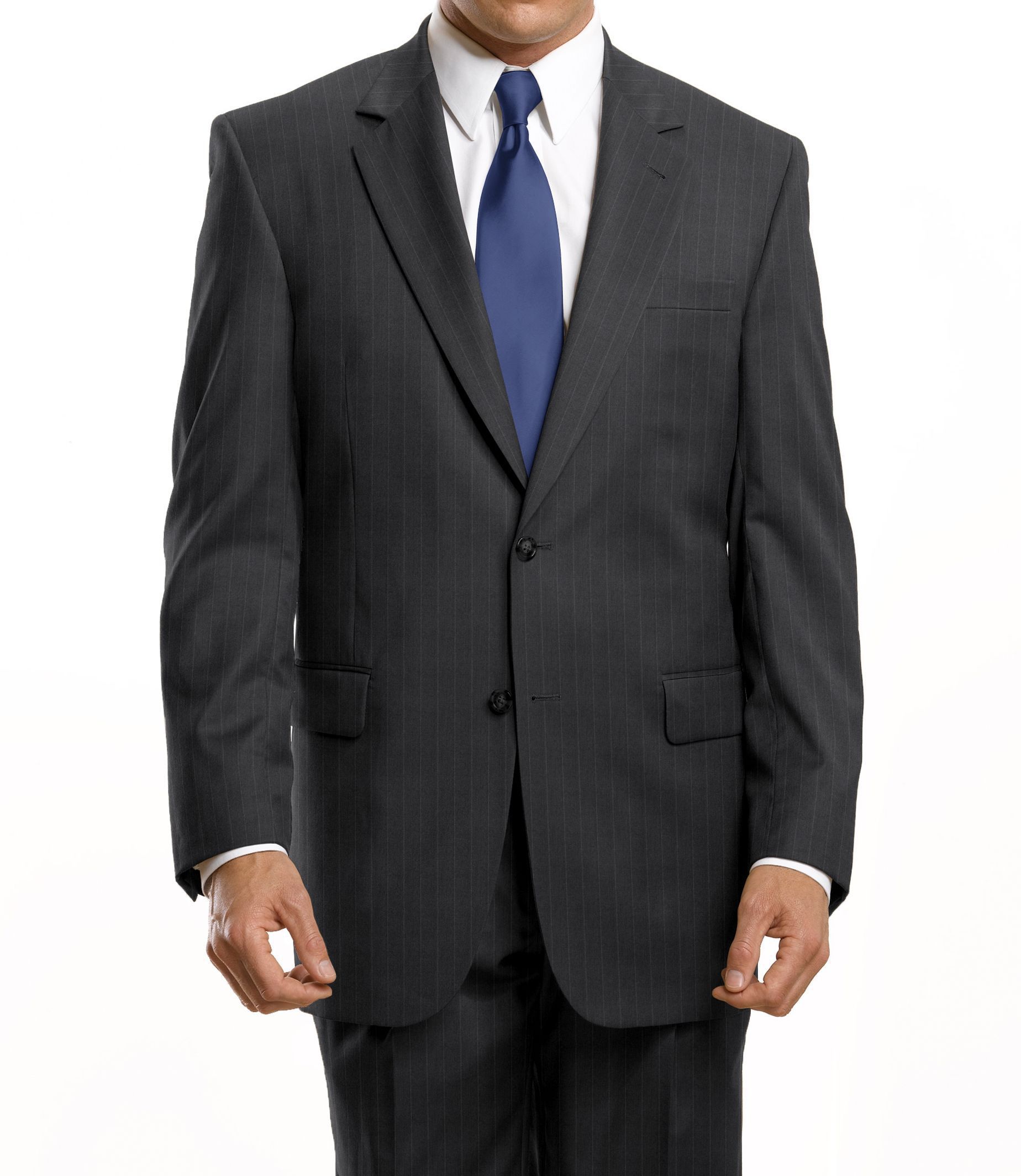 Description:
2-Button. Merino wool with exceptional softness and an uncompromising fit. Self-fabric scalloped facing, full Bemberg lining, soft shoulders. Signature suits have buttons sewn on the sleeves and are constructed for custom working buttonholes.Flat front trousers have premium cotton pocketing and ...

Description:
This Traditional Fit suit from the Signature Gold Collection features the finest wool and elegant pick-stitched details. Two-button jacket with a center vent and notch lapel. Fully lined. Soft formfitting half canvas chest piece for the perfect fit. Sleeves designed ...