All Sweaters
Refine your results
SHOW
Show:

Press enter to collapse or expand the menu. For navigating with in Filter options, press tab. To select Filter options, press enter.

Clear All

Filter

Done

0

Products

Add filter

Reset filters
Product List
{ "451516589" : { "Medium": ["Black"], "Large": ["Black"] } }

{ "id" : "451516589", "productName" : "Traveler Collection Pima Cotton V-Neck Sweater Vest", "productItem" : "67D9", "productDescription" : "Woven in fine Pima cotton, this soft sweater vest features a traditional ribbed V-neck, armholes, and hem. Smooth and not bulky, it makes an ideal layering piece. 100% Pima cotton. Machine washable. Imported.", "promoDescription" : "", "productUrl" : "http://www.circleoftrusttherapy.com/p/traveler-collection-pima-cotton-v-neck-sweater-vest", "productImageUrl" : "https://images.josbank.com/is/image/JosBank/67D9_01_TRAVELER_BLACK_MAIN?$browse_thumbnail$", "productImageFullSize" : "https://images.josbank.com/is/image/JosBank/67D9_01_TRAVELER_BLACK_MAIN?$browse_thumbnail$", "price" : "$29.00", "regPrice" : "", "salePrice" : "", "label": "none", "category" : "Sweaters", "subcategory": "Traveler Sweaters", "stock": 1, "dimension53" : "No" }

{ "451258134" : { "Medium": [ "Black", "Charcoal", "Dark Blue", "Dark Brown", "Navy", "Purple" ], "X Large": [ "Black", "Tan" ], "Large": [ "Black", "Dark Blue", "Light Grey", "Navy", "Purple", "Tan" ], "Small": [ "Dark Brown", "Light Grey" ] } }

{ "id" : "451258134", "productName" : "Traveler Collection Mock Neck Cotton Quarter-Zip Sweater", "productItem" : "63AU", "productDescription" : "This handsome sweater from the Traveler Collection is woven from 100% pima cotton for the ultimate in softness. Pill- and fade-resistant. Quarter-zip. Machine washable. Imported.", "promoDescription" : "", "productUrl" : "http://www.circleoftrusttherapy.com/p/traveler-collection-pima-cotton-quarter-zip-sweater", "productImageUrl" : "https://images.josbank.com/is/image/JosBank/63AU_01_TRAVELER_BLACK_MAIN?$browse_thumbnail$", "productImageFullSize" : "https://images.josbank.com/is/image/JosBank/63AU_01_TRAVELER_BLACK_MAIN?$browse_thumbnail$", "price" : "$29.00", "regPrice" : "", "salePrice" : "", "label": "none", "category" : "Featured", "subcategory": "Ready for Anything", "stock": 1, "dimension53" : "No" }

{ "451244850" : { "Medium": [ "Berry", "Black", "Burgundy", "Charcoal", "Dark Blue", "Dark Brown", "Dark Wash", "Navy", "Navy Heather", "Oatmeal", "Purple" ], "X Large": [ "Berry", "Charcoal", "Dark Blue", "Navy Heather" ], "Large": [ "Berry", "Black", "Burgundy", "Charcoal", "Dark Blue", "Dark Wash", "Light Grey", "Navy", "Navy Heather", "Purple", "Tan" ], "Small": [ "Aqua", "Berry", "Burgundy", "Light Grey", "Olive", "Purple" ] } }

{ "id" : "451244850", "productName" : "Traveler Collection Pima Cotton V-Neck Sweater", "productItem" : "62X2", "productDescription" : "Woven in fine Pima cotton, this soft sweater features a traditional ribbed V-neck, cuffs, and hem. Smooth and not bulky, it makes an ideal layering piece. 100% cotton. Machine washable. Imported.", "promoDescription" : "", "productUrl" : "http://www.circleoftrusttherapy.com/p/traveler-collection-pima-cotton-v-neck-sweater", "productImageUrl" : "https://images.josbank.com/is/image/JosBank/62X2_75_TRAVELER_NAVY_MAIN?$browse_thumbnail$", "productImageFullSize" : "https://images.josbank.com/is/image/JosBank/62X2_75_TRAVELER_NAVY_MAIN?$browse_thumbnail$", "price" : "$29.00", "regPrice" : "", "salePrice" : "", "label": "none", "category" : "Featured", "subcategory": "Ready for Anything", "stock": 1, "dimension53" : "No" }

{ "451542094" : { "Medium": ["Blue"], "X Large": ["Blue"], "Large": ["Blue"], "Small": ["Blue"] } }

{ "id" : "451542094", "productName" : "1905 Collection Tailored Fit Full Zip Mock Neck Knit", "productItem" : "68LH", "productDescription" : "The 1905 Collection offers classic style with vintage details. This knit sweater is woven with richly textured cotton and a touch of stretch. Its features include a mock neck, full zip, and Tailored Fit. Striped details on the interior, hand-warmer pockets, and cuffs. 97% cotton, 3% spandex. Machine washable. Imported.", "promoDescription" : "", "productUrl" : "http://www.circleoftrusttherapy.com/p/1905-collection-tailored-fit-full-zip-mock-neck-knit", "productImageUrl" : "https://images.josbank.com/is/image/JosBank/68LH_70_1905_BLUE_MAIN?$browse_thumbnail$", "productImageFullSize" : "https://images.josbank.com/is/image/JosBank/68LH_70_1905_BLUE_MAIN?$browse_thumbnail$", "price" : "$59.00", "regPrice" : "", "salePrice" : "", "label": "none", "category" : "Sweaters", "subcategory": "1905 Sweaters", "stock": 1, "dimension53" : "No" }

{ "451542136" : { "Medium": [ "Light Purple", "Navy" ], "X Large": [ "Light Purple", "Navy" ], "Large": [ "Light Purple", "Navy" ], "Small": [ "Light Purple", "Navy" ] } }

{ "id" : "451542136", "productName" : "Reserve Collection Traditional Fit Quarter Zip Mock Neck Knit", "productItem" : "68MW", "productDescription" : "Knit with an supremely soft Pima cotton blend, this Reserve Collection pullover is a warm layering piece for your stylish dress casual looks. It features a mock neck, decorative zipper pull, and banded cuffs and hem. Traditional Fit. 53% Pima cotton, 39% modal, 8% polyester. Machine washable. Imported.", "promoDescription" : "", "productUrl" : "http://www.circleoftrusttherapy.com/p/reserve-collection-traditional-fit-quarter-zip-mock-neck-knit", "productImageUrl" : "https://images.josbank.com/is/image/JosBank/68MW_75_JOS_A_BANK_RESERVE_NAVY_MAIN?$browse_thumbnail$", "productImageFullSize" : "https://images.josbank.com/is/image/JosBank/68MW_75_JOS_A_BANK_RESERVE_NAVY_MAIN?$browse_thumbnail$", "price" : "$59.00", "regPrice" : "", "salePrice" : "", "label": "none", "category" : "Sweaters", "subcategory": "Reserve Sweaters", "stock": 1, "dimension53" : "No" }

{ "451547849" : { "Medium": [ "Navy", "White" ], "X Large": [ "Navy", "White" ], "Large": [ "Navy", "White" ], "Small": [ "Navy", "White" ] } }

{ "id" : "451547849", "productName" : "Travel Tech Tailored Fit Quarter Zip Mock Neck Knit", "productItem" : "68PF", "productDescription" : "Make travel or busy everyday wear more comfortable with Travel Tech. This long-sleeved knit pullover creates a comfortable micro-climate for your body by removing excess moisture before you even begin to sweat. Built-in fabric technology doesn't wash out. Tailored Fit. 60% cotton, 40% 37.5\u00AE polyester. Machine washable. Imported.", "promoDescription" : "", "productUrl" : "http://www.circleoftrusttherapy.com/p/travel-tech-tailored-fit-quarter-zip-mock-neck-knit", "productImageUrl" : "https://images.josbank.com/is/image/JosBank/68PF_10_TRAVELTECH_WHITE_MAIN?$browse_thumbnail$", "productImageFullSize" : "https://images.josbank.com/is/image/JosBank/68PF_10_TRAVELTECH_WHITE_MAIN?$browse_thumbnail$", "price" : "$59.00", "regPrice" : "", "salePrice" : "", "label": "none", "category" : "Sweaters", "subcategory": "Traveler Sweaters", "stock": 1, "dimension53" : "No" }

{ "451542098" : { "Medium": ["Dark Blue"], "X Large": ["Dark Blue"], "Large": ["Dark Blue"], "Small": ["Dark Blue"] } }

{ "id" : "451542098", "productName" : "1905 Collection Tailored Fit Stripe Quarter Zip Mock Neck Pique Knit", "productItem" : "68LM", "productDescription" : "Knit from responsibly grown cotton with comfort stretch, this pique pullover sweater is an essential layering piece in cooler weather. Woven with stripes, it has a Tailored Fit, decorative zipper pull, and solid colored banding on the mock neck, cuffs, and hem. 97% cotton, 3% spandex. Machine washable. Imported.", "promoDescription" : "", "productUrl" : "http://www.circleoftrusttherapy.com/p/1905-collection-tailored-fit-stripe-quarter-zip-mock-neck-pique-knit", "productImageUrl" : "https://images.josbank.com/is/image/JosBank/68LM_72_1905_DARK_BLUE_MAIN?$browse_thumbnail$", "productImageFullSize" : "https://images.josbank.com/is/image/JosBank/68LM_72_1905_DARK_BLUE_MAIN?$browse_thumbnail$", "price" : "$59.00", "regPrice" : "", "salePrice" : "", "label": "none", "category" : "Sweaters", "subcategory": "1905 Sweaters", "stock": 1, "dimension53" : "No" }

{ "451542096" : { "Medium": ["Dark Navy"], "X Large": ["Dark Navy"], "Large": ["Dark Navy"], "Small": ["Dark Navy"] } }

{ "id" : "451542096", "productName" : "1905 Collection Tailored Fit Shawl Lapel Cardigan", "productItem" : "68LK", "productDescription" : "This cozy addition to your look features styling details like a shawl lapel, chest and side pockets, and a full button front closure. In 100% cotton, it has the silhouette of a jacket with the warmth and softness of a cardigan. Machine washable. Imported.", "promoDescription" : "", "productUrl" : "http://www.circleoftrusttherapy.com/p/1905-collection-tailored-fit-shawl-lapel-cardigan", "productImageUrl" : "https://images.josbank.com/is/image/JosBank/68LK_77_1905_DARK_NAVY_MAIN?$browse_thumbnail$", "productImageFullSize" : "https://images.josbank.com/is/image/JosBank/68LK_77_1905_DARK_NAVY_MAIN?$browse_thumbnail$", "price" : "$59.00", "regPrice" : "", "salePrice" : "", "label": "none", "category" : "Sweaters", "subcategory": "1905 Sweaters", "stock": 1, "dimension53" : "No" }

{ "451542134" : { "Medium": ["Navy"], "X Large": ["Navy"], "Large": ["Navy"], "Small": ["Navy"] } }

{ "id" : "451542134", "productName" : "Reserve Collection Tailored Fit Pima Cotton & Modal Knit Jacket", "productItem" : "68MU", "productDescription" : "Knit from a soft blend of Pima cotton and modal, this sweater jacket combines the classic structure of a jacket with all the comfort and casual feel of a cardigan sweater. Button closure. Spread collar. Button-flap chest and hand-warmer pockets. Tailored Fit. 57% Pima cotton, 38% modal, 5% nylon. Machine washable. Imported.", "promoDescription" : "", "productUrl" : "http://www.circleoftrusttherapy.com/p/reserve-collection-tailored-fit-pima-cotton-modal-knit-jacket", "productImageUrl" : "https://images.josbank.com/is/image/JosBank/68MU_75_JOS_A_BANK_RESERVE_NAVY_MAIN?$browse_thumbnail$", "productImageFullSize" : "https://images.josbank.com/is/image/JosBank/68MU_75_JOS_A_BANK_RESERVE_NAVY_MAIN?$browse_thumbnail$", "price" : "$59.00", "regPrice" : "", "salePrice" : "", "label": "none", "category" : "Sweaters", "subcategory": "Reserve Sweaters", "stock": 1, "dimension53" : "No" }

{ "451542100" : { "X Large": ["Light Grey"], "Large": ["Light Grey"], "Small": ["Light Grey"] } }

{ "id" : "451542100", "productName" : "1905 Collection Tailored Fit Full-Zip Baseball Sweater Jacket", "productItem" : "68LP", "productDescription" : "Perfect for chilly fall days, this baseball-style sweater jacket layers into your classic casual look with ease. Standup collar. 100% cotton. Machine washable. Imported.", "promoDescription" : "", "productUrl" : "http://www.circleoftrusttherapy.com/p/1905-collection-tailored-fit-full-zip-baseball-sweater-jacket", "productImageUrl" : "https://images.josbank.com/is/image/JosBank/68LP_04_1905_LIGHT_GREY_MAIN?$browse_thumbnail$", "productImageFullSize" : "https://images.josbank.com/is/image/JosBank/68LP_04_1905_LIGHT_GREY_MAIN?$browse_thumbnail$", "price" : "$59.00", "regPrice" : "", "salePrice" : "", "label": "none", "category" : "Sweaters", "subcategory": "1905 Sweaters", "stock": 1, "dimension53" : "No" }

{ "451542104" : { "Medium": ["Navy"], "X Large": ["Navy"], "Large": ["Navy"], "Small": ["Navy"] } }

{ "id" : "451542104", "productName" : "1905 Collection Tailored Fit Notch Lapel Sweater Jacket", "productItem" : "68LV", "productDescription" : "This cozy addition to your look features styling details like a notch lapel, chest and side pockets, and a full button front closure. In 100% cotton, it has the silhouette of a jacket with the warmth and softness of a cardigan. Machine washable. Imported.", "promoDescription" : "", "productUrl" : "http://www.circleoftrusttherapy.com/p/1905-collection-tailored-fit-notch-lapel-sweater-jacket", "productImageUrl" : "https://images.josbank.com/is/image/JosBank/68LV_75_1905_NAVY_MAIN?$browse_thumbnail$", "productImageFullSize" : "https://images.josbank.com/is/image/JosBank/68LV_75_1905_NAVY_MAIN?$browse_thumbnail$", "price" : "$59.00", "regPrice" : "", "salePrice" : "", "label": "none", "category" : "Sweaters", "subcategory": "1905 Sweaters", "stock": 1, "dimension53" : "No" }

{ "451542102" : { "Medium": ["Light Blue"], "X Large": [ "Light Blue", "White" ], "Large": [ "Light Blue", "White" ], "Small": ["Light Blue"] } }

{ "id" : "451542102", "productName" : "1905 Collection Tailored Fit Button & Zip Mock Neck Sweater", "productItem" : "68LT", "productDescription" : "This classic layering piece features a dual zip and button mock neck that's cozy on crisp cool days. Punctuate a stylish casual look with this sweater by wearing it with chinos or your favorite jeans. 88% cotton, 12% nylon. Machine washable. Imported.", "promoDescription" : "", "productUrl" : "http://www.circleoftrusttherapy.com/p/1905-collection-tailored-fit-button-zip-mock-neck-sweater", "productImageUrl" : "https://images.josbank.com/is/image/JosBank/68LT_10_1905_WHITE_MAIN?$browse_thumbnail$", "productImageFullSize" : "https://images.josbank.com/is/image/JosBank/68LT_10_1905_WHITE_MAIN?$browse_thumbnail$", "price" : "$59.00", "regPrice" : "", "salePrice" : "", "label": "none", "category" : "Sweaters", "subcategory": "1905 Sweaters", "stock": 1, "dimension53" : "No" }

{ "451542130" : { "Medium": ["Navy"], "X Large": ["Navy"], "Large": ["Navy"], "Small": ["Navy"] } }

{ "id" : "451542130", "productName" : "Reserve Collection Tailored Fit Cotton & Cashmere Cardigan Sweater Jacket", "productItem" : "68MN", "productDescription" : "In a fine cotton and cashmere blend, this sweater jacket features the classic lines of a jacket with a notch lapel with all the comfort and casual feel of a cardigan sweater. Button closure. Notch lapel. 85% cotton, 11% nylon, 4% cashmere. Machine washable. Imported.", "promoDescription" : "", "productUrl" : "http://www.circleoftrusttherapy.com/p/reserve-collection-tailored-fit-cotton-cashmere-cardigan-sweater-jacket", "productImageUrl" : "https://images.josbank.com/is/image/JosBank/68MN_75_JOS_A_BANK_RESERVE_NAVY_MAIN?$browse_thumbnail$", "productImageFullSize" : "https://images.josbank.com/is/image/JosBank/68MN_75_JOS_A_BANK_RESERVE_NAVY_MAIN?$browse_thumbnail$", "price" : "$59.00", "regPrice" : "", "salePrice" : "", "label": "none", "category" : "Sweaters", "subcategory": "Reserve Sweaters", "stock": 1, "dimension53" : "No" }

{ "451542132" : { "Medium": ["Blue"], "X Large": ["Blue"], "Large": ["Blue"], "Small": ["Blue"] } }

{ "id" : "451542132", "productName" : "Reserve Collection Tailored Fit Cotton & Cashmere Crewneck Sweater", "productItem" : "68MR", "productDescription" : "In a soft cotton and cashmere knit, this Reserve Collection sweater makes an ideal layering piece with its tailored, non-bulky fit. 95% cotton, 5% cashmere. Machine washable. Imported.", "promoDescription" : "", "productUrl" : "http://www.circleoftrusttherapy.com/p/reserve-collection-tailored-fit-cotton-cashmere-crewneck-sweater", "productImageUrl" : "https://images.josbank.com/is/image/JosBank/68MR_70_JOS_A_BANK_RESERVE_BLUE_MAIN?$browse_thumbnail$", "productImageFullSize" : "https://images.josbank.com/is/image/JosBank/68MR_70_JOS_A_BANK_RESERVE_BLUE_MAIN?$browse_thumbnail$", "price" : "$59.00", "regPrice" : "", "salePrice" : "", "label": "none", "category" : "Sweaters", "subcategory": "Seo Sweaters", "stock": 1, "dimension53" : "No" }

{ "451526971" : { "Medium": [ "Black", "Charcoal", "Dark Navy", "Rust" ], "X Large": [ "Burgundy", "Charcoal", "Cinnamon", "Light Grey", "Rust" ], "Large": [ "Black", "Burgundy", "Charcoal", "Cinnamon", "Dark Navy", "Olive", "Purple", "Red", "Rust" ], "Small": [ "Black", "Blue", "Burgundy", "Charcoal", "Cinnamon", "Dark Navy", "Rust" ] } }

{ "id" : "451526971", "productName" : "Jos. A. Bank Reserve Collection Cashmere V-Neck Sweater", "productItem" : "67Z5", "productDescription" : "Luxuriously soft, with just the right weight for layering into your look, this fine cashmere sweater is tightly woven for a silky feel. It is styled with a V-neck, ribbed cuffs and hem, and a rich, classic hue. 100% cashmere. Dry clean only. Imported.", "promoDescription" : "", "productUrl" : "http://www.circleoftrusttherapy.com/p/jos-a-bank-reserve-collection-cashmere-v-neck-sweater", "productImageUrl" : "https://images.josbank.com/is/image/JosBank/67Z5_01_JOS_A_BANK_RESERVE_BLACK_MAIN?$browse_thumbnail$", "productImageFullSize" : "https://images.josbank.com/is/image/JosBank/67Z5_01_JOS_A_BANK_RESERVE_BLACK_MAIN?$browse_thumbnail$", "price" : "$129.00", "regPrice" : "", "salePrice" : "", "label": "none", "category" : "Sweaters", "subcategory": "Reserve Sweaters", "stock": 1, "dimension53" : "No" }

{ "451522279" : { "Small": [ "Light Grey", "Light Purple", "Olive" ] } }

{ "id" : "451522279", "productName" : "Travel Tech Merino Wool Blend Quarter Zip Mock Neck Sweater", "productItem" : "67LP", "productDescription" : "An easy care and wear classic pullover is a cool weather essential. This smooth-knit sweater creates a comfortable micro-climate for your body by removing excess moisture before you even begin to sweat. The built-in fabric technology doesn't wash out. Layer your Travel Tech pieces for more effective moisture wicking and comfort. 65% extra fine merino wool, 35% 37.5 polyester. Quarter zip mock neck. Machine washable. Imported.", "promoDescription" : "2 for $70!", "productUrl" : "http://www.circleoftrusttherapy.com/p/travel-tech-merino-wool-blend-quarter-zip-mock-neck-sweater", "productImageUrl" : "https://images.josbank.com/is/image/JosBank/67LP_04_TRAVELTECH_LIGHT_GREY_MAIN?$browse_thumbnail$", "productImageFullSize" : "https://images.josbank.com/is/image/JosBank/67LP_04_TRAVELTECH_LIGHT_GREY_MAIN?$browse_thumbnail$", "price" : "$39.00", "regPrice" : "", "salePrice" : "", "label": "none", "category" : "Featured", "subcategory": "Ready for Anything", "stock": 1, "dimension53" : "No" }

{ "450023358" : { "Medium": ["Light Blue"], "Large": ["Light Blue"], "Small": [ "Bright Blue", "Light Blue" ] } }

{ "id" : "450023358", "productName" : "Traveler Collection Washable Merino Wool Sweater", "productItem" : "6GE2", "productDescription" : "The superior softness, exceptional lightness and uncompromising quality of pure merino wool defines this ultra-soft, fade-resistant traditional V-neck sweater. Ribbed knit collar and cuffs. 100% merino wool. Machine washable. Imported.", "promoDescription" : "2 for $70!", "productUrl" : "http://www.circleoftrusttherapy.com/p/traveler-collection-washable-merino-wool-sweater", "productImageUrl" : "https://images.josbank.com/is/image/JosBank/6GE2_73_TRAVELER_BRIGHT_BLUE_MAIN?$browse_thumbnail$", "productImageFullSize" : "https://images.josbank.com/is/image/JosBank/6GE2_73_TRAVELER_BRIGHT_BLUE_MAIN?$browse_thumbnail$", "price" : "$39.00", "regPrice" : "", "salePrice" : "", "label": "none", "category" : "Sweaters", "subcategory": "Traveler Sweaters", "stock": 1, "dimension53" : "No" }

{ "450023360" : { "Medium": ["Bright Blue"] } }

{ "id" : "450023360", "productName" : "Traveler Collection Quarter Zip Merino Wool Sweater", "productItem" : "6GE4", "productDescription" : "The superior softness, exceptional lightness and uncompromising quality of pure merino wool defines this ultra-soft, long-sleeve sweater. Pill- and fade-resistant, it's also machine washable. 100% merino wool. Imported.", "promoDescription" : "2 for $70!", "productUrl" : "http://www.circleoftrusttherapy.com/p/traveler-collection-quarter-zip-merino-wool-sweater", "productImageUrl" : "https://images.josbank.com/is/image/JosBank/6GE4_73_TRAVELER_BRIGHT_BLUE_MAIN?$browse_thumbnail$", "productImageFullSize" : "https://images.josbank.com/is/image/JosBank/6GE4_73_TRAVELER_BRIGHT_BLUE_MAIN?$browse_thumbnail$", "price" : "$39.00", "regPrice" : "", "salePrice" : "", "label": "none", "category" : "Featured", "subcategory": "Ready for Anything", "stock": 1, "dimension53" : "No" }

{ "450022541" : { "Medium": [ "Black", "Brown", "Charcoal", "Dark Purple", "Light Green", "Navy", "Navy Heather", "Peach", "Plum", "Purple", "Red", "Rust", "Tan", "Violet", "Walnut", "Wine" ], "X Large": [ "Charcoal", "Light Grey", "Navy Heather", "Plum", "Rust", "Violet", "Walnut", "Wine" ], "Large": [ "Black", "Dark Purple", "Light Green", "Light Grey", "Navy", "Navy Heather", "Olive", "Plum", "Purple", "Red", "Rust", "Tan", "Violet", "Walnut" ], "Small": [ "Blue", "Brown", "Light Green", "Light Grey", "Light Purple", "Navy Heather", "Peach", "Plum", "Purple", "Red", "Rust", "Tan", "Teal", "Turquoise", "Violet", "Walnut" ] } }

{ "id" : "450022541", "productName" : "Traveler Collection Merino Wool V-Neck Sweater", "productItem" : "6F6F", "productDescription" : "Combining the ultimate in comfort and ease-of-care, this long-sleeve sweater sports a classic V-neck cut. Fade-resistant, it has a soft, luxurious feel. 100% merino wool. Machine wash. Imported.", "promoDescription" : "2 for $70!", "productUrl" : "http://www.circleoftrusttherapy.com/p/traveler-collection-tailored-fit-merino-wool-v-neck-sweater", "productImageUrl" : "https://images.josbank.com/is/image/JosBank/6F6F_69_TRAVELER_TURQUOISE_MAIN?$browse_thumbnail$", "productImageFullSize" : "https://images.josbank.com/is/image/JosBank/6F6F_69_TRAVELER_TURQUOISE_MAIN?$browse_thumbnail$", "price" : "$39.00", "regPrice" : "", "salePrice" : "", "label": "none", "category" : "Featured", "subcategory": "Ready for Anything", "stock": 1, "dimension53" : "No" }

{ "450022542" : { "Medium": [ "Black", "Charcoal", "Navy", "Wine" ], "X Large": ["Wine"], "Large": [ "Black", "Charcoal", "Navy" ], "Small": [ "Charcoal", "Wine" ] } }

{ "id" : "450022542", "productName" : "Traveler Collection Washable Merino Wool Sweater Vest", "productItem" : "6F6G", "productDescription" : "The superior softness, exceptional lightness and uncompromising quality of pure merino wool makes this vest an ideal choice. It is ultra-soft, fade-resistant and styled with traditional V-neck. 100% merino wool. Machine washable. Imported.", "promoDescription" : "2 for $70!", "productUrl" : "http://www.circleoftrusttherapy.com/p/traveler-collection-washable-merino-wool-sweater-vest", "productImageUrl" : "https://images.josbank.com/is/image/JosBank/30940_001_main?$browse_thumbnail$", "productImageFullSize" : "https://images.josbank.com/is/image/JosBank/30940_001_main?$browse_thumbnail$", "price" : "$39.00", "regPrice" : "", "salePrice" : "", "label": "none", "category" : "Sweaters", "subcategory": "Merino Wool Sweaters", "stock": 1, "dimension53" : "No" }

{ "450022543" : { "Medium": [ "Light Purple", "Navy", "Plum", "Purple", "Rust", "Tan", "Violet" ], "X Large": [ "Violet", "Wine" ], "Large": [ "Charcoal", "Light Grey", "Plum", "Purple", "Rust", "Tan", "Violet", "Wine" ], "Small": [ "Green", "Violet" ] } }

{ "id" : "450022543", "productName" : "Traveler Collection Merino Wool Quarter Zip Mock-Neck Sweater", "productItem" : "6F6H", "productDescription" : "This easy-care merino wool sweater has a luxurious hand feel and a smooth knit. It easily slides on with a quarter zip placket, and a mock neck for warmth. It is fade and pill resistant in a vibrant, classic hue. 100% merino wool. Machine washable. Imported.", "promoDescription" : "2 for $70!", "productUrl" : "http://www.circleoftrusttherapy.com/p/traveler-collection-merino-wool-quarter-zip-mock-neck-sweater", "productImageUrl" : "https://images.josbank.com/is/image/JosBank/30925_003_main?$browse_thumbnail$", "productImageFullSize" : "https://images.josbank.com/is/image/JosBank/30925_003_main?$browse_thumbnail$", "price" : "$39.00", "regPrice" : "", "salePrice" : "", "label": "none", "category" : "Featured", "subcategory": "Ready for Anything", "stock": 1, "dimension53" : "No" }
Related Products

Description:
This Tailored Fit suit has a subtle tic weave pattern, and a fully lined jacket that features a notch lapel, two-button closure, flap-front pockets, side vents and interior pockets. The flat-front slacks are half-lined to the knee and are unhemmed ...

Description:
This finely tailored suit has a fine woven mini check pattern, classic peak lapel and features brrr°? comfort technology. brrr°? technology, has a touch of stretch plus a unique cooling effect as it wicks moisture away. Two button, side vent ...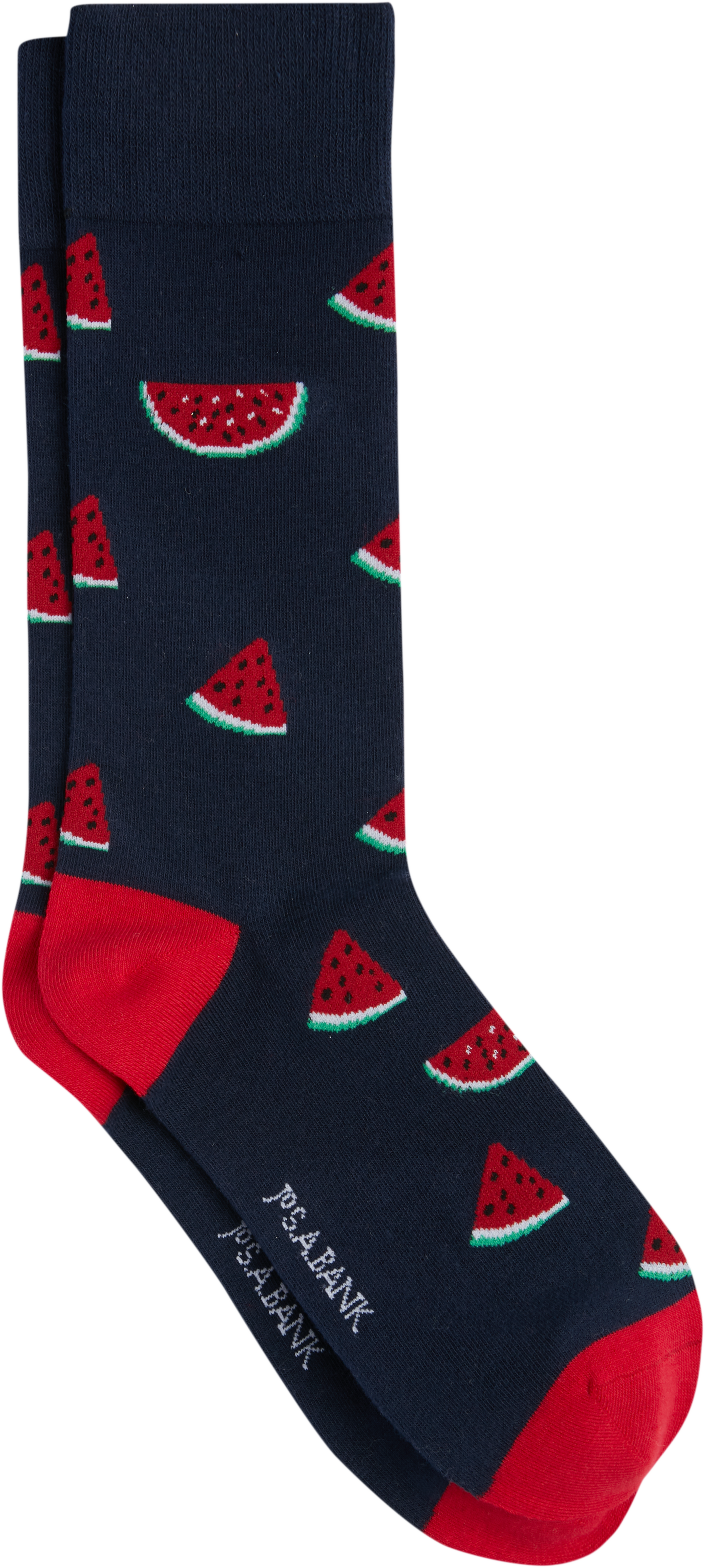 Description:
Complete your look with these socks that feature a summertime favorite - watermelon. Mid-calf length. Reinforced toe and heel. Natural weave to promote airflow and movement. 58% cotton, 40% nylon, 2% spandex. Machine wash. Imported.

Description:
Reserve Collection suits are tailored from the finest fabrics in classic silhouettes that will enhance your professional and special occasion wardrobes. This stylish and refined suit is made with sustainably sourced wool that is created in compliance with the principles ...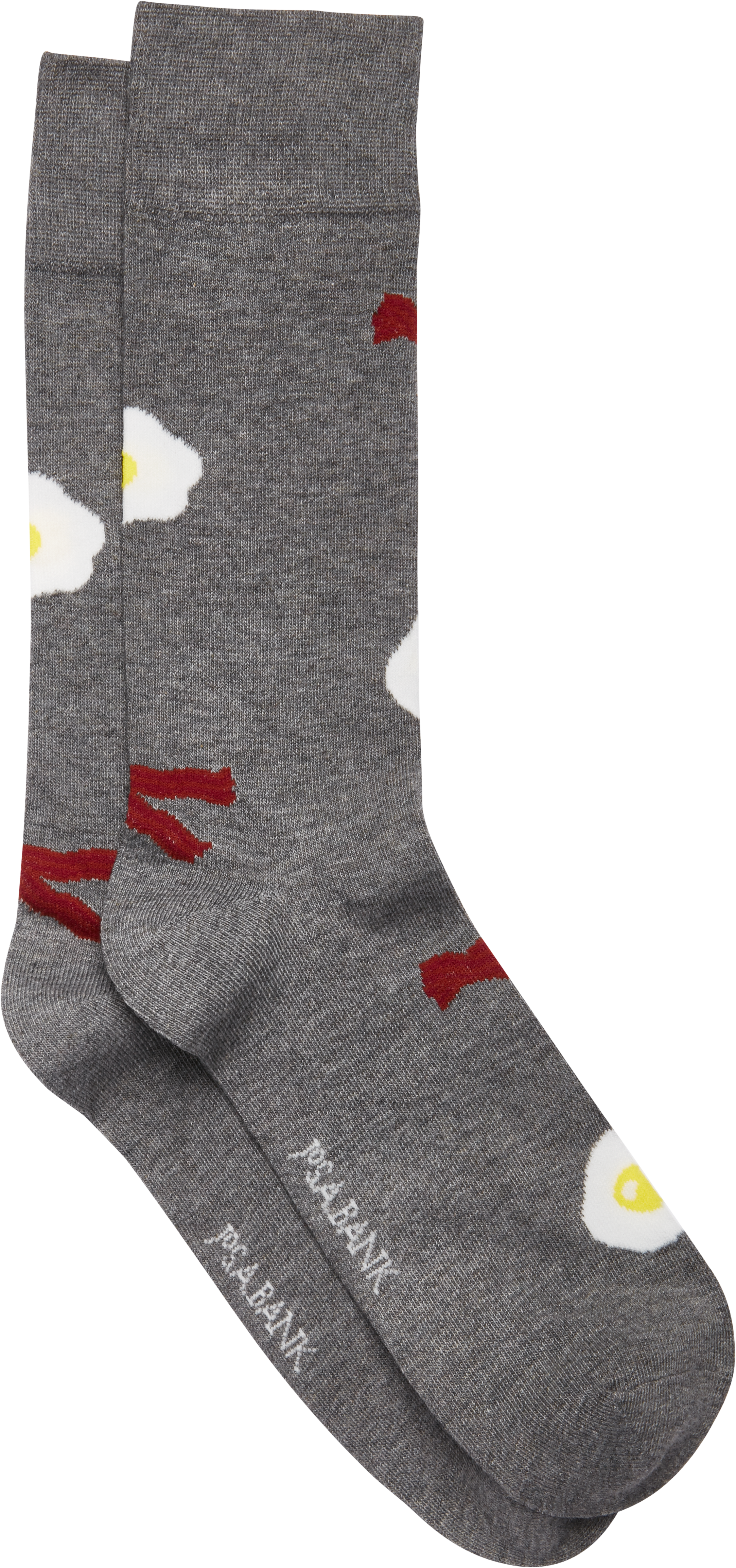 Description:
Start your day with a classic bacon-and-eggs breakfast and these socks to match. By the end of the day, you'll still feel fresh thanks to the sock's special fabrication. The socks feature a built-in, 37.5® patented polyester technology that maintains ...