Suit Separates
Refine your results
SHOW
Show:

Press enter to collapse or expand the menu. For navigating with in Filter options, press tab. To select Filter options, press enter.

Clear All

Filter

Done

0

Products

Add filter

Reset filters
Product List
{ "998609631" : { "37 Regular": ["Blue"], "42 Short": ["Blue"], "46 Short": ["Blue"], "36 Regular": ["Blue"], "42 Regular": ["Blue"], "44 Short": ["Blue"], "46 Regular": ["Blue"], "36 Short": ["Blue"], "41 Regular": ["Blue"], "36 Long": ["Blue"], "37 Short": ["Blue"], "38 Short": ["Blue"], "40 Regular": ["Blue"], "44 Regular": ["Blue"], "38 Regular": ["Blue"], "40 Short": ["Blue"] } }

[ { "name": "1905 Collection Slim Fit Suit Separate Jacket", "partNumber": "JAB_37KA", "quantity": 1, "price": "119.0", "category": "Special Categories\/Top 10 Men's Clothing", "brand": "Jos. A. Bank", "promo": "" } , { "name": "1905 Collection Slim Fit Flat-Front Suit Separate Pants", "partNumber": "JAB_37KF", "quantity": 1, "price": "80.0", "category": "Special Categories\/Top 10 Men's Clothing", "brand": "Jos. A. Bank", "promo": "" } , { "name": "1905 Collection Slim Fit Suit Separate Vest", "partNumber": "JAB_37KD", "quantity": 1, "price": "60.0", "category": "Special Categories\/Top 10 Men's Clothing", "brand": "Jos. A. Bank", "promo": "" } ]

{ "id" : "998609631", "productName" : "1905 Collection Slim Fit Suit", "productItem" : "BUNDLE_37KA", "productDescription" : "<p>Suit separates let you choose jacket, pants, and vest sizes separately for an ideal fit. Create your own tailored look with these pieces from the 1905 Collection.<\/p>\n\n<p><strong>Jacket:<\/strong><br \/>\nSlim Fit. Two button, side vent, notch collar. Soft shouldered construction. Solid color poly-blend lining. No canvas chest piece, garment uses modern fusing technology.&nbsp;<\/p>\n\n<p><strong>Pants:<\/strong><br \/>\nSlim Fit. Flat front, lined to the knee. Unhemmed for altering ease.<\/p>\n\n<p><strong>Vest:<\/strong><br \/>\nSlim Fit. Five-button vest.<\/p>\n\n<p>98% wool, 2% spandex. Dry clean. Imported.<\/p>", "promoDescription" : "", "productUrl" : "http://www.circleoftrusttherapy.com/p/1905-collection-slim-fit-suit-BUNDLE37KA", "productImageUrl" : "https://images.josbank.com/is/image/JosBank/37KA_73_1905_BLUE_MAIN?$browse_thumbnail$", "productImageFullSize" : "https://images.josbank.com/is/image/JosBank/37KA_73_1905_BLUE_MAIN?$browse_thumbnail$", "price" : "$309.00", "regPrice" : "", "salePrice" : "", "label": "none", "category" : "", "subcategory": "", "stock": 1, "dimension53" : "Yes" }

{ "998609640" : { "39 Long": ["Black"], "37 Short": ["Black"], "41 Long": ["Black"], "38 Short": ["Black"], "36 Regular": ["Black"], "43 Long": ["Black"], "38 Long": ["Black"] } }

[ { "name": "1905 Collection Slim Fit Suit Separate Jacket", "partNumber": "JAB_38MH", "quantity": 1, "price": "119.0", "category": "Suits\/All Suits & Suit Separates", "brand": "Jos. A. Bank", "promo": "" } , { "name": "1905 Collection Slim Fit Suit Separate Pants", "partNumber": "JAB_38MK", "quantity": 1, "price": "80.0", "category": "Suits\/All Suits & Suit Separates", "brand": "Jos. A. Bank", "promo": "" } ]

{ "id" : "998609640", "productName" : "1905 Collection Slim Fit Suit", "productItem" : "BUNDLE_38MH", "productDescription" : "<p>Suit separates let you choose jacket, pants, and vest sizes separately for an ideal fit. Create your own tailored look with these pieces from the 1905 Collection.<\/p>\n\n<p><strong>Jacket:<\/strong><br \/>\nSlim Fit. Two button, side vents, notch lapel. Soft shoulder construction. No canvas chest piece - garment uses modern fusing technology. Fully lined.<\/p>\n\n<p><strong>Pants:<\/strong><br \/>\nSlim Fit. Flat front. Half-lined to the knee and unhemmed for tailoring ease.<\/p>\n\n<p>98% wool 2% lastol. Dry clean. Imported.<\/p>", "promoDescription" : "", "productUrl" : "http://www.circleoftrusttherapy.com/p/1905-collection-slim-fit-suit-BUNDLE38MH", "productImageUrl" : "https://images.josbank.com/is/image/JosBank/38MH_01_1905_BLACK_MAIN?$browse_thumbnail$", "productImageFullSize" : "https://images.josbank.com/is/image/JosBank/38MH_01_1905_BLACK_MAIN?$browse_thumbnail$", "price" : "$249.00", "regPrice" : "", "salePrice" : "", "label": "none", "category" : "", "subcategory": "", "stock": 1, "dimension53" : "Yes" }

{ "999122600" : { "37 Regular": [ "Bright Navy", "Dark Grey" ], "42 Short": [ "Bright Navy", "Dark Grey" ], "44 Long": [ "Bright Navy", "Dark Grey" ], "39 Long": ["Bright Navy"], "46 Short": [ "Bright Navy", "Dark Grey" ], "42 Long": [ "Bright Navy", "Dark Grey" ], "36 Regular": [ "Bright Navy", "Dark Grey" ], "39 Regular": [ "Bright Navy", "Dark Grey" ], "42 Regular": [ "Bright Navy", "Dark Grey" ], "38 Long": [ "Bright Navy", "Dark Grey" ], "44 Short": [ "Bright Navy", "Dark Grey" ], "46 Regular": [ "Bright Navy", "Dark Grey" ], "46 Long": ["Bright Navy"], "41 Regular": [ "Bright Navy", "Dark Grey" ], "36 Short": [ "Bright Navy", "Dark Grey" ], "43 Regular": ["Bright Navy"], "37 Short": ["Bright Navy"], "41 Long": ["Bright Navy"], "38 Short": [ "Bright Navy", "Dark Grey" ], "40 Regular": [ "Bright Navy", "Dark Grey" ], "44 Regular": [ "Bright Navy", "Dark Grey" ], "40 Long": [ "Bright Navy", "Dark Grey" ], "43 Long": [ "Bright Navy", "Dark Grey" ], "38 Regular": [ "Bright Navy", "Dark Grey" ], "40 Short": [ "Bright Navy", "Dark Grey" ] } }

[ { "name": "1905 Collection Tailored Fit Suit Separate Jacket with brrr°? comfort", "partNumber": "JAB_3HMZ", "quantity": 1, "price": "119.0", "category": "Suits\/All Suits & Suit Separates", "brand": "Jos. A. Bank", "promo": "" } , { "name": "1905 Collection Tailored Fit Suit Separate Flat Front Pants with brrr°? comfort", "partNumber": "JAB_3HN5", "quantity": 1, "price": "80.0", "category": "Suits\/All Suits & Suit Separates", "brand": "Jos. A. Bank", "promo": "" } , { "name": "1905 Collection Tailored Fit Suit Separate Vest with brrr°? comfort", "partNumber": "JAB_3HN7", "quantity": 1, "price": "60.0", "category": "Suits\/All Suits & Suit Separates", "brand": "Jos. A. Bank", "promo": "" } ]

{ "id" : "999122600", "productName" : "1905 Collection Tailored Fit Suit with brrr°? comfort", "productItem" : "BUNDLE_3HMZ", "productDescription" : "<p>Suit separates let you choose jacket, pants, and vest sizes separately for an ideal fit. Create your own tailored look with these pieces from the 1905 Collection. Our brrr&deg; comfort suit separates combine wool with a light stretch plus a unique cooling effect as it wicks moisture away.&nbsp;<\/p>\n\n<p>Jacket:<br \/>\nThis suit separate jacket allows you to pair it with any number of slacks for a complete look. It features a notch lapel, two-button closure. Fully lined with four interior pockets.<\/p>\n\n<p>Pants:<br \/>\nThese pants feature a flat front and are fully lined to the knee. Unhemmed for personalized alteration.&nbsp;<\/p>\n\n<p>Vest:<br \/>\nSuit separate, five-button vest.&nbsp;<\/p>\n\n<p>97% wool, 3% spandex. Dry clean. Imported.<\/p>", "promoDescription" : "", "productUrl" : "http://www.circleoftrusttherapy.com/p/1905-collection-tailored-fit-suit-with-brrr-comfort-BUNDLE3HMZ", "productImageUrl" : "https://images.josbank.com/is/image/JosBank/3HMZ_76_JOSEPH_A_BANK_BRIGHT_NAVY_MAIN?$browse_thumbnail$", "productImageFullSize" : "https://images.josbank.com/is/image/JosBank/3HMZ_76_JOSEPH_A_BANK_BRIGHT_NAVY_MAIN?$browse_thumbnail$", "price" : "$309.00", "regPrice" : "", "salePrice" : "", "label": "none", "category" : "", "subcategory": "", "stock": 1, "dimension53" : "Yes" }

{ "998609629" : { "37 Regular": [ "Black", "Mid Grey", "Navy" ], "42 Short": [ "Black", "Mid Grey" ], "44 Long": ["Black"], "39 Long": ["Mid Grey"], "46 Short": [ "Black", "Mid Grey", "Navy" ], "42 Long": ["Black"], "36 Regular": [ "Black", "Mid Grey", "Navy" ], "39 Regular": [ "Black", "Mid Grey", "Navy" ], "42 Regular": [ "Black", "Mid Grey" ], "38 Long": ["Mid Grey"], "44 Short": [ "Black", "Mid Grey" ], "46 Regular": [ "Black", "Mid Grey", "Navy" ], "46 Long": [ "Black", "Mid Grey" ], "41 Regular": ["Mid Grey"], "36 Short": [ "Black", "Mid Grey", "Navy" ], "43 Regular": [ "Black", "Mid Grey", "Navy" ], "36 Long": [ "Black", "Navy" ], "37 Short": [ "Black", "Mid Grey" ], "41 Long": ["Black"], "38 Short": [ "Black", "Mid Grey", "Navy" ], "40 Regular": [ "Black", "Mid Grey", "Navy" ], "44 Regular": [ "Black", "Mid Grey", "Navy" ], "40 Long": ["Mid Grey"], "43 Long": ["Black"], "38 Regular": [ "Black", "Mid Grey" ], "40 Short": [ "Black", "Mid Grey" ] } }

[ { "name": "1905 Collection Tailored Fit Textured Suit Separate Jacket", "partNumber": "JAB_343Y", "quantity": 1, "price": "119.0", "category": "Special Categories\/Top 10 Men's Clothing", "brand": "Jos. A. Bank", "promo": "" } , { "name": "1905 Collection Tailored Fit Flat Front Textured Suit Separate Pants", "partNumber": "JAB_344R", "quantity": 1, "price": "80.0", "category": "Special Categories\/Top 10 Men's Clothing", "brand": "Jos. A. Bank", "promo": "" } , { "name": "1905 Collection Tailored Fit Textured Suit Separate Vest", "partNumber": "JAB_344U", "quantity": 1, "price": "60.0", "category": "Special Categories\/Top 10 Men's Clothing", "brand": "Jos. A. Bank", "promo": "" } ]

{ "id" : "998609629", "productName" : "1905 Collection Tailored Fit Textured Suit", "productItem" : "BUNDLE_343Y", "productDescription" : "<p>Suit separates let you choose jacket, pants, and vest sizes separately for an ideal fit. Create your own tailored look with these pieces from the 1905 Collection. This suit separate set features a textured solid pattern and a tailored fit.<\/p>\n\n<p><strong>Jacket:<\/strong><br \/>\nThe jacket is fully lined with scalloped facings and contrast details. It features a two-button closure, side vents, and notch lapels with soft shouldered construction.&nbsp;<\/p>\n\n<p><strong>Pants:<\/strong><br \/>\nThe flat-front pants are lined to the knee and unhemmed for altering ease.<\/p>\n\n<p><strong>Vest:<\/strong><br \/>\nThe vest features five buttons, quarter panel pocket, no vent, and full fabric front &amp; back with patterned lining.&nbsp;&nbsp;<\/p>\n\n<p>98% wool, 2% spandex. Dry clean only. Imported.<\/p>", "promoDescription" : "", "productUrl" : "http://www.circleoftrusttherapy.com/p/1905-collection-tailored-fit-textured-suit-", "productImageUrl" : "https://images.josbank.com/is/image/JosBank/343Y_01_1905_BLACK_MAIN?$browse_thumbnail$", "productImageFullSize" : "https://images.josbank.com/is/image/JosBank/343Y_01_1905_BLACK_MAIN?$browse_thumbnail$", "price" : "", "regPrice" : "$309.00", "salePrice" : "$149.00", "label": "sale", "category" : "", "subcategory": "", "stock": 1, "dimension53" : "Yes" }

{ "998609632" : { "42 Short": [ "Bright Navy", "Mid Grey" ], "44 Long": [ "Bright Navy", "Grey", "Mid Grey" ], "46 Short": [ "Bright Navy", "Mid Grey" ], "42 Long": [ "Bright Navy", "Grey", "Mid Grey" ], "39 Regular": [ "Bright Navy", "Grey", "Mid Grey" ], "42 Regular": [ "Bright Navy", "Mid Grey" ], "44 Short": [ "Bright Navy", "Mid Grey" ], "46 Regular": ["Mid Grey"], "46 Long": [ "Bright Navy", "Mid Grey" ], "41 Regular": [ "Bright Navy", "Mid Grey" ], "43 Regular": [ "Bright Navy", "Mid Grey" ], "38 Short": ["Mid Grey"], "40 Regular": [ "Bright Navy", "Grey", "Mid Grey" ], "41 Long": [ "Bright Navy", "Grey", "Mid Grey" ], "44 Regular": [ "Bright Navy", "Mid Grey" ], "40 Long": [ "Bright Navy", "Grey" ], "43 Long": [ "Bright Navy", "Mid Grey" ], "38 Regular": ["Mid Grey"], "44x33": ["Bright Navy"], "40 Short": ["Mid Grey"] } }

[ { "name": "Signature Collection Traditional Fit Suit Separates Jacket", "partNumber": "JAB_3JD8", "quantity": 1, "price": "119.0", "category": "Suits\/Signature Suits", "brand": "Jos. A. Bank", "promo": "" } , { "name": "Signature Collection Traditional Fit Suit Separates Plain Front Pants", "partNumber": "JAB_3JE4", "quantity": 1, "price": "80.0", "category": "Suits\/Signature Suits", "brand": "Jos. A. Bank", "promo": "" } , { "name": "Signature Collection Traditional Fit Suit Separates Pants", "partNumber": "JAB_3JE9", "quantity": 1, "price": "80.0", "category": "Suits\/Signature Suits", "brand": "Jos. A. Bank", "promo": "" } , { "name": "Signature Collection Traditional Fit Solid Suit Separate Vest", "partNumber": "JAB_33RY", "quantity": 1, "price": "60.0", "category": "Suits\/Signature Suits", "brand": "Jos. A. Bank", "promo": "" } ]

{ "id" : "998609632", "productName" : "Signature Collection Traditional Fit Suit", "productItem" : "BUNDLE_3JD8", "productDescription" : "Suit separates let you choose jacket, pants, and vest sizes separately for an ideal fit. Create your own tailored look with these pieces from the Signature Collection.<\/p>\n\n<p><strong>Jacket:<\/strong><br \/>\nPremium superfine merino wool. Light hand and meticulous drape. 2-button jacket in our Traditional Fit. Center vent with soft shoulders and interior pockets. Full Bemberg lining, scalloped facing. Signature suit sleeve is constructed for the addition of custom working buttonholes.&nbsp;<\/p>\n\n<p><strong>Pants:<\/strong><br \/>\nTraditional Fit. Extended waistband. Half-lined to the knee. Premium cotton pocketing. Unfinished hems for altering ease. Choose from either flat or pleated-front styles.<\/p>\n\n<p>100% wool. Dry clean only. Imported.<\/p>", "promoDescription" : "", "productUrl" : "http://www.circleoftrusttherapy.com/p/signature-collection-traditional-fit-suit-BUNDLE3JD8", "productImageUrl" : "https://images.josbank.com/is/image/JosBank/3JD8_76_SIGNATURE_BRIGHT_NAVY_MAIN?$browse_thumbnail$", "productImageFullSize" : "https://images.josbank.com/is/image/JosBank/3JD8_76_SIGNATURE_BRIGHT_NAVY_MAIN?$browse_thumbnail$", "price" : "", "regPrice" : "$339.00", "salePrice" : "$119.00", "label": "sale", "category" : "", "subcategory": "", "stock": 1, "dimension53" : "Yes" }

{ "998609630" : { "37 Regular": [ "Black", "Grey Melange", "Grey Sharkskin", "Navy" ], "39 Long": [ "Grey Melange", "Navy" ], "46 Short": [ "Grey Melange", "Navy" ], "35 Short": [ "Grey Melange", "Grey Sharkskin", "Navy" ], "42 Long": [ "Grey Melange", "Grey Sharkskin" ], "36 Regular": [ "Black", "Grey Melange", "Grey Sharkskin" ], "39 Regular": ["Grey Sharkskin"], "42 Regular": ["Black"], "38 Long": [ "Black", "Grey Melange", "Grey Sharkskin", "Navy" ], "44 Short": ["Grey Melange"], "46 Long": ["Grey Melange"], "36 Short": [ "Black", "Grey Melange", "Grey Sharkskin" ], "36 Long": [ "Grey Melange", "Navy" ], "37 Short": [ "Black", "Grey Melange", "Grey Sharkskin", "Navy" ], "41 Long": [ "Black", "Grey Melange", "Grey Sharkskin", "Navy" ], "40 Regular": ["Grey Sharkskin"], "40 Long": [ "Black", "Grey Sharkskin" ], "43 Long": [ "Black", "Grey Melange", "Navy" ], "38 Regular": ["Black"] } }

[ { "name": "Reserve Collection Tailored Fit Suit Separate Jacket", "partNumber": "JAB_33Y2", "quantity": 1, "price": "259.0", "category": "Suits\/Reserve Suits", "brand": "Jos. A. Bank", "promo": "" } , { "name": "Reserve Collection Tailored Fit Flat Front Suit Separate Pants", "partNumber": "JAB_33Y4", "quantity": 1, "price": "140.0", "category": "Suits\/Reserve Suits", "brand": "Jos. A. Bank", "promo": "" } , { "name": "Reserve Collection Tailored Fit Suit Separate Vest", "partNumber": "JAB_33Y6", "quantity": 1, "price": "90.0", "category": "Suits\/Reserve Suits", "brand": "Jos. A. Bank", "promo": "" } ]

{ "id" : "998609630", "productName" : "Reserve Collection Tailored Fit Suit", "productItem" : "BUNDLE_33Y2", "productDescription" : "<p>Suit separates let you choose jacket, pants, and vest sizes separately for an ideal fit. Create your own tailored look with these pieces from the Reserve Collection.<\/p>\n\n<p><strong>Jacket:<\/strong><br \/>\nConstructed with a floating canvas chest piece which creates supple structure and a custom feel. Tailored with a signature natural shoulder fit for an elegant silhouette. Two-button jacket with notch lapels, side vents and Bemberg lining.&nbsp;<\/p>\n\n<p><strong>Pants:<\/strong><br \/>\nFlat front trousers with cotton pocketing and separate coin pocket. Lined to the knee with unfinished hems for exact tailoring.&nbsp;<\/p>\n\n<p><strong>Vest:<\/strong><br \/>\nTailored with a signature natural shoulder fit for an elegant silhouette.<\/p>\n\n<p>100% wool. Dry clean only. Made in the USA of Fine Italian Fabrics.<\/p>", "promoDescription" : "", "productUrl" : "http://www.circleoftrusttherapy.com/p/reserve-collection-tailored-fit-suit-BUNDLE33Y2", "productImageUrl" : "https://images.josbank.com/is/image/JosBank/32634_006_main?$browse_thumbnail$", "productImageFullSize" : "https://images.josbank.com/is/image/JosBank/32634_006_main?$browse_thumbnail$", "price" : "$489.00", "regPrice" : "", "salePrice" : "", "label": "none", "category" : "", "subcategory": "", "stock": 1, "dimension53" : "Yes" }

{ "998609633" : { "37 Regular": ["Dark Grey"], "42 Short": ["Dark Grey"], "44 Long": ["Dark Grey"], "39 Long": ["Dark Grey"], "42 Long": ["Dark Grey"], "42 Regular": ["Dark Grey"], "38 Long": ["Dark Grey"], "44 Short": ["Dark Grey"], "46 Regular": ["Dark Grey"], "46 Long": ["Dark Grey"], "36 Short": ["Dark Grey"], "41 Regular": ["Dark Grey"], "43 Regular": ["Dark Grey"], "36 Long": ["Dark Grey"], "37 Short": ["Dark Grey"], "38 Short": ["Dark Grey"], "40 Regular": ["Dark Grey"], "41 Long": ["Dark Grey"], "44 Regular": ["Dark Grey"], "43 Long": ["Dark Grey"], "38 Regular": ["Dark Grey"], "40 Short": ["Dark Grey"] } }

[ { "name": "Travel Tech Slim Fit Tic Solid Suit Separate Jacket", "partNumber": "JAB_38P6", "quantity": 1, "price": "189.0", "category": "Suits\/Travel Tech Suits", "brand": "Jos. A. Bank", "promo": "" } , { "name": "Travel Tech Slim Fit Tic Solid Flat Front Suit Separate Pants", "partNumber": "JAB_38PA", "quantity": 1, "price": "90.0", "category": "Suits\/Travel Tech Suits", "brand": "Jos. A. Bank", "promo": "" } ]

{ "id" : "998609633", "productName" : "Travel Tech Collection Slim Fit Tic Solid Suit", "productItem" : "BUNDLE_38P6", "productDescription" : "<p>Suit separates let you choose jacket, pants, and vest sizes separately for an ideal fit. Create your own tailored look with these pieces from the Travel Tech Collection. Our Travel Tech suit separate set features fabric that maintains the optimum microclimate for your body for optimum comfort. Removes moisture at the vapor stage before sweat can form. Acts like a thermostat by removing moisture when you are hot and retaining warmth when cold. Absorbs and traps odor molecules that are washed away when cleaned. Built-in fabric technology that doesn&#39;t wash out. Stretch mesh fabric integrated throughout for maximum mobility.<\/p>\n\n<p><strong>Jacket:<\/strong><br \/>\nSlim Fit. Two button, side vents, notch lapel. Stretch mesh fabric integrated throughout. Performance stretch lining.<\/p>\n\n<p><strong>Pants:<\/strong><br \/>\nSlim Fit. Flat front. Stretch in the waistband of pants for unrestricted range of motion.<\/p>\n\n<p>71% wool, 25% 37.5 polyester, 4% spandex. Dry clean. Imported.<\/p>", "promoDescription" : "", "productUrl" : "http://www.circleoftrusttherapy.com/p/travel-tech-collection-slim-fit-tic-solid-suit", "productImageUrl" : "https://images.josbank.com/is/image/JosBank/38P6_05_TRAVELER_DARK_GREY_MAIN?$browse_thumbnail$", "productImageFullSize" : "https://images.josbank.com/is/image/JosBank/38P6_05_TRAVELER_DARK_GREY_MAIN?$browse_thumbnail$", "price" : "$279.00", "regPrice" : "", "salePrice" : "", "label": "none", "category" : "", "subcategory": "", "stock": 1, "dimension53" : "Yes" }

{ "998609634" : { "37 Regular": ["Mid Blue"], "35 Short": ["Mid Blue"], "42 Long": [ "Dark Blue", "Light Grey" ], "36 Regular": ["Mid Blue"], "38 Long": ["Mid Blue"], "42 Regular": [ "Dark Blue", "Mid Blue" ], "41 Regular": [ "Dark Blue", "Mid Blue" ], "43 Regular": [ "Dark Blue", "Mid Blue" ], "38 Short": [ "Dark Blue", "Mid Blue" ], "40 Regular": [ "Dark Blue", "Light Grey", "Mid Blue" ], "44 Regular": [ "Dark Blue", "Light Grey", "Mid Blue" ], "43 Long": [ "Dark Blue", "Mid Blue" ], "38 Regular": [ "Dark Blue", "Light Grey", "Mid Blue" ], "42 Short": ["Mid Blue"], "44 Long": [ "Dark Blue", "Mid Blue" ], "39 Long": ["Mid Blue"], "46 Short": ["Dark Blue"], "39 Regular": ["Dark Blue"], "44 Short": ["Mid Blue"], "46 Regular": [ "Light Grey", "Mid Blue" ], "46 Long": ["Mid Blue"], "36 Short": ["Mid Blue"], "37 Short": [ "Dark Blue", "Light Grey", "Mid Blue" ], "36 Long": [ "Dark Blue", "Light Grey", "Mid Blue" ], "41 Long": ["Dark Blue"], "40 Long": [ "Dark Blue", "Mid Blue" ], "35 Regular": [ "Dark Blue", "Mid Blue" ], "40 Short": [ "Dark Blue", "Light Grey", "Mid Blue" ] } }

[ { "name": "Traveler Collection Slim Fit Sharkskin Suit Separate Jacket", "partNumber": "JAB_3FT0", "quantity": 1, "price": "189.0", "category": "Special Categories\/Top 10 Men's Clothing", "brand": "Jos. A. Bank", "promo": "" } , { "name": "Traveler Collection Slim Fit Flat Front Sharkskin Suit Separate Pants", "partNumber": "JAB_3FT4", "quantity": 1, "price": "90.0", "category": "Special Categories\/Top 10 Men's Clothing", "brand": "Jos. A. Bank", "promo": "" } , { "name": "Traveler Collection Slim Fit Solid Suit Separate Vest", "partNumber": "JAB_3FT3", "quantity": 1, "price": "60.0", "category": "Special Categories\/Top 10 Men's Clothing", "brand": "Jos. A. Bank", "promo": "" } ]

{ "id" : "998609634", "productName" : "Traveler Collection Slim Fit Sharkskin Suit", "productItem" : "BUNDLE_3FT0", "productDescription" : "<p>Suit separates let you choose jacket, pants, and vest sizes separately for an ideal fit. Create your own tailored look with these pieces from the Traveler Collection. Our Traveler Collection suit separates feature wrinkle, water, and stain resistant farbic for easy wear and care.<\/p>\n\n<p><strong>Jacket:<\/strong><br \/>\nSlim Fit. Two-button jacket with notch lapel. Side vents. Flap pockets.<\/p>\n\n<p><strong>Pants:<\/strong><br \/>\nSlim Fit. Flat front. Extended waistband. Half-lined to the knee. Unfinished bottoms for altering ease.&nbsp;<\/p>\n\n<p><strong>Vest:&nbsp;<\/strong><br \/>\nFive-button vest.&nbsp;<\/p>\n\n<p>100% wool. Dry clean only. Imported.&nbsp;<\/p>", "promoDescription" : "", "productUrl" : "http://www.circleoftrusttherapy.com/p/traveler-collection-slim-fit-sharkskin-suit-BUNDLE3FT0", "productImageUrl" : "https://images.josbank.com/is/image/JosBank/3FT0_04_TRAVELER_LIGHT_GREY_MAIN?$browse_thumbnail$", "productImageFullSize" : "https://images.josbank.com/is/image/JosBank/3FT0_04_TRAVELER_LIGHT_GREY_MAIN?$browse_thumbnail$", "price" : "$339.00", "regPrice" : "", "salePrice" : "", "label": "none", "category" : "", "subcategory": "", "stock": 1, "dimension53" : "Yes" }

{ "998609635" : { "37 Regular": ["Blue"], "42 Short": ["Blue"], "44 Long": ["Blue"], "39 Long": ["Blue"], "42 Long": ["Blue"], "36 Regular": ["Blue"], "39 Regular": ["Blue"], "42 Regular": ["Blue"], "38 Long": ["Blue"], "44 Short": ["Blue"], "46 Regular": ["Blue"], "46 Long": ["Blue"], "41 Regular": ["Blue"], "36 Short": ["Blue"], "43 Regular": ["Blue"], "36 Long": ["Blue"], "37 Short": ["Blue"], "41 Long": ["Blue"], "38 Short": ["Blue"], "40 Regular": ["Blue"], "44 Regular": ["Blue"], "38 Regular": ["Blue"], "40 Short": ["Blue"] } }

[ { "name": "Travel Tech Slim Fit Micro Stripe Suit Separate Jacket", "partNumber": "JAB_38P4", "quantity": 1, "price": "189.0", "category": "Suits\/Travel Tech Suits", "brand": "Jos. A. Bank", "promo": "" } , { "name": "Travel Tech Slim Fit Micro Stripe Flat Front Suit Separate Pants", "partNumber": "JAB_38P8", "quantity": 1, "price": "90.0", "category": "Suits\/Travel Tech Suits", "brand": "Jos. A. Bank", "promo": "" } ]

{ "id" : "998609635", "productName" : "Travel Tech Collection Slim Fit Micro Stripe Suit", "productItem" : "BUNDLE_38P4", "productDescription" : "<p>Suit separates let you choose jacket, pants, and vest sizes separately for an ideal fit. Create your own tailored look with these pieces from the Travel Tech Collection. Our Travel Tech suit separate set features fabric that maintains the optimum microclimate for your body for optimum comfort. Removes moisture at the vapor stage before sweat can form. Acts like a thermostat by removing moisture when you are hot and retaining warmth when cold. Absorbs and traps odor molecules that are washed away when cleaned. Built-in fabric technology that doesn&#39;t wash out.&nbsp;Stretch mesh fabric integrated throughout for maximum mobility.<\/p>\n\n<p><strong>Jacket:<\/strong><br \/>\nSlim Fit. Two button, side vents, notch lapel. Performance stretch lining. Zippered utility pockets are strategically placed inside jackets and pants.&nbsp;<\/p>\n\n<p><strong>Pants:<\/strong><br \/>\nSlim Fit. Flat front. Trouser waist band has 37.5 Mesh lining to achieve flexible stretch comfort.&nbsp;<\/p>\n\n<p>71% wool, 25% 37.5 polyester, 4% spandex. Dry clean. Imported.<\/p>", "promoDescription" : "", "productUrl" : "http://www.circleoftrusttherapy.com/p/travel-tech-collection-slim-fit-micro-stripe-suit", "productImageUrl" : "https://images.josbank.com/is/image/JosBank/38P4_70_TRAVELER_BLUE_MAIN?$browse_thumbnail$", "productImageFullSize" : "https://images.josbank.com/is/image/JosBank/38P4_70_TRAVELER_BLUE_MAIN?$browse_thumbnail$", "price" : "$279.00", "regPrice" : "", "salePrice" : "", "label": "none", "category" : "", "subcategory": "", "stock": 1, "dimension53" : "Yes" }

{ "998609636" : { "37 Regular": ["Cambridge Grey"], "42 Short": ["Cambridge Grey"], "44 Long": ["Cambridge Grey"], "39 Long": ["Cambridge Grey"], "42 Long": ["Cambridge Grey"], "42 Regular": ["Cambridge Grey"], "44 Short": ["Cambridge Grey"], "46 Regular": ["Cambridge Grey"], "46 Long": ["Cambridge Grey"], "36 Short": ["Cambridge Grey"], "41 Regular": ["Cambridge Grey"], "43 Regular": ["Cambridge Grey"], "36 Long": ["Cambridge Grey"], "37 Short": ["Cambridge Grey"], "38 Short": ["Cambridge Grey"], "40 Regular": ["Cambridge Grey"], "41 Long": ["Cambridge Grey"], "44 Regular": ["Cambridge Grey"], "40 Long": ["Cambridge Grey"], "43 Long": ["Cambridge Grey"], "40 Short": ["Cambridge Grey"] } }

[ { "name": "Traveler Collection Slim Fit Micro Check Suit Separate Jacket", "partNumber": "JAB_38R1", "quantity": 1, "price": "189.0", "category": "Suits\/All Suits & Suit Separates", "brand": "Jos. A. Bank", "promo": "" } , { "name": "Traveler Collection Slim Fit Micro Check Suit Separate Pants", "partNumber": "JAB_38R3", "quantity": 1, "price": "90.0", "category": "Suits\/All Suits & Suit Separates", "brand": "Jos. A. Bank", "promo": "" } ]

{ "id" : "998609636", "productName" : "Traveler Collection Slim Fit Micro Check Suit", "productItem" : "BUNDLE_38R1", "productDescription" : "<p>Suit separates let you choose jacket, pants, and vest sizes separately for an ideal fit. Create your own tailored look with these pieces from the Traveler Collection. Our Traveler Collection suit separates feature wrinkle, water, and stain resistant farbic for easy wear and care.<\/p>\n\n<p><strong>Jacket:<\/strong><br \/>\nSlim Fit. Two-button jacket with notch lapel. Side vents. Flap pockets. Five interior pockets. Solid-colored polyester lining with stretch for added comfort. No canvas chest piece - garment uses modern fusing technology.&nbsp;<\/p>\n\n<p><strong>Pants:<\/strong><br \/>\nComfort stretch waistband. Slim Fit. Flat front, half lined to knee. Unfinished hem for alteration ease. Button-through back besom pocket.<\/p>\n\n<p>100% wool. Dry clean only.&nbsp; Imported.&nbsp;<\/p>", "promoDescription" : "", "productUrl" : "http://www.circleoftrusttherapy.com/p/traveler-collection-slim-fit-micro-check-suit", "productImageUrl" : "https://images.josbank.com/is/image/JosBank/38R1_07_TRAVELER_CAMBRIDGE_GREY_MAIN?$browse_thumbnail$", "productImageFullSize" : "https://images.josbank.com/is/image/JosBank/38R1_07_TRAVELER_CAMBRIDGE_GREY_MAIN?$browse_thumbnail$", "price" : "$279.00", "regPrice" : "", "salePrice" : "", "label": "none", "category" : "", "subcategory": "", "stock": 1, "dimension53" : "Yes" }

{ "998609641" : { "37 Regular": ["Bright Blue"], "42 Short": ["Bright Blue"], "44 Long": ["Bright Blue"], "39 Long": ["Bright Blue"], "42 Long": ["Bright Blue"], "39 Regular": ["Bright Blue"], "42 Regular": ["Bright Blue"], "44 Short": ["Bright Blue"], "46 Regular": ["Bright Blue"], "46 Long": ["Bright Blue"], "36 Short": ["Bright Blue"], "41 Regular": ["Bright Blue"], "43 Regular": ["Bright Blue"], "36 Long": ["Bright Blue"], "37 Short": ["Bright Blue"], "38 Short": ["Bright Blue"], "40 Regular": ["Bright Blue"], "44 Regular": ["Bright Blue"], "40 Long": ["Bright Blue"], "38 Regular": ["Bright Blue"], "40 Short": ["Bright Blue"] } }

[ { "name": "Traveler Collection Slim Fit Mini Check Suit Separate Jacket", "partNumber": "JAB_38KX", "quantity": 1, "price": "189.0", "category": "Suits\/All Suits & Suit Separates", "brand": "Jos. A. Bank", "promo": "" } , { "name": "Traveler Collection Slim Fit Mini Check Suit Separate Pants", "partNumber": "JAB_38MA", "quantity": 1, "price": "90.0", "category": "Suits\/All Suits & Suit Separates", "brand": "Jos. A. Bank", "promo": "" } ]

{ "id" : "998609641", "productName" : "Traveler Collection Slim Fit Mini Check Suit", "productItem" : "BUNDLE_38KX", "productDescription" : "", "promoDescription" : "", "productUrl" : "http://www.circleoftrusttherapy.com/p/traveler-collection-slim-fit-mini-check-suit-BUNDLE38KX", "productImageUrl" : "https://images.josbank.com/is/image/JosBank/38KX_73_TRAVELER_BRIGHT_BLUE_MAIN?$browse_thumbnail$", "productImageFullSize" : "https://images.josbank.com/is/image/JosBank/38KX_73_TRAVELER_BRIGHT_BLUE_MAIN?$browse_thumbnail$", "price" : "$279.00", "regPrice" : "", "salePrice" : "", "label": "none", "category" : "", "subcategory": "", "stock": 1, "dimension53" : "Yes" }

{ "999033100" : { "42 Short": ["Bright Blue"], "44 Long": ["Bright Blue"], "46 Short": ["Bright Blue"], "42 Long": ["Bright Blue"], "39 Regular": ["Bright Blue"], "38 Long": ["Bright Blue"], "42 Regular": ["Bright Blue"], "44 Short": ["Bright Blue"], "46 Regular": ["Bright Blue"], "46 Long": ["Bright Blue"], "36 Short": ["Bright Blue"], "41 Regular": ["Bright Blue"], "43 Regular": ["Bright Blue"], "38 Short": ["Bright Blue"], "40 Regular": ["Bright Blue"], "41 Long": ["Bright Blue"], "44 Regular": ["Bright Blue"], "40 Long": ["Bright Blue"], "43 Long": ["Bright Blue"], "38 Regular": ["Bright Blue"], "40 Short": ["Bright Blue"] } }

[ { "name": "Travel Tech Slim Fit Suit Separate Jacket", "partNumber": "JAB_3RYU", "quantity": 1, "price": "189.0", "category": "Suits\/Travel Tech Suits", "brand": "Jos. A. Bank", "promo": "" } , { "name": "Travel Tech Slim Fit Suit Separate Pants", "partNumber": "JAB_3RYW", "quantity": 1, "price": "90.0", "category": "Suits\/Travel Tech Suits", "brand": "Jos. A. Bank", "promo": "" } ]

{ "id" : "999033100", "productName" : "Travel Tech Slim Fit Suit", "productItem" : "BUNDLE_3RYU", "productDescription" : "Suit separates let you choose jacket, pants, and vest sizes separately for an ideal fit. Create your own tailored look with these pieces from the Travel Tech Collection. Our Travel Tech Collection suit separates feature natural stretch fabric that can maintain comfortable temperatures. Named 37.5, it removes moisture at the vapor stage before sweat can form. 37.5 acts like a thermostat by removing moisture when you are hot and retaining warmth when you are cold, asorbs and traps odor molecules that are washed away when cleaned. Stretch mesh fabric integrated throughout in the suit jacket, vest and pants ensures maximum mobility. Performance stretch lining. Stretch mesh fabric integrated throughout.&nbsp;<\/p>\n\n<p>Jacket:<br \/>\nThis slim-fit suit jacket is water and stain resistant. The inner construction of the jacket including the chest piece, shoulder pad, and sleeve head are all breathable to amplify the features and benefits of 37.5 technologies. Zippered utility pockets are strategically placed inside jackets and pants. Rubberized buttons complement the tech attitude and feeling of Travel Tech.&nbsp;<\/p>\n\n<p>Pants:<br \/>\nZippered interior utility pockets. Stretch mesh fabric. Rubberized buttons complement the tech attitude and feeling of Travel Tech. Trouser waist band has 37.5 mesh lining to achieve flexible stretch comfort.<\/p>\n\n<p>71% wool 25% 37.5 polyester 4% spandex. Dry clean only. Imported.<\/p>", "promoDescription" : "", "productUrl" : "http://www.circleoftrusttherapy.com/p/travel-tech-slim-fit-suit", "productImageUrl" : "https://images.josbank.com/is/image/JosBank/3RYU_73_TRAVELER_BRIGHT_BLUE_MAIN?$browse_thumbnail$", "productImageFullSize" : "https://images.josbank.com/is/image/JosBank/3RYU_73_TRAVELER_BRIGHT_BLUE_MAIN?$browse_thumbnail$", "price" : "$279.00", "regPrice" : "", "salePrice" : "", "label": "none", "category" : "", "subcategory": "", "stock": 1, "dimension53" : "Yes" }

{ "998924100" : { "42 Short": ["Navy"], "44 Long": ["Navy"], "46 Short": ["Navy"], "42 Long": ["Navy"], "36 Regular": ["Navy"], "39 Regular": ["Navy"], "42 Regular": ["Navy"], "38 Long": ["Navy"], "44 Short": ["Navy"], "46 Regular": ["Navy"], "46 Long": ["Navy"], "36 Short": ["Navy"], "41 Regular": ["Navy"], "43 Regular": ["Navy"], "38 Short": ["Navy"], "40 Regular": ["Navy"], "41 Long": ["Navy"], "44 Regular": ["Navy"], "40 Long": ["Navy"], "43 Long": ["Navy"], "38 Regular": ["Navy"], "40 Short": ["Navy"] } }

[ { "name": "Travel Tech Collection Mini Box Weave Slim Fit Suit Separate Jacket", "partNumber": "JAB_3RYJ", "quantity": 1, "price": "189.0", "category": "Suits\/Travel Tech Suits", "brand": "Jos. A. Bank", "promo": "" } , { "name": "Travel Tech Collection Mini Box Weave Slim Fit Suit Separate Pants", "partNumber": "JAB_3RYL", "quantity": 1, "price": "90.0", "category": "Suits\/Travel Tech Suits", "brand": "Jos. A. Bank", "promo": "" } ]

{ "id" : "998924100", "productName" : "Travel Tech Collection Mini Box Weave Slim Fit Suit", "productItem" : "BUNDLE_3RYJ", "productDescription" : "Suit separates let you choose jacket, pants, and vest sizes separately for an ideal fit. Create your own tailored look with these pieces from the Travel Tech Collection. Our Travel Tech Collection suit separates feature fabric that can maintain comfortable temperatures. Named 37.5, it removes moisture at the vapor stage before sweat can form. 37.5 acts like a thermostat by removing moisture when you are hot and retaining warmth when you are cold, asorbs and traps odor molecules that are washed away when cleaned.<\/p>\n\n<p>Jacket:<br \/>\nThis slim-fit suit jacket features a unique fabric technology that maintains the optimum microclimate for your body. The fully lined jacket has a notch lapel, two-button closure, flap-front pockets and four interior pockets (two zippered).<\/p>\n\n<p>Pants:<br \/>\nThese slim-fit suit pants feature a unique fabric technology that maintains the optimum microclimate for your body. The flat-front pants are half-lined to the knee and are unhemmed for tailoring.&nbsp;<\/p>\n\n<p>71% wool, 25% 37.5 polyester, 4% spandex. Dry clean only. Imported.<\/p>", "promoDescription" : "", "productUrl" : "http://www.circleoftrusttherapy.com/p/travel-tech-collection-mini-box-weave-slim-fit-suit", "productImageUrl" : "https://images.josbank.com/is/image/JosBank/3RYJ_75_TRAVELER_NAVY_MAIN?$browse_thumbnail$", "productImageFullSize" : "https://images.josbank.com/is/image/JosBank/3RYJ_75_TRAVELER_NAVY_MAIN?$browse_thumbnail$", "price" : "$279.00", "regPrice" : "", "salePrice" : "", "label": "none", "category" : "", "subcategory": "", "stock": 1, "dimension53" : "Yes" }

{ "999005601" : { "42 Short": ["Black/White"], "44 Long": ["Black/White"], "46 Short": ["Black/White"], "42 Long": ["Black/White"], "36 Regular": ["Black/White"], "39 Regular": ["Black/White"], "42 Regular": ["Black/White"], "38 Long": ["Black/White"], "44 Short": ["Black/White"], "46 Regular": ["Black/White"], "46 Long": ["Black/White"], "36 Short": ["Black/White"], "41 Regular": ["Black/White"], "43 Regular": ["Black/White"], "38 Short": ["Black/White"], "40 Regular": ["Black/White"], "41 Long": ["Black/White"], "44 Regular": ["Black/White"], "40 Long": ["Black/White"], "43 Long": ["Black/White"], "38 Regular": ["Black/White"], "40 Short": ["Black/White"] } }

[ { "name": "Travel Tech Slim Fit Mini Check Suit Separate Jacket", "partNumber": "JAB_3RYN", "quantity": 1, "price": "189.0", "category": "Suits\/Travel Tech Suits", "brand": "Jos. A. Bank", "promo": "" } , { "name": "Travel Tech Slim Fit Mini Check Suit Separate Pants", "partNumber": "JAB_3RYR", "quantity": 1, "price": "90.0", "category": "Suits\/Travel Tech Suits", "brand": "Jos. A. Bank", "promo": "" } ]

{ "id" : "999005601", "productName" : "Travel Tech Slim Fit Mini Check Suit", "productItem" : "BUNDLE_3RYN", "productDescription" : "<p>Suit separates let you choose jacket, pants, and vest sizes separately for an ideal fit. Create your own tailored look with these pieces from the Travel Tech Collection. Our Travel Tech Collection suit separates feature fabric that can maintain comfortable temperatures. Named 37.5, it removes moisture at the vapor stage before sweat can form. 37.5 acts like a thermostat by removing moisture when you are hot and retaining warmth when you are cold, asorbs and traps odor molecules that are washed away when cleaned. Stretch mesh fabric integrated throughout in the suit jacket, vest and pants ensures maximum mobility.&nbsp;<\/p>\n\n<p>Jacket:<br \/>\nThis slim-fit suit jacket features natural stretch fabric. Water and stain resistant. Performance stretch lining. The inner construction of the jacket including the chest piece, shoulder pad, and sleeve head are all breathable to amplify the features and benefits of 37.5 technologies. Zippered utility pockets are strategically placed inside. Rubberized buttons complement the tech attitude and feeling of Travel Tech.&nbsp;<\/p>\n\n<p>Pants:<br \/>\nThese slim-fit suit pants feature a unique fabric technology that maintains the optimum microclimate for your body. Zippered interior utility pockets. Stretch mesh fabric. The flat-front pants are half-lined to the knee and are unhemmed for tailoring.&nbsp;<\/p>\n\n<p>72% wool 25% 37.5 polyester 3% spandex. Dry clean only. Imported.<\/p>", "promoDescription" : "", "productUrl" : "http://www.circleoftrusttherapy.com/p/travel-tech-slim-fit-mini-check-suit-BUNDLE3RYN", "productImageUrl" : "https://images.josbank.com/is/image/JosBank/3RYN_02_TRAVELER_BLACK_WHITE_MAIN?$browse_thumbnail$", "productImageFullSize" : "https://images.josbank.com/is/image/JosBank/3RYN_02_TRAVELER_BLACK_WHITE_MAIN?$browse_thumbnail$", "price" : "$279.00", "regPrice" : "", "salePrice" : "", "label": "none", "category" : "", "subcategory": "", "stock": 1, "dimension53" : "Yes" }

{ "998609638" : { "37 Regular": [ "Black", "French Blue", "Graphite" ], "35 Short": ["French Blue"], "42 Long": ["French Blue"], "36 Regular": [ "Black", "French Blue", "Graphite" ], "38 Long": [ "Black", "French Blue" ], "42 Regular": [ "Black", "French Blue", "Graphite" ], "41 Regular": [ "Black", "Graphite" ], "43 Regular": [ "Black", "French Blue", "Graphite" ], "38 Short": [ "Black", "French Blue", "Graphite" ], "40 Regular": [ "Black", "French Blue", "Graphite" ], "44 Regular": [ "Black", "French Blue", "Graphite" ], "43 Long": ["Black"], "38 Regular": [ "Black", "French Blue", "Graphite" ], "42 Short": [ "Black", "French Blue", "Graphite" ], "44 Long": [ "Black", "French Blue", "Graphite" ], "39 Long": [ "Black", "French Blue", "Graphite" ], "46 Short": [ "Black", "French Blue", "Graphite" ], "39 Regular": [ "Black", "French Blue", "Graphite" ], "44 Short": [ "Black", "French Blue", "Graphite" ], "46 Regular": [ "Black", "French Blue", "Graphite" ], "46 Long": [ "Black", "French Blue", "Graphite" ], "36 Short": [ "Black", "French Blue", "Graphite" ], "37 Short": [ "Black", "French Blue", "Graphite" ], "36 Long": [ "Black", "French Blue", "Graphite" ], "41 Long": [ "Black", "French Blue", "Graphite" ], "40 Long": [ "Black", "Graphite" ], "35 Regular": ["French Blue"], "40 Short": [ "Black", "French Blue", "Graphite" ] } }

[ { "name": "Travel Tech Slim Fit Suit Separate Jacket", "partNumber": "JAB_38KP", "quantity": 1, "price": "189.0", "category": "Featured\/Ready for Anything", "brand": "Jos. A. Bank", "promo": "" } , { "name": "Travel Tech Slim Fit Suit Separate Pants", "partNumber": "JAB_38KT", "quantity": 1, "price": "90.0", "category": "Featured\/Ready for Anything", "brand": "Jos. A. Bank", "promo": "" } , { "name": "Travel Tech Collection Slim Fit Suit Separate Vest", "partNumber": "JAB_38KV", "quantity": 1, "price": "60.0", "category": "Suits\/Travel Tech Suits", "brand": "Jos. A. Bank", "promo": "" } ]

{ "id" : "998609638", "productName" : "Travel Tech Collection Slim Fit Suit", "productItem" : "BUNDLE_38KP", "productDescription" : "<p>Suit separates let you choose jacket, pants, and vest sizes separately for an ideal fit. Create your own tailored look with these pieces from the Travel Tech Collection. Our Travel Tech suit separate set features fabric that maintains the optimum microclimate for your body for optimum comfort. Removes moisture at the vapor stage before sweat can form. Acts like a thermostat by removing moisture when you are hot and retaining warmth when cold. Absorbs and traps odor molecules that are washed away when cleaned. Built-in fabric technology that doesn&#39;t wash out.&nbsp;Stretch mesh fabric integrated throughout for maximum mobility.<\/p>\n\n<p><strong>Jacket:<\/strong><br \/>\nSlim Fit. Two button, side vents, notch lapel. Performance stretch lining. Zippered utility pockets are strategically placed inside jackets and pants.&nbsp;<\/p>\n\n<p><strong>Pants:<\/strong><br \/>\nSlim Fit. Flat front. Trouser waist band has 37.5 Mesh lining to achieve flexible stretch comfort.&nbsp;<\/p>\n\n<p><strong>Vest:<\/strong>&nbsp;<br \/>\nFive-button vest. Rubberized buttons complement the tech attitude and feeling of Travel Tech.<\/p>\n\n<p>71% wool, 25% 37.5 polyester, 4% spandex. Dry clean. Imported.<\/p>", "promoDescription" : "", "productUrl" : "http://www.circleoftrusttherapy.com/p/travel-tech-collection-slim-fit-suit", "productImageUrl" : "https://images.josbank.com/is/image/JosBank/38KP_74_TRAVELER_FRENCH_BLUE_MAIN?$browse_thumbnail$", "productImageFullSize" : "https://images.josbank.com/is/image/JosBank/38KP_74_TRAVELER_FRENCH_BLUE_MAIN?$browse_thumbnail$", "price" : "", "regPrice" : "$339.00", "salePrice" : "$189.00", "label": "sale", "category" : "", "subcategory": "", "stock": 1, "dimension53" : "Yes" }

{ "998609637" : { "37 Regular": ["Grey"], "42 Short": [ "Black", "Bright Navy" ], "44 Long": [ "Bright Navy", "Grey" ], "35 Short": ["Black"], "42 Long": ["Bright Navy"], "39 Regular": [ "Bright Navy", "Grey" ], "42 Regular": [ "Black", "Grey" ], "38 Long": ["Bright Navy"], "44 Short": ["Black"], "46 Regular": [ "Black", "Grey", "Navy" ], "46 Long": [ "Bright Navy", "Navy" ], "36 Short": ["Bright Navy"], "41 Regular": [ "Bright Navy", "Grey" ], "43 Regular": ["Navy"], "36 Long": [ "Black", "Grey" ], "37 Short": ["Grey"], "41 Long": [ "Black", "Bright Navy" ], "44 Regular": [ "Black", "Grey", "Navy" ], "43 Long": ["Bright Navy"], "38 Regular": ["Bright Navy"], "40 Short": [ "Black", "Bright Navy", "Navy" ] } }

[ { "name": "Traveler Collection Tailored Fit Suit Separate Jacket", "partNumber": "JAB_33RH", "quantity": 1, "price": "189.0", "category": "Special Categories\/Top 10 Men's Clothing", "brand": "Jos. A. Bank", "promo": "" } , { "name": "Traveler Collection Tailored Fit Suit Separate Pants", "partNumber": "JAB_33RL", "quantity": 1, "price": "90.0", "category": "Special Categories\/Top 10 Men's Clothing", "brand": "Jos. A. Bank", "promo": "" } , { "name": "Traveler Collection Tailored Fit Solid Suit Separates Vest", "partNumber": "JAB_344Y", "quantity": 1, "price": "60.0", "category": "Suits\/All Suits & Suit Separates", "brand": "Jos. A. Bank", "promo": "" } ]

{ "id" : "998609637", "productName" : "Traveler Collection Tailored Fit Suit", "productItem" : "BUNDLE_33RH", "productDescription" : "<p>Suit separates let you choose jacket, pants, and vest sizes separately for an ideal fit. Create your own tailored look with these pieces from the Traveler Collection. Our Traveler Collection suit separates feature wrinkle, water, and stain resistant farbic for easy wear and care.<\/p>\n\n<p><strong>Jacket:<\/strong><br \/>\nThis fine, tailored fit suit coat features classic notch lapel styling in fine wool. Two-button jacket with side vents.<\/p>\n\n<p><strong>Pants:<\/strong><br \/>\nTailored Fit. Flat front, half lined to knee. Unfinished hem for alteration ease.&nbsp;<\/p>\n\n<p>100% wool. Dry clean only. Imported.<\/p>", "promoDescription" : "", "productUrl" : "http://www.circleoftrusttherapy.com/p/traveler-collection-tailored-fit-suit-BUNDLE33RH", "productImageUrl" : "https://images.josbank.com/is/image/JosBank/33RH_01_TRAVELER_BLACK_MAIN?$browse_thumbnail$", "productImageFullSize" : "https://images.josbank.com/is/image/JosBank/33RH_01_TRAVELER_BLACK_MAIN?$browse_thumbnail$", "price" : "", "regPrice" : "$339.00", "salePrice" : "$189.00", "label": "sale", "category" : "", "subcategory": "", "stock": 1, "dimension53" : "Yes" }

{ "450007747" : { "42 Short": [ "Bright Navy", "Mid Grey" ], "44 Long": [ "Bright Navy", "Grey", "Mid Grey" ], "46 Short": [ "Bright Navy", "Mid Grey" ], "42 Long": [ "Bright Navy", "Grey", "Mid Grey" ], "39 Regular": [ "Bright Navy", "Grey", "Mid Grey" ], "42 Regular": [ "Bright Navy", "Mid Grey" ], "44 Short": [ "Bright Navy", "Mid Grey" ], "46 Regular": ["Mid Grey"], "46 Long": [ "Bright Navy", "Mid Grey" ], "41 Regular": [ "Bright Navy", "Mid Grey" ], "43 Regular": [ "Bright Navy", "Mid Grey" ], "38 Short": ["Mid Grey"], "40 Regular": [ "Bright Navy", "Grey", "Mid Grey" ], "41 Long": [ "Bright Navy", "Grey", "Mid Grey" ], "44 Regular": [ "Bright Navy", "Mid Grey" ], "40 Long": [ "Bright Navy", "Grey" ], "43 Long": [ "Bright Navy", "Mid Grey" ], "38 Regular": ["Mid Grey"], "44x33": ["Bright Navy"], "40 Short": ["Mid Grey"] } }

{ "id" : "450007747", "productName" : "Signature Collection Traditional Fit Suit Separates Jacket", "productItem" : "3JD8", "productDescription" : "Suit separates allow you to choose pant and jacket sizes separately for an ideal fit. This fine wool jacket is styled with a notch lapel, two button closure and side vents. Interior pockets. Fully lined. 100% wool. Dry clean only. Imported.\nMatching Flat Front Pants: #3JE4\nMatching Pleated Front Pants: #3JE9", "promoDescription" : "", "productUrl" : "http://www.circleoftrusttherapy.com/p/signature-collection-traditional-fit-suit-separates-jacket-3JD8", "productImageUrl" : "https://images.josbank.com/is/image/JosBank/3JD8_76_SIGNATURE_BRIGHT_NAVY_MAIN?$browse_thumbnail$", "productImageFullSize" : "https://images.josbank.com/is/image/JosBank/3JD8_76_SIGNATURE_BRIGHT_NAVY_MAIN?$browse_thumbnail$", "price" : "$119.00", "regPrice" : "", "salePrice" : "", "label": "none", "category" : "Suits", "subcategory": "Signature Suits", "stock": 1, "dimension53" : "No" }

{ "451047805" : { "Medium": [ "Bright Navy", "Dark Grey", "Grey" ], "X Large": [ "Bright Navy", "Dark Grey", "Grey" ], "Large": [ "Bright Navy", "Dark Grey", "Grey" ], "XX Large": [ "Bright Navy", "Dark Grey", "Grey" ], "Small": [ "Bright Navy", "Dark Grey", "Grey" ] } }

{ "id" : "451047805", "productName" : "Signature Collection Traditional Fit Solid Suit Separate Vest", "productItem" : "33RY", "productDescription" : "Suit separates allow you to choose pant, jacket, and vest sizes separately for an ideal fit. This fine wool vest features a five-button front, adjustable back belt, and two front slash pockets. Traditional Fit. 100% wool. Dry clean only. Imported.<br><br>Matching Jacket: #3JD8<br>Matching Pants: Plain Front #3JE4<br>Matching Pants: Pleat Front #3JE9", "promoDescription" : "", "productUrl" : "http://www.circleoftrusttherapy.com/p/signature-collection-traditional-fit-solid-suit-separate-vest", "productImageUrl" : "https://images.josbank.com/is/image/JosBank/33RY_05_SIGNATURE_DARK_GREY_MAIN?$browse_thumbnail$", "productImageFullSize" : "https://images.josbank.com/is/image/JosBank/33RY_05_SIGNATURE_DARK_GREY_MAIN?$browse_thumbnail$", "price" : "$60.00", "regPrice" : "", "salePrice" : "", "label": "none", "category" : "Suits", "subcategory": "Signature Suits", "stock": 1, "dimension53" : "No" }

{ "450007778" : { "37 Regular": [ "Bright Navy", "Mid Grey" ], "56 Long": ["Mid Grey"], "42 Short": [ "Bright Navy", "Mid Grey" ], "31 Regular": ["Bright Navy"], "42 Long": ["Mid Grey"], "32 Regular": [ "Bright Navy", "Mid Grey" ], "30 Regular": ["Bright Navy"], "36 Regular": [ "Bright Navy", "Mid Grey" ], "33 Regular": [ "Bright Navy", "Mid Grey" ], "42 Regular": ["Mid Grey"], "38 Long": [ "Bright Navy", "Mid Grey" ], "34 Regular": [ "Bright Navy", "Mid Grey" ], "36 Short": [ "Bright Navy", "Mid Grey" ], "29 Regular": ["Bright Navy"], "36 Long": [ "Bright Navy", "Mid Grey" ], "40 Regular": [ "Bright Navy", "Mid Grey" ], "38 Short": [ "Bright Navy", "Mid Grey" ], "40 Long": [ "Bright Navy", "Mid Grey" ], "35 Regular": [ "Bright Navy", "Mid Grey" ], "38 Regular": [ "Bright Navy", "Mid Grey" ], "40 Short": [ "Bright Navy", "Mid Grey" ] } }

{ "id" : "450007778", "productName" : "Signature Collection Traditional Fit Suit Separates Pants", "productItem" : "3JE9", "productDescription" : "These Signature Collection slacks are finely tailored from premium superfine merino wool with a light hand and fine drape. Extended waistband. Half-lined to the knee. Premium cotton pocketing. Unfinished hems for altering ease. Pleated front. 100% wool. Dry clean only. Imported.<br>Matching Jacket: #3JD8<br>Matching Flat Front Pants: #3JE4<br>Matching Vest: #3JE9", "promoDescription" : "", "productUrl" : "http://www.circleoftrusttherapy.com/p/signature-collection-traditional-fit-suit-separates-pants-3JE9", "productImageUrl" : "https://images.josbank.com/is/image/JosBank/3P89_04_CUSTOM_EXPRESS_SIGNATURE_GREY_MAIN?$browse_thumbnail$", "productImageFullSize" : "https://images.josbank.com/is/image/JosBank/3P89_04_CUSTOM_EXPRESS_SIGNATURE_GREY_MAIN?$browse_thumbnail$", "price" : "$80.00", "regPrice" : "", "salePrice" : "", "label": "none", "category" : "Suits", "subcategory": "Signature Suits", "stock": 1, "dimension53" : "No" }

{ "450007773" : { "37 Regular": [ "Bright Navy", "Grey" ], "42 Short": [ "Bright Navy", "Grey" ], "42 Long": [ "Bright Navy", "Grey" ], "32 Regular": [ "Bright Navy", "Grey" ], "34 Long": ["Grey"], "36 Regular": [ "Bright Navy", "Grey" ], "33 Regular": [ "Bright Navy", "Grey" ], "42 Regular": [ "Bright Navy", "Grey" ], "38 Long": [ "Bright Navy", "Grey" ], "34 Regular": [ "Bright Navy", "Grey" ], "36 Short": [ "Bright Navy", "Grey" ], "32 Short": ["Grey"], "36 Long": [ "Bright Navy", "Grey" ], "40 Regular": [ "Bright Navy", "Grey" ], "38 Short": [ "Bright Navy", "Grey" ], "40 Long": ["Grey"], "34 Short": ["Grey"], "35 Regular": [ "Bright Navy", "Grey" ], "38 Regular": [ "Bright Navy", "Grey" ], "40 Short": [ "Bright Navy", "Grey" ] } }

{ "id" : "450007773", "productName" : "Signature Collection Traditional Fit Suit Separates Plain Front Pants", "productItem" : "3JE4", "productDescription" : "Plain front pant. Waistband pant grippers with cotton pouch pockets. Half-lined to the knee. Unfinished hems for altering ease. Imported. 100% wool. Dry clean.<br>Matching Jacket: #3JD8<br>Matching Pleat-Front Pants: #3JE9<br>Matching Vest: #33RY", "promoDescription" : "", "productUrl" : "http://www.circleoftrusttherapy.com/p/signature-collection-traditional-fit-suit-separates-plain-front-pants", "productImageUrl" : "https://images.josbank.com/is/image/JosBank/3JE4_03_SIGNATURE_GREY_MAIN?$browse_thumbnail$", "productImageFullSize" : "https://images.josbank.com/is/image/JosBank/3JE4_03_SIGNATURE_GREY_MAIN?$browse_thumbnail$", "price" : "$80.00", "regPrice" : "", "salePrice" : "", "label": "none", "category" : "Suits", "subcategory": "Signature Suits", "stock": 1, "dimension53" : "No" }

{ "451103958" : { "37 Regular": [ "Black", "Mid Grey", "Navy" ], "42 Short": [ "Black", "Mid Grey" ], "44 Long": ["Black"], "39 Long": ["Mid Grey"], "46 Short": [ "Black", "Mid Grey", "Navy" ], "42 Long": ["Black"], "36 Regular": [ "Black", "Mid Grey", "Navy" ], "39 Regular": [ "Black", "Mid Grey", "Navy" ], "42 Regular": [ "Black", "Mid Grey" ], "38 Long": ["Mid Grey"], "44 Short": [ "Black", "Mid Grey" ], "46 Regular": [ "Black", "Mid Grey", "Navy" ], "46 Long": [ "Black", "Mid Grey" ], "41 Regular": ["Mid Grey"], "36 Short": [ "Black", "Mid Grey", "Navy" ], "43 Regular": [ "Black", "Mid Grey", "Navy" ], "36 Long": [ "Black", "Navy" ], "37 Short": [ "Black", "Mid Grey" ], "41 Long": ["Black"], "38 Short": [ "Black", "Mid Grey", "Navy" ], "40 Regular": [ "Black", "Mid Grey", "Navy" ], "44 Regular": [ "Black", "Mid Grey", "Navy" ], "40 Long": ["Mid Grey"], "43 Long": ["Black"], "38 Regular": [ "Black", "Mid Grey" ], "40 Short": [ "Black", "Mid Grey" ] } }

{ "id" : "451103958", "productName" : "1905 Collection Tailored Fit Textured Suit Separate Jacket", "productItem" : "343Y", "productDescription" : "The 1905 Collection from Jos.A.Banks features styles with vintage details that take a modern approach. This Tailored Fit suit separates coat is fully lined with scalloped facings and contrast details. Two-button closure, side vents, notch lapels. Soft shouldered construction. Narrower lapel and body. Textured solid pattern. 98% wool, 2% spandex. Dry clean only. Imported.<br\/><br\/>Matching Pants: #344R<br\/>Matching Vest: #344U", "promoDescription" : "", "productUrl" : "http://www.circleoftrusttherapy.com/p/1905-collection-tailored-fit-textured-suit-separate-jacket", "productImageUrl" : "https://images.josbank.com/is/image/JosBank/343Y_01_1905_BLACK_MAIN?$browse_thumbnail$", "productImageFullSize" : "https://images.josbank.com/is/image/JosBank/343Y_01_1905_BLACK_MAIN?$browse_thumbnail$", "price" : "", "regPrice" : "$149.00", "salePrice" : "$119.00", "label": "sale", "category" : "Special Categories", "subcategory": "Top 10 Men's Clothing", "stock": 1, "dimension53" : "No" }

{ "451104252" : { "Medium": [ "Black", "Navy" ], "X Large": [ "Black", "Navy" ], "Large": [ "Black", "Navy" ], "XX Large": ["Navy"], "Small": ["Navy"] } }

{ "id" : "451104252", "productName" : "1905 Collection Tailored Fit Textured Suit Separate Vest", "productItem" : "344U", "productDescription" : "The 1905 Collection features vintage details with a modern approach. Suit separates allow you to choose pant, vest and coat sizes independently for an ideal fit. Tailored Fit. Five button. Quarter panel pocket, no vent. Full fabric front and back with patterned lining. 98% wool, 2% spandex. Dry clean only. Imported.<br\/><br\/>Matching Jacket: #343Y<br\/>Matching Pants: #344R<br\/>", "promoDescription" : "", "productUrl" : "http://www.circleoftrusttherapy.com/p/1905-collection-tailored-fit-textured-suit-separate-vest", "productImageUrl" : "https://images.josbank.com/is/image/JosBank/344U_01_1905_BLACK_MAIN?$browse_thumbnail$", "productImageFullSize" : "https://images.josbank.com/is/image/JosBank/344U_01_1905_BLACK_MAIN?$browse_thumbnail$", "price" : "$60.00", "regPrice" : "", "salePrice" : "", "label": "none", "category" : "Special Categories", "subcategory": "Top 10 Men's Clothing", "stock": 1, "dimension53" : "No" }

{ "451103960" : { "42 Short": [ "Black", "Navy" ], "28 SHRT PNT": [ "Black", "Mid Grey", "Navy" ], "31 Regular": ["Mid Grey"], "32 Regular": ["Black"], "30 Regular": ["Black"], "39 Regular": ["Navy"], "34 Long": ["Black"], "36 Regular": [ "Black", "Navy" ], "34 Regular": [ "Black", "Mid Grey", "Navy" ], "36 Short": ["Black"], "29 Regular": ["Black"], "36 Long": ["Black"], "40 Regular": ["Navy"], "34 Short": ["Black"], "35 Regular": ["Black"], "38 Regular": ["Black"] } }

{ "id" : "451103960", "productName" : "1905 Collection Tailored Fit Flat Front Textured Suit Separate Pants", "productItem" : "344R", "productDescription" : "These suit separates slacks from the 1905 collection feature vintage details with a modern approach. Tailored Fit. Flat-front slacks lined to the knee. Unfinished hem for tailoring. Textured solid pattern. 98% wool, 2% spandex. Dry clean only. Imported.<br\/><br\/>Matching Jacket: #343Y<br\/>Matching Vest: #344U<br\/>", "promoDescription" : "", "productUrl" : "http://www.circleoftrusttherapy.com/p/1905-collection-tailored-fit-flat-front-textured-suit-separate-pants", "productImageUrl" : "https://images.josbank.com/is/image/JosBank/344R_01_1905_BLACK_MAIN?$browse_thumbnail$", "productImageFullSize" : "https://images.josbank.com/is/image/JosBank/344R_01_1905_BLACK_MAIN?$browse_thumbnail$", "price" : "", "regPrice" : "$100.00", "salePrice" : "$80.00", "label": "sale", "category" : "Special Categories", "subcategory": "Top 10 Men's Clothing", "stock": 1, "dimension53" : "No" }

{ "451146243" : { "37 Regular": ["Blue"], "42 Short": ["Blue"], "46 Short": ["Blue"], "36 Regular": ["Blue"], "42 Regular": ["Blue"], "44 Short": ["Blue"], "46 Regular": ["Blue"], "36 Short": ["Blue"], "41 Regular": ["Blue"], "36 Long": ["Blue"], "37 Short": ["Blue"], "38 Short": ["Blue"], "40 Regular": ["Blue"], "44 Regular": ["Blue"], "38 Regular": ["Blue"], "40 Short": ["Blue"] } }

{ "id" : "451146243", "productName" : "1905 Collection Slim Fit Suit Separate Jacket", "productItem" : "37KA", "productDescription" : "This suit separate jacket by the 1905 Collection is the new tradition for dress and professional wear with its modern approach and vintage details. Slim Fit. Two button, side vent, notch collar. Soft shouldered construction. Solid color poly-blend lining. No canvas chest piece, garment uses modern fusing technology. 98% wool, 2% spandex. Dry clean. Imported.<br\/><br\/>Matching Pants: #37KF<br\/>Matching Vest: #37KD<br\/>", "promoDescription" : "", "productUrl" : "http://www.circleoftrusttherapy.com/p/1905-collection-slim-fit-suit-separate-jacket-37KA", "productImageUrl" : "https://images.josbank.com/is/image/JosBank/37KA_73_1905_BLUE_MAIN?$browse_thumbnail$", "productImageFullSize" : "https://images.josbank.com/is/image/JosBank/37KA_73_1905_BLUE_MAIN?$browse_thumbnail$", "price" : "", "regPrice" : "$149.00", "salePrice" : "$119.00", "label": "sale", "category" : "Special Categories", "subcategory": "Top 10 Men's Clothing", "stock": 1, "dimension53" : "No" }
Related Products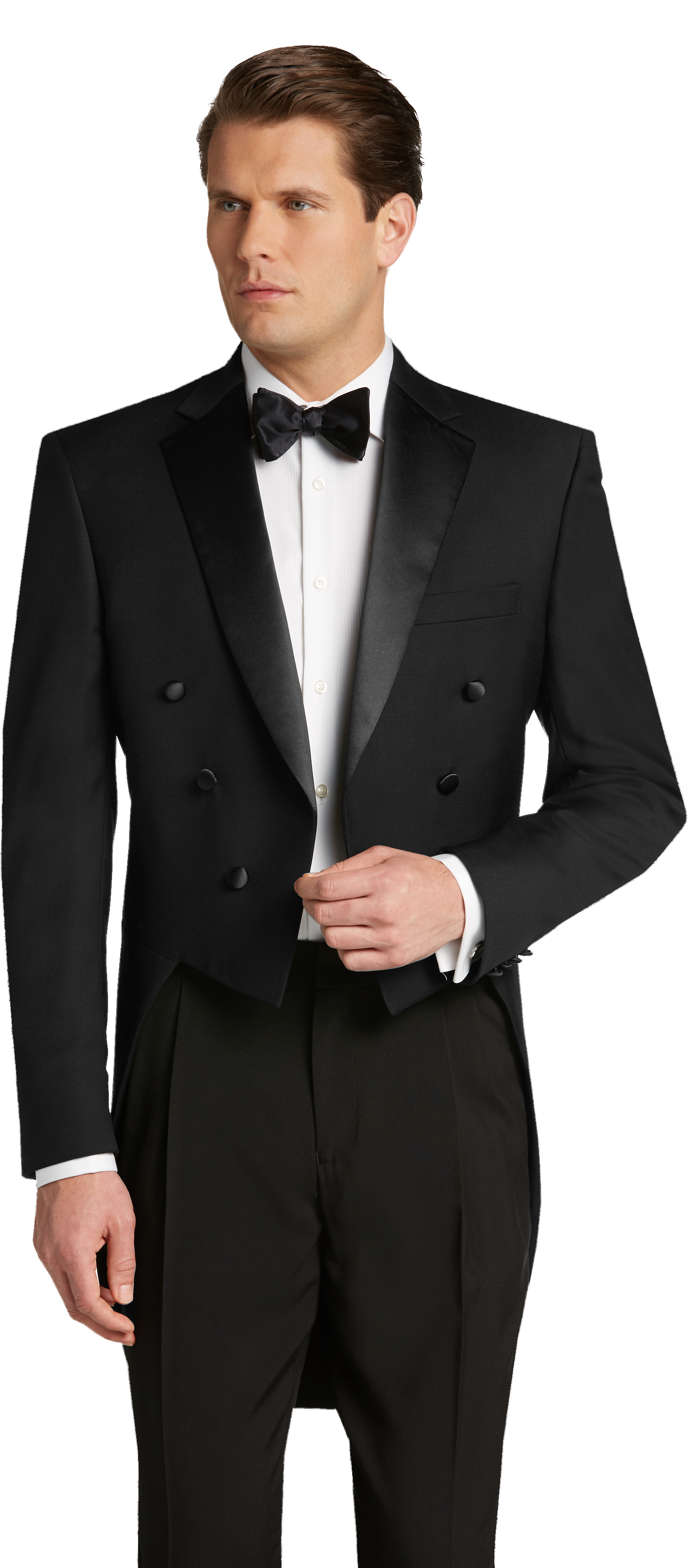 Description:
This fine wool tuxedo coat features vintage details with a modern approach. Tailored Fit. Double-breasted closure, tails with center vent. Satin notch lapel. Fully lined. Covered buttons. Matching pants available separately. 100% wool. Imported. Dry clean. Matching Pants: #3EZ3 Matching ...

Description:
A classic look for today's executive. Also perfect for embarking on a new career. Soft, lightweight wool and luxurious wool specially finished to impart a smooth, clean surface texture. Regal Fit. Fully lined jacket with center vent and notch collar. ...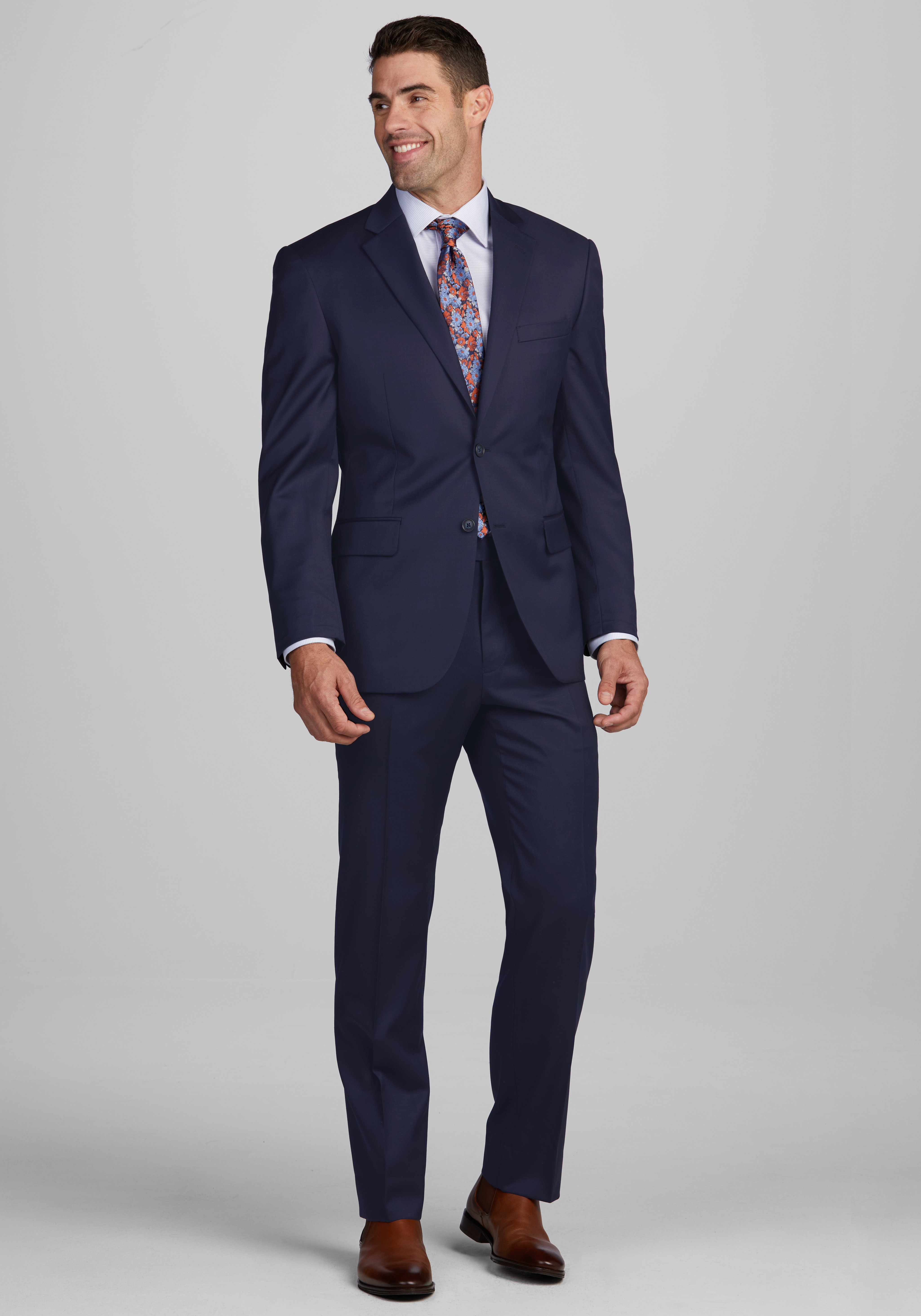 Description:
Crafted from the finest wool, this exceptional suit from the Executive Collection features fine tailoring and fabric for many years of wear. Tailored fit. Two button, center vent, notch lapel. Three-inch lapel. Lining - solid color poly blend. No canvas ...

Description:
Crafted from merino wool with exceptional softness and an uncompromising fit this fine suit has a flattering Traditional Fit. Self-fabric scalloped facing, full Bemberg lining, soft shoulders. Sleeves constructed for the addition of custom working buttonholes. Double reverse-pleated trousers have ...
Description:
Confidence all day without extra effort. Regal Fit. 2-button. Wrinkle, water, and stain resistant. Natural stretch wool for refined comfort. Center vent with soft shoulders, fully lined with interior pockets. 100% wool. Dry clean only. Imported. Matching Pants: #3FRX