Sportshirts
Refine your results
SHOW
Show:

Press enter to collapse or expand the menu. For navigating with in Filter options, press tab. To select Filter options, press enter.

Clear All

Filter

Done

0

Products

Add filter

Reset filters
Product List
{ "451547853" : { "Medium": [ "Blue", "Fuchsia", "Light Orange", "Sage", "White" ], "X Large": [ "Blue", "Fuchsia", "Light Orange", "Sage", "White" ], "Large": [ "Blue", "Fuchsia", "Light Orange", "Sage", "White" ], "Small": [ "Blue", "Fuchsia", "Light Orange", "Sage", "White" ] } }

{ "id" : "451547853", "productName" : "1905 Collection Tailored Fit Button-Down Collar Solid Sportshirt", "productItem" : "68PL", "productDescription" : "In a softly woven, lightweight cotton, this casual shirt is a relaxed and comfortable favorite. Create that just-right look by pairing it with your favorite denim or slacks. The shirt's callouts include a button-down collar, front placket, left chest pocket, center back box pleats and loop for hanging. 100% cotton. Machine washable. Imported.", "promoDescription" : "Limited Time!", "productUrl" : "http://www.circleoftrusttherapy.com/p/1905-collection-tailored-fit-button-down-collar-solid-sportshirt", "productImageUrl" : "https://images.josbank.com/is/image/JosBank/68PL_84_1905_SAGE_MAIN?$browse_thumbnail$", "productImageFullSize" : "https://images.josbank.com/is/image/JosBank/68PL_84_1905_SAGE_MAIN?$browse_thumbnail$", "price" : "", "regPrice" : "$39.00", "salePrice" : "$29.00", "label": "sale", "category" : "Shirts", "subcategory": "1905 Sportshirts", "stock": 1, "dimension53" : "No" }

{ "451541469" : { "Medium": ["Navy"], "X Large": ["Navy"], "Large": ["Navy"], "Small": ["Navy"] } }

{ "id" : "451541469", "productName" : "Traveler Collection Traditional Fit Button-Down Collar Plaid Short-Sleeve Sportshirt", "productItem" : "68JF", "productDescription" : "Add this short-sleeve sportshirt to your collection as an ideal travel- and casual-wear option. Traditional Fit. Button-down collar. Chest pocket. Non-iron, wrinkle-free fabric. 100% cotton. Machine washable. Imported.", "promoDescription" : "Limited Time!", "productUrl" : "http://www.circleoftrusttherapy.com/p/traveler-collection-traditional-fit-button-down-collar-plaid-short-sleeve-sportshirt-68JF", "productImageUrl" : "https://images.josbank.com/is/image/JosBank/68JF_75_TRAVELER_NAVY_MAIN?$browse_thumbnail$", "productImageFullSize" : "https://images.josbank.com/is/image/JosBank/68JF_75_TRAVELER_NAVY_MAIN?$browse_thumbnail$", "price" : "", "regPrice" : "$39.00", "salePrice" : "$29.00", "label": "sale", "category" : "Shirts", "subcategory": "Traveler Sportshirts", "stock": 1, "dimension53" : "No" }

{ "451550713" : { "Medium": ["Light Green"], "X Large": ["Light Green"], "Large": ["Light Green"], "Small": ["Light Green"] } }

{ "id" : "451550713", "productName" : "Traveler Collection Traditional Fit Button-Down Collar Plaid Short-Sleeve Sportshirt", "productItem" : "68VU", "productDescription" : "Add this crisp, non-iron sportshirt to your collection as an ideal travel wear and casual-wear option. Traditional Fit. Button-down collar. Chest pocket. Non-iron, wrinkle-free fabric. 100% cotton. Machine washable. Imported.", "promoDescription" : "Limited Time!", "productUrl" : "http://www.circleoftrusttherapy.com/p/traveler-collection-traditional-fit-button-down-collar-plaid-short-sleeve-sportshirt-68VU", "productImageUrl" : "https://images.josbank.com/is/image/JosBank/68VU_80_TRAVELER_LIGHT_GREEN_MAIN?$browse_thumbnail$", "productImageFullSize" : "https://images.josbank.com/is/image/JosBank/68VU_80_TRAVELER_LIGHT_GREEN_MAIN?$browse_thumbnail$", "price" : "", "regPrice" : "$39.00", "salePrice" : "$29.00", "label": "sale", "category" : "Shirts", "subcategory": "Traveler Sportshirts", "stock": 1, "dimension53" : "No" }

{ "451541465" : { "Medium": ["Blue"], "X Large": ["Blue"], "Large": ["Blue"], "Small": ["Blue"] } }

{ "id" : "451541465", "productName" : "Traveler Collection Traditional Fit Button-Down Collar Dobby Short-Sleeve Sportshirt", "productItem" : "68JA", "productDescription" : "Add this short-sleeve sportshirt to your collection as an ideal travel- and casual-wear option. Traditional Fit. Button-down collar. Chest pocket. Non-iron, wrinkle-free fabric. 100% cotton. Machine washable. Imported.", "promoDescription" : "Limited Time!", "productUrl" : "http://www.circleoftrusttherapy.com/p/traveler-collection-traditional-fit-button-down-collar-dobby-short-sleeve-sportshirt", "productImageUrl" : "https://images.josbank.com/is/image/JosBank/68JA_70_TRAVELER_BLUE_MAIN?$browse_thumbnail$", "productImageFullSize" : "https://images.josbank.com/is/image/JosBank/68JA_70_TRAVELER_BLUE_MAIN?$browse_thumbnail$", "price" : "", "regPrice" : "$39.00", "salePrice" : "$29.00", "label": "sale", "category" : "Shirts", "subcategory": "Traveler Sportshirts", "stock": 1, "dimension53" : "No" }

{ "451550717" : { "Medium": ["Light Green"], "X Large": ["Light Green"], "Large": ["Light Green"], "Small": ["Light Green"] } }

{ "id" : "451550717", "productName" : "Traveler Collection Tailored Fit Button-Down Collar Plaid Short-Sleeve Sportshirt", "productItem" : "68VY", "productDescription" : "Add this crisp, non-iron sportshirt to your collection as an ideal travel wear and casual-wear option. Tailored Fit. Button-down collar. Chest pocket. Non-iron, wrinkle-free fabric. 100% cotton. Machine washable. Imported.", "promoDescription" : "Limited Time!", "productUrl" : "http://www.circleoftrusttherapy.com/p/traveler-collection-tailored-fit-button-down-collar-plaid-short-sleeve-sportshirt-68VY", "productImageUrl" : "https://images.josbank.com/is/image/JosBank/68VY_80_TRAVELER_LIGHT_GREEN_MAIN?$browse_thumbnail$", "productImageFullSize" : "https://images.josbank.com/is/image/JosBank/68VY_80_TRAVELER_LIGHT_GREEN_MAIN?$browse_thumbnail$", "price" : "", "regPrice" : "$39.00", "salePrice" : "$29.00", "label": "sale", "category" : "Shirts", "subcategory": "Traveler Sportshirts", "stock": 1, "dimension53" : "No" }

{ "451541471" : { "Medium": ["Purple"], "X Large": ["Purple"], "Large": ["Purple"], "Small": ["Purple"] } }

{ "id" : "451541471", "productName" : "Traveler Collection Traditional Fit Button-Down Collar Plaid Short-Sleeve Sportshirt", "productItem" : "68JH", "productDescription" : "Add this short-sleeve sportshirt to your collection as an ideal travel- and casual-wear option. Traditional Fit. Button-down collar. Chest pocket. Non-iron, wrinkle-free fabric. 100% cotton. Imported. Machine washable. Imported.", "promoDescription" : "Limited Time!", "productUrl" : "http://www.circleoftrusttherapy.com/p/traveler-collection-traditional-fit-button-down-collar-plaid-short-sleeve-sportshirt-68JH", "productImageUrl" : "https://images.josbank.com/is/image/JosBank/68JH_62_TRAVELER_PURPLE_MAIN?$browse_thumbnail$", "productImageFullSize" : "https://images.josbank.com/is/image/JosBank/68JH_62_TRAVELER_PURPLE_MAIN?$browse_thumbnail$", "price" : "", "regPrice" : "$39.00", "salePrice" : "$29.00", "label": "sale", "category" : "Shirts", "subcategory": "Traveler Sportshirts", "stock": 1, "dimension53" : "No" }

{ "451206733" : { "Medium": [ "Aqua", "Light Blue", "Violet", "White" ], "X Large": [ "Aqua", "Light Blue", "Violet", "White" ], "Large": [ "Aqua", "Light Blue", "Violet", "White" ], "Small": [ "Aqua", "Light Blue", "Violet", "White" ] } }

{ "id" : "451206733", "productName" : "Reserve Collection Traditional Fit Spread Collar Sportshirt", "productItem" : "62JA", "productDescription" : "Featuring fine, cool linen fabric, this spread collar sportshirt from the Reserve Collection is a warm weather favorite. Traditional Fit. Barrel cuff. 100% linen. Machine washable. Imported.", "promoDescription" : "4 for $125!", "productUrl" : "http://www.circleoftrusttherapy.com/p/reserve-collection-traditional-fit-spread-collar-sportshirt-62JA", "productImageUrl" : "https://images.josbank.com/is/image/JosBank/62JA_67_JOS_A_BANK_RESERVE_AQUA_MAIN?$browse_thumbnail$", "productImageFullSize" : "https://images.josbank.com/is/image/JosBank/62JA_67_JOS_A_BANK_RESERVE_AQUA_MAIN?$browse_thumbnail$", "price" : "$45.00", "regPrice" : "", "salePrice" : "", "label": "none", "category" : "Shirts", "subcategory": "Reserve Sportshirts", "stock": 1, "dimension53" : "No" }

{ "451542058" : { "Medium": ["Fuchsia"], "X Large": ["Fuchsia"], "Large": ["Fuchsia"], "Small": ["Fuchsia"] } }

{ "id" : "451542058", "productName" : "1905 Collection Tailored Fit Short Sleeve Button Down Collar Flamingo Sportshirt", "productItem" : "68JU", "productDescription" : "In a crisp, woven cotton-blend, this sportshirt features a fun flamingo pattern in pinks and blues. Built-in stretch provides comfort for all-day wear. The Tailored Fit sportshirt features a classic button-down collar, slimmer placket, smooth pocketless front, center back box pleats and loop for hanging. 97% cotton, 3% elastane. Machine washable. Imported.", "promoDescription" : "Limited Time!", "productUrl" : "http://www.circleoftrusttherapy.com/p/1905-collection-tailored-fit-short-sleeve-button-down-collar-flamingo-sportshirt", "productImageUrl" : "https://images.josbank.com/is/image/JosBank/68JU_53_1905_FUCHSIA_MAIN?$browse_thumbnail$", "productImageFullSize" : "https://images.josbank.com/is/image/JosBank/68JU_53_1905_FUCHSIA_MAIN?$browse_thumbnail$", "price" : "", "regPrice" : "$39.00", "salePrice" : "$29.00", "label": "sale", "category" : "Shirts", "subcategory": "1905 Sportshirts", "stock": 1, "dimension53" : "No" }

{ "451532683" : { "Medium": ["Light Blue"], "X Large": ["Light Blue"], "Large": ["Light Blue"], "Small": ["Light Blue"] } }

{ "id" : "451532683", "productName" : "Traveler Collection Traditional Fit Button-Down Collar Check Sportshirt", "productItem" : "68DC", "productDescription" : "Easy care and easy wear make this sportshirt a favorite for the traveling businessman. No-iron cotton fabric stays crisp and fresh, while a special finish helps resist stains and spills. Features include a left chest pocket, a center back box pleats and barrel cuffs. 100% cotton. Machine washable. Imported.", "promoDescription" : "Limited Time!", "productUrl" : "http://www.circleoftrusttherapy.com/p/traveler-collection-traditional-fit-button-down-collar-check-sportshirt-68DC", "productImageUrl" : "https://images.josbank.com/is/image/JosBank/68DC_71_TRAVELER_LIGHT_BLUE_MAIN?$browse_thumbnail$", "productImageFullSize" : "https://images.josbank.com/is/image/JosBank/68DC_71_TRAVELER_LIGHT_BLUE_MAIN?$browse_thumbnail$", "price" : "", "regPrice" : "$39.00", "salePrice" : "$29.00", "label": "sale", "category" : "Shirts", "subcategory": "Traveler Sportshirts", "stock": 1, "dimension53" : "No" }

{ "451541475" : { "Medium": ["Pink"], "X Large": ["Pink"], "Large": ["Pink"], "Small": ["Pink"] } }

{ "id" : "451541475", "productName" : "Traveler Collection Tailored Fit Button-Down Collar Check Short-Sleeve Sportshirt", "productItem" : "68JM", "productDescription" : "Add this short-sleeve sportshirt to your collection as an ideal travel- and casual-wear option. Tailored Fit. Button-down collar. Chest pocket. Non-iron, wrinkle-free fabric. 100% cotton. Machine washable. Imported.", "promoDescription" : "Limited Time!", "productUrl" : "http://www.circleoftrusttherapy.com/p/traveler-collection-tailored-fit-button-down-collar-check-short-sleeve-sportshirt-68JM", "productImageUrl" : "https://images.josbank.com/is/image/JosBank/68JM_50_TRAVELER_PINK_MAIN?$browse_thumbnail$", "productImageFullSize" : "https://images.josbank.com/is/image/JosBank/68JM_50_TRAVELER_PINK_MAIN?$browse_thumbnail$", "price" : "", "regPrice" : "$39.00", "salePrice" : "$29.00", "label": "sale", "category" : "Shirts", "subcategory": "Traveler Sportshirts", "stock": 1, "dimension53" : "No" }

{ "451546798" : { "2 X Tall": [ "Blue", "Fuchsia", "Light Orange", "Sage", "White" ], "2 X Big": [ "Blue", "Fuchsia", "Light Orange", "Sage", "White" ], "4 X Tall": [ "Blue", "Fuchsia", "Light Orange", "Sage", "White" ], "3 X Big": [ "Blue", "Fuchsia", "Light Orange", "Sage", "White" ], "3 X Tall": [ "Blue", "Fuchsia", "Light Orange", "White" ], "4 X Big": [ "Blue", "Fuchsia", "Light Orange", "Sage", "White" ], "XX Large": [ "Blue", "Fuchsia", "Light Orange", "Sage", "White" ] } }

{ "id" : "451546798", "productName" : "1905 Collection Tailored Fit Button-Down Collar Solid Sportshirt - Big & Tall", "productItem" : "68PM", "productDescription" : "In a softly woven, lightweight cotton, this casual shirt is a relaxed and comfortable favorite. Create that just-right look by pairing it with your favorite denim or slacks. The shirt's callouts include a button-down collar, front placket, left chest pocket, center back box pleats and loop for hanging. 100% cotton. Machine washable. Imported.", "promoDescription" : "Limited Time!", "productUrl" : "http://www.circleoftrusttherapy.com/p/1905-collection-tailored-fit-button-down-collar-solid-sportshirt-big-tall", "productImageUrl" : "https://images.josbank.com/is/image/JosBank/68PL_84_1905_SAGE_MAIN?$browse_thumbnail$", "productImageFullSize" : "https://images.josbank.com/is/image/JosBank/68PL_84_1905_SAGE_MAIN?$browse_thumbnail$", "price" : "", "regPrice" : "$45.00", "salePrice" : "$35.00", "label": "sale", "category" : "Big & Tall", "subcategory": "New Arrivals", "stock": 1, "dimension53" : "No" }

{ "451523425" : { "Medium": ["Blue"], "X Large": ["Blue"], "Large": ["Blue"], "Small": ["Blue"] } }

{ "id" : "451523425", "productName" : "Traveler Collection Traditional Fit Button-Down Collar Short-Sleeve Sportshirt", "productItem" : "67NK", "productDescription" : "In soft cotton, this short sleeve sportshirt is an exceptional addition to your wardrobe. It features a button-down collar, a left chest pocket, and a center back box pleat. This Traveler Collection sportshirt has a special finish that is stain-resistant. Non-iron finish. 100% cotton. Machine washable. Imported.", "promoDescription" : "Limited Time!", "productUrl" : "http://www.circleoftrusttherapy.com/p/traveler-collection-traditional-fit-button-down-collar-short-sleeve-sportshirt-67NK", "productImageUrl" : "https://images.josbank.com/is/image/JosBank/67NK_70_TRAVELER_BLUE_MAIN?$browse_thumbnail$", "productImageFullSize" : "https://images.josbank.com/is/image/JosBank/67NK_70_TRAVELER_BLUE_MAIN?$browse_thumbnail$", "price" : "", "regPrice" : "$39.00", "salePrice" : "$29.00", "label": "sale", "category" : "Shirts", "subcategory": "Traveler Sportshirts", "stock": 1, "dimension53" : "No" }

{ "451550709" : { "Medium": ["Light Blue"], "X Large": ["Light Blue"], "Large": ["Light Blue"], "Small": ["Light Blue"] } }

{ "id" : "451550709", "productName" : "Traveler Collection Traditional Fit Button-Down Collar Grid Short-Sleeve Sportshirt", "productItem" : "68VN", "productDescription" : "Add this crisp, non-iron sportshirt to your collection as an ideal travel wear and casual-wear option. Traditional Fit. Button-down collar. Chest pocket. Non-iron, wrinkle-free fabric. 100% cotton. Machine washable. Imported.", "promoDescription" : "Limited Time!", "productUrl" : "http://www.circleoftrusttherapy.com/p/traveler-collection-traditional-fit-button-down-collar-grid-short-sleeve-sportshirt", "productImageUrl" : "https://images.josbank.com/is/image/JosBank/68VN_71_TRAVELER_LIGHT_BLUE_MAIN?$browse_thumbnail$", "productImageFullSize" : "https://images.josbank.com/is/image/JosBank/68VN_71_TRAVELER_LIGHT_BLUE_MAIN?$browse_thumbnail$", "price" : "", "regPrice" : "$39.00", "salePrice" : "$29.00", "label": "sale", "category" : "Shirts", "subcategory": "Traveler Sportshirts", "stock": 1, "dimension53" : "No" }

{ "451541477" : { "Medium": ["Navy"], "X Large": ["Navy"], "Large": ["Navy"], "Small": ["Navy"] } }

{ "id" : "451541477", "productName" : "Traveler Collection Tailored Fit Button-Down Collar Plaid Short-Sleeve Sportshirt", "productItem" : "68JP", "productDescription" : "Add this short-sleeve sportshirt to your collection as an ideal travel- and casual-wear option. Tailored Fit. Button-down collar. Chest pocket. Non-iron, wrinkle-free fabric. 100% cotton. Machine washable. Imported.", "promoDescription" : "Limited Time!", "productUrl" : "http://www.circleoftrusttherapy.com/p/traveler-collection-tailored-fit-button-down-collar-plaid-short-sleeve-sportshirt-68JP", "productImageUrl" : "https://images.josbank.com/is/image/JosBank/68JP_75_TRAVELER_NAVY_MAIN?$browse_thumbnail$", "productImageFullSize" : "https://images.josbank.com/is/image/JosBank/68JP_75_TRAVELER_NAVY_MAIN?$browse_thumbnail$", "price" : "", "regPrice" : "$39.00", "salePrice" : "$29.00", "label": "sale", "category" : "Shirts", "subcategory": "Traveler Sportshirts", "stock": 1, "dimension53" : "No" }

{ "451544696" : { "Medium": ["Light Green"], "X Large": ["Light Green"], "Large": ["Light Green"], "Small": ["Light Green"] } }

{ "id" : "451544696", "productName" : "Traveler Collection Tailored Fit Button-Down Collar Plaid Sportshirt", "productItem" : "68NE", "productDescription" : "Keep a crisp, stylish look all-day with this versatile Traveler Collection sportshirt. Tailored Fit. Button-down collar. Chest pocket. Non-iron, wrinkle-free fabric. 100% cotton. Machine washable. Imported.", "promoDescription" : "Limited Time!", "productUrl" : "http://www.circleoftrusttherapy.com/p/traveler-collection-tailored-fit-button-down-collar-plaid-sportshirt-68NE", "productImageUrl" : "https://images.josbank.com/is/image/JosBank/68NE_80_TRAVELER_LIGHT_GREEN_MAIN?$browse_thumbnail$", "productImageFullSize" : "https://images.josbank.com/is/image/JosBank/68NE_80_TRAVELER_LIGHT_GREEN_MAIN?$browse_thumbnail$", "price" : "", "regPrice" : "$39.00", "salePrice" : "$29.00", "label": "sale", "category" : "Shirts", "subcategory": "Traveler Sportshirts", "stock": 1, "dimension53" : "No" }

{ "451550715" : { "Medium": ["Light Green"], "X Large": ["Light Green"], "Large": ["Light Green"], "Small": ["Light Green"] } }

{ "id" : "451550715", "productName" : "Traveler Collection Traditional Fit Button-Down Collar Plaid Short-Sleeve Sportshirt", "productItem" : "68VW", "productDescription" : "Add this crisp, non-iron sportshirt to your collection as an ideal travel wear and casual-wear option. Traditional Fit. Button-down collar. Chest pocket. Non-iron, wrinkle-free fabric. 100% cotton. Machine washable. Imported.", "promoDescription" : "Limited Time!", "productUrl" : "http://www.circleoftrusttherapy.com/p/traveler-collection-traditional-fit-button-down-collar-plaid-short-sleeve-sportshirt-68VW", "productImageUrl" : "https://images.josbank.com/is/image/JosBank/68VW_80_TRAVELER_LIGHT_GREEN_MAIN?$browse_thumbnail$", "productImageFullSize" : "https://images.josbank.com/is/image/JosBank/68VW_80_TRAVELER_LIGHT_GREEN_MAIN?$browse_thumbnail$", "price" : "", "regPrice" : "$39.00", "salePrice" : "$29.00", "label": "sale", "category" : "Shirts", "subcategory": "Traveler Sportshirts", "stock": 1, "dimension53" : "No" }

{ "451550711" : { "Medium": ["Orange"], "X Large": ["Orange"], "Large": ["Orange"], "Small": ["Orange"] } }

{ "id" : "451550711", "productName" : "Traveler Collection Traditional Fit Button-Down Collar Check Short-Sleeve Sportshirt", "productItem" : "68VR", "productDescription" : "Add this crisp, non-iron sportshirt to your collection as an ideal travel wear and casual-wear option. Traditional Fit. Button-down collar. Chest pocket. Non-iron, wrinkle-free fabric. 100% cotton. Machine washable. Imported.", "promoDescription" : "Limited Time!", "productUrl" : "http://www.circleoftrusttherapy.com/p/traveler-collection-traditional-fit-button-down-collar-check-short-sleeve-sportshirt-68VR", "productImageUrl" : "https://images.josbank.com/is/image/JosBank/68VR_33_TRAVELER_ORANGE_MAIN?$browse_thumbnail$", "productImageFullSize" : "https://images.josbank.com/is/image/JosBank/68VR_33_TRAVELER_ORANGE_MAIN?$browse_thumbnail$", "price" : "", "regPrice" : "$39.00", "salePrice" : "$29.00", "label": "sale", "category" : "Shirts", "subcategory": "Traveler Sportshirts", "stock": 1, "dimension53" : "No" }

{ "451550723" : { "Medium": ["Blue"], "X Large": ["Blue"], "Large": ["Blue"], "Small": ["Blue"] } }

{ "id" : "451550723", "productName" : "Traveler Collection Tailored Fit Button-Down Collar Plaid Short-Sleeve Sportshirt", "productItem" : "68W4", "productDescription" : "Keep a crisp, stylish look all-day with this versatile Traveler Collection short-sleeve sportshirt. Tailored Fit. Button-down collar. Chest pocket. Non-iron, wrinkle-free fabric. 100% cotton. Machine washable. Imported.", "promoDescription" : "Limited Time!", "productUrl" : "http://www.circleoftrusttherapy.com/p/traveler-collection-tailored-fit-button-down-collar-plaid-short-sleeve-sportshirt-68W4", "productImageUrl" : "https://images.josbank.com/is/image/JosBank/68W4_70_TRAVELER_BLUE_MAIN?$browse_thumbnail$", "productImageFullSize" : "https://images.josbank.com/is/image/JosBank/68W4_70_TRAVELER_BLUE_MAIN?$browse_thumbnail$", "price" : "", "regPrice" : "$39.00", "salePrice" : "$29.00", "label": "sale", "category" : "Shirts", "subcategory": "Traveler Sportshirts", "stock": 1, "dimension53" : "No" }

{ "451523427" : { "Medium": ["Blue"], "X Large": ["Blue"], "Large": ["Blue"], "Small": ["Blue"] } }

{ "id" : "451523427", "productName" : "Traveler Collection Traditional Fit Button-Down Collar Short-Sleeve Plaid Sportshirt", "productItem" : "67NM", "productDescription" : "In soft cotton, this short sleeve sportshirt is an exceptional addition to your wardrobe. It features a button-down collar, a left chest pocket, and a center back box pleat. This Traveler Collection sportshirt has a special finish that is stain-resistant. Non-iron finish. 100% cotton. Machine washable. Imported.", "promoDescription" : "Limited Time!", "productUrl" : "http://www.circleoftrusttherapy.com/p/traveler-collection-traditional-fit-button-down-collar-short-sleeve-plaid-sportshirt-67NM", "productImageUrl" : "https://images.josbank.com/is/image/JosBank/67NM_70_TRAVELER_BLUE_MAIN?$browse_thumbnail$", "productImageFullSize" : "https://images.josbank.com/is/image/JosBank/67NM_70_TRAVELER_BLUE_MAIN?$browse_thumbnail$", "price" : "", "regPrice" : "$39.00", "salePrice" : "$29.00", "label": "sale", "category" : "Shirts", "subcategory": "Traveler Sportshirts", "stock": 1, "dimension53" : "No" }

{ "451532697" : { "Medium": ["Blue"], "X Large": ["Blue"], "Large": ["Blue"], "Small": ["Blue"] } }

{ "id" : "451532697", "productName" : "Traveler Collection Traditional Fit Button-Down Check Sportshirt", "productItem" : "68DU", "productDescription" : "Wrinkle-resistant cotton makes this shirt an ideal choice for travel and daily wear. Button-down collar, single-needle construction, back pleat, and button-through sleeve placket. 100% cotton. Machine washable. Imported.", "promoDescription" : "Limited Time!", "productUrl" : "http://www.circleoftrusttherapy.com/p/traveler-collection-traditional-fit-button-down-check-sportshirt-68DU", "productImageUrl" : "https://images.josbank.com/is/image/JosBank/68DU_70_TRAVELER_BLUE_MAIN?$browse_thumbnail$", "productImageFullSize" : "https://images.josbank.com/is/image/JosBank/68DU_70_TRAVELER_BLUE_MAIN?$browse_thumbnail$", "price" : "", "regPrice" : "$39.00", "salePrice" : "$29.00", "label": "sale", "category" : "Shirts", "subcategory": "Traveler Sportshirts", "stock": 1, "dimension53" : "No" }

{ "451523433" : { "Medium": ["Light Purple"], "X Large": ["Light Purple"], "Large": ["Light Purple"], "Small": ["Light Purple"] } }

{ "id" : "451523433", "productName" : "Traveler Collection Traditional Fit Button-Down Collar Short-Sleeve Sportshirt", "productItem" : "67NV", "productDescription" : "In soft cotton, this short sleeve sportshirt is an exceptional addition to your wardrobe. It features a button-down collar, a left chest pocket, and a center back box pleat. This Traveler Collection sportshirt has a special finish that is stain-resistant. Non-iron finish. 100% cotton. Machine washable. Imported.", "promoDescription" : "Limited Time!", "productUrl" : "http://www.circleoftrusttherapy.com/p/traveler-collection-traditional-fit-button-down-collar-short-sleeve-sportshirt-67NV", "productImageUrl" : "https://images.josbank.com/is/image/JosBank/67NV_63_TRAVELER_LIGHT_PURPLE_MAIN?$browse_thumbnail$", "productImageFullSize" : "https://images.josbank.com/is/image/JosBank/67NV_63_TRAVELER_LIGHT_PURPLE_MAIN?$browse_thumbnail$", "price" : "", "regPrice" : "$39.00", "salePrice" : "$29.00", "label": "sale", "category" : "Shirts", "subcategory": "Traveler Sportshirts", "stock": 1, "dimension53" : "No" }

{ "451542070" : { "Medium": ["Navy"], "X Large": ["Navy"], "Large": ["Navy"], "Small": ["Navy"] } }

{ "id" : "451542070", "productName" : "1905 Collection Tailored Fit Button-Down Collar Boats & Anchors Sportshirt", "productItem" : "68K6", "productDescription" : "1905 Collection sportshirts feature style forward looks with a vintage vibe. Built-in stretch provides a more comfortable fit. Button-down collar, slimmer placket, smooth pocketless front, center back pleats and loop for hanging. 97% ethically sourced cotton, 3% elastane. Machine washable. Imported.", "promoDescription" : "Limited Time!", "productUrl" : "http://www.circleoftrusttherapy.com/p/1905-collection-tailored-fit-button-down-collar-boats-anchors-sportshirt", "productImageUrl" : "https://images.josbank.com/is/image/JosBank/68K6_75_1905_NAVY_MAIN?$browse_thumbnail$", "productImageFullSize" : "https://images.josbank.com/is/image/JosBank/68K6_75_1905_NAVY_MAIN?$browse_thumbnail$", "price" : "", "regPrice" : "$39.00", "salePrice" : "$29.00", "label": "sale", "category" : "Shirts", "subcategory": "1905 Sportshirts", "stock": 1, "dimension53" : "No" }

{ "451532705" : { "Medium": ["Blue"], "X Large": ["Blue"], "Large": ["Blue"] } }

{ "id" : "451532705", "productName" : "Traveler Collection Tailored Fit Button Down Collar Check Sportshirt", "productItem" : "68ED", "productDescription" : "Stay cool and look your best all day long in this crisp, non-iron cotton sportshirt. Travel with confidence knowing that this shirt's special finish will resist stains and spills. It is styled with a left chest pocket, center back box pleats and barrel cuffs. 100% cotton. Machine washable. Imported.", "promoDescription" : "Limited Time!", "productUrl" : "http://www.circleoftrusttherapy.com/p/traveler-collection-tailored-fit-button-down-collar-check-sportshirt-68ED", "productImageUrl" : "https://images.josbank.com/is/image/JosBank/68ED_70_TRAVELER_BLUE_MAIN?$browse_thumbnail$", "productImageFullSize" : "https://images.josbank.com/is/image/JosBank/68ED_70_TRAVELER_BLUE_MAIN?$browse_thumbnail$", "price" : "", "regPrice" : "$39.00", "salePrice" : "$29.00", "label": "sale", "category" : "Shirts", "subcategory": "Traveler Sportshirts", "stock": 1, "dimension53" : "No" }

{ "451544692" : { "Medium": ["Purple"], "X Large": ["Purple"], "Large": ["Purple"], "Small": ["Purple"] } }

{ "id" : "451544692", "productName" : "Traveler Collection Traditional Fit Button-Down Collar Plaid Sportshirt", "productItem" : "68N5", "productDescription" : "Keep a crisp, classic look all-day with this Traveler Collection sportshirt. Traditional Fit. Button-down Collar. Chest pocket. Barrel cuffs. Non-iron, wrinkle-free fabric. 100% cotton. Machine washable. Imported.", "promoDescription" : "Limited Time!", "productUrl" : "http://www.circleoftrusttherapy.com/p/traveler-collection-traditional-fit-button-down-collar-plaid-sportshirt-68N5", "productImageUrl" : "https://images.josbank.com/is/image/JosBank/68N5_62_TRAVELER_PURPLE_MAIN?$browse_thumbnail$", "productImageFullSize" : "https://images.josbank.com/is/image/JosBank/68N5_62_TRAVELER_PURPLE_MAIN?$browse_thumbnail$", "price" : "", "regPrice" : "$39.00", "salePrice" : "$29.00", "label": "sale", "category" : "Shirts", "subcategory": "Traveler Sportshirts", "stock": 1, "dimension53" : "No" }
Related Products
Description:
Featuring vintage styling, with an on-trend flair, this 1905 Collection sportshirt is an updated classic. Long sleeved, with barrel cuffs. Contrast lining in cuffs. Made from ethically sourced cotton. Non-iron. 100% cotton. Machine washable. Imported.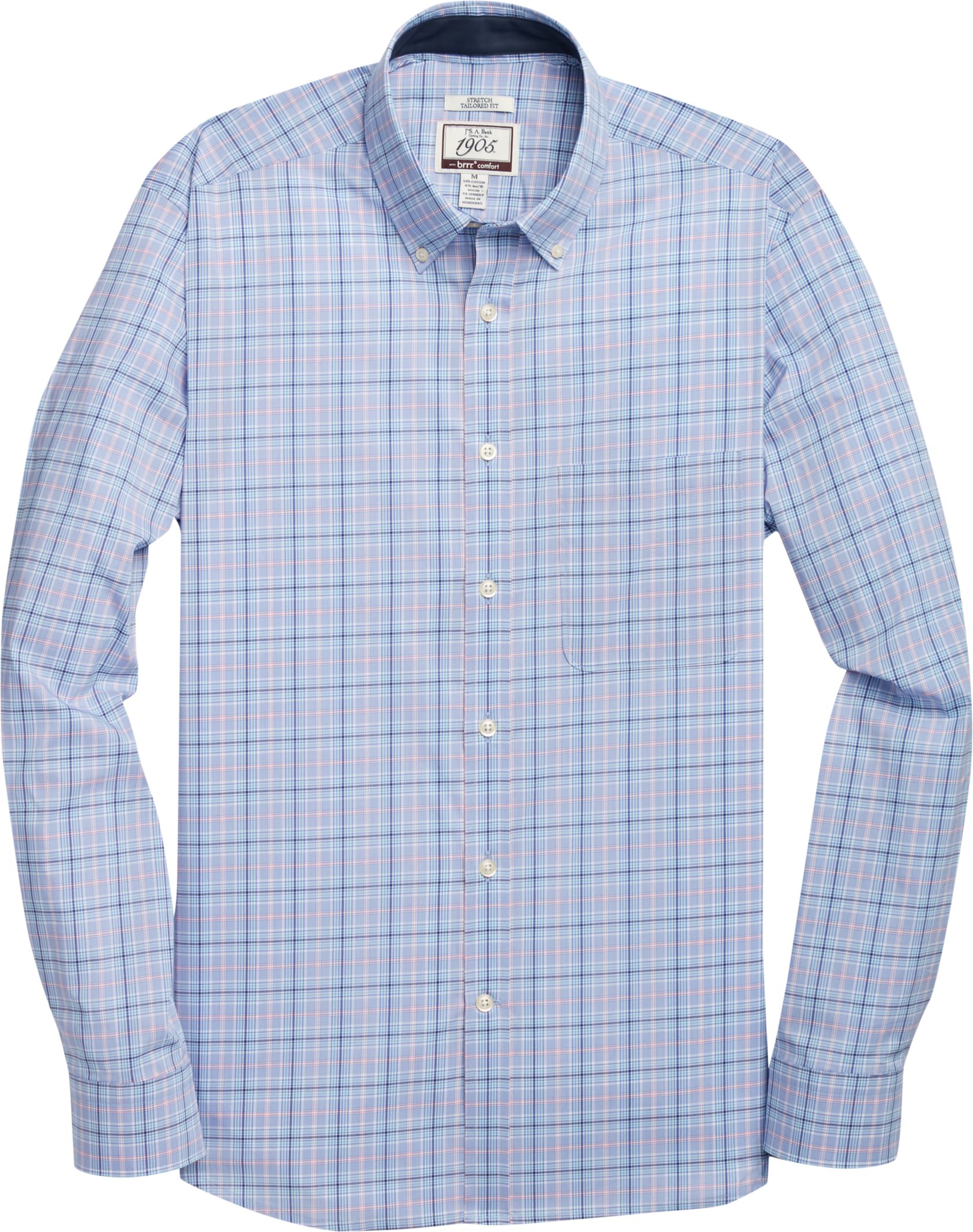 Description:
This finely crafted, 1905 Collection sportshirt features a classic plaid print with built-in stretch for added comfort. The shirt s fabrication includes brrr°? comfort technology that continually keeps you cooler with natural cooling minerals, a special fiber core that increases ...
Description:
Crafted from woven Egyptian cotton, this sportshirt has a soft feel and comfortable weight with a flattering Tailored Fit silhouette. Features include a smooth, pocketless front, back side pleats and barrel cuffs. 100% Egyptian cotton. Machine washable. Imported.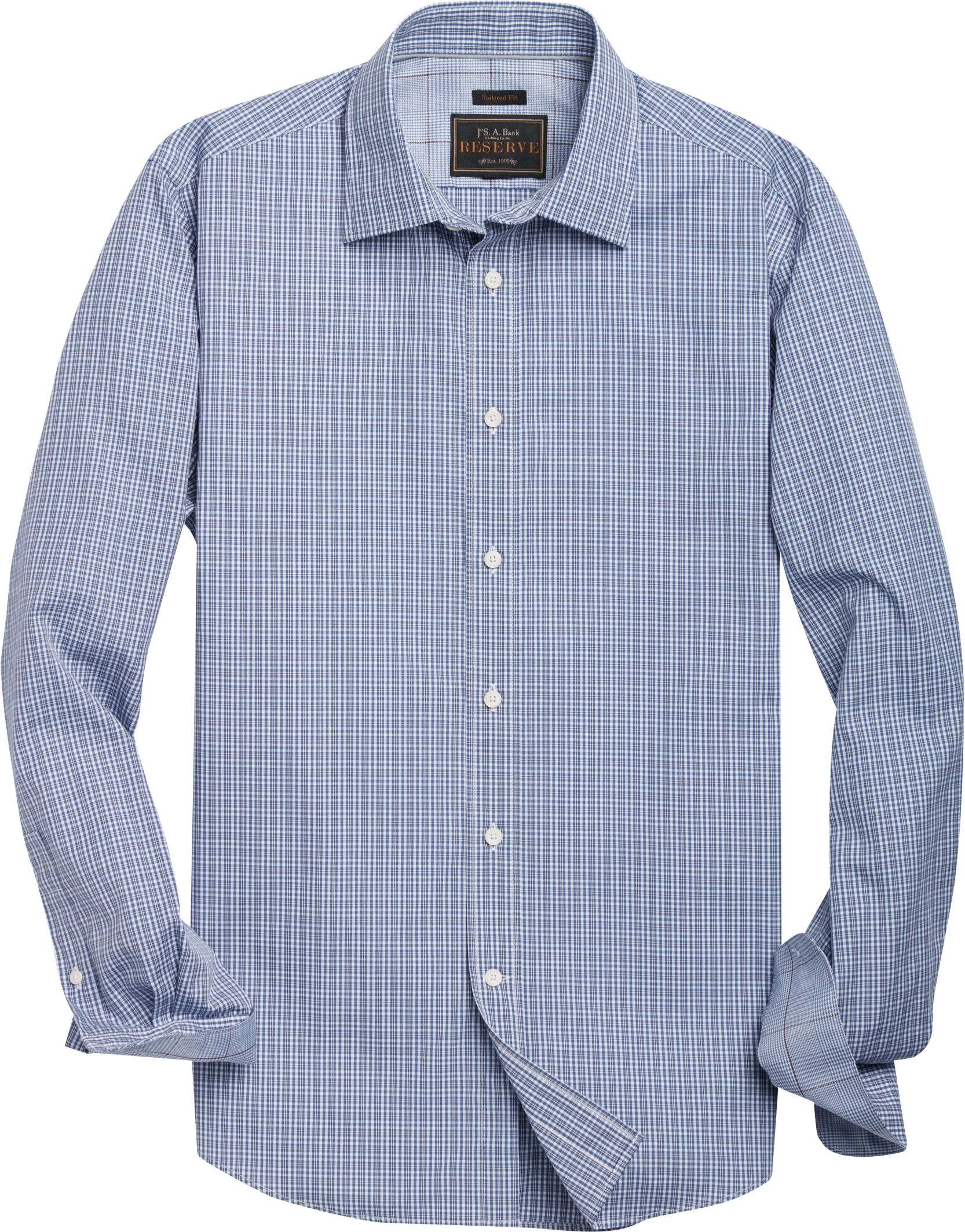 Description:
Reserve Collection sportshirts feature the finest fabrics, patterns, and colors for the stylish, classic look you've been seeking. Spread collar. Smooth, pocketless front. Contrast lining in cuffs. 100% Egyptian cotton. Machine washable. Imported.
Description:
Wrinkle-resistant cotton makes this Traveler Collection shirt an ideal choice for travel and daily wear. Button-down collar, single-needle construction, back pleat, and button-through sleeve placket. 100% cotton. Machine washable. Imported.
Create Your Dream Wardrobe
Something is always on sale!
Smart shoppers love a good value. And Jos. A. Bank shoppers love that they can take advantage of men's clothing sales yet still count on impeccable quality and the traditional styles that get them noticed for all the right reasons. You already appreciate our everyday low prices, and it is no secret that we love a good sale. This is why we offer even more added-value sales on our renowned collections of suits, sportcoats, dress shirts, sweaters, dress pants, ties, outerwear and much more throughout the year. It's actually fun to hunt for those extra-special pieces, and when you score a fantastic deal on a piece you really want and need, everyone wins. It's the perfect solution to your goal of having an effortless wardrobe of quality menswear at your fingertips—one that will take you from elegant formalwear to upscale casual and everything in between. From the boardroom to date night to chauffeuring the kids to their activities, it's an awesome feeling to be the best dressed man on the block. You can never have too many fine menswear pieces in your closet to add versatility and elegance to your clothing rotation.