Dress Shirts
Refine your results
SHOW
Show:

Press enter to collapse or expand the menu. For navigating with in Filter options, press tab. To select Filter options, press enter.

Clear All

Filter

Done

0

Products

Add filter

Reset filters
Product List
{ "451544682" : { "16x36": ["Blue"], "16 1/2x36": ["Blue"], "17x36": ["Blue"], "15 1/2x36": ["Blue"], "17 1/2x36": ["Blue"] } }

{ "id" : "451544682", "productName" : "Travel Tech Slim Fit Cutaway Collar Woven Check Dress Shirt - Big & Tall", "productItem" : "589Z", "productDescription" : "The same premium wrinkle-free performance and quality as our Traveler Collection Dress Shirts, but now with 37.5\u00AE patented technology. Our Travel Tech Dress Shirts maintain temperature control and absorb and trap odor molecules to keep you feeling fresh all day. Removes moisture before sweat can form and retains warmth when you're cold. Resists shrinking and fading. Woven from a fine cotton blend with a touch of stretch for an ideal fit and ease of movement. Split back yoke. Non-breakable buttons. Left chest pocket. Traditional placket with a cutaway collar and barrel cuff. Exact sleeve length. Slim Fit. 75% cotton, 23% 37.5\u00AE polyester, 2% elastane. Machine washable. Imported.", "promoDescription" : "4 for $140!", "productUrl" : "http://www.circleoftrusttherapy.com/p/travel-tech-slim-fit-cutaway-collar-woven-check-dress-shirt-big-tall", "productImageUrl" : "https://images.josbank.com/is/image/JosBank/589Y_70_1905_BLUE_MAIN?$browse_thumbnail$", "productImageFullSize" : "https://images.josbank.com/is/image/JosBank/589Y_70_1905_BLUE_MAIN?$browse_thumbnail$", "price" : "$45.00", "regPrice" : "", "salePrice" : "", "label": "none", "category" : "Big & Tall", "subcategory": "New Arrivals", "stock": 1, "dimension53" : "No" }

{ "451543401" : { "16 1/2x34": ["Blue"], "16 1/2x35": ["Blue"], "17x33": ["Blue"], "16x34": ["Blue"], "17x34": ["Blue"], "17 1/2x34": ["Blue"], "16x35": ["Blue"], "17x35": ["Blue"], "16x32": ["Blue"], "14 1/2x33": ["Blue"], "14 1/2x32": ["Blue"], "15 1/2x32": ["Blue"], "16x33": ["Blue"], "15 1/2x35": ["Blue"], "15x35": ["Blue"], "15 1/2x33": ["Blue"], "15x33": ["Blue"], "15 1/2x34": ["Blue"], "15x34": ["Blue"], "15x32": ["Blue"], "17 1/2x35": ["Blue"], "16 1/2x33": ["Blue"], "16 1/2x32": ["Blue"] } }

{ "id" : "451543401", "productName" : "Travel Tech Slim Fit Cutaway Collar Woven Check Dress Shirt", "productItem" : "589Y", "productDescription" : "The same premium wrinkle-free performance and quality as our Traveler Collection Dress Shirts, but now with 37.5\u00AE patented technology. Our Travel Tech Dress Shirts maintain temperature control and absorb and trap odor molecules to keep you feeling fresh all day. Removes moisture before sweat can form and retains warmth when you're cold. Resists shrinking and fading. Woven from a fine cotton blend with a touch of stretch for an ideal fit and ease of movement. Split back yoke. Non-breakable buttons. Left chest pocket. Traditional placket with a cutaway collar and barrel cuff. Exact sleeve length. Slim Fit. 75% cotton, 23% 37.5\u00AE polyester, 2% elastane. Machine washable. Imported.", "promoDescription" : "4 for $125!", "productUrl" : "http://www.circleoftrusttherapy.com/p/travel-tech-slim-fit-cutaway-collar-woven-check-dress-shirt", "productImageUrl" : "https://images.josbank.com/is/image/JosBank/589Y_70_1905_BLUE_MAIN?$browse_thumbnail$", "productImageFullSize" : "https://images.josbank.com/is/image/JosBank/589Y_70_1905_BLUE_MAIN?$browse_thumbnail$", "price" : "$39.00", "regPrice" : "", "salePrice" : "", "label": "none", "category" : "Shirts", "subcategory": "Traveler Dress Shirts", "stock": 1, "dimension53" : "No" }

{ "451544683" : { "16x36": ["Aqua"], "16 1/2x36": ["Aqua"], "17x36": ["Aqua"], "15 1/2x36": ["Aqua"], "17 1/2x36": ["Aqua"] } }

{ "id" : "451544683", "productName" : "Travel Tech Slim Fit Spread Collar Dual Check Dress Shirt - Big & Tall", "productItem" : "58C7", "productDescription" : "Take travel to a whole new level. This classic dress shirt creates a comfortable micro-climate for your body by removing excess moisture before you even begin to sweat. Built-in fabric technology doesn't wash out. Split back yoke with side back box pleats. Break-resistant buttons. Left chest pocket. Traditional placket with a spread collar and barrel cuff. Exact sleeve length. 75% cotton, 23% polyester, 2% spandex. Machine washable. Imported.", "promoDescription" : "4 for $140!", "productUrl" : "http://www.circleoftrusttherapy.com/p/travel-tech-slim-fit-spread-collar-dual-check-dress-shirt-big-tall", "productImageUrl" : "https://images.josbank.com/is/image/JosBank/58C6_67_1905_AQUA_MAIN?$browse_thumbnail$", "productImageFullSize" : "https://images.josbank.com/is/image/JosBank/58C6_67_1905_AQUA_MAIN?$browse_thumbnail$", "price" : "$45.00", "regPrice" : "", "salePrice" : "", "label": "none", "category" : "Big & Tall", "subcategory": "New Arrivals", "stock": 1, "dimension53" : "No" }

{ "451543402" : { "16 1/2x34": ["Aqua"], "16 1/2x35": ["Aqua"], "17x33": ["Aqua"], "16x34": ["Aqua"], "17x34": ["Aqua"], "16x35": ["Aqua"], "17x35": ["Aqua"], "16x32": ["Aqua"], "16x33": ["Aqua"], "14 1/2x32": ["Aqua"], "15 1/2x32": ["Aqua"], "15 1/2x35": ["Aqua"], "15 1/2x33": ["Aqua"], "15x33": ["Aqua"], "15 1/2x34": ["Aqua"], "15x34": ["Aqua"], "15x32": ["Aqua"], "16 1/2x33": ["Aqua"], "16 1/2x32": ["Aqua"] } }

{ "id" : "451543402", "productName" : "Travel Tech Slim Fit Spread Collar Dual Check Dress Shirt", "productItem" : "58C6", "productDescription" : "Take travel to a whole new level. This classic dress shirt creates a comfortable micro-climate for your body by removing excess moisture before you even begin to sweat. Built-in fabric technology doesn't wash out. Split back yoke with side back box pleats. Break-resistant buttons. Left chest pocket. Traditional placket with a spread collar and barrel cuff. Exact sleeve length. 75% cotton, 23% polyester, 2% spandex. Machine washable. Imported.", "promoDescription" : "4 for $125!", "productUrl" : "http://www.circleoftrusttherapy.com/p/travel-tech-slim-fit-spread-collar-dual-check-dress-shirt", "productImageUrl" : "https://images.josbank.com/is/image/JosBank/58C6_67_1905_AQUA_MAIN?$browse_thumbnail$", "productImageFullSize" : "https://images.josbank.com/is/image/JosBank/58C6_67_1905_AQUA_MAIN?$browse_thumbnail$", "price" : "$39.00", "regPrice" : "", "salePrice" : "", "label": "none", "category" : "Shirts", "subcategory": "Traveler Dress Shirts", "stock": 1, "dimension53" : "No" }

{ "451545843" : { "16x36": ["Orange"], "16 1/2x36": ["Orange"], "17x36": ["Orange"], "15 1/2x36": ["Orange"], "17 1/2x36": ["Orange"] } }

{ "id" : "451545843", "productName" : "1905 Collection Slim Fit Point Collar Check Dress Shirt with brrr°? comfort - Big & Tall", "productItem" : "58DX", "productDescription" : "This finely crafted, 1905 Collection dress shirt features a multi-colored check pattern with built-in stretch for added comfort. The shirt s fabrication includes brrr\u00B0\u00AE comfort technology that continually keeps you cooler with natural cooling minerals, a special fiber core that increases moisture wicking, and an enhanced airflow to boost cooling and to keep you feeling fresh. The shirt is also wrinkle-resistant for easy care. Point collar, traditional placket, left chest pocket, split-back yoke, back side pleats and barrel cuffs. 57% cotton, 30% brrr\u00B0\u00AE nylon, 5% spandex. Machine washable. Imported.", "promoDescription" : "4 for $140!", "productUrl" : "http://www.circleoftrusttherapy.com/p/1905-collection-slim-fit-point-collar-check-dress-shirt-with-brrr-comfort-big-tall", "productImageUrl" : "https://images.josbank.com/is/image/JosBank/58DW_33_1905_ORANGE_MAIN?$browse_thumbnail$", "productImageFullSize" : "https://images.josbank.com/is/image/JosBank/58DW_33_1905_ORANGE_MAIN?$browse_thumbnail$", "price" : "$45.00", "regPrice" : "", "salePrice" : "", "label": "none", "category" : "Big & Tall", "subcategory": "New Arrivals", "stock": 1, "dimension53" : "No" }

{ "451543431" : { "16 1/2x34": ["Orange"], "16 1/2x35": ["Orange"], "17x33": ["Orange"], "16x34": ["Orange"], "17x34": ["Orange"], "17 1/2x34": ["Orange"], "16x35": ["Orange"], "17x35": ["Orange"], "16x32": ["Orange"], "14 1/2x33": ["Orange"], "14 1/2x32": ["Orange"], "15 1/2x32": ["Orange"], "16x33": ["Orange"], "15 1/2x35": ["Orange"], "15x35": ["Orange"], "15 1/2x33": ["Orange"], "15x33": ["Orange"], "15 1/2x34": ["Orange"], "15x34": ["Orange"], "15x32": ["Orange"], "17 1/2x35": ["Orange"], "16 1/2x33": ["Orange"], "16 1/2x32": ["Orange"] } }

{ "id" : "451543431", "productName" : "1905 Collection Slim Fit Point Collar Check Dress Shirt with brrr°? comfort", "productItem" : "58DW", "productDescription" : "This finely crafted, 1905 Collection dress shirt features a multi-colored check pattern with built-in stretch for added comfort. The shirt s fabrication includes brrr\u00B0\u00AE comfort technology that continually keeps you cooler with natural cooling minerals, a special fiber core that increases moisture wicking, and an enhanced airflow to boost cooling and to keep you feeling fresh. The shirt is also wrinkle-resistant for easy care. Point collar, traditional placket, left chest pocket, split-back yoke, back side pleats and barrel cuffs. 57% cotton, 30% brrr\u00B0\u00AE nylon, 5% spandex. Machine washable. Imported.", "promoDescription" : "4 for $125!", "productUrl" : "http://www.circleoftrusttherapy.com/p/1905-collection-slim-fit-point-collar-check-dress-shirt-with-brrr-comfort", "productImageUrl" : "https://images.josbank.com/is/image/JosBank/58DW_33_1905_ORANGE_MAIN?$browse_thumbnail$", "productImageFullSize" : "https://images.josbank.com/is/image/JosBank/58DW_33_1905_ORANGE_MAIN?$browse_thumbnail$", "price" : "$39.00", "regPrice" : "", "salePrice" : "", "label": "none", "category" : "Shirts", "subcategory": "1905 Dress Shirts", "stock": 1, "dimension53" : "No" }

{ "451545844" : { "16x36": ["Blue"] } }

{ "id" : "451545844", "productName" : "1905 Collection Slim Fit Spread Collar Check Dress Shirt with brrr°? comfort - Big & Tall", "productItem" : "58DZ", "productDescription" : "Our 1905 Collection dress shirts offer fine craftsmanship in bolder colors and patterns. Built with brrr\u00B0\u00AE comfort technology that continually keeps you cooler with natural cooling minerals, special fiber core that increases moisture wicking, and enhanced airflow to boost cooling and keep you feeling fresh. Woven with built-in stretch and a wrinkle-resistant treatment for easy wear and care. Spread collar. Slim Fit. 54% cotton, 41% brrr\u00B0\u00AE nylon, 5% spandex. Machine washable. Imported.", "promoDescription" : "4 for $140!", "productUrl" : "http://www.circleoftrusttherapy.com/p/1905-collection-slim-fit-spread-collar-check-dress-shirt-with-brrr-comfort-big-tall-58DZ", "productImageUrl" : "https://images.josbank.com/is/image/JosBank/58DY_70_1905_BLUE_MAIN?$browse_thumbnail$", "productImageFullSize" : "https://images.josbank.com/is/image/JosBank/58DY_70_1905_BLUE_MAIN?$browse_thumbnail$", "price" : "$45.00", "regPrice" : "", "salePrice" : "", "label": "none", "category" : "Big & Tall", "subcategory": "New Arrivals", "stock": 1, "dimension53" : "No" }

{ "451543432" : { "16 1/2x35": ["Blue"], "16x34": ["Blue"] } }

{ "id" : "451543432", "productName" : "1905 Collection Slim Fit Spread Collar Check Dress Shirt with brrr°? comfort", "productItem" : "58DY", "productDescription" : "Our 1905 Collection dress shirts offer fine craftsmanship in bolder colors and patterns. Built with brrr\u00B0\u00AE comfort technology that continually keeps you cooler with natural cooling minerals, special fiber core that increases moisture wicking, and enhanced airflow to boost cooling and keep you feeling fresh. Woven with built-in stretch and a wrinkle-resistant treatment for easy wear and care. Spread collar. Slim Fit. 54% cotton, 41% brrr\u00B0\u00AE nylon, 5% spandex. Machine washable. Imported.", "promoDescription" : "4 for $125!", "productUrl" : "http://www.circleoftrusttherapy.com/p/1905-collection-slim-fit-spread-collar-check-dress-shirt-with-brrr-comfort-58DY", "productImageUrl" : "https://images.josbank.com/is/image/JosBank/58DY_70_1905_BLUE_MAIN?$browse_thumbnail$", "productImageFullSize" : "https://images.josbank.com/is/image/JosBank/58DY_70_1905_BLUE_MAIN?$browse_thumbnail$", "price" : "$39.00", "regPrice" : "", "salePrice" : "", "label": "none", "category" : "Shirts", "subcategory": "1905 Dress Shirts", "stock": 1, "dimension53" : "No" }

{ "451558513" : { "16 1/2x34": ["White"], "16 1/2x35": ["White"], "17x33": ["White"], "16x34": ["White"], "17 1/2x33": ["White"], "17x34": ["White"], "17 1/2x34": ["White"], "16x35": ["White"], "17x35": ["White"], "16x32": ["White"], "16x33": ["White"], "15 1/2x35": ["White"], "15 1/2x33": ["White"], "15 1/2x34": ["White"], "17 1/2x35": ["White"], "16 1/2x33": ["White"], "16 1/2x32": ["White"] } }

{ "id" : "451558513", "productName" : "Reserve Collection Tailored Fit Spread Collar Twill Dress Shirt", "productItem" : "59RL", "productDescription" : "Our Reserve Collection dress shirts offer premium quality fabrics with fine patterns and elegant colors. Tailored in European fabric. Single-needle tailoring. Break-resistant buttons. Spread collar and barrel cuff. Exact sleeve length. Twill fabric. No-wrinkle. 100% cotton. Machine washable. Imported.", "promoDescription" : "3 for $115", "productUrl" : "http://www.circleoftrusttherapy.com/p/reserve-collection-tailored-fit-spread-collar-twill-dress-shirt-59RL", "productImageUrl" : "https://images.josbank.com/is/image/JosBank/59RL_10_JOS_A_BANK_RESERVE_WHITE_MAIN?$browse_thumbnail$", "productImageFullSize" : "https://images.josbank.com/is/image/JosBank/59RL_10_JOS_A_BANK_RESERVE_WHITE_MAIN?$browse_thumbnail$", "price" : "$45.00", "regPrice" : "", "salePrice" : "", "label": "none", "category" : "Shirts", "subcategory": "Reserve Dress Shirts", "stock": 1, "dimension53" : "No" }

{ "451558514" : { "16x36": ["White"], "18 1/2x35 Big": ["White"], "16 1/2x36": ["White"], "17x36": ["White"], "18 1/2x33 Big": ["White"], "18x35 Big": ["White"], "15 1/2x36": ["White"], "18x37 Tall": ["White"], "18x36 Tall": ["White"], "18x33 Big": ["White"], "18 1/2x36 Tall": ["White"], "18 1/2x37 Tall": ["White"], "18 1/2x34 Big": ["White"], "17 1/2x37 Tall": ["White"], "18x34 Big": ["White"], "17 1/2x36": ["White"], "17x37 Tall": ["White"] } }

{ "id" : "451558514", "productName" : "Reserve Collection Tailored Fit Spread Collar Twill Dress Shirt - Big & Tall", "productItem" : "59RR", "productDescription" : "Our Reserve Collection dress shirts offer premium quality fabrics with fine patterns and elegant colors. Tailored in European fabric. Single-needle tailoring. Break-resistant buttons. Spread collar and barrel cuff. Exact sleeve length. Twill fabric. No-wrinkle. 100% cotton. Machine washable. Imported.", "promoDescription" : "3 for $119", "productUrl" : "http://www.circleoftrusttherapy.com/p/reserve-collection-tailored-fit-spread-collar-twill-dress-shirt-big-tall-59RR", "productImageUrl" : "https://images.josbank.com/is/image/JosBank/59RL_10_JOS_A_BANK_RESERVE_WHITE_MAIN?$browse_thumbnail$", "productImageFullSize" : "https://images.josbank.com/is/image/JosBank/59RL_10_JOS_A_BANK_RESERVE_WHITE_MAIN?$browse_thumbnail$", "price" : "$49.00", "regPrice" : "", "salePrice" : "", "label": "none", "category" : "Big & Tall", "subcategory": "New Arrivals", "stock": 1, "dimension53" : "No" }

{ "451558517" : { "16 1/2x34": ["Bright Blue"], "16 1/2x35": ["Bright Blue"], "17x33": ["Bright Blue"], "16x34": ["Bright Blue"], "17 1/2x33": ["Bright Blue"], "17x34": ["Bright Blue"], "17 1/2x34": ["Bright Blue"], "16x35": ["Bright Blue"], "17x35": ["Bright Blue"], "15 1/2x32": ["Bright Blue"], "16x33": ["Bright Blue"], "15 1/2x35": ["Bright Blue"], "15 1/2x33": ["Bright Blue"], "15 1/2x34": ["Bright Blue"], "17 1/2x35": ["Bright Blue"], "16 1/2x33": ["Bright Blue"], "16 1/2x32": ["Bright Blue"] } }

{ "id" : "451558517", "productName" : "Reserve Collection Tailored Fit Spread Collar Check Dress Shirt", "productItem" : "59RV", "productDescription" : "A refined choice, this Reserve Collection dress shirt completes your professional or dress wear look with the finest tailoring, fabrics, and timeless style. Resists shrinking, fading, and puckering. Left chest pocket. Single-needle tailoring. Break-resistant buttons. Spread collar and barrel cuff. Exact sleeve length. Fine Italian fabric. No-wrinkle. 100% cotton. Machine washable. Imported.", "promoDescription" : "3 for $115", "productUrl" : "http://www.circleoftrusttherapy.com/p/reserve-collection-tailored-fit-spread-collar-check-dress-shirt-59RV", "productImageUrl" : "https://images.josbank.com/is/image/JosBank/59RV_73_JOS_A_BANK_RESERVE_BRIGHT_BLUE_MAIN?$browse_thumbnail$", "productImageFullSize" : "https://images.josbank.com/is/image/JosBank/59RV_73_JOS_A_BANK_RESERVE_BRIGHT_BLUE_MAIN?$browse_thumbnail$", "price" : "$45.00", "regPrice" : "", "salePrice" : "", "label": "none", "category" : "Shirts", "subcategory": "Reserve Dress Shirts", "stock": 1, "dimension53" : "No" }

{ "451558518" : { "16x36": ["Bright Blue"], "18 1/2x35 Big": ["Bright Blue"], "16 1/2x36": ["Bright Blue"], "17x36": ["Bright Blue"], "18 1/2x33 Big": ["Bright Blue"], "18x35 Big": ["Bright Blue"], "15 1/2x36": ["Bright Blue"], "18x37 Tall": ["Bright Blue"], "18x36 Tall": ["Bright Blue"], "18 1/2x36 Tall": ["Bright Blue"], "18x33 Big": ["Bright Blue"], "18 1/2x37 Tall": ["Bright Blue"], "18 1/2x34 Big": ["Bright Blue"], "17 1/2x37 Tall": ["Bright Blue"], "18x34 Big": ["Bright Blue"], "17 1/2x36": ["Bright Blue"] } }

{ "id" : "451558518", "productName" : "Reserve Collection Tailored Fit Spread Collar Check Dress Shirt - Big & Tall", "productItem" : "59RW", "productDescription" : "A refined choice, this Reserve Collection dress shirt completes your professional or dress wear look with the finest tailoring, fabrics, and timeless style. Resists shrinking, fading, and puckering. Left chest pocket. Single-needle tailoring. Break-resistant buttons. Spread collar and barrel cuff. Exact sleeve length. Fine Italian fabric. No-wrinkle. 100% cotton. Machine washable. Imported.", "promoDescription" : "3 for $119", "productUrl" : "http://www.circleoftrusttherapy.com/p/reserve-collection-tailored-fit-spread-collar-check-dress-shirt-big-tall-59RW", "productImageUrl" : "https://images.josbank.com/is/image/JosBank/59RV_73_JOS_A_BANK_RESERVE_BRIGHT_BLUE_MAIN?$browse_thumbnail$", "productImageFullSize" : "https://images.josbank.com/is/image/JosBank/59RV_73_JOS_A_BANK_RESERVE_BRIGHT_BLUE_MAIN?$browse_thumbnail$", "price" : "$49.00", "regPrice" : "", "salePrice" : "", "label": "none", "category" : "Big & Tall", "subcategory": "New Arrivals", "stock": 1, "dimension53" : "No" }

{ "451558520" : { "16x36": ["Navy"], "18 1/2x35 Big": ["Navy"], "16 1/2x36": ["Navy"], "17x36": ["Navy"], "18 1/2x33 Big": ["Navy"], "18x35 Big": ["Navy"], "15 1/2x36": ["Navy"], "18x37 Tall": ["Navy"], "18x36 Tall": ["Navy"], "18 1/2x36 Tall": ["Navy"], "18x33 Big": ["Navy"], "18 1/2x37 Tall": ["Navy"], "18 1/2x34 Big": ["Navy"], "17 1/2x37 Tall": ["Navy"], "18x34 Big": ["Navy"], "17 1/2x36": ["Navy"] } }

{ "id" : "451558520", "productName" : "Reserve Collection Tailored Fit Spread Collar Houndstooth Dress Shirt - Big & Tall", "productItem" : "59RY", "productDescription" : "Our Reserve Collection dress shirts offer premium quality and fabrics with fine patterns and elegant colors. This fine dress shirt features a subtle micro houndstooth pattern and fine European fabric. Left chest pocket. Single-needle tailoring. Break-resistant buttons. Spread collar and barrel cuff. Exact sleeve length. No-wrinkle. 100% cotton. Machine washable. Imported.", "promoDescription" : "3 for $119", "productUrl" : "http://www.circleoftrusttherapy.com/p/reserve-collection-tailored-fit-spread-collar-houndstooth-dress-shirt-big-tall", "productImageUrl" : "https://images.josbank.com/is/image/JosBank/59RX_75_JOS_A_BANK_RESERVE_NAVY_MAIN?$browse_thumbnail$", "productImageFullSize" : "https://images.josbank.com/is/image/JosBank/59RX_75_JOS_A_BANK_RESERVE_NAVY_MAIN?$browse_thumbnail$", "price" : "$49.00", "regPrice" : "", "salePrice" : "", "label": "none", "category" : "Big & Tall", "subcategory": "New Arrivals", "stock": 1, "dimension53" : "No" }

{ "451558519" : { "16 1/2x34": ["Navy"], "16 1/2x35": ["Navy"], "17x33": ["Navy"], "16x34": ["Navy"], "17 1/2x33": ["Navy"], "17x34": ["Navy"], "17 1/2x34": ["Navy"], "16x35": ["Navy"], "17x35": ["Navy"], "16x32": ["Navy"], "16x33": ["Navy"], "15 1/2x35": ["Navy"], "15 1/2x33": ["Navy"], "15 1/2x34": ["Navy"], "17 1/2x35": ["Navy"], "16 1/2x33": ["Navy"], "16 1/2x32": ["Navy"] } }

{ "id" : "451558519", "productName" : "Reserve Collection Tailored Fit Spread Collar Houndstooth Dress Shirt", "productItem" : "59RX", "productDescription" : "Our Reserve Collection dress shirts offer premium quality and fabrics with fine patterns and elegant colors. This fine dress shirt features a subtle micro houndstooth pattern and fine European fabric. Left chest pocket. Single-needle tailoring. Break-resistant buttons. Spread collar and barrel cuff. Exact sleeve length. No-wrinkle. 100% cotton. Machine washable. Imported.", "promoDescription" : "3 for $115", "productUrl" : "http://www.circleoftrusttherapy.com/p/reserve-collection-tailored-fit-spread-collar-houndstooth-dress-shirt", "productImageUrl" : "https://images.josbank.com/is/image/JosBank/59RX_75_JOS_A_BANK_RESERVE_NAVY_MAIN?$browse_thumbnail$", "productImageFullSize" : "https://images.josbank.com/is/image/JosBank/59RX_75_JOS_A_BANK_RESERVE_NAVY_MAIN?$browse_thumbnail$", "price" : "$45.00", "regPrice" : "", "salePrice" : "", "label": "none", "category" : "Shirts", "subcategory": "Reserve Dress Shirts", "stock": 1, "dimension53" : "No" }

{ "451558515" : { "16 1/2x34": ["Blue"], "16 1/2x35": ["Blue"], "17x33": ["Blue"], "17 1/2x33": ["Blue"], "16x34": ["Blue"], "17x34": ["Blue"], "17 1/2x34": ["Blue"], "16x35": ["Blue"], "17x35": ["Blue"], "16x32": ["Blue"], "15 1/2x32": ["Blue"], "16x33": ["Blue"], "15 1/2x35": ["Blue"], "15 1/2x33": ["Blue"], "15 1/2x34": ["Blue"], "17 1/2x35": ["Blue"], "16 1/2x33": ["Blue"], "16 1/2x32": ["Blue"] } }

{ "id" : "451558515", "productName" : "Reserve Collection Tailored Fit Spread Collar Twill Grid Dress Shirt", "productItem" : "59RT", "productDescription" : "Our Reserve Collection dress shirts offer premium quality fabrics with fine patterns and elegant colors. Tailored in European fabric. Single-needle tailoring. Break-resistant buttons. Spread collar and barrel cuff. Exact sleeve length. Twill fabric. No-wrinkle. 100% cotton. Machine washable. Imported.", "promoDescription" : "3 for $115", "productUrl" : "http://www.circleoftrusttherapy.com/p/reserve-collection-tailored-fit-spread-collar-twill-grid-dress-shirt-59RT", "productImageUrl" : "https://images.josbank.com/is/image/JosBank/59RT_70_JOS_A_BANK_RESERVE_BLUE_MAIN?$browse_thumbnail$", "productImageFullSize" : "https://images.josbank.com/is/image/JosBank/59RT_70_JOS_A_BANK_RESERVE_BLUE_MAIN?$browse_thumbnail$", "price" : "$45.00", "regPrice" : "", "salePrice" : "", "label": "none", "category" : "Shirts", "subcategory": "Reserve Dress Shirts", "stock": 1, "dimension53" : "No" }

{ "451558516" : { "16x36": ["Blue"], "18 1/2x35 Big": ["Blue"], "16 1/2x36": ["Blue"], "17x36": ["Blue"], "18 1/2x33 Big": ["Blue"], "18x35 Big": ["Blue"], "15 1/2x36": ["Blue"], "18x37 Tall": ["Blue"], "18x36 Tall": ["Blue"], "18 1/2x36 Tall": ["Blue"], "18x33 Big": ["Blue"], "18 1/2x37 Tall": ["Blue"], "18 1/2x34 Big": ["Blue"], "17 1/2x37 Tall": ["Blue"], "18x34 Big": ["Blue"], "17 1/2x36": ["Blue"] } }

{ "id" : "451558516", "productName" : "Reserve Collection Tailored Fit Spread Collar Twill Grid Dress Shirt - Big & Tall", "productItem" : "59RU", "productDescription" : "Our Reserve Collection dress shirts offer premium quality fabrics with fine patterns and elegant colors. Tailored in European fabric. Single-needle tailoring. Break-resistant buttons. Spread collar and barrel cuff. Exact sleeve length. Twill fabric. No-wrinkle. 100% cotton. Machine washable. Imported.", "promoDescription" : "3 for $119", "productUrl" : "http://www.circleoftrusttherapy.com/p/reserve-collection-tailored-fit-spread-collar-twill-grid-dress-shirt-big-tall-59RU", "productImageUrl" : "https://images.josbank.com/is/image/JosBank/59RT_70_JOS_A_BANK_RESERVE_BLUE_MAIN?$browse_thumbnail$", "productImageFullSize" : "https://images.josbank.com/is/image/JosBank/59RT_70_JOS_A_BANK_RESERVE_BLUE_MAIN?$browse_thumbnail$", "price" : "$49.00", "regPrice" : "", "salePrice" : "", "label": "none", "category" : "Big & Tall", "subcategory": "New Arrivals", "stock": 1, "dimension53" : "No" }

{ "451543385" : { "16 1/2x34": ["Purple"], "16 1/2x35": ["Purple"], "17x33": ["Purple"], "17 1/2x33": ["Purple"], "16x34": ["Purple"], "17x34": ["Purple"], "17 1/2x34": ["Purple"], "16x35": ["Purple"], "17x35": ["Purple"], "16x32": ["Purple"], "15 1/2x32": ["Purple"], "16x33": ["Purple"], "15 1/2x35": ["Purple"], "15 1/2x33": ["Purple"], "15 1/2x34": ["Purple"], "17 1/2x35": ["Purple"], "16 1/2x33": ["Purple"], "16 1/2x32": ["Purple"] } }

{ "id" : "451543385", "productName" : "Reserve Collection Traditional Fit Spread Collar Micro Square Dress Shirt", "productItem" : "588J", "productDescription" : "Premium quality fabrics, classic patterns and elegant hues define the Reserve Collection. This no-wrinkle dress shirt resists shrinking, fading, and puckering. Left chest pocket. Single-needle tailoring. Break-resistant buttons. Spread collar and barrel cuff. Exact sleeve length. 100% Egyptian cotton. Machine washable. Imported.", "promoDescription" : "3 for $115", "productUrl" : "http://www.circleoftrusttherapy.com/p/reserve-collection-traditional-fit-spread-collar-micro-square-dress-shirt", "productImageUrl" : "https://images.josbank.com/is/image/JosBank/588J_62_JOS_A_BANK_RESERVE_PURPLE_MAIN?$browse_thumbnail$", "productImageFullSize" : "https://images.josbank.com/is/image/JosBank/588J_62_JOS_A_BANK_RESERVE_PURPLE_MAIN?$browse_thumbnail$", "price" : "$45.00", "regPrice" : "", "salePrice" : "", "label": "none", "category" : "Shirts", "subcategory": "Reserve Dress Shirts", "stock": 1, "dimension53" : "No" }

{ "451543386" : { "18 1/2x35 Big": ["Purple"], "16 1/2x36": ["Purple"], "16 1/2x37 Tall": ["Purple"], "17x36": ["Purple"], "18 1/2x33 Big": ["Purple"], "19x37 Tall": ["Purple"], "18x35 Big": ["Purple"], "18x37 Tall": ["Purple"], "18x36 Tall": ["Purple"], "18x33 Big": ["Purple"], "18 1/2x36 Tall": ["Purple"], "20-36": ["Purple"], "18 1/2x37 Tall": ["Purple"], "19x36 Tall": ["Purple"], "18 1/2x34 Big": ["Purple"], "20-35": ["Purple"], "17 1/2x37 Tall": ["Purple"], "18x34 Big": ["Purple"], "17 1/2x36": ["Purple"], "17x37 Tall": ["Purple"], "19x35 Big": ["Purple"], "17 1/2x38 Tall": ["Purple"] } }

{ "id" : "451543386", "productName" : "Reserve Collection Traditional Fit Spread Collar Micro Square Dress Shirt - Big & Tall", "productItem" : "588K", "productDescription" : "Premium quality fabrics, classic patterns and elegant hues define the Reserve Collection. This no-wrinkle dress shirt resists shrinking, fading, and puckering. Left chest pocket. Single-needle tailoring. Break-resistant buttons. Spread collar and barrel cuff. Exact sleeve length. 100% Egyptian cotton. Machine washable. Imported.", "promoDescription" : "3 for $119", "productUrl" : "http://www.circleoftrusttherapy.com/p/reserve-collection-traditional-fit-spread-collar-micro-square-dress-shirt-big-tall", "productImageUrl" : "https://images.josbank.com/is/image/JosBank/588J_62_JOS_A_BANK_RESERVE_PURPLE_MAIN?$browse_thumbnail$", "productImageFullSize" : "https://images.josbank.com/is/image/JosBank/588J_62_JOS_A_BANK_RESERVE_PURPLE_MAIN?$browse_thumbnail$", "price" : "$49.00", "regPrice" : "", "salePrice" : "", "label": "none", "category" : "Big & Tall", "subcategory": "New Arrivals", "stock": 1, "dimension53" : "No" }

{ "451555230" : { "16x36": ["Blue"], "18 1/2x35 Big": ["Blue"], "16 1/2x36": ["Blue"], "17x36": ["Blue"], "18x35 Big": ["Blue"], "15 1/2x36": ["Blue"], "18x37 Tall": ["Blue"], "18x36 Tall": ["Blue"], "18 1/2x36 Tall": ["Blue"], "18x33 Big": ["Blue"], "18 1/2x37 Tall": ["Blue"], "18 1/2x34 Big": ["Blue"], "17 1/2x37 Tall": ["Blue"], "17 1/2x36": ["Blue"], "18x34 Big": ["Blue"] } }

{ "id" : "451555230", "productName" : "Traveler Collection Tailored Fit Spread Collar Houndstooth Ultimate Active Dress Shirt - Big & Tall", "productItem" : "58FH", "productDescription" : "Look as neat and professional at the end of the day as you did in the beginning with our Traveler Collection shirts. Our Traveler Collection dress shirts feature premium wrinkle-free performance that resists shrinking and fading. Split back yoke with side back box pleats. Break-resistant buttons. Traditional placket with a spread collar and barrel cuff. Exact sleeve length. Tailored Fit. 93% polyester, 7% spandex. Active-wear fabric with stretch. Non-iron. Machine washable. Imported.", "promoDescription" : "4 for $140!", "productUrl" : "http://www.circleoftrusttherapy.com/p/traveler-collection-tailored-fit-spread-collar-houndstooth-ultimate-active-dress-shirt-big-tall", "productImageUrl" : "https://images.josbank.com/is/image/JosBank/58FG_70_TRAVELER_BLUE_MAIN?$browse_thumbnail$", "productImageFullSize" : "https://images.josbank.com/is/image/JosBank/58FG_70_TRAVELER_BLUE_MAIN?$browse_thumbnail$", "price" : "$45.00", "regPrice" : "", "salePrice" : "", "label": "none", "category" : "Big & Tall", "subcategory": "New Arrivals", "stock": 1, "dimension53" : "No" }

{ "451555231" : { "16x36": ["Purple"], "18 1/2x35 Big": ["Purple"], "16 1/2x36": ["Purple"], "17x36": ["Purple"], "18x35 Big": ["Purple"], "15 1/2x36": ["Purple"], "18x37 Tall": ["Purple"], "18x36 Tall": ["Purple"], "18 1/2x36 Tall": ["Purple"], "18x33 Big": ["Purple"], "18 1/2x37 Tall": ["Purple"], "18 1/2x34 Big": ["Purple"], "17 1/2x37 Tall": ["Purple"], "17 1/2x36": ["Purple"], "18x34 Big": ["Purple"] } }

{ "id" : "451555231", "productName" : "Traveler Collection Tailored Fit Spread Collar Tattersall Ultimate Active Dress Shirt - Big & Tall", "productItem" : "58FK", "productDescription" : "Look as neat and professional at the end of the day as you did in the beginning with our Traveler Collection shirts. Our Traveler Collection dress shirts feature premium wrinkle-free performance that resists shrinking and fading. Split back yoke with side back box pleats. Break-resistant buttons. Traditional placket with a spread collar and barrel cuff. Exact sleeve length. Tailored Fit. 93% polyester, 7% spandex. Active-wear fabric with stretch. Non-iron. Machine washable. Imported.", "promoDescription" : "4 for $140!", "productUrl" : "http://www.circleoftrusttherapy.com/p/traveler-collection-tailored-fit-spread-collar-tattersall-ultimate-active-dress-shirt-big-tall", "productImageUrl" : "https://images.josbank.com/is/image/JosBank/58FJ_62_TRAVELER_PURPLE_MAIN?$browse_thumbnail$", "productImageFullSize" : "https://images.josbank.com/is/image/JosBank/58FJ_62_TRAVELER_PURPLE_MAIN?$browse_thumbnail$", "price" : "$45.00", "regPrice" : "", "salePrice" : "", "label": "none", "category" : "Big & Tall", "subcategory": "New Arrivals", "stock": 1, "dimension53" : "No" }

{ "451555232" : { "16x36": ["Purple"], "18 1/2x35 Big": ["Purple"], "16 1/2x36": ["Purple"], "17x36": ["Purple"], "18x35 Big": ["Purple"], "15 1/2x36": ["Purple"], "18x37 Tall": ["Purple"], "18x36 Tall": ["Purple"], "18 1/2x36 Tall": ["Purple"], "18x33 Big": ["Purple"], "18 1/2x37 Tall": ["Purple"], "18 1/2x34 Big": ["Purple"], "17 1/2x37 Tall": ["Purple"], "17 1/2x36": ["Purple"], "18x34 Big": ["Purple"] } }

{ "id" : "451555232", "productName" : "Traveler Collection Tailored Fit Spread Collar Check Ultimate Active Dress Shirt - Big & Tall", "productItem" : "58FM", "productDescription" : "Look as neat and professional at the end of the day as you did in the beginning with our Traveler Collection shirts. Our Traveler Collection dress shirts feature premium wrinkle-free performance that resists shrinking and fading. Split back yoke with side back box pleats. Break-resistant buttons. Traditional placket with a spread collar and barrel cuff. Exact sleeve length. Tailored Fit. 93% polyester, 7% spandex. Active-wear fabric with stretch. Non-iron. Machine washable. Imported.", "promoDescription" : "4 for $140!", "productUrl" : "http://www.circleoftrusttherapy.com/p/traveler-collection-tailored-fit-spread-collar-check-ultimate-active-dress-shirt-big-tall-58FM", "productImageUrl" : "https://images.josbank.com/is/image/JosBank/58FL_62_TRAVELER_PURPLE_MAIN?$browse_thumbnail$", "productImageFullSize" : "https://images.josbank.com/is/image/JosBank/58FL_62_TRAVELER_PURPLE_MAIN?$browse_thumbnail$", "price" : "$45.00", "regPrice" : "", "salePrice" : "", "label": "none", "category" : "Big & Tall", "subcategory": "New Arrivals", "stock": 1, "dimension53" : "No" }

{ "451555233" : { "16x36": ["Navy"], "18 1/2x35 Big": ["Navy"], "16 1/2x36": ["Navy"], "17x36": ["Navy"], "18x35 Big": ["Navy"], "15 1/2x36": ["Navy"], "18x37 Tall": ["Navy"], "18x36 Tall": ["Navy"], "18 1/2x36 Tall": ["Navy"], "18x33 Big": ["Navy"], "18 1/2x37 Tall": ["Navy"], "18 1/2x34 Big": ["Navy"], "17 1/2x37 Tall": ["Navy"], "17 1/2x36": ["Navy"], "18x34 Big": ["Navy"] } }

{ "id" : "451555233", "productName" : "Traveler Collection Tailored Fit Spread Collar Check Ultimate Active Dress Shirt - Big & Tall", "productItem" : "58FP", "productDescription" : "Look as neat and professional at the end of the day as you did in the beginning with our Traveler Collection shirts. Our Traveler Collection dress shirts feature premium wrinkle-free performance that resists shrinking and fading. Split back yoke with side back box pleats. Break-resistant buttons. Traditional placket with a spread collar and barrel cuff. Exact sleeve length. Tailored Fit. 93% polyester, 7% spandex. Active-wear fabric with stretch. Non-iron. Machine washable. Imported.", "promoDescription" : "4 for $140!", "productUrl" : "http://www.circleoftrusttherapy.com/p/traveler-collection-tailored-fit-spread-collar-check-ultimate-active-dress-shirt-big-tall-58FP", "productImageUrl" : "https://images.josbank.com/is/image/JosBank/58FN_75_TRAVELER_NAVY_MAIN?$browse_thumbnail$", "productImageFullSize" : "https://images.josbank.com/is/image/JosBank/58FN_75_TRAVELER_NAVY_MAIN?$browse_thumbnail$", "price" : "$45.00", "regPrice" : "", "salePrice" : "", "label": "none", "category" : "Big & Tall", "subcategory": "New Arrivals", "stock": 1, "dimension53" : "No" }

{ "451555229" : { "16x36": ["White"], "18 1/2x35 Big": ["White"], "16 1/2x36": ["White"], "16 1/2x37 Tall": ["White"], "17x36": ["White"], "18 1/2x33 Big": ["White"], "18x35 Big": ["White"], "15 1/2x36": ["White"], "18x37 Tall": ["White"], "18x36 Tall": ["White"], "18x33 Big": ["White"], "18 1/2x36 Tall": ["White"], "18 1/2x37 Tall": ["White"], "18 1/2x34 Big": ["White"], "17 1/2x37 Tall": ["White"], "18x34 Big": ["White"], "17 1/2x36": ["White"], "17x37 Tall": ["White"] } }

{ "id" : "451555229", "productName" : "Traveler Collection Tailored Fit Spread Collar Ultimate Active Dress Shirt - Big & Tall", "productItem" : "58FF", "productDescription" : "Wrinkle-resistant cotton makes this shirt an ideal choice for travel and daily wear. Woven in 100% cotton. Single-needle construction. Break-resistant buttons. Button-through sleeve placket. Non-iron fabric with a touch of stretch. 93% polyester, 7% spandex. Machine washable. Imported.", "promoDescription" : "4 for $140!", "productUrl" : "http://www.circleoftrusttherapy.com/p/traveler-collection-tailored-fit-spread-collar-ultimate-active-dress-shirt-big-tall", "productImageUrl" : "https://images.josbank.com/is/image/JosBank/58F9_10_TRAVELER_WHITE_MAIN?$browse_thumbnail$", "productImageFullSize" : "https://images.josbank.com/is/image/JosBank/58F9_10_TRAVELER_WHITE_MAIN?$browse_thumbnail$", "price" : "$45.00", "regPrice" : "", "salePrice" : "", "label": "none", "category" : "Big & Tall", "subcategory": "New Arrivals", "stock": 1, "dimension53" : "No" }

{ "451543449" : { "16 1/2x34": ["White"], "16 1/2x35": ["White"], "17x33": ["White"], "17 1/2x33": ["White"], "16x34": ["White"], "17x34": ["White"], "17 1/2x34": ["White"], "16x35": ["White"], "17x35": ["White"], "16x32": ["White"], "16x33": ["White"], "15 1/2x32": ["White"], "15 1/2x35": ["White"], "15 1/2x33": ["White"], "15x33": ["White"], "15 1/2x34": ["White"], "15x34": ["White"], "15x32": ["White"], "17 1/2x35": ["White"], "16 1/2x33": ["White"], "16 1/2x32": ["White"] } }

{ "id" : "451543449", "productName" : "Traveler Collection Tailored Fit Spread Collar Ultimate Active Dress Shirt", "productItem" : "58F9", "productDescription" : "Wrinkle-resistant cotton makes this shirt an ideal choice for travel and daily wear. Woven in 100% cotton. Single-needle construction. Break-resistant buttons. Button-through sleeve placket. Non-iron fabric with a touch of stretch. 93% polyester, 7% spandex. Machine washable. Imported.", "promoDescription" : "4 for $125!", "productUrl" : "http://www.circleoftrusttherapy.com/p/traveler-collection-tailored-fit-spread-collar-ultimate-active-dress-shirt", "productImageUrl" : "https://images.josbank.com/is/image/JosBank/58F9_10_TRAVELER_WHITE_MAIN?$browse_thumbnail$", "productImageFullSize" : "https://images.josbank.com/is/image/JosBank/58F9_10_TRAVELER_WHITE_MAIN?$browse_thumbnail$", "price" : "$39.00", "regPrice" : "", "salePrice" : "", "label": "none", "category" : "Shirts", "subcategory": "Traveler Dress Shirts", "stock": 1, "dimension53" : "No" }
Related Products
Description:
In a bold check pattern, this dress shirt is made from a stretch, wrinkle-resistant, cotton-blend fabric. Features include a split-back yoke, back side pleats, a traditional placket, left chest pocket, a reinforced spread collar, and barrel cuffs. Exact sleeve length. ...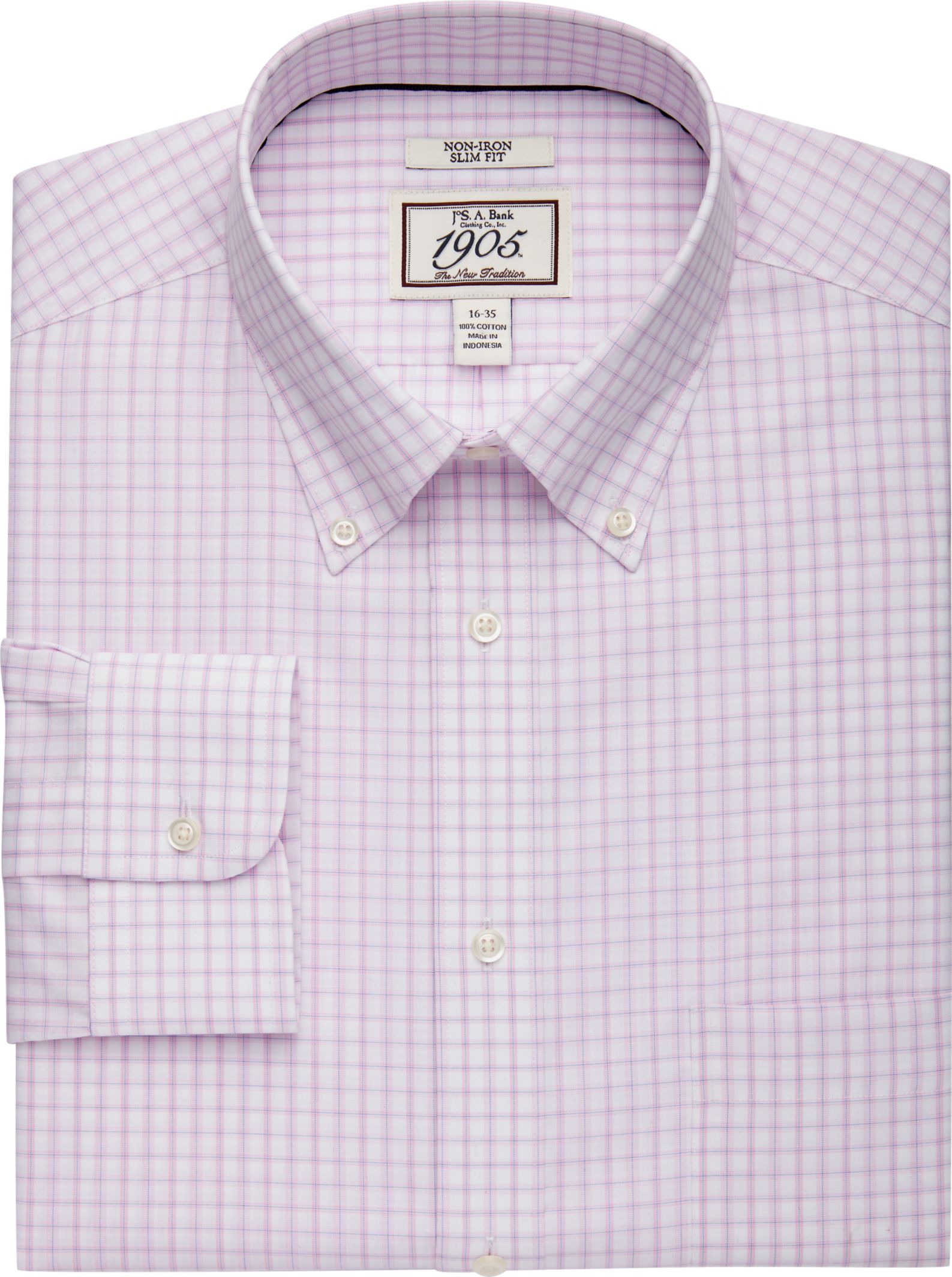 Description:
Offering fine craftsmanship and updated European styling, this Wrinkle-resistant dress shirt has break-resistant buttons, a left chest pocket, button-down collar, and barrel cuffs. Exact sleeve length. 100% cotton. Machine washable. Imported.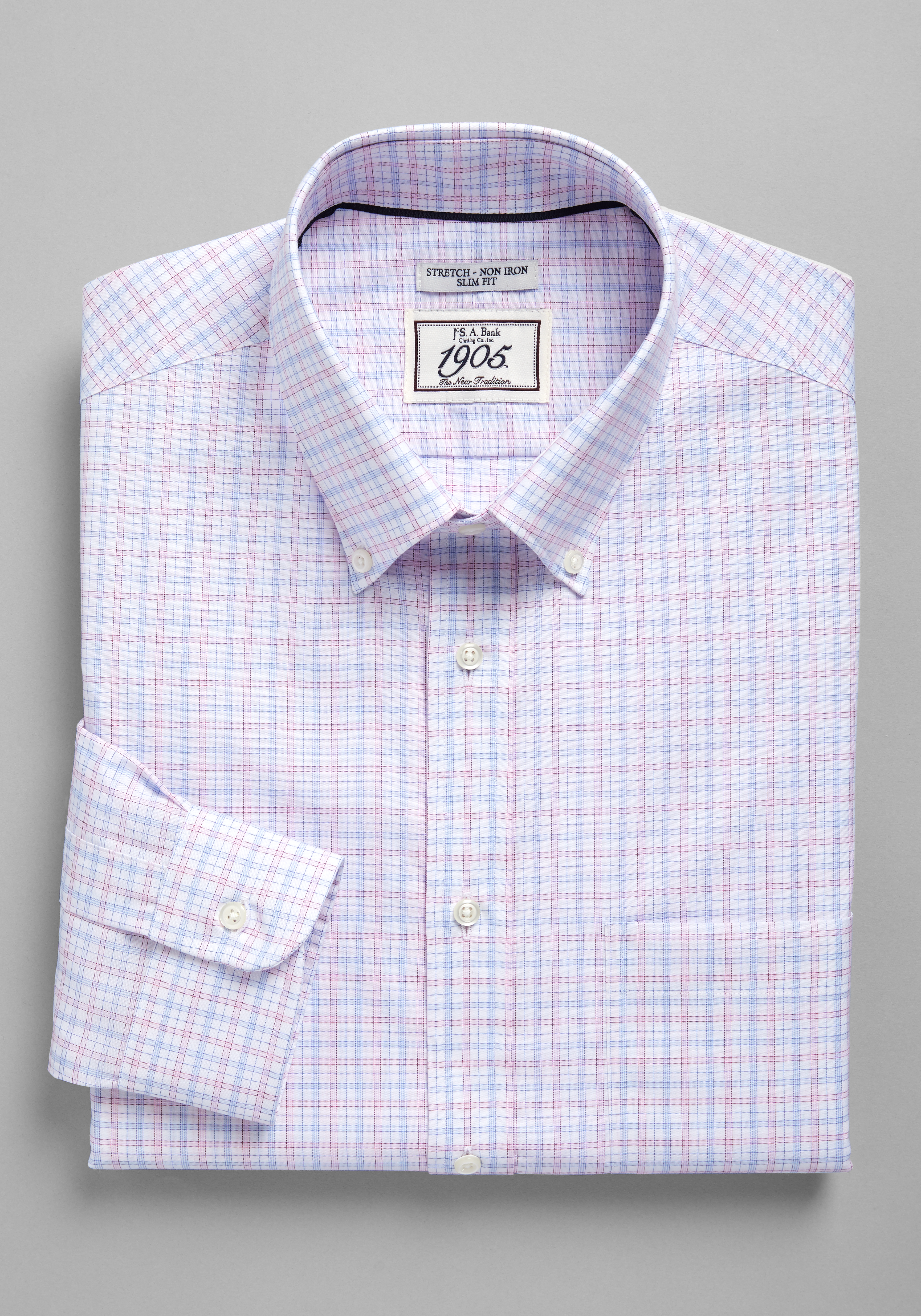 Description:
In a Slim Fit, this 1905 Collection dress shirt stays professionally crisp throughout the day with its wrinkle-resistant treatment. Made with responsibly grown cotton and comfort stretch. Split back yoke with side back pleats. Break-resistant buttons. Left chest pocket. Traditional ...
Description:
Stylish and bold colors and patterns set our 1905 Collection dress shirts apart from the rest. This non-iron dress shirt features Break-resistant buttons, spread collar, and barrel cuff. Exact sleeve length. 100% cotton. Machine washable. Imported.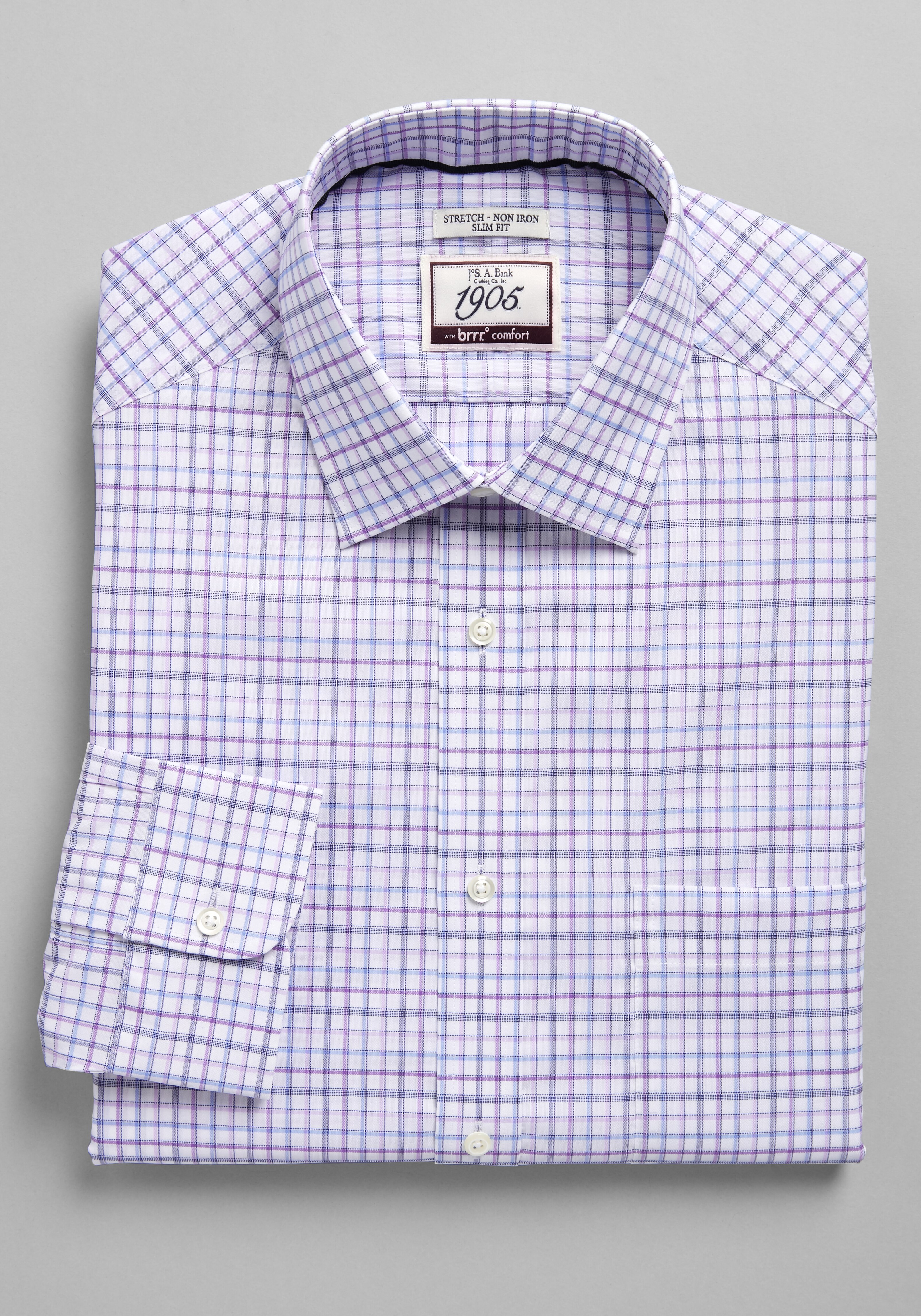 Description:
This finely crafted 1905 Collection dress shirt features a traditional multi-check pattern with built-in stretch for added comfort. This shirt features brrr°? comfort technology that continually keeps you cooler with natural cooling minerals, a special fiber core that increases moisture ...
Create Your Dream Wardrobe
Something is always on sale!
Smart shoppers love a good value. And Jos. A. Bank shoppers love that they can take advantage of men's clothing sales yet still count on impeccable quality and the traditional styles that get them noticed for all the right reasons. You already appreciate our everyday low prices, and it is no secret that we love a good sale. This is why we offer even more added-value sales on our renowned collections of suits, sportcoats, dress shirts, sweaters, dress pants, ties, outerwear and much more throughout the year. It's actually fun to hunt for those extra-special pieces, and when you score a fantastic deal on a piece you really want and need, everyone wins. It's the perfect solution to your goal of having an effortless wardrobe of quality menswear at your fingertips—one that will take you from elegant formalwear to upscale casual and everything in between. From the boardroom to date night to chauffeuring the kids to their activities, it's an awesome feeling to be the best dressed man on the block. You can never have too many fine menswear pieces in your closet to add versatility and elegance to your clothing rotation.