Polos & Tees
Refine your results
SHOW
Show:

Press enter to collapse or expand the menu. For navigating with in Filter options, press tab. To select Filter options, press enter.

Clear All

Filter

Done

0

Products

Add filter

Reset filters
Product List
{ "451496656" : { "Medium": [ "Black", "Bright Blue", "Dark Red", "Light Blue", "Light Grey", "Navy", "Purple", "Teal" ], "X Large": [ "Black", "Bright Blue", "Dark Red", "Light Blue", "Light Grey", "Navy", "Purple", "Teal" ], "Large": [ "Black", "Bright Blue", "Dark Red", "Light Blue", "Light Grey", "Navy", "Purple", "Teal" ], "Small": [ "Black", "Bright Blue", "Dark Red", "Light Blue", "Light Grey", "Navy", "Purple", "Teal" ] } }

{ "id" : "451496656", "productName" : "Travel Tech Tailored Fit Short Sleeve Polo", "productItem" : "66FJ", "productDescription" : "This Travel Tech polo shirt features a unique fabric technology that maintains the optimum microclimate for your body. Named 37.5, it removes moisture at the vapor stage before sweat can form. 37.5 acts like a thermostat by removing moisture when you are hot and retaining warmth when cold. It absorbs and traps odor molecules that are washed away when cleaned. Contrast stitching for added detail. 60% cotton, 40% 37.5 polyester. Machine washable. Imported. Size XXL and all Tall sizes come in Tailored Fit. All other sizes come in Traditional Fit.", "promoDescription" : "3 for $99!", "productUrl" : "http://www.circleoftrusttherapy.com/p/travel-tech-tailored-fit-short-sleeve-polo", "productImageUrl" : "https://images.josbank.com/is/image/JosBank/66FJ_71_TRAVEL_TECH_LIGHT_BLUE_MAIN?$browse_thumbnail$", "productImageFullSize" : "https://images.josbank.com/is/image/JosBank/66FJ_71_TRAVEL_TECH_LIGHT_BLUE_MAIN?$browse_thumbnail$", "price" : "$39.00", "regPrice" : "", "salePrice" : "", "label": "none", "category" : "Shirts", "subcategory": "Traveler Polo Shirts", "stock": 1, "dimension53" : "No" }

{ "451541491" : { "Medium": [ "Green", "Navy" ], "X Large": [ "Green", "Navy" ], "Large": [ "Green", "Navy" ], "Small": [ "Green", "Navy" ] } }

{ "id" : "451541491", "productName" : "Traveler Collection Traditional Fit Fine Stripe Short-Sleeve Polo", "productItem" : "68KU", "productDescription" : "A menswear classic, this fine polo shirt from the Traveler Collection features a thin stripe pattern on smooth and silky mercerized cotton. Three-button placket. Chest pocket. 100% cotton. Machine washable. Imported.", "promoDescription" : "3 for $99!", "productUrl" : "http://www.circleoftrusttherapy.com/p/traveler-collection-traditional-fit-fine-stripe-short-sleeve-polo", "productImageUrl" : "https://images.josbank.com/is/image/JosBank/68KU_75_TRAVELER_NAVY_MAIN?$browse_thumbnail$", "productImageFullSize" : "https://images.josbank.com/is/image/JosBank/68KU_75_TRAVELER_NAVY_MAIN?$browse_thumbnail$", "price" : "$39.00", "regPrice" : "", "salePrice" : "", "label": "none", "category" : "Shirts", "subcategory": "Traveler Polo Shirts", "stock": 1, "dimension53" : "No" }

{ "451541480" : { "Medium": [ "Green", "Navy", "Purple" ], "X Large": [ "Green", "Navy", "Purple" ], "Large": [ "Green", "Navy", "Purple" ], "Small": [ "Green", "Navy", "Purple" ] } }

{ "id" : "451541480", "productName" : "Traveler Collection Traditional Fit Stripe Short-Sleeve Polo Shirt", "productItem" : "68KF", "productDescription" : "In a comfortable, Traditional Fit, this classic polo shirt features a jersey stripe pattern in fine mercerized cotton. Three-button placket. 100% cotton. Machine washable. Imported.", "promoDescription" : "3 for $99!", "productUrl" : "http://www.circleoftrusttherapy.com/p/traveler-collection-traditional-fit-stripe-short-sleeve-polo-shirt-68KF", "productImageUrl" : "https://images.josbank.com/is/image/JosBank/68KF_62_TRAVELER_PURPLE_MAIN?$browse_thumbnail$", "productImageFullSize" : "https://images.josbank.com/is/image/JosBank/68KF_62_TRAVELER_PURPLE_MAIN?$browse_thumbnail$", "price" : "$39.00", "regPrice" : "", "salePrice" : "", "label": "none", "category" : "Shirts", "subcategory": "Traveler Polo Shirts", "stock": 1, "dimension53" : "No" }

{ "451551681" : { "Medium": [ "Light Blue", "Navy", "Purple" ], "X Large": [ "Light Blue", "Navy", "Purple" ], "Large": [ "Light Blue", "Navy", "Purple" ], "Small": [ "Light Blue", "Navy", "Purple" ] } }

{ "id" : "451551681", "productName" : "Traveler Collection Tailored Fit Short-Sleeve Stripe Polo Shirt", "productItem" : "68YZ", "productDescription" : "Cool, comfortable, and woven with stretch, this Traveler Collection polo shirt is perfect for active wear and travel. 92% polyester, 8% spandex. Machine washable. Imported.", "promoDescription" : "3 for $99!", "productUrl" : "http://www.circleoftrusttherapy.com/p/traveler-collection-tailored-fit-short-sleeve-stripe-polo-shirt", "productImageUrl" : "https://images.josbank.com/is/image/JosBank/68YZ_75_TRAVELER_NAVY_MAIN?$browse_thumbnail$", "productImageFullSize" : "https://images.josbank.com/is/image/JosBank/68YZ_75_TRAVELER_NAVY_MAIN?$browse_thumbnail$", "price" : "$39.00", "regPrice" : "", "salePrice" : "", "label": "none", "category" : "Shirts", "subcategory": "Traveler Polo Shirts", "stock": 1, "dimension53" : "No" }

{ "451541488" : { "Medium": [ "Light Blue", "Navy" ], "X Large": [ "Light Blue", "Navy" ], "Large": [ "Light Blue", "Navy" ], "Small": [ "Light Blue", "Navy" ] } }

{ "id" : "451541488", "productName" : "Traveler Collection Traditional Fit Plaid Short-Sleeve Polo", "productItem" : "68KP", "productDescription" : "Stylishly casual with a comfortable fit our Traveler Collection polo shirts are a wear-everywhere favorite. Stain resistant. Won't pill, shrink, fade, or wrinkle. Soft and comfortable. 100% cotton. Machine washable. Imported.", "promoDescription" : "3 for $99!", "productUrl" : "http://www.circleoftrusttherapy.com/p/traveler-collection-traditional-fit-plaid-short-sleeve-polo", "productImageUrl" : "https://images.josbank.com/is/image/JosBank/68KP_75_TRAVELER_NAVY_MAIN?$browse_thumbnail$", "productImageFullSize" : "https://images.josbank.com/is/image/JosBank/68KP_75_TRAVELER_NAVY_MAIN?$browse_thumbnail$", "price" : "$39.00", "regPrice" : "", "salePrice" : "", "label": "none", "category" : "Shirts", "subcategory": "Traveler Polo Shirts", "stock": 1, "dimension53" : "No" }

{ "451496662" : { "Medium": [ "Bright Blue", "Dark Purple", "Light Blue", "Light Orange", "Navy" ], "X Large": [ "Bright Blue", "Dark Purple", "Light Blue", "Light Orange", "Navy" ], "Large": [ "Bright Blue", "Dark Purple", "Light Blue", "Light Orange", "Navy" ], "Small": [ "Bright Blue", "Dark Purple", "Light Blue", "Light Orange", "Navy" ] } }

{ "id" : "451496662", "productName" : "Traveler Performance Traditional Fit Short Sleeve Polo Shirt", "productItem" : "66FZ", "productDescription" : "Stylishly casual with a comfortable fit our Traveler Collection polo shirts are a wear-everywhere favorite. Made from mercerized cotton. Shrink, fade and pill resistant. Wicks away moisture. Soft and comfortable. Break resistant buttons. 100% cotton. Machine washable. Imported.", "promoDescription" : "3 for $99!", "productUrl" : "http://www.circleoftrusttherapy.com/p/traveler-performance-traditional-fit-short-sleeve-polo-shirt", "productImageUrl" : "https://images.josbank.com/is/image/JosBank/66FZ_64_TRAVELER_DARK_PURPLE_MAIN?$browse_thumbnail$", "productImageFullSize" : "https://images.josbank.com/is/image/JosBank/66FZ_64_TRAVELER_DARK_PURPLE_MAIN?$browse_thumbnail$", "price" : "$39.00", "regPrice" : "", "salePrice" : "", "label": "none", "category" : "Shirts", "subcategory": "Traveler Polo Shirts", "stock": 1, "dimension53" : "No" }

{ "451550725" : { "Medium": [ "Purple", "White" ], "X Large": [ "Purple", "White" ], "Large": [ "Purple", "White" ], "Small": [ "Purple", "White" ] } }

{ "id" : "451550725", "productName" : "Traveler Collection Traditional Fit Micro Dot Stripe Short-Sleeve Polo Shirt", "productItem" : "68W6", "productDescription" : "In a comfortable, Traditional Fit, this classic polo shirt has a micro dot stripe pattern in fine mercerized cotton. Three-button placket. 100% cotton. Machine washable. Imported.", "promoDescription" : "3 for $99!", "productUrl" : "http://www.circleoftrusttherapy.com/p/traveler-collection-traditional-fit-micro-dot-stripe-short-sleeve-polo-shirt", "productImageUrl" : "https://images.josbank.com/is/image/JosBank/68W6_62_TRAVELER_PURPLE_MAIN?$browse_thumbnail$", "productImageFullSize" : "https://images.josbank.com/is/image/JosBank/68W6_62_TRAVELER_PURPLE_MAIN?$browse_thumbnail$", "price" : "$39.00", "regPrice" : "", "salePrice" : "", "label": "none", "category" : "Shirts", "subcategory": "Traveler Polo Shirts", "stock": 1, "dimension53" : "No" }

{ "451541486" : { "Medium": ["Orange"], "X Large": ["Orange"], "Large": ["Orange"], "Small": ["Orange"] } }

{ "id" : "451541486", "productName" : "Traveler Collection Traditional Fit Short Sleeve Square Stripe Polo", "productItem" : "68KM", "productDescription" : "Performance with added style, this polo is made from mercerized cotton which is pill-, shrink-, fade- and stain-resistant. The special fabric also wicks away moisture, keeping you cool and comfortable. 100% cotton. Machine washable. Imported.", "promoDescription" : "3 for $99!", "productUrl" : "http://www.circleoftrusttherapy.com/p/traveler-collection-traditional-fit-short-sleeve-square-stripe-polo", "productImageUrl" : "https://images.josbank.com/is/image/JosBank/68KM_33_TRAVELER_ORANGE_MAIN?$browse_thumbnail$", "productImageFullSize" : "https://images.josbank.com/is/image/JosBank/68KM_33_TRAVELER_ORANGE_MAIN?$browse_thumbnail$", "price" : "$39.00", "regPrice" : "", "salePrice" : "", "label": "none", "category" : "Shirts", "subcategory": "Traveler Polo Shirts", "stock": 1, "dimension53" : "No" }

{ "451541493" : { "Medium": ["Navy"], "Large": ["Navy"], "Small": ["Navy"] } }

{ "id" : "451541493", "productName" : "Traveler Collection Traditional Fit Stripe Short-Sleeve Polo", "productItem" : "68KW", "productDescription" : "A menswear classic, this fine polo shirt from the Traveler Collection features a stripe pattern on smooth and silky mercerized cotton. Three-button placket. Chest pocket. 100% cotton. Machine washable. Imported.", "promoDescription" : "3 for $99!", "productUrl" : "http://www.circleoftrusttherapy.com/p/traveler-collection-traditional-fit-stripe-short-sleeve-polo", "productImageUrl" : "https://images.josbank.com/is/image/JosBank/68KW_75_TRAVELER_NAVY_MAIN?$browse_thumbnail$", "productImageFullSize" : "https://images.josbank.com/is/image/JosBank/68KW_75_TRAVELER_NAVY_MAIN?$browse_thumbnail$", "price" : "$39.00", "regPrice" : "", "salePrice" : "", "label": "none", "category" : "Shirts", "subcategory": "Traveler Polo Shirts", "stock": 1, "dimension53" : "No" }

{ "451496657" : { "Medium": ["Purple"], "2 X Tall": [ "Black", "Dark Red", "Light Blue", "Navy", "Purple", "Teal" ], "2 X Big": [ "Black", "Dark Red", "Light Blue", "Navy", "Purple", "Teal" ], "3 X Big": [ "Light Blue", "Purple", "Teal" ], "3 X Tall": [ "Dark Red", "Navy", "Purple", "Teal" ], "4 X Big": [ "Light Blue", "Teal" ], "XX Large": [ "Black", "Bright Blue", "Dark Red", "Light Blue", "Light Grey", "Navy", "Purple", "Teal" ] } }

{ "id" : "451496657", "productName" : "Travel Tech Tailored Fit Short Sleeve Polo - Big & Tall", "productItem" : "66FK", "productDescription" : "This Travel Tech polo shirt features a unique fabric technology that maintains the optimum microclimate for your body. Named 37.5, it removes moisture at the vapor stage before sweat can form. 37.5 acts like a thermostat by removing moisture when you are hot and retaining warmth when cold. It absorbs and traps odor molecules that are washed away when cleaned. Contrast stitching for added detail. 60% cotton, 40% 37.5 polyester. Machine washable. Imported. Size XXL and all Tall sizes come in Tailored Fit. All other sizes come in Traditional Fit.", "promoDescription" : "3 for $109!", "productUrl" : "http://www.circleoftrusttherapy.com/p/travel-tech-tailored-fit-short-sleeve-polo-big-tall", "productImageUrl" : "https://images.josbank.com/is/image/JosBank/66FJ_71_TRAVEL_TECH_LIGHT_BLUE_MAIN?$browse_thumbnail$", "productImageFullSize" : "https://images.josbank.com/is/image/JosBank/66FJ_71_TRAVEL_TECH_LIGHT_BLUE_MAIN?$browse_thumbnail$", "price" : "$45.00", "regPrice" : "", "salePrice" : "", "label": "none", "category" : "Big & Tall", "subcategory": "New Arrivals", "stock": 1, "dimension53" : "No" }

{ "451542082" : { "Medium": [ "Blue", "Green" ], "X Large": [ "Blue", "Green" ], "Large": [ "Blue", "Green" ], "Small": [ "Blue", "Green" ] } }

{ "id" : "451542082", "productName" : "1905 Collection Traditional Fit Short-Sleeve Fish Pattern Polo", "productItem" : "68L2", "productDescription" : "Made to matter, this polo is crafted from responsibly grown cotton. This practice protects the land in which the cotton grows, as well as improving the quality of life for the workers and their communities. The polo has built-in spandex for added comfort and give. Solid-color detail on collar. 95% cotton, 5% spandex. Machine washable. Imported.", "promoDescription" : "3 for $99!", "productUrl" : "http://www.circleoftrusttherapy.com/p/1905-collection-traditional-fit-short-sleeve-fish-pattern-polo", "productImageUrl" : "https://images.josbank.com/is/image/JosBank/68L2_79_1905_GREEN_MAIN?$browse_thumbnail$", "productImageFullSize" : "https://images.josbank.com/is/image/JosBank/68L2_79_1905_GREEN_MAIN?$browse_thumbnail$", "price" : "$39.00", "regPrice" : "", "salePrice" : "", "label": "none", "category" : "Shirts", "subcategory": "1905 Polos & Tees", "stock": 1, "dimension53" : "No" }

{ "451541484" : { "Medium": [ "Light Blue", "Navy" ], "X Large": [ "Light Blue", "Navy" ], "Large": [ "Light Blue", "Navy" ], "Small": [ "Light Blue", "Navy" ] } }

{ "id" : "451541484", "productName" : "Traveler Collection Traditional Fit Herringbone Short Sleeve Stripe Polo", "productItem" : "68KK", "productDescription" : "Performance with added style, this polo is made from mercerized cotton which is pill-, shrink-, fade- and stain-resistant. The special fabric also wicks away moisture, keeping you cool and comfortable. 100% cotton. Machine washable. Imported.", "promoDescription" : "3 for $99!", "productUrl" : "http://www.circleoftrusttherapy.com/p/traveler-collection-traditional-fit-herringbone-short-sleeve-stripe-polo", "productImageUrl" : "https://images.josbank.com/is/image/JosBank/68KK_71_TRAVELER_LIGHT_BLUE_MAIN?$browse_thumbnail$", "productImageFullSize" : "https://images.josbank.com/is/image/JosBank/68KK_71_TRAVELER_LIGHT_BLUE_MAIN?$browse_thumbnail$", "price" : "$39.00", "regPrice" : "", "salePrice" : "", "label": "none", "category" : "Shirts", "subcategory": "Traveler Polo Shirts", "stock": 1, "dimension53" : "No" }

{ "451550727" : { "Medium": ["Purple"], "Large": ["Purple"], "Small": ["Purple"] } }

{ "id" : "451550727", "productName" : "Traveler Collection Traditional Fit Windowpane Plaid Short-Sleeve Polo Shirt", "productItem" : "68W8", "productDescription" : "A menswear classic, this fine polo shirt from the Traveler Collection features a windowpane plaid pattern in mercerized cotton. Three-button placket. Chest pocket. 100% cotton. Machine washable. Imported.", "promoDescription" : "3 for $99!", "productUrl" : "http://www.circleoftrusttherapy.com/p/traveler-collection-traditional-fit-windowpane-plaid-short-sleeve-polo-shirt", "productImageUrl" : "https://images.josbank.com/is/image/JosBank/68W8_62_TRAVELER_PURPLE_MAIN?$browse_thumbnail$", "productImageFullSize" : "https://images.josbank.com/is/image/JosBank/68W8_62_TRAVELER_PURPLE_MAIN?$browse_thumbnail$", "price" : "$39.00", "regPrice" : "", "salePrice" : "", "label": "none", "category" : "Shirts", "subcategory": "Traveler Polo Shirts", "stock": 1, "dimension53" : "No" }

{ "451551282" : { "Medium": [ "Navy", "White" ], "X Large": [ "Navy", "White" ], "Large": [ "Navy", "White" ], "Small": [ "Navy", "White" ] } }

{ "id" : "451551282", "productName" : "Travel Tech Slim Fit Short Sleeve Stripe Polo", "productItem" : "68WD", "productDescription" : "In an attractive horizontal stripe pattern, this polo is always comfortable thanks to Travel Tech fabric technology that maintains an optimum microclimate for your body. Named 37.5®, it acts like a thermostat by removing moisture when you are hot and retaining warmth when you are cold. It also removes moisture at the vapor stage before sweat can form as well as absorbing and trapping odor molecules that are washed away when cleaned. This polo is accented with solid colors at the arms and collar. 60% cotton, 40% 37.5® polyester. Machine washable. Imported.", "promoDescription" : "3 for $99!", "productUrl" : "http://www.circleoftrusttherapy.com/p/travel-tech-slim-fit-short-sleeve-stripe-polo", "productImageUrl" : "https://images.josbank.com/is/image/JosBank/68WD_75_TRAVELTECH_NAVY_MAIN?$browse_thumbnail$", "productImageFullSize" : "https://images.josbank.com/is/image/JosBank/68WD_75_TRAVELTECH_NAVY_MAIN?$browse_thumbnail$", "price" : "$39.00", "regPrice" : "", "salePrice" : "", "label": "none", "category" : "Shirts", "subcategory": "Traveler Polo Shirts", "stock": 1, "dimension53" : "No" }

{ "451551284" : { "Medium": [ "Light Blue", "Navy" ], "X Large": [ "Light Blue", "Navy" ], "Large": [ "Light Blue", "Navy" ], "Small": [ "Light Blue", "Navy" ] } }

{ "id" : "451551284", "productName" : "Travel Tech Tailored Fit Short Sleeve Stripe Polo", "productItem" : "68WF", "productDescription" : "Enjoy this shirt no matter the temperature thanks to the shirt's Travel Tech fabric technology that maintains the optimum microclimate for your body. Named 37.5®, it acts like a thermostat by removing moisture when you are hot and retaining warmth when you are cold. It also removes moisture at the vapor stage before sweat can form as well as absorbing and trapping odor molecules that are washed away when cleaned. The classic polo has a banded stripe at the chest and side vents. 60% cotton, 40% 37.5® polyester. Machine washable. Imported.", "promoDescription" : "3 for $99!", "productUrl" : "http://www.circleoftrusttherapy.com/p/travel-tech-tailored-fit-short-sleeve-stripe-polo", "productImageUrl" : "https://images.josbank.com/is/image/JosBank/68WF_71_TRAVELTECH_LIGHT_BLUE_MAIN?$browse_thumbnail$", "productImageFullSize" : "https://images.josbank.com/is/image/JosBank/68WF_71_TRAVELTECH_LIGHT_BLUE_MAIN?$browse_thumbnail$", "price" : "$39.00", "regPrice" : "", "salePrice" : "", "label": "none", "category" : "Shirts", "subcategory": "Traveler Polo Shirts", "stock": 1, "dimension53" : "No" }

{ "451496658" : { "Medium": [ "Dark Blue", "Dark Red", "Grey", "Light Blue", "Light Grey", "Light Purple" ], "X Large": [ "Dark Blue", "Dark Red", "Grey", "Light Blue", "Light Grey", "Light Purple" ], "Large": [ "Dark Blue", "Dark Red", "Grey", "Light Blue", "Light Grey", "Light Purple" ], "Small": [ "Dark Blue", "Dark Red", "Grey", "Light Blue", "Light Grey", "Light Purple" ] } }

{ "id" : "451496658", "productName" : "Traveler Performance Traditional Fit Short Sleeve Stripe Polo", "productItem" : "66FV", "productDescription" : "Made of fine mercerized cotton, this classic polo shirt features a stripe pattern with solid-color collar and trim. From the popular Traveler Collection, the polo shirt has a special finish that wicks away moisture. Shrink, fade and pill resistant. Non-curl collar. Break resistant buttons. 100% cotton. Machine washable. Imported.", "promoDescription" : "3 for $99!", "productUrl" : "http://www.circleoftrusttherapy.com/p/traveler-performance-traditional-fit-short-sleeve-stripe-polo", "productImageUrl" : "https://images.josbank.com/is/image/JosBank/66FV_56_TRAVELER_DARK_RED_MAIN?$browse_thumbnail$", "productImageFullSize" : "https://images.josbank.com/is/image/JosBank/66FV_56_TRAVELER_DARK_RED_MAIN?$browse_thumbnail$", "price" : "$39.00", "regPrice" : "", "salePrice" : "", "label": "none", "category" : "Shirts", "subcategory": "Traveler Polo Shirts", "stock": 1, "dimension53" : "No" }

{ "451542080" : { "Medium": ["Dark Blue"], "X Large": ["Dark Blue"], "Large": ["Dark Blue"], "Small": ["Dark Blue"] } }

{ "id" : "451542080", "productName" : "1905 Collection Slim Fit Short Sleeve Patterned Polo", "productItem" : "68L0", "productDescription" : "In a tonal striated stripe pattern, this polo shirt is a handsome addition to your warm-weather attire. Woven in soft cotton, this polo also includes spandex for added give and stretch. Details include a contrast pattern on the side vents and inside collar. 95% cotton, 5% spandex. Machine washable. Imported.", "promoDescription" : "3 for $99!", "productUrl" : "http://www.circleoftrusttherapy.com/p/1905-collection-slim-fit-short-sleeve-patterned-polo", "productImageUrl" : "https://images.josbank.com/is/image/JosBank/68L0_72_1905_DARK_BLUE_MAIN?$browse_thumbnail$", "productImageFullSize" : "https://images.josbank.com/is/image/JosBank/68L0_72_1905_DARK_BLUE_MAIN?$browse_thumbnail$", "price" : "$39.00", "regPrice" : "", "salePrice" : "", "label": "none", "category" : "Shirts", "subcategory": "1905 Polos & Tees", "stock": 1, "dimension53" : "No" }

{ "451496660" : { "Medium": [ "Bright Blue", "Dark Purple", "Dark Red", "Light Blue", "Light Grey", "Purple" ], "X Large": [ "Bright Blue", "Dark Purple", "Dark Red", "Light Blue", "Light Grey", "Purple" ], "Large": [ "Bright Blue", "Dark Purple", "Dark Red", "Light Blue", "Light Grey", "Purple" ], "Small": [ "Bright Blue", "Dark Purple", "Dark Red", "Light Blue", "Light Grey", "Purple" ] } }

{ "id" : "451496660", "productName" : "Traveler Performance Traditional Fit Short Sleeve Polo", "productItem" : "66FX", "productDescription" : "Made of fine mercerized cotton, this classic polo shirt features a subtle pattern with solid-color collar. From the popular Traveler Collection, the polo shirt has a special finish that wicks away moisture. Shrink, fade and pill resistant. Non-curl collar. Break resistant buttons. 100% cotton. Machine washable. Imported.", "promoDescription" : "3 for $99!", "productUrl" : "http://www.circleoftrusttherapy.com/p/traveler-performance-traditional-fit-short-sleeve-polo", "productImageUrl" : "https://images.josbank.com/is/image/JosBank/66FX_04_TRAVELER_LIGHT_GREY_MAIN?$browse_thumbnail$", "productImageFullSize" : "https://images.josbank.com/is/image/JosBank/66FX_04_TRAVELER_LIGHT_GREY_MAIN?$browse_thumbnail$", "price" : "$39.00", "regPrice" : "", "salePrice" : "", "label": "none", "category" : "Shirts", "subcategory": "Traveler Polo Shirts", "stock": 1, "dimension53" : "No" }

{ "451541481" : { "2 X Tall": [ "Green", "Navy", "Purple" ], "2 X Big": [ "Green", "Navy", "Purple" ], "4 X Tall": [ "Green", "Navy", "Purple" ], "3 X Big": [ "Green", "Navy" ], "3 X Tall": ["Green"], "4 X Big": [ "Green", "Navy" ], "XX Large": [ "Green", "Navy", "Purple" ] } }

{ "id" : "451541481", "productName" : "Traveler Collection Traditional Fit Stripe Short-Sleeve Polo Shirt - Big & Tall", "productItem" : "68KG", "productDescription" : "In a comfortable, Traditional Fit, this classic polo shirt features a jersey stripe pattern in fine mercerized cotton. Three-button placket. 100% cotton. Machine washable. Imported.", "promoDescription" : "3 for $109!", "productUrl" : "http://www.circleoftrusttherapy.com/p/traveler-collection-traditional-fit-stripe-short-sleeve-polo-shirt-big-tall-68KG", "productImageUrl" : "https://images.josbank.com/is/image/JosBank/68KF_62_TRAVELER_PURPLE_MAIN?$browse_thumbnail$", "productImageFullSize" : "https://images.josbank.com/is/image/JosBank/68KF_62_TRAVELER_PURPLE_MAIN?$browse_thumbnail$", "price" : "$45.00", "regPrice" : "", "salePrice" : "", "label": "none", "category" : "Big & Tall", "subcategory": "New Arrivals", "stock": 1, "dimension53" : "No" }

{ "451541492" : { "2 X Tall": [ "Green", "Navy" ], "2 X Big": [ "Green", "Navy" ], "4 X Tall": [ "Green", "Navy" ], "3 X Big": ["Green"], "3 X Tall": [ "Green", "Navy" ], "4 X Big": [ "Green", "Navy" ], "XX Large": [ "Green", "Navy" ] } }

{ "id" : "451541492", "productName" : "Traveler Collection Traditional Fit Fine Stripe Short-Sleeve Polo - Big & Tall", "productItem" : "68KV", "productDescription" : "A menswear classic, this fine polo shirt from the Traveler Collection features a thin stripe pattern on smooth and silky mercerized cotton. Three-button placket. Chest pocket. 100% cotton. Machine washable. Imported.", "promoDescription" : "3 for $109!", "productUrl" : "http://www.circleoftrusttherapy.com/p/traveler-collection-traditional-fit-fine-stripe-short-sleeve-polo-big-tall", "productImageUrl" : "https://images.josbank.com/is/image/JosBank/68KU_75_TRAVELER_NAVY_MAIN?$browse_thumbnail$", "productImageFullSize" : "https://images.josbank.com/is/image/JosBank/68KU_75_TRAVELER_NAVY_MAIN?$browse_thumbnail$", "price" : "$45.00", "regPrice" : "", "salePrice" : "", "label": "none", "category" : "Big & Tall", "subcategory": "New Arrivals", "stock": 1, "dimension53" : "No" }

{ "451542078" : { "Medium": [ "Berry", "Blue" ], "X Large": [ "Berry", "Blue" ], "Large": [ "Berry", "Blue" ], "Small": [ "Berry", "Blue" ] } }

{ "id" : "451542078", "productName" : "1905 Collection Tailored Fit Stripe Interlock Short Sleeve Polo", "productItem" : "68KY", "productDescription" : "Sporty and stylish, this 1905 Collection Polo Shirt is a classic in a smooth interlock knit fabric. Fabric has comfortable stretch. Two-button placket. 95% cotton, 5% Lycra. Machine washable. Imported.", "promoDescription" : "3 for $99!", "productUrl" : "http://www.circleoftrusttherapy.com/p/1905-collection-tailored-fit-stripe-interlock-short-sleeve-polo", "productImageUrl" : "https://images.josbank.com/is/image/JosBank/68KY_61_1905_BERRY_MAIN?$browse_thumbnail$", "productImageFullSize" : "https://images.josbank.com/is/image/JosBank/68KY_61_1905_BERRY_MAIN?$browse_thumbnail$", "price" : "$39.00", "regPrice" : "", "salePrice" : "", "label": "none", "category" : "Shirts", "subcategory": "1905 Polos & Tees", "stock": 1, "dimension53" : "No" }

{ "451542084" : { "Medium": ["Berry"], "X Large": ["Berry"], "Large": ["Berry"], "Small": ["Berry"] } }

{ "id" : "451542084", "productName" : "1905 Collection Tailored Fit Short Sleeve Dot Pattern Polo", "productItem" : "68L4", "productDescription" : "Look stylish and feel comfortable all day in this polo that includes a touch of spandex for added give. With its soft feel, it will soon become a warm-weather favorite. 95% cotton, 5% spandex. Machine washable. Imported.", "promoDescription" : "3 for $99!", "productUrl" : "http://www.circleoftrusttherapy.com/p/1905-collection-tailored-fit-short-sleeve-dot-pattern-polo", "productImageUrl" : "https://images.josbank.com/is/image/JosBank/68L4_61_1905_BERRY_MAIN?$browse_thumbnail$", "productImageFullSize" : "https://images.josbank.com/is/image/JosBank/68L4_61_1905_BERRY_MAIN?$browse_thumbnail$", "price" : "$39.00", "regPrice" : "", "salePrice" : "", "label": "none", "category" : "Shirts", "subcategory": "1905 Polos & Tees", "stock": 1, "dimension53" : "No" }

{ "451541482" : { "Medium": [ "Light Blue", "Purple" ], "X Large": [ "Light Blue", "Purple" ], "Large": [ "Light Blue", "Purple" ], "Small": [ "Light Blue", "Purple" ] } }

{ "id" : "451541482", "productName" : "Traveler Collection Traditional Fit Stripe Dot Short-Sleeve Polo", "productItem" : "68KH", "productDescription" : "In a comfortable, Traditional Fit, this classic polo shirt features a stripe and dot pattern in fine mercerized cotton. Three-button placket. 100% cotton. Machine washable. Imported.", "promoDescription" : "3 for $99!", "productUrl" : "http://www.circleoftrusttherapy.com/p/traveler-collection-traditional-fit-stripe-dot-short-sleeve-polo", "productImageUrl" : "https://images.josbank.com/is/image/JosBank/68KH_62_TRAVELER_PURPLE_MAIN?$browse_thumbnail$", "productImageFullSize" : "https://images.josbank.com/is/image/JosBank/68KH_62_TRAVELER_PURPLE_MAIN?$browse_thumbnail$", "price" : "$39.00", "regPrice" : "", "salePrice" : "", "label": "none", "category" : "Shirts", "subcategory": "Traveler Polo Shirts", "stock": 1, "dimension53" : "No" }

{ "451551288" : { "Medium": ["Blue"], "X Large": ["Blue"], "Large": ["Blue"], "Small": ["Blue"] } }

{ "id" : "451551288", "productName" : "1905 Collection Tailored Fit Palm Leaf Short-Sleeve Polo Shirt", "productItem" : "68XW", "productDescription" : "A woven, palm frond pattern gives this 1905 Collection polo shirt casual, easy style. Three-button placket. 95% cotton, 5% spandex. Machine washable. Imported.", "promoDescription" : "3 for $99!", "productUrl" : "http://www.circleoftrusttherapy.com/p/1905-collection-tailored-fit-palm-leaf-short-sleeve-polo-shirt", "productImageUrl" : "https://images.josbank.com/is/image/JosBank/68XW_70_1905_BLUE_MAIN?$browse_thumbnail$", "productImageFullSize" : "https://images.josbank.com/is/image/JosBank/68XW_70_1905_BLUE_MAIN?$browse_thumbnail$", "price" : "$39.00", "regPrice" : "", "salePrice" : "", "label": "none", "category" : "Shirts", "subcategory": "1905 Polos & Tees", "stock": 1, "dimension53" : "No" }
Related Products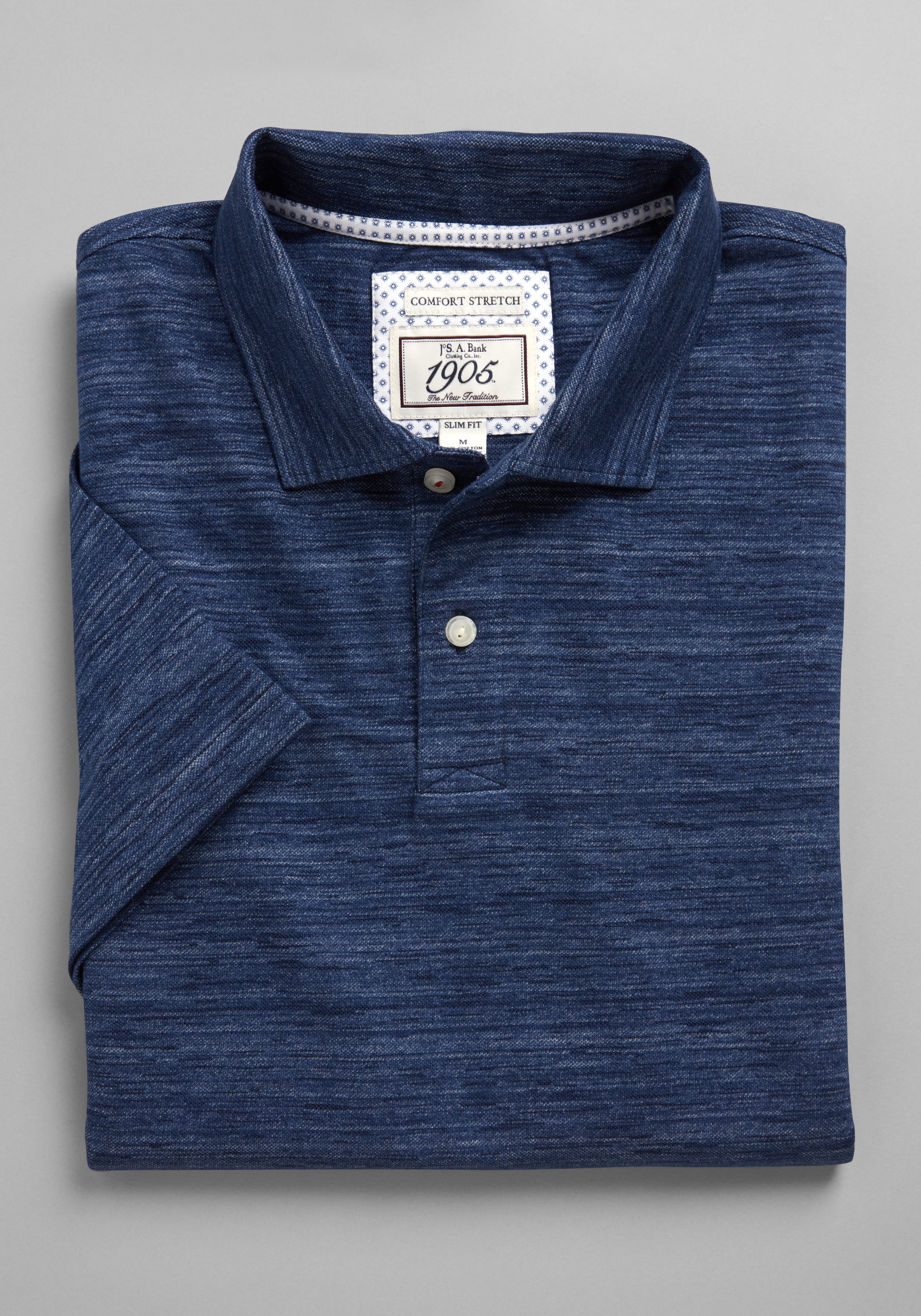 Description:
In a tonal striated stripe pattern, this polo shirt is a handsome addition to your warm-weather attire. Woven in soft cotton, this polo also includes spandex for added give and stretch. Details include a contrast pattern on the side vents ...
Description:
Enjoy warmer days in this short sleeve polo from the 1905 Collection. Made from soft cotton, this shirt has built-in stretch for the ultimate in comfort. Contrasting solid-color detail on collar, side vents and placket. Reinforced collar. 95% cotton, 5% ...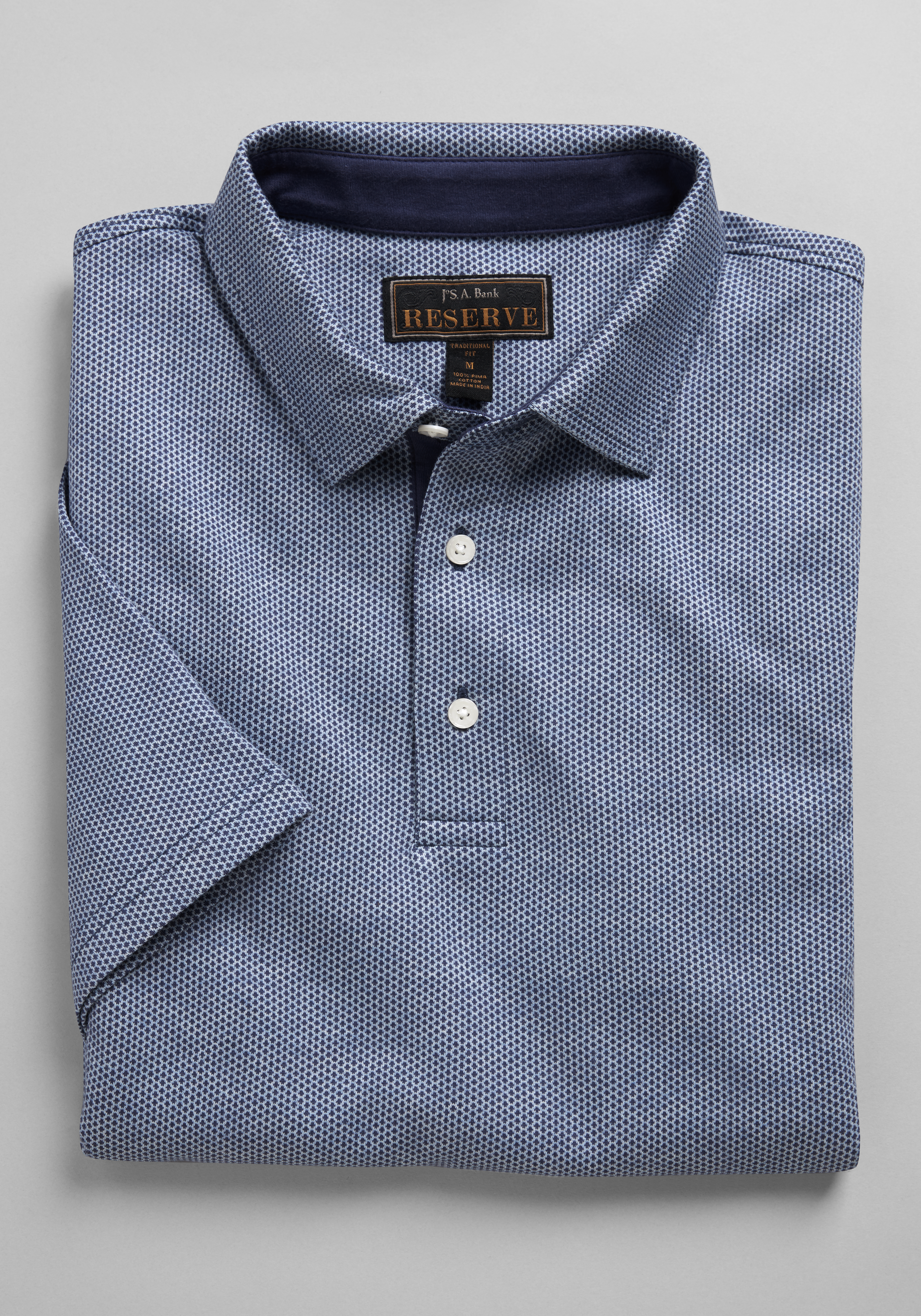 Description:
In a miniature diamond pattern, this polo is made from a luxurious pima cotton for added softness. Solid-color detailing at placket, side vents and inside collar. The traditional cut provides that comfortable fit you'll love. 100% pima cotton. Machine washable. ...
Description:
This classic polo shirt from the Traveler Collection features soft 100% pique knit cotton. Stain repellent. Pill resistant, shrink resistant, fade resistant and wrinkle resistant. Water repellent. Non-curl collar. Extended back shirt tail stays tucked. Break resistant buttons. Machine washable. ...
Description:
Ideal casual wear for the busy traveler, this Traveler Collection shirt is stain repellant for easy care. Three-button placket. Traditional Fit. Honeycomb pique knit. 60% cotton, 40% polyester. Machine washable. Imported.
Create Your Dream Wardrobe
Something is always on sale!
Smart shoppers love a good value. And Jos. A. Bank shoppers love that they can take advantage of men's clothing sales yet still count on impeccable quality and the traditional styles that get them noticed for all the right reasons. You already appreciate our everyday low prices, and it is no secret that we love a good sale. This is why we offer even more added-value sales on our renowned collections of suits, sportcoats, dress shirts, sweaters, dress pants, ties, outerwear and much more throughout the year. It's actually fun to hunt for those extra-special pieces, and when you score a fantastic deal on a piece you really want and need, everyone wins. It's the perfect solution to your goal of having an effortless wardrobe of quality menswear at your fingertips—one that will take you from elegant formalwear to upscale casual and everything in between. From the boardroom to date night to chauffeuring the kids to their activities, it's an awesome feeling to be the best dressed man on the block. You can never have too many fine menswear pieces in your closet to add versatility and elegance to your clothing rotation.