Accessories
Refine your results
SHOW
Show:

Press enter to collapse or expand the menu. For navigating with in Filter options, press tab. To select Filter options, press enter.

Clear All

Filter

Done

0

Products

Add filter

Reset filters
Product List
{ "451536182" : { "Medium": ["Grey"], "X Large": ["Grey"], "Large": ["Grey"], "Small": ["Grey"] } }

25% Off! (Price reflects discount)

{ "id" : "451536182", "productName" : "Travel Tech Boxer Briefs, 3 pair", "productItem" : "8T4F", "productDescription" : "These boxer briefs are cut from a high-tech fabric that removes excess moisture and creates a micro-climate of comfort. Ideal for the active gentleman. 58% cotton, 37% polyester, 5% spandex. Machine washable. Imported.", "promoDescription" : "25% Off! (Price reflects discount)", "productUrl" : "http://www.circleoftrusttherapy.com/p/travel-tech-boxer-briefs-3-pair", "productImageUrl" : "https://images.josbank.com/is/image/JosBank/8T4F_03_TRAVELTECH_GREY_MAIN?$browse_thumbnail$", "productImageFullSize" : "https://images.josbank.com/is/image/JosBank/8T4F_03_TRAVELTECH_GREY_MAIN?$browse_thumbnail$", "price" : "", "regPrice" : "$44.50", "salePrice" : "$33.37", "label": "sale", "category" : "Accessories", "subcategory": "All Accessories", "stock": 1, "dimension53" : "No" }

{ "451097318" : { "Medium": ["White"], "X Large": ["White"], "Large": ["White"], "Small": ["White"] } }

25% Off! (Price reflects discount)

{ "id" : "451097318", "productName" : "Jos. A. Bank Briefs, 3-pack", "productItem" : "82DC", "productDescription" : "Trim and comfortable, these classic briefs allow for an ideal fit with just the right amount of stretch. 95% Pima cotton, 5% spandex. Machine washable. &nbsp;Imported. <br\/><br\/>Size Conversion<br\/>Small: 30-32&quot;<br\/>Medium: 34-36&quot;<br\/>Large: 38-40&quot;<br\/>X-Large: 42-44&quot;<br\/>XX-Large: 46-48&quot;<br\/>", "promoDescription" : "25% Off! (Price reflects discount)", "productUrl" : "http://www.circleoftrusttherapy.com/p/jos-a-bank-briefs-3-pack-82DC", "productImageUrl" : "https://images.josbank.com/is/image/JosBank/82DC_10_JOSEPH_A_BANK_WHITE_MAIN?$browse_thumbnail$", "productImageFullSize" : "https://images.josbank.com/is/image/JosBank/82DC_10_JOSEPH_A_BANK_WHITE_MAIN?$browse_thumbnail$", "price" : "", "regPrice" : "$32.50", "salePrice" : "$24.37", "label": "sale", "category" : "Accessories", "subcategory": "All Accessories", "stock": 1, "dimension53" : "No" }

{ "451092711" : { "Medium": ["Blue"], "X Large": ["Blue"], "Large": ["Blue"], "Small": ["Blue"] } }

25% Off! (Price reflects discount)

{ "id" : "451092711", "productName" : "Jos. A. Bank Check & Solid Woven Boxers, 2-Pack", "productItem" : "82CM", "productDescription" : "In fine cotton, these boxer shorts feature stylish colors and patterns and are exceptionally comfortable. Six-inch inseam. 100% cotton. Machine washable &nbsp;Imported.<br\/><br\/>Size Conversion<br\/>Small: 30-32&quot;<br\/>Medium: 34-36&quot;<br\/>Large: 38-40&quot;<br\/>X-Large: 42-44&quot;<br\/>XX-Large: 46-48&quot;<br\/>", "promoDescription" : "25% Off! (Price reflects discount)", "productUrl" : "http://www.circleoftrusttherapy.com/p/jos-a-bank-check-solid-woven-boxers-2-pack", "productImageUrl" : "https://images.josbank.com/is/image/JosBank/82CM_70_JOSEPH_A_BANK_BLUE_MAIN?$browse_thumbnail$", "productImageFullSize" : "https://images.josbank.com/is/image/JosBank/82CM_70_JOSEPH_A_BANK_BLUE_MAIN?$browse_thumbnail$", "price" : "", "regPrice" : "$34.50", "salePrice" : "$25.87", "label": "sale", "category" : "Accessories", "subcategory": "All Accessories", "stock": 1, "dimension53" : "No" }

{ "451056643" : { "One Size": [ "Black", "Blue", "Bright Blue", "Bright Green", "Burgundy", "Charcoal", "Gold", "Grey", "Light Blue", "Light Pink", "Light Red", "Light Tan", "Light Yellow", "Lilac", "Navy", "Orange", "Pink", "Purple", "Red", "Turquoise", "White", "Wine" ] } }

50% Off! (Price reflects discount)

{ "id" : "451056643", "productName" : "Traveler Collection Solid Tie", "productItem" : "81CT", "productDescription" : "This solid-color tie from the Traveler Collection is made from a 100% silk fabric. Stain resistant. Regular length. 3-1\/8 inches wide. Dry clean only. Imported.", "promoDescription" : "50% Off! (Price reflects discount)", "productUrl" : "http://www.circleoftrusttherapy.com/p/traveler-collection-solid-tie-81CT", "productImageUrl" : "https://images.josbank.com/is/image/JosBank/81CT_01_TRAVELER_BLACK_MAIN?$browse_thumbnail$", "productImageFullSize" : "https://images.josbank.com/is/image/JosBank/81CT_01_TRAVELER_BLACK_MAIN?$browse_thumbnail$", "price" : "", "regPrice" : "$69.50", "salePrice" : "$34.75", "label": "sale", "category" : "Special Categories", "subcategory": "Men's Pink Apparel", "stock": 1, "dimension53" : "No" }

{ "451508149" : { "One Size": [ "Berry", "Black", "Bright Navy", "Grey", "Light Blue", "Light Green", "Light Purple", "Navy", "Peach", "Pink" ] } }

50% Off! (Price reflects discount)

{ "id" : "451508149", "productName" : "1905 Collection Solid Tie", "productItem" : "89D8", "productDescription" : "This solid silk tie has an inviting hue, subtle woven texture, and iridescent finish. With a trim silhouette it is both sophisticated and flattering. Regular length. 2-7\/8 inches. 100% silk. Dry clean only. Imported.", "promoDescription" : "50% Off! (Price reflects discount)", "productUrl" : "http://www.circleoftrusttherapy.com/p/1905-collection-solid-tie-89D8", "productImageUrl" : "https://images.josbank.com/is/image/JosBank/89D8_49_1905_PEACH_MAIN?$browse_thumbnail$", "productImageFullSize" : "https://images.josbank.com/is/image/JosBank/89D8_49_1905_PEACH_MAIN?$browse_thumbnail$", "price" : "", "regPrice" : "$69.50", "salePrice" : "$34.75", "label": "sale", "category" : "Accessories", "subcategory": "1905 Ties", "stock": 1, "dimension53" : "No" }

{ "451064611" : { "One Size": ["No Color"] } }

25% Off! (Price reflects discount)

{ "id" : "451064611", "productName" : "Joseph Abboud Black Linen Eau de Toilette, 3.4 fl. oz.", "productItem" : "81M8", "productDescription" : "This daring and refined fragrance by Joseph Abboud has top notes of grapefruit and clary sage grounded by bottom notes of exotic Haitian vetiver. 3.4 fl. oz. Eau de toilette. Made in USA of imported components.<br\/>", "promoDescription" : "25% Off! (Price reflects discount)", "productUrl" : "http://www.circleoftrusttherapy.com/p/joseph-abboud-black-linen-eau-de-toilette-34-fl-oz-81M8", "productImageUrl" : "https://images.josbank.com/is/image/JosBank/81M8_00_JOSEPH_ABBOUD_HERITAGE_NO_COLOR_MAIN?$browse_thumbnail$", "productImageFullSize" : "https://images.josbank.com/is/image/JosBank/81M8_00_JOSEPH_ABBOUD_HERITAGE_NO_COLOR_MAIN?$browse_thumbnail$", "price" : "", "regPrice" : "$65.00", "salePrice" : "$48.75", "label": "sale", "category" : "Featured", "subcategory": "Ready for Anything", "stock": 1, "dimension53" : "No" }

{ "451268396" : { "Mid Calf": [ "Black", "Navy" ], "Over The Calf": [ "Black", "Brown", "Charcoal", "Navy" ] } }

25% Off! (Price reflects discount)

{ "id" : "451268396", "productName" : "Jos. A. Bank Solid Socks, 1-Pair", "productItem" : "84WE", "productDescription" : "These fine dress socks are woven in a smooth combed cotton blend. Over-the-calf. Natural weave to promote airflow and movement. Reinforced heel and toe. Cotton, nylon, spandex blend. Machine wash. Imported.", "promoDescription" : "25% Off! (Price reflects discount)", "productUrl" : "http://www.circleoftrusttherapy.com/p/jos-a-bank-solid-socks-1-pair", "productImageUrl" : "https://images.josbank.com/is/image/JosBank/84WE_01_JOSEPH_A_BANK_BLACK_MAIN?$browse_thumbnail$", "productImageFullSize" : "https://images.josbank.com/is/image/JosBank/84WE_01_JOSEPH_A_BANK_BLACK_MAIN?$browse_thumbnail$", "price" : "", "regPrice" : "$17.50", "salePrice" : "$13.12", "label": "sale", "category" : "Accessories", "subcategory": "All Accessories", "stock": 1, "dimension53" : "No" }

{ "451097320" : { "Medium": [ "Blue", "Grey/Black", "White" ], "X Large": [ "Blue", "Grey/Black", "White" ], "Large": [ "Blue", "Grey/Black", "White" ], "Small": [ "Blue", "Grey/Black", "White" ] } }

25% Off! (Price reflects discount)

{ "id" : "451097320", "productName" : "Jos. A. Bank Boxers, 3-Pack", "productItem" : "82DE", "productDescription" : "Smooth and comfortable, with just the right amount of stretch, these boxer briefs are woven in a Pima cotton and spandex blend that will give you the right fit. 95% Pima cotton, 5% spandex. Machine washable. Imported.", "promoDescription" : "25% Off! (Price reflects discount)", "productUrl" : "http://www.circleoftrusttherapy.com/p/jos-a-bank-boxers-3-pack", "productImageUrl" : "https://images.josbank.com/is/image/JosBank/82DE_10_JOSEPH_A_BANK_WHITE_MAIN?$browse_thumbnail$", "productImageFullSize" : "https://images.josbank.com/is/image/JosBank/82DE_10_JOSEPH_A_BANK_WHITE_MAIN?$browse_thumbnail$", "price" : "", "regPrice" : "$39.50", "salePrice" : "$29.62", "label": "sale", "category" : "Accessories", "subcategory": "All Accessories", "stock": 1, "dimension53" : "No" }

{ "451097310" : { "Medium": ["Blue"], "X Large": ["Blue"], "Large": ["Blue"], "Small": ["Blue"] } }

25% Off! (Price reflects discount)

{ "id" : "451097310", "productName" : "Jos. A. Bank Plaid & Stripe Woven Boxers, 2-Pack", "productItem" : "82D3", "productDescription" : "In fine cotton, these boxer shorts feature stylish colors and patterns and are exceptionally comfortable. Six-inch inseam. 100% cotton. Machine washable &nbsp;Imported.<br\/><br\/>Size Conversion<br\/>Small: 30-32&quot;<br\/>Medium: 34-36&quot;<br\/>Large: 38-40&quot;<br\/>X-Large: 42-44&quot;<br\/>XX-Large: 46-48&quot;<br\/>", "promoDescription" : "25% Off! (Price reflects discount)", "productUrl" : "http://www.circleoftrusttherapy.com/p/jos-a-bank-plaid-stripe-woven-boxers-2-pack", "productImageUrl" : "https://images.josbank.com/is/image/JosBank/82D3_70_JOSEPH_A_BANK_BLUE_MAIN?$browse_thumbnail$", "productImageFullSize" : "https://images.josbank.com/is/image/JosBank/82D3_70_JOSEPH_A_BANK_BLUE_MAIN?$browse_thumbnail$", "price" : "", "regPrice" : "$34.50", "salePrice" : "$25.87", "label": "sale", "category" : "Accessories", "subcategory": "All Accessories", "stock": 1, "dimension53" : "No" }

{ "451097311" : { "Medium": ["Black"], "X Large": ["Black"], "Large": ["Black"], "Small": ["Black"] } }

25% Off! (Price reflects discount)

{ "id" : "451097311", "productName" : "Jos. A. Bank Plaid Woven Boxers, 2-Pack", "productItem" : "82D4", "productDescription" : "In fine cotton, these boxer shorts feature stylish colors and patterns and are exceptionally comfortable. Six-inch inseam. 100% cotton. Machine washable &nbsp;Imported<br\/><br\/>Size Conversion<br\/>Small: 30-32&quot;<br\/>Medium: 34-36&quot;<br\/>Large: 38-40&quot;<br\/>X-Large: 42-44&quot;<br\/>XX-Large: 46-48&quot;<br\/>", "promoDescription" : "25% Off! (Price reflects discount)", "productUrl" : "http://www.circleoftrusttherapy.com/p/jos-a-bank-plaid-woven-boxers-2-pack-82D4", "productImageUrl" : "https://images.josbank.com/is/image/JosBank/82D4_01_JOSEPH_A_BANK_BLACK_MAIN?$browse_thumbnail$", "productImageFullSize" : "https://images.josbank.com/is/image/JosBank/82D4_01_JOSEPH_A_BANK_BLACK_MAIN?$browse_thumbnail$", "price" : "", "regPrice" : "$34.50", "salePrice" : "$25.87", "label": "sale", "category" : "Accessories", "subcategory": "All Accessories", "stock": 1, "dimension53" : "No" }

{ "451552492" : { "One Size": [ "Black", "Blue", "Purple", "Red" ] } }

50% Off! (Price reflects discount)

{ "id" : "451552492", "productName" : "Traveler Collection Geometric Tie", "productItem" : "8TJ2", "productDescription" : "Add the perfect finishing touch to your distinguished look with this finely detailed and textured geometric tie. Stain resistant. Regular length. 3-1\/8 inches wide. 100% silk. Dry clean only. Imported.", "promoDescription" : "50% Off! (Price reflects discount)", "productUrl" : "http://www.circleoftrusttherapy.com/p/traveler-collection-geometric-tie-8TJ2", "productImageUrl" : "https://images.josbank.com/is/image/JosBank/8TJ2_70_TRAVELER_BLUE_MAIN?$browse_thumbnail$", "productImageFullSize" : "https://images.josbank.com/is/image/JosBank/8TJ2_70_TRAVELER_BLUE_MAIN?$browse_thumbnail$", "price" : "", "regPrice" : "$69.50", "salePrice" : "$34.75", "label": "sale", "category" : "Accessories", "subcategory": "Traveler Ties", "stock": 1, "dimension53" : "No" }

{ "451260247" : { "Mid Calf": [ "Black", "Navy" ] } }

25% Off! (Price reflects discount)

{ "id" : "451260247", "productName" : "Jos. A. Bank Herringbone Pattern Socks, 1-Pair", "productItem" : "84KF", "productDescription" : "Style is in the details. Complete your look with these herringbone pattern socks from Jos. A. Bank. Mid-calf length. Reinforced toe and heel. Natural weave to promote airflow and movement. 58% cotton, 40% nylon, 2% spandex. Machine wash. Imported.", "promoDescription" : "25% Off! (Price reflects discount)", "productUrl" : "http://www.circleoftrusttherapy.com/p/jos-a-bank-herringbone-pattern-socks-1-pair", "productImageUrl" : "https://images.josbank.com/is/image/JosBank/84KF_75_JOSEPH_A_BANK_NAVY_MAIN?$browse_thumbnail$", "productImageFullSize" : "https://images.josbank.com/is/image/JosBank/84KF_75_JOSEPH_A_BANK_NAVY_MAIN?$browse_thumbnail$", "price" : "", "regPrice" : "$15.50", "salePrice" : "$11.62", "label": "sale", "category" : "Accessories", "subcategory": "All Accessories", "stock": 1, "dimension53" : "No" }

{ "451556692" : { "One Size": [ "Blue", "Green", "Pink", "Purple" ] } }

50% Off! (Price reflects discount)

{ "id" : "451556692", "productName" : "Traveler Collection Solid Tie", "productItem" : "8TUE", "productDescription" : "Subtle texture and stain resistance define this solid tie made of lustrous silk from the Traveler Collection. Regular length. 3-1\/8 inches wide. 100% silk. Dry clean only. Imported.", "promoDescription" : "50% Off! (Price reflects discount)", "productUrl" : "http://www.circleoftrusttherapy.com/p/traveler-collection-solid-tie-8TUE", "productImageUrl" : "https://images.josbank.com/is/image/JosBank/8TUE_62_TRAVELER_PURPLE_MAIN?$browse_thumbnail$", "productImageFullSize" : "https://images.josbank.com/is/image/JosBank/8TUE_62_TRAVELER_PURPLE_MAIN?$browse_thumbnail$", "price" : "", "regPrice" : "$69.50", "salePrice" : "$34.75", "label": "sale", "category" : "Accessories", "subcategory": "Traveler Ties", "stock": 1, "dimension53" : "No" }

{ "451464257" : { "LT": ["White"], "XLT": ["White"] } }

25% Off! (Price reflects discount)

{ "id" : "451464257", "productName" : "Jos. A. Bank Crew-Neck T-Shirts, 3-Pack - Tall", "productItem" : "86WJ", "productDescription" : "These classic crew-neck T-shirts make the ideal layering piece and undershirt. 3-pack. 100% pima cotton. Machine washable. Imported.", "promoDescription" : "25% Off! (Price reflects discount)", "productUrl" : "http://www.circleoftrusttherapy.com/p/jos-a-bank-crew-neck-t-shirts-3-pack-tall", "productImageUrl" : "https://images.josbank.com/is/image/JosBank/82DF_10_JOSEPH_A_BANK_WHITE_MAIN?$browse_thumbnail$", "productImageFullSize" : "https://images.josbank.com/is/image/JosBank/82DF_10_JOSEPH_A_BANK_WHITE_MAIN?$browse_thumbnail$", "price" : "", "regPrice" : "$44.50", "salePrice" : "$33.37", "label": "sale", "category" : "Big & Tall", "subcategory": "Accessories", "stock": 1, "dimension53" : "No" }

{ "451092710" : { "Medium": ["Blue"], "X Large": ["Blue"], "Large": ["Blue"], "Small": ["Blue"] } }

25% Off! (Price reflects discount)

{ "id" : "451092710", "productName" : "Jos. A. Bank Plaid Woven Boxers, 2-Pack", "productItem" : "82CL", "productDescription" : "In fine cotton, these boxer shorts feature stylish colors and patterns and are exceptionally comfortable. Six-inch inseam. 100% cotton. Machine washable &nbsp;Imported.<br\/><br\/>Size Conversion<br\/>Small: 30-32&quot;<br\/>Medium: 34-36&quot;<br\/>Large: 38-40&quot;<br\/>X-Large: 42-44&quot;<br\/>XX-Large: 46-48&quot;<br\/>", "promoDescription" : "25% Off! (Price reflects discount)", "productUrl" : "http://www.circleoftrusttherapy.com/p/jos-a-bank-plaid-woven-boxers-2-pack-82CL", "productImageUrl" : "https://images.josbank.com/is/image/JosBank/82CL_70_JOSEPH_A_BANK_BLUE_MAIN?$browse_thumbnail$", "productImageFullSize" : "https://images.josbank.com/is/image/JosBank/82CL_70_JOSEPH_A_BANK_BLUE_MAIN?$browse_thumbnail$", "price" : "", "regPrice" : "$34.50", "salePrice" : "$25.87", "label": "sale", "category" : "Accessories", "subcategory": "All Accessories", "stock": 1, "dimension53" : "No" }

{ "451464258" : { "LT": ["White"], "XLT": ["White"] } }

25% Off! (Price reflects discount)

{ "id" : "451464258", "productName" : "Jos. A. Bank V- Neck T- Shirts, 3- Pack - Tall", "productItem" : "86WL", "productDescription" : "These classic V- neck T- shirts make the ideal layering piece and undershirt. 3- pack. 100% pima cotton. Machine washable. Imported.", "promoDescription" : "25% Off! (Price reflects discount)", "productUrl" : "http://www.circleoftrusttherapy.com/p/jos-a-bank-v-neck-t-shirts-3-pack-tall", "productImageUrl" : "https://images.josbank.com/is/image/JosBank/82DG_10_JOSEPH_A_BANK_WHITE_MAIN?$browse_thumbnail$", "productImageFullSize" : "https://images.josbank.com/is/image/JosBank/82DG_10_JOSEPH_A_BANK_WHITE_MAIN?$browse_thumbnail$", "price" : "", "regPrice" : "$44.50", "salePrice" : "$33.37", "label": "sale", "category" : "Big & Tall", "subcategory": "All Big & Tall", "stock": 1, "dimension53" : "No" }

{ "451097319" : { "Medium": ["Blue/Grey/Black"], "X Large": ["Blue/Grey/Black"], "Large": ["Blue/Grey/Black"], "Small": ["Blue/Grey/Black"] } }

25% Off! (Price reflects discount)

{ "id" : "451097319", "productName" : "Jos. A. Bank Briefs, 3-pack", "productItem" : "82DD", "productDescription" : "Trim and comfortable, these classic briefs allow for an ideal fit with just the right amount of stretch. 95% Pima cotton, 5% spandex. Machine washable. &nbsp;Imported. <br\/><br\/>Size Conversion<br\/>Small: 30-32&quot;<br\/>Medium: 34-36&quot;<br\/>Large: 38-40&quot;<br\/>X-Large: 42-44&quot;<br\/>XX-Large: 46-48&quot;<br\/>", "promoDescription" : "25% Off! (Price reflects discount)", "productUrl" : "http://www.circleoftrusttherapy.com/p/jos-a-bank-briefs-3-pack-82DD", "productImageUrl" : "https://images.josbank.com/is/image/JosBank/82DD_99_JOSEPH_A_BANK_BLUE_GREY_BLACK_MAIN?$browse_thumbnail$", "productImageFullSize" : "https://images.josbank.com/is/image/JosBank/82DD_99_JOSEPH_A_BANK_BLUE_GREY_BLACK_MAIN?$browse_thumbnail$", "price" : "", "regPrice" : "$32.50", "salePrice" : "$24.37", "label": "sale", "category" : "Accessories", "subcategory": "All Accessories", "stock": 1, "dimension53" : "No" }

{ "451528911" : { "Medium": ["White"], "X Large": ["White"], "Large": ["White"], "Small": ["White"] } }

25% Off! (Price reflects discount)

{ "id" : "451528911", "productName" : "Jos. A. Bank Woven Boxers, 2-Pack", "productItem" : "8RFZ", "productDescription" : "In a crisp white, these all-cotton boxers have a silky finish, giving you a comfortable feel all day long. Banded waist. Six-inch inseam. 100% cotton. Machine washable. Imported.", "promoDescription" : "25% Off! (Price reflects discount)", "productUrl" : "http://www.circleoftrusttherapy.com/p/jos-a-bank-woven-boxers-2-pack", "productImageUrl" : "https://images.josbank.com/is/image/JosBank/8RFZ_10_JOSEPH_A_BANK_WHITE_MAIN?$browse_thumbnail$", "productImageFullSize" : "https://images.josbank.com/is/image/JosBank/8RFZ_10_JOSEPH_A_BANK_WHITE_MAIN?$browse_thumbnail$", "price" : "", "regPrice" : "$34.50", "salePrice" : "$25.87", "label": "sale", "category" : "Accessories", "subcategory": "All Accessories", "stock": 1, "dimension53" : "No" }

{ "451110562" : { "LONG": [ "Black", "Blue", "Burgundy", "Charcoal", "Gold", "Grey", "Light Blue", "Light Green", "Light Pink", "Light Tan", "Light Yellow", "Lilac", "Navy", "Orange", "Pink", "Purple", "Red" ], "One Size": ["Burgundy"] } }

50% Off! (Price reflects discount)

{ "id" : "451110562", "productName" : "Traveler Collection Solid Tie - Long", "productItem" : "82H9", "productDescription" : "This solid-color tie from the Traveler Collection is made from a 100% silk fabric. Stain resistant. Long length. 3-3\/8 inches wide. Dry clean only. Imported.", "promoDescription" : "50% Off! (Price reflects discount)", "productUrl" : "http://www.circleoftrusttherapy.com/p/traveler-collection-solid-tie-long", "productImageUrl" : "https://images.josbank.com/is/image/JosBank/81CT_59_TRAVELER_BURGUNDY_MAIN?$browse_thumbnail$", "productImageFullSize" : "https://images.josbank.com/is/image/JosBank/81CT_59_TRAVELER_BURGUNDY_MAIN?$browse_thumbnail$", "price" : "", "regPrice" : "$74.50", "salePrice" : "$37.25", "label": "sale", "category" : "Special Categories", "subcategory": "Men's Pink Apparel", "stock": 1, "dimension53" : "No" }

{ "451552495" : { "One Size": [ "Grey", "Orange", "Red", "Wine" ] } }

50% Off! (Price reflects discount)

{ "id" : "451552495", "productName" : "Traveler Collection Stripe Tie", "productItem" : "8TJ5", "productDescription" : "This fine stripe tie from the Traveler Collection has a variety of woven patterns in fine silk. Stain resistant. Regular length. 3-1\/8 inches wide. 100% silk. Dry clean only. Imported.", "promoDescription" : "50% Off! (Price reflects discount)", "productUrl" : "http://www.circleoftrusttherapy.com/p/traveler-collection-stripe-tie-8TJ5", "productImageUrl" : "https://images.josbank.com/is/image/JosBank/8TJ5_54_TRAVELER_RED_MAIN?$browse_thumbnail$", "productImageFullSize" : "https://images.josbank.com/is/image/JosBank/8TJ5_54_TRAVELER_RED_MAIN?$browse_thumbnail$", "price" : "", "regPrice" : "$69.50", "salePrice" : "$34.75", "label": "sale", "category" : "Accessories", "subcategory": "Traveler Ties", "stock": 1, "dimension53" : "No" }

{ "451529297" : { "One Size": ["Navy"] } }

25% Off! (Price reflects discount)

{ "id" : "451529297", "productName" : "Jos. A. Bank Leather & Canvas Shoulder Bag", "productItem" : "8RG6", "productDescription" : "This leather and canvas shoulder bag is perfect for a day at the office, university, or study and work at the cafe. It features a durable nylon shoulder strap, padded inner computer section, and a spacious center compartment with large side zippered pocket. An outer front pocket has multiple inner pockets and a key lanyard. Measures approximately 12T x 17W X 3D inches. Genuine leather and canvas. Textile interior. Spot clean. Imported.", "promoDescription" : "25% Off! (Price reflects discount)", "productUrl" : "http://www.circleoftrusttherapy.com/p/jos-a-bank-leather-canvas-shoulder-bag", "productImageUrl" : "https://images.josbank.com/is/image/JosBank/8RG6_75_JOSEPH_A_BANK_NAVY_MAIN?$browse_thumbnail$", "productImageFullSize" : "https://images.josbank.com/is/image/JosBank/8RG6_75_JOSEPH_A_BANK_NAVY_MAIN?$browse_thumbnail$", "price" : "", "regPrice" : "$245.00", "salePrice" : "$183.75", "label": "sale", "category" : "Featured", "subcategory": "Ready for Anything", "stock": 1, "dimension53" : "No" }

{ "451114247" : { "One Size": ["Black"] } }

50% Off! (Price reflects discount)

{ "id" : "451114247", "productName" : "Jos. A. Bank Formal Bow Tie", "productItem" : "82P3", "productDescription" : "Complete your formalwear look with this fine silk bow tie. Self tie. Boxed. Adjustable. 100% silk. Dry clean. Imported.", "promoDescription" : "50% Off! (Price reflects discount)", "productUrl" : "http://www.circleoftrusttherapy.com/p/jos-a-bank-formal-bow-tie-82P3", "productImageUrl" : "https://images.josbank.com/is/image/JosBank/82P3_01_JOSEPH_A_BANK_BLACK_MAIN?$browse_thumbnail$", "productImageFullSize" : "https://images.josbank.com/is/image/JosBank/82P3_01_JOSEPH_A_BANK_BLACK_MAIN?$browse_thumbnail$", "price" : "", "regPrice" : "$59.50", "salePrice" : "$29.75", "label": "sale", "category" : "Special Categories", "subcategory": "3 Ways to Refresh Your Wardrobe", "stock": 1, "dimension53" : "No" }

{ "451552469" : { "One Size": [ "Blue", "Purple", "Red", "Taupe" ] } }

50% Off! (Price reflects discount)

{ "id" : "451552469", "productName" : "1905 Collection Polka Dot Tie", "productItem" : "8TGV", "productDescription" : "Silky-soft, this handsome tie has a brilliant sheen and features snowy-white polka dots. It's cut a bit narrower, making it ideal for today's slimmer-fit suits. Regular length. 2-7\/8 inches wide. 100% silk. Dry clean only. Imported.", "promoDescription" : "50% Off! (Price reflects discount)", "productUrl" : "http://www.circleoftrusttherapy.com/p/1905-collection-polka-dot-tie-8TGV", "productImageUrl" : "https://images.josbank.com/is/image/JosBank/8TGV_70_1905_BLUE_MAIN?$browse_thumbnail$", "productImageFullSize" : "https://images.josbank.com/is/image/JosBank/8TGV_70_1905_BLUE_MAIN?$browse_thumbnail$", "price" : "", "regPrice" : "$69.50", "salePrice" : "$34.75", "label": "sale", "category" : "Accessories", "subcategory": "1905 Ties", "stock": 1, "dimension53" : "No" }

{ "451120116" : { "Mid Calf": [ "Black", "Brown", "Charcoal", "Navy" ] } }

25% Off! (Price reflects discount)

{ "id" : "451120116", "productName" : "Cashmere Blend Mid-Calf Socks, One-Pair", "productItem" : "82VK", "productDescription" : "Wear our cashmere-blend socks in patterns and colors specifically chosen to mix and match with our suits and casual wear. Luxuriously warm and soft. Reinforced toe and heel. 57% polyester, 26% rayon, 9% cashmere, 6% nylon, 2% spandex blend. Machine wash. One-pair pack. Imported.", "promoDescription" : "25% Off! (Price reflects discount)", "productUrl" : "http://www.circleoftrusttherapy.com/p/cashmere-blend-mid-calf-socks-one-pair", "productImageUrl" : "https://images.josbank.com/is/image/JosBank/82VK_06_JOSEPH_A_BANK_CHARCOAL_MAIN?$browse_thumbnail$", "productImageFullSize" : "https://images.josbank.com/is/image/JosBank/82VK_06_JOSEPH_A_BANK_CHARCOAL_MAIN?$browse_thumbnail$", "price" : "", "regPrice" : "$20.50", "salePrice" : "$15.37", "label": "sale", "category" : "Accessories", "subcategory": "All Accessories", "stock": 1, "dimension53" : "No" }
Related Products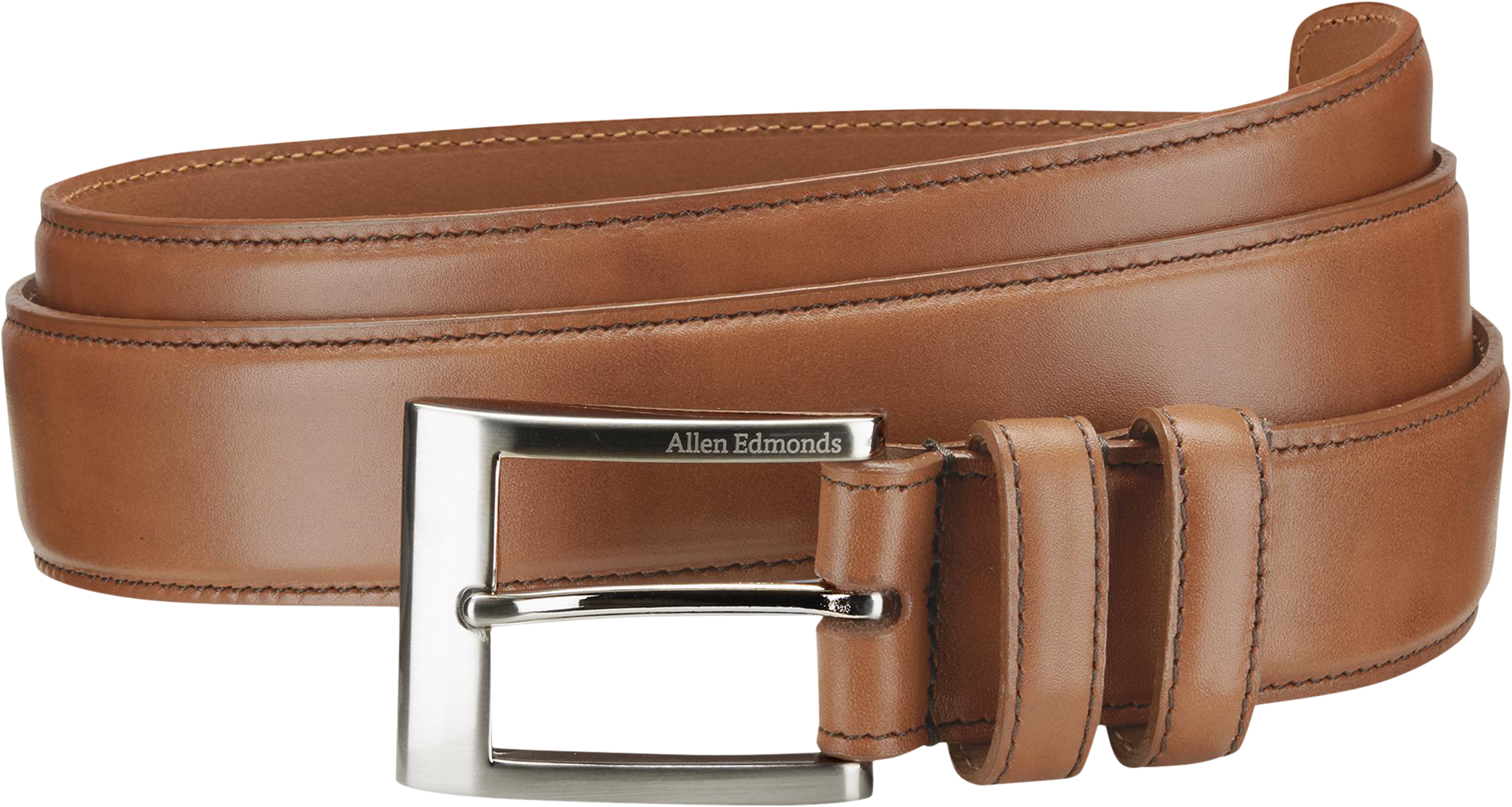 Description:
Fine quality and understated style makes this Allen Edmonds belt an ideal choice to complete your look. This fine belt is crafted from custom French burnished calfskin leather tanned in France and finished in Italy. Handcrafted in USA of these ...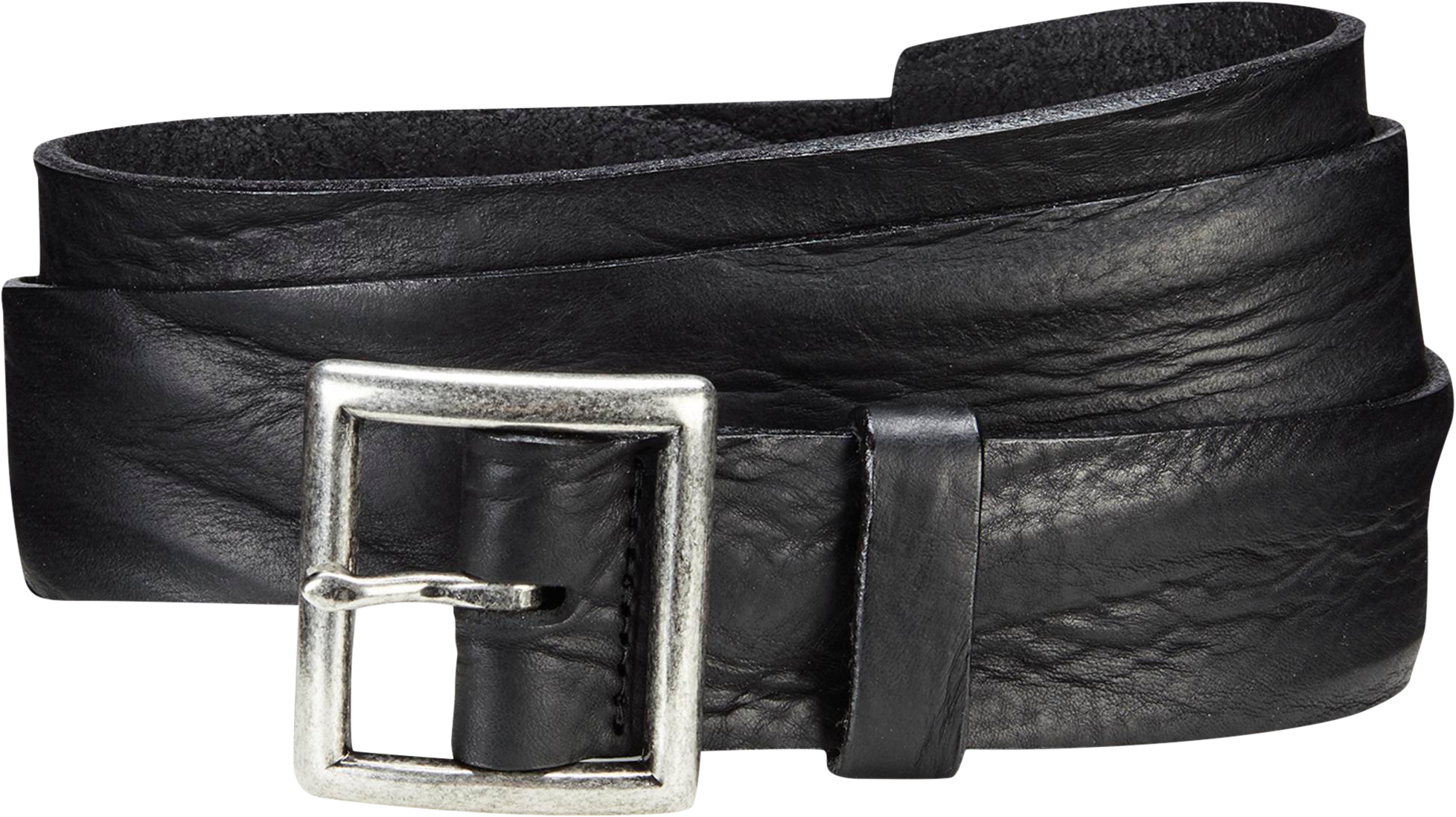 Description:
This ruggedly handsome dress belt features vegetable tanned leather for a softer look and feel. Polished nickel buckle. 40mm wide. Handcrafted in USA of fine imported leathers. Matching Shoes: #41H9 - Black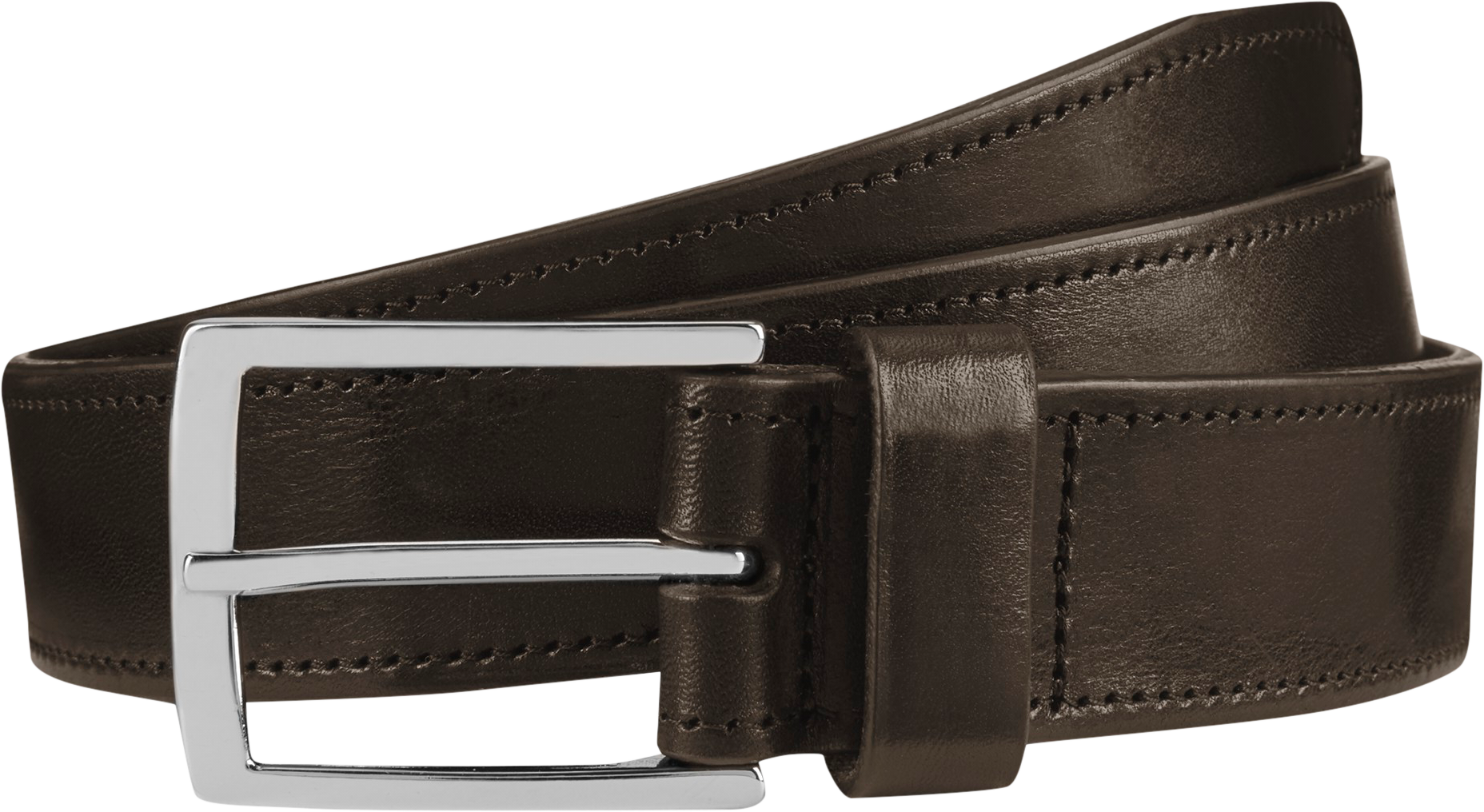 Description:
Add the perfect finishing touch to your look with a coordinating full grain leather belt. Single needle topstitching. Glossy finish. 35mm width. Leather lined. Handcrafted in USA of fine imported leathers. Matching Shoes: #41HC - Chocolate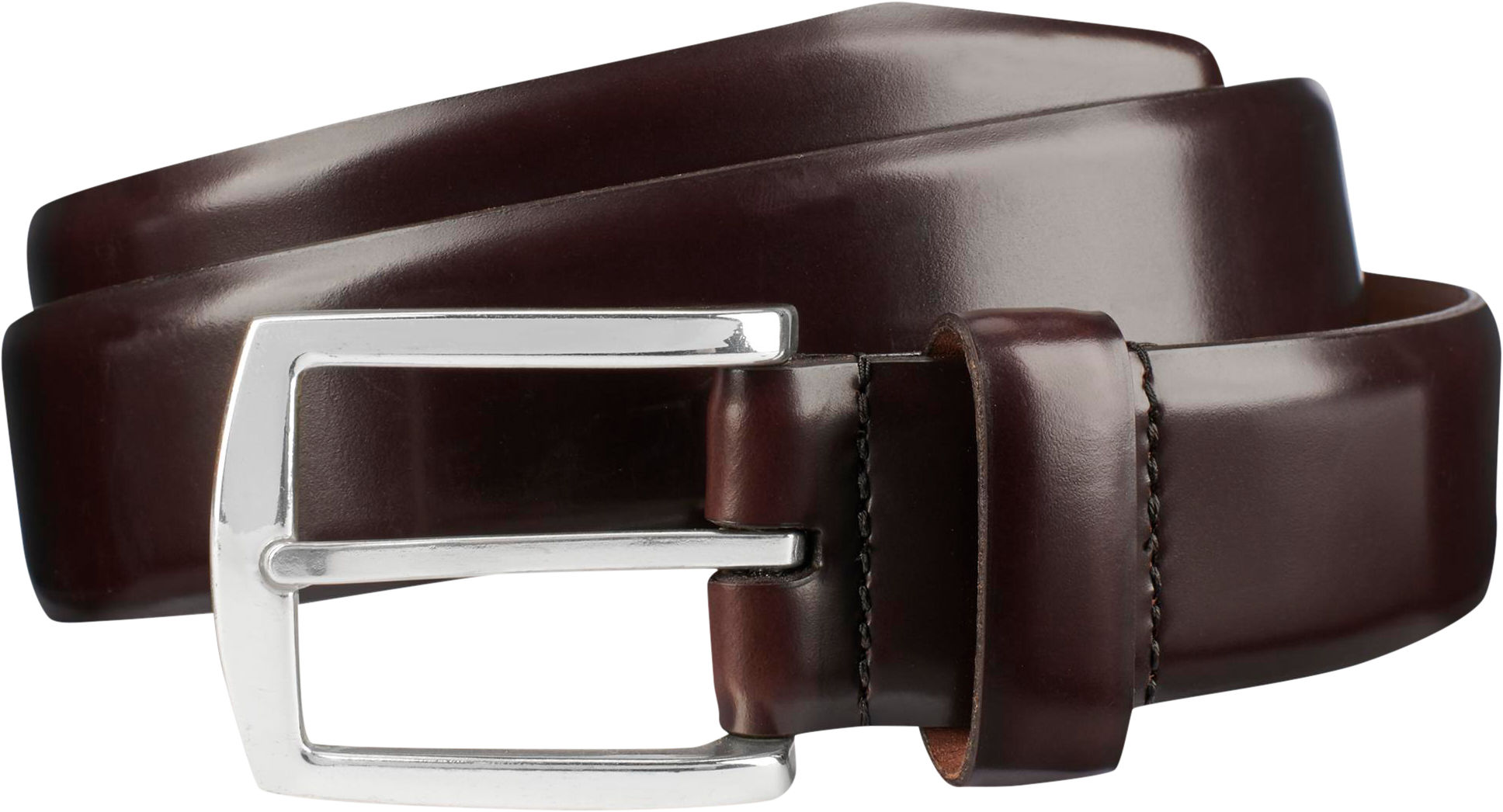 Description:
This smoothly polished belt by Allen Edmonds is crafted from brush-off leather with a high shine. Smooth silhouette with no edge stitching. Handcrafted in USA of fine imported leathers. Matching Shoes: #41H6 - Black, Tan, Mahogany #41HM - Black, Coffee, ...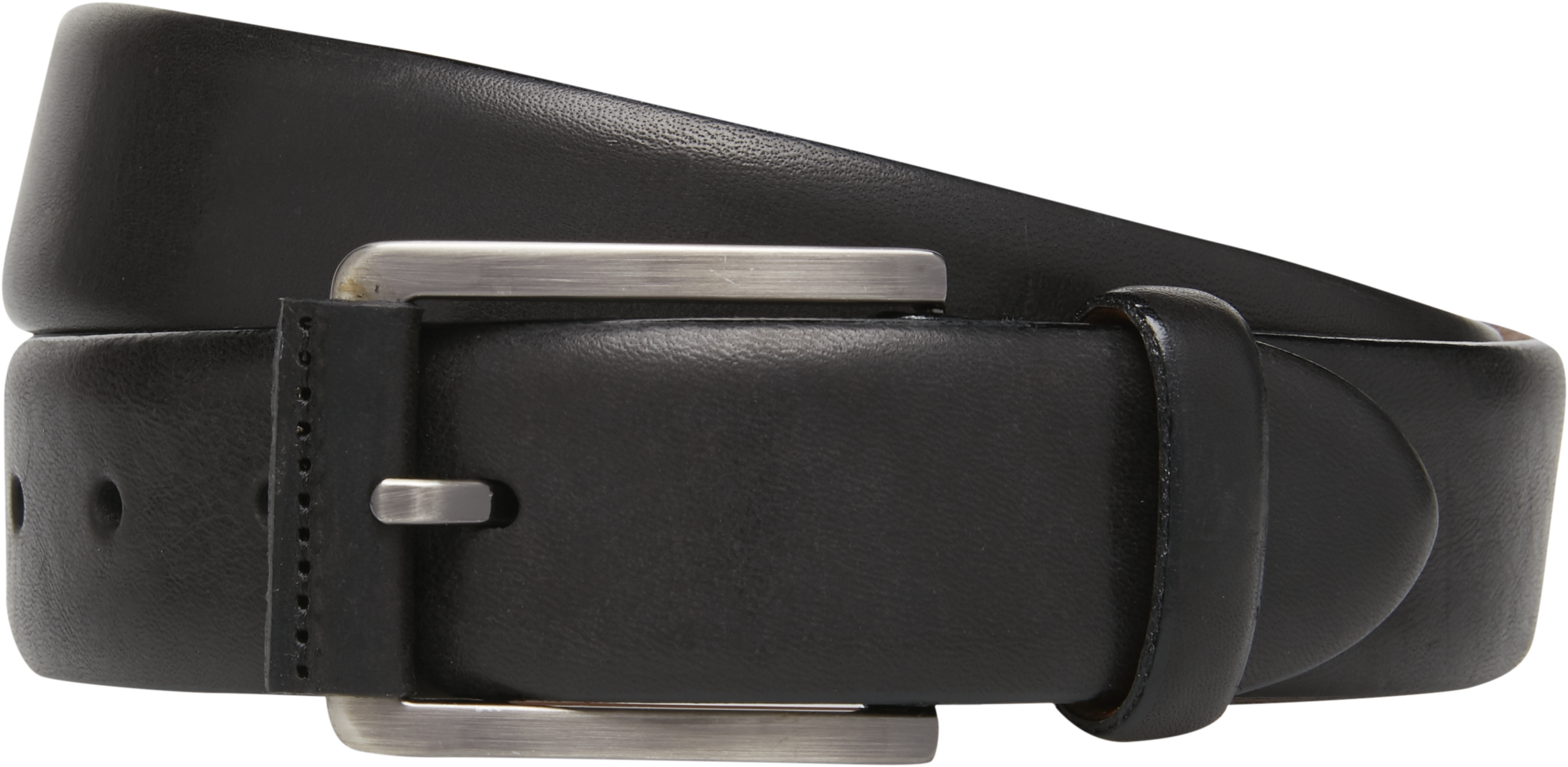 Description:
Handcrafted in Italy, this fine leather belt has a smooth edge and matte finish. 35mm width. Polished dark metal hardware. Single leather loop. Genuine leather. Imported.
Create Your Dream Wardrobe
Something is always on sale!
Smart shoppers love a good value. And Jos. A. Bank shoppers love that they can take advantage of men's clothing sales yet still count on impeccable quality and the traditional styles that get them noticed for all the right reasons. You already appreciate our everyday low prices, and it is no secret that we love a good sale. This is why we offer even more added-value sales on our renowned collections of suits, sportcoats, dress shirts, sweaters, dress pants, ties, outerwear and much more throughout the year. It's actually fun to hunt for those extra-special pieces, and when you score a fantastic deal on a piece you really want and need, everyone wins. It's the perfect solution to your goal of having an effortless wardrobe of quality menswear at your fingertips—one that will take you from elegant formalwear to upscale casual and everything in between. From the boardroom to date night to chauffeuring the kids to their activities, it's an awesome feeling to be the best dressed man on the block. You can never have too many fine menswear pieces in your closet to add versatility and elegance to your clothing rotation.